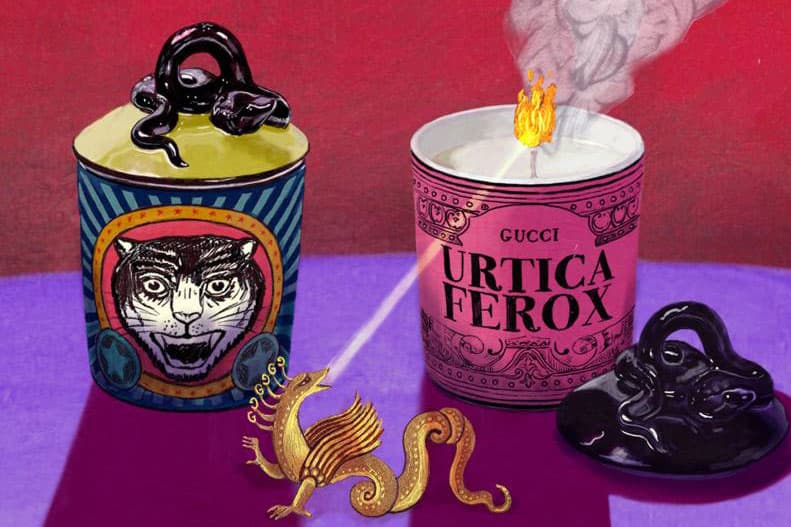 Home
7 Luxury Candles Every Fashion Lover Needs Featuring Gucci, Louis Vuitton & Burberry
Set the mood with these soothing scents.
7 Luxury Candles Every Fashion Lover Needs Featuring Gucci, Louis Vuitton & Burberry
Set the mood with these soothing scents.
'Tis the season for pumpkin spice lattes and scented candles that fill your home up with soothing aromas. Popular scents for the fall and winter seasons include sultry and woodsy musks that last for hours. We rounded up seven of our favorite candles from designer fashion brands and other popular candle retailers. The list includes a variety of fragrances for ladies who enjoy sweet, rosy and floral scents. Among the bunch is the ever-popular diptyque Black Baies candle which arrives in a stunning black-colored glass. Gucci's Inventum Butterfly candle also comes in a standout porcelain console that features a beautiful butterfly detail on the lid. The Inventum scent is a mix of pink and Taif Damask rose that is meant to burn for at least 68 hours.
Our top pick of the list is Le Labo's vegan Santal 26 candle which is poured into a concrete basin. The soy wax formula gives off a gentle and smoky perfume that cannot be replicated. Each of these candles not only provide days of elevated scents but once done the packaging can be repurposed to store jewelry or serve as living room decor. Peep more picks from Burberry, Givenchy and Byredo below.
Share this article