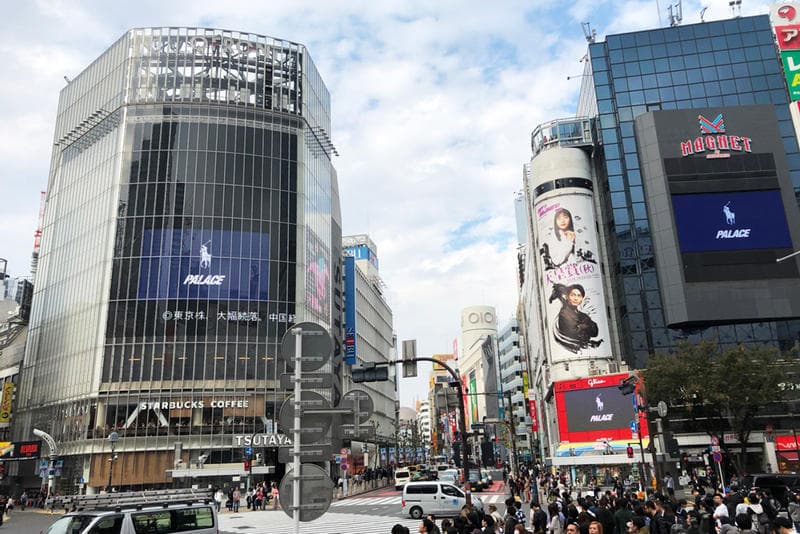 Palace's Next Collaboration Will Be With Polo Ralph Lauren
Teased on billboards in Tokyo.
London-based skate brand Palace is pretty well known for its collaborations but the latest one will come as a surprise to some as the cult label is teaming up with Polo Ralph Lauren. At first, it may seem like an unlikely partnership, what with Palace's roots in skateboarding culture and Polo Ralph Lauren's preppy heritage, but Palace founder Lev Tanju and co-owner Gareth Skewis shed light on the collection, stating they have both been avid fans of the brand throughout their lives. "It's the only brand that you can wear to a board meeting, a funeral and go to the football in — and all in the same day," Tanju shared with BoF.
The collection will comprise of the usual Palace essentials, like tops, pants, outerwear and accessories, and of course will include the classic Polo Oxford button-down shirt, on this occasion boasting the logo of both brands upon it. Although imagery and concrete information on the release is scarce, the collab has already been teased on a series of billboards on Tokyo and through a simple graphic on Palace's Instagram, which simply shows the Polo Ralph Lauren emblem above Palace's logo in white on a navy background.
According to Tanju, you can expect the the collection to drop "imminently." Stay tuned for further updates and take a look at every single item from Palace's Winter 2018 collection in the meantime.
Share this article