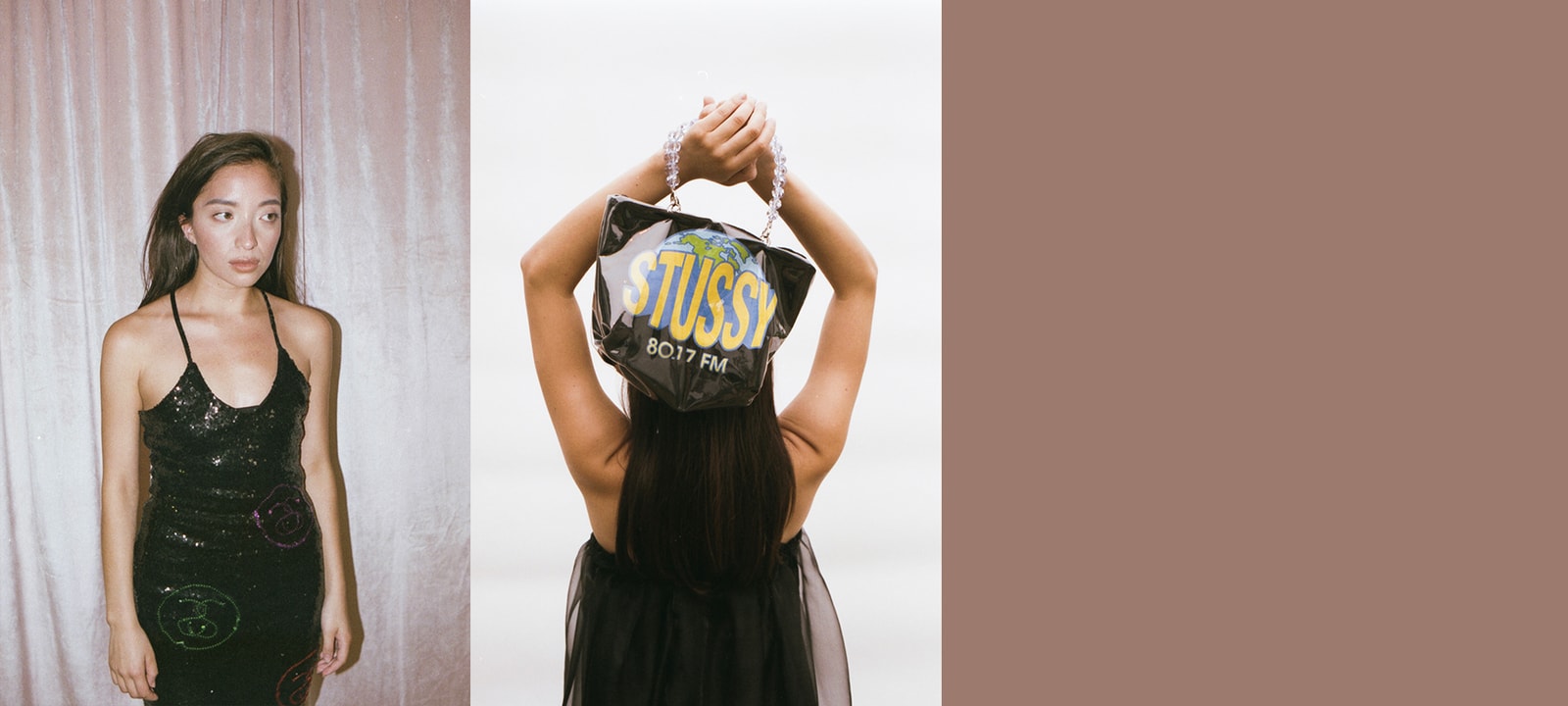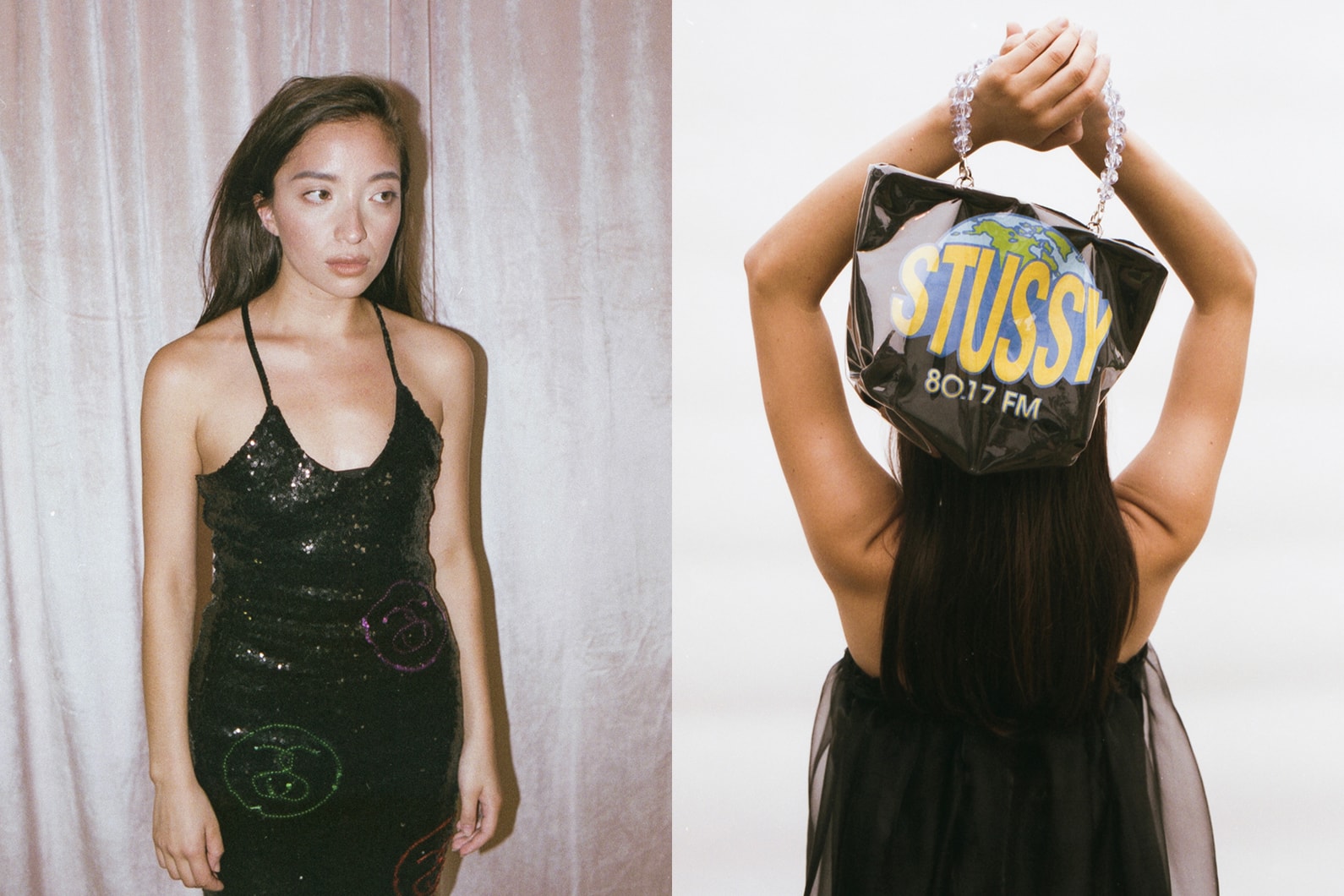 The Stussy Designs That Only Exist in Tamara Grunberg's Imagination
Stussy employee by day, DIY queen by night.
I remember coming across Tamara Grunberg's Instagram for the first time and feeling wowed by her DIY creations. When she's not working behind the till at the Stussy Vancouver Chapter, Grunberg could usually be found in her home studio, where she actualizes design concepts through reworking pieces in her closet. With her sharp observation of trends and appreciation for fashion and pop culture, she's dreamed up a gallery full of Stussy logo-emblazoned items that only exist on her Instagram feed.
"I have always had an interest in fashion and design since I was a young kid," Grunberg told us. Her 10-year-old self would alter '80s, '90s apparel from her mother's closet (much to her dislike) in order to outfit her Barbie dolls with specific prints and textures. What was once a childhood pastime developed into a bigger passion when she began attending high school. "You had all these girls in expensive clothes that I couldn't afford, so I started cutting up my old dresses and trying to make them look the same. At the time I didn't realize this was reworking. I just wanted to fit in."
But she didn't have to. Eventually, her peers were impressed that she could make her own clothes, even if they didn't resemble the designs she was attempting to recreate. "I think that's the first time I realized that standing out and being different is okay. You don't have to be like everyone else. Just like what you like because you like it."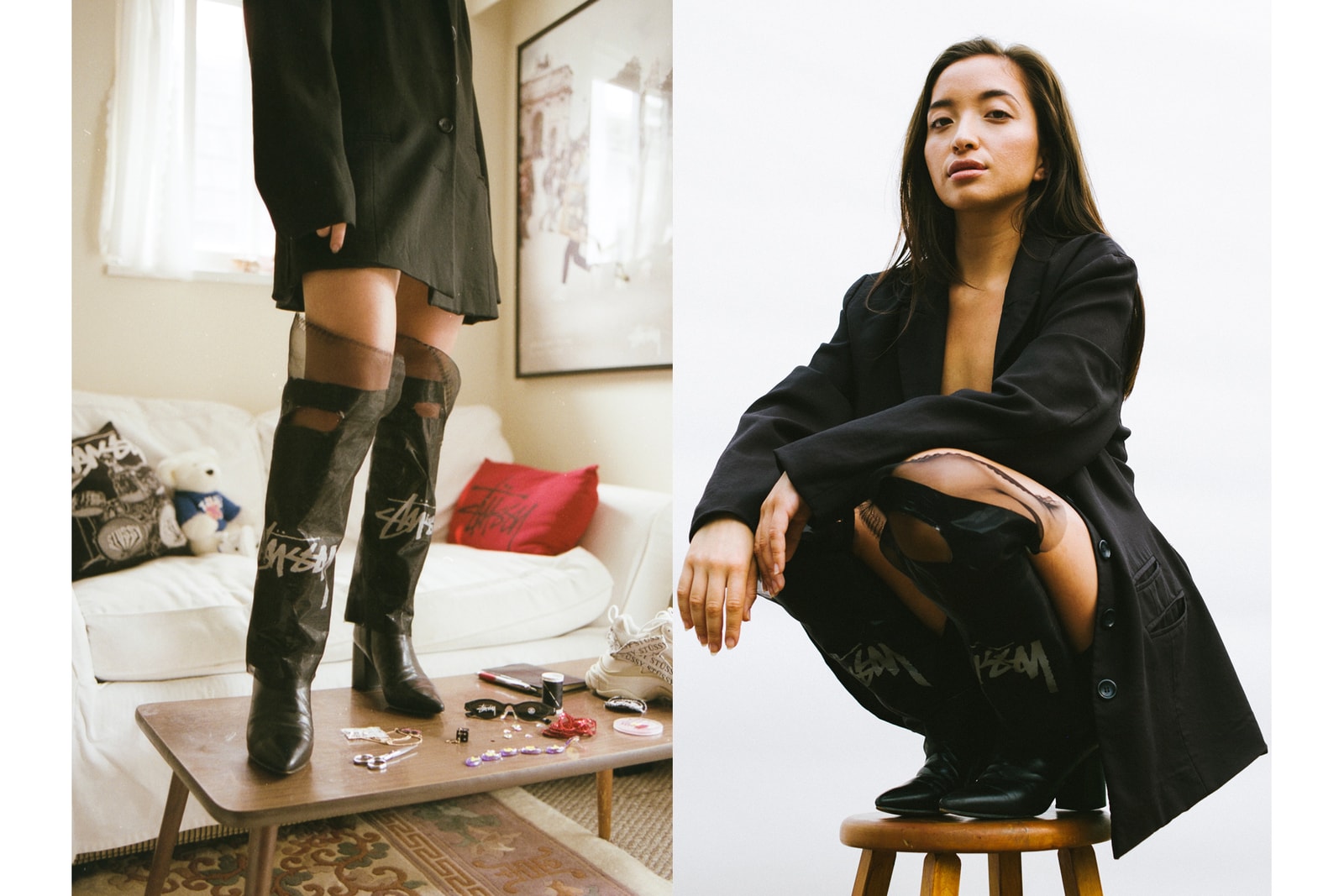 The Shopping Bag Boots, reworked from Stussy Chapter tote bags.
Fashion enthusiasts will find pleasure dissecting Grunberg's custom designs, for they're embedded with witty references that'll bring a smile upon those who understand them — think the Balenciaga Triple-S except its upper is covered by the Stussy monogram, or a CALVIN KLEIN 205W39NYC-inspired knit balaclava sewn with the signature logo of the streetwear label. One of her most recent posts features a tank top that bears the letters "STUSSY" printed in the style of Prada's iconic Linea Rossa line.
"When it comes to my own personal reworks, I think I like to make things that I want to see from the brand, not necessarily just Stussy," said Grunberg. "I like humor added into the stuff that I make."
@rickrafsimons is Grunberg's Instagram handle, but aside from the obvious (Raf Simons, that is) she also cites '90s Prada and Helmut Lang as her sources of inspiration. "I suggest anybody who has a spare moment to go look at vintage Chanel ads. They're probably the most fun Chanel has ever had. They're just the cheekiest advertisements of the time — you know, Chanel logo on surfboards, Chanel logo on tennis rackets. I really gravitate towards that and that's part of what influences my designing now — putting things in unexpected places."
On the right, a little black dress reimagined from a Stussy 3M reflective windbreaker.
For those who're curious as to why Grunberg has decided to dedicate her account to Stussy reworks, she described that as "an accident." Her love for the brand was something that grew naturally when she eventually got to know the people that work at the Chapter store. Currently a part of the store team herself, Grunberg shared that she appreciates how accessible the brand is to most people.
"I think when it comes down to it, Stussy being one of the originators of street style has a very clear brand identity that it has stuck to since day one. To be able to rework a brand that is not only at a price point that is accessible to everyone, but has been loved even by our parents 30 years ago is pretty amazing. It means a lot to rework a brand that has a history behind it. I have a lot of respect for the people I work with and the company itself."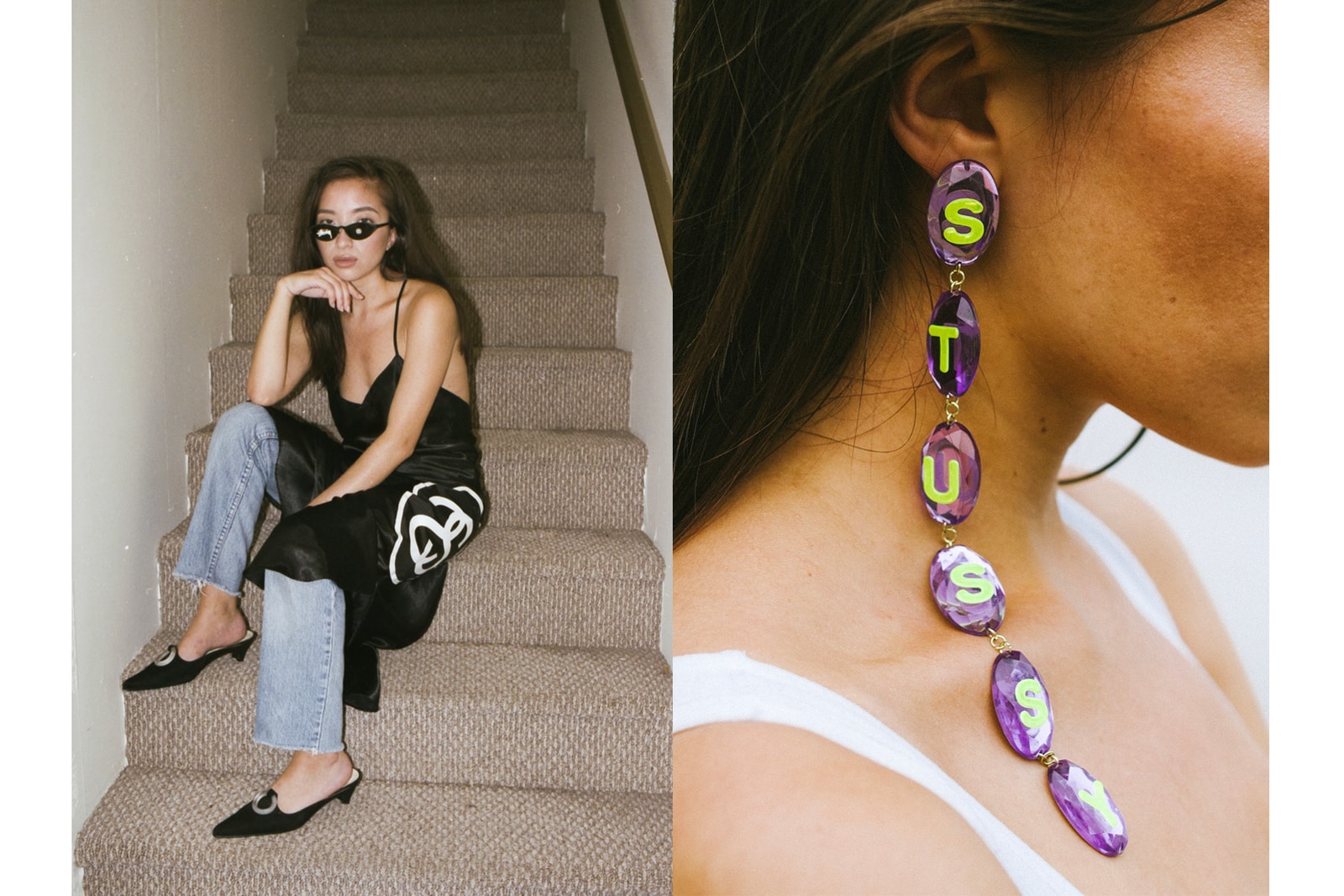 Do It Yourself: Sunglasses, slip dress and letter earring all dreamed up by Tamara Grunberg.
In addition to that one sewing class her mother signed her up for at summer camp one year, Grunberg gave credit to her education in fashion design for building the foundation she needed to break into the industry. "For me, school was the most useful thing, because I literally could not make what I make if I didn't have that education… Being able to create your own clothes gives you the freedom to do whatever you want, which is a pretty obvious statement, but until you start cutting up old clothes and trying to figure out how you can make a sweater look like a jacket, you don't really realize how capable you are of creating your own perspective."
Bring able to sew and to make her own patterns also allows Grunberg to be creative with the way she dresses herself. "I encourage anyone to experiment with making their own clothes, whether they know how to sew or not. It's a great way to put your own spin on trends and discover your own style. It seems like everyone can be so dependant on being told what to wear when instead they should be in charge of how they want to represent themselves."
These days, we're all a little guilty of doing something or taking a photo purely for the gram. With her reworks, however, Grunberg is turning her imagination into reality just so she could get her ideas out of her system — being able to share her designs with those who enjoy them and seeing their reactions is just the cherry on top. "The best kind of DMs that I got from people are from people that are usually graduating high school and want to go into design and fashion, and are really scared to but they want to know what I did to get to where I am. And I always say school. School is a really beneficial place to go if you're passionate about going into the fashion industry, because you really can't go anywhere without an education these days, and it's a cool thing to have. I kind of want to break the stigma that it's not cool. I would push it 100-percent."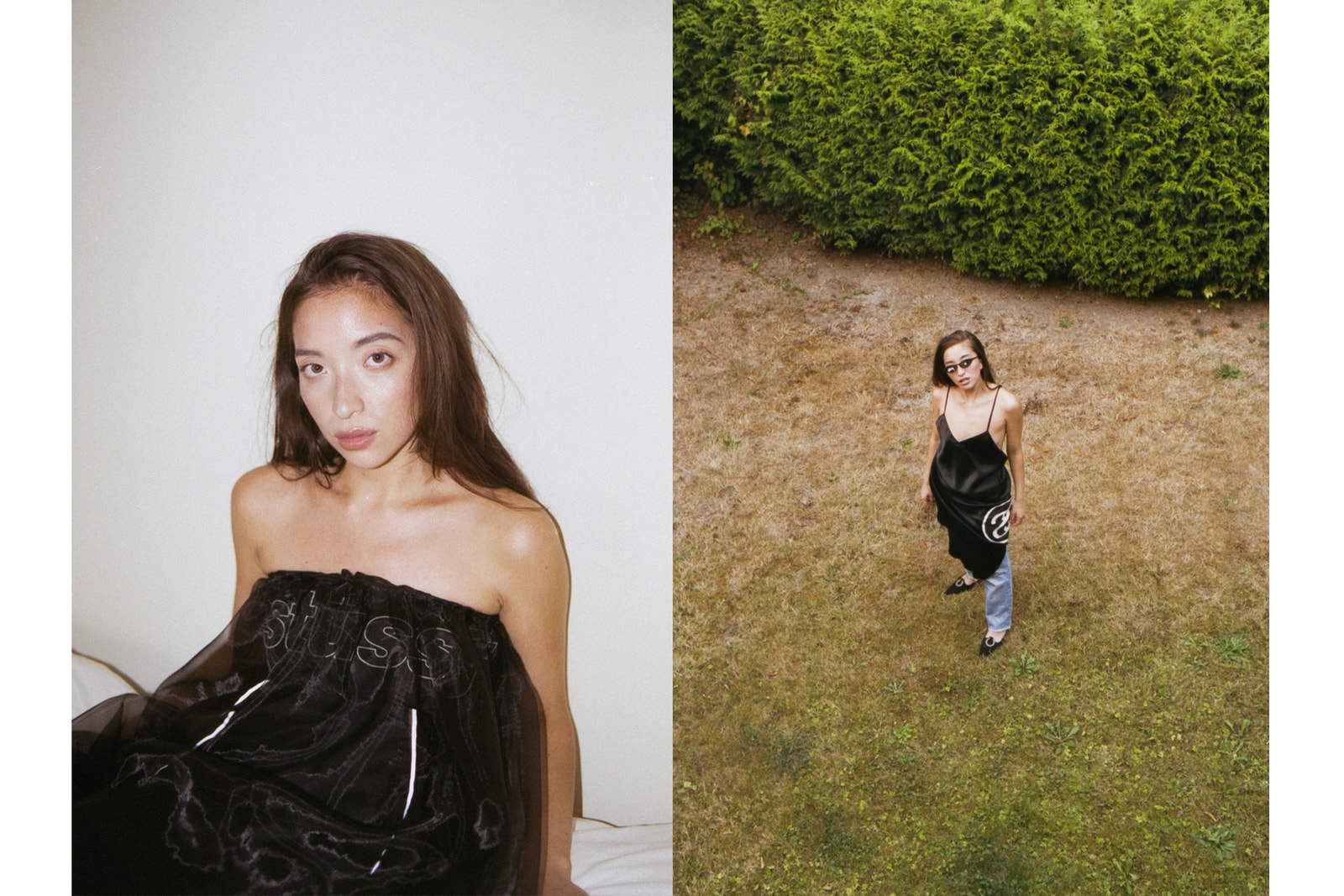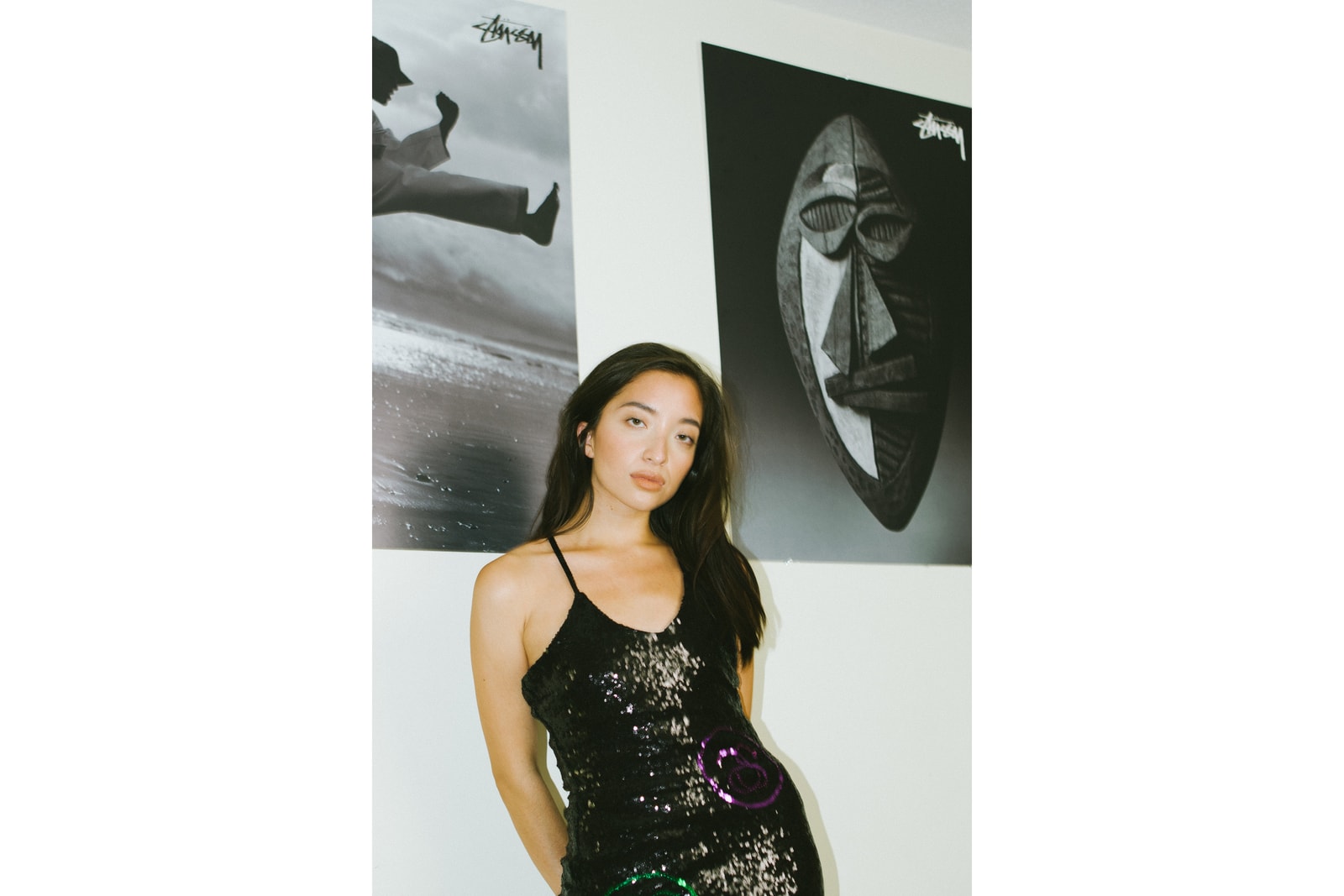 When asked how her hometown Vancouver shapes her taste and personal style, Grunberg immediately brought up her coworkers at Stussy without hesitation. "I would say the boys at the shop highly influence my work and personal style… Keaton introduced me to Stussy and as a stylist, he has such a unique perspective on how clothing can be worn. Antosh takes photos that always capture the right moment, an incredibly difficult thing to do but he makes it look so easy. It is his photos that evoke an emotion or feeling that influence a lot of what I have created. Twan, 100-percent has the best graphic T-shirt collection. Don [for his] nonchalant humor. And you could talk to Owen about anything."
"Not all of these qualities are directly design-related, but when you're as lucky as I am to work in an environment where everyone has a mutual respect for one another, it is important to point these things out — because if the people around you don't inspire you or lift you up, then it's time to look for new friends and new environments. I feel extremely lucky to have had the chance to work with all of them. Overall, the guys have shown me not to take myself so seriously — a very important life lesson we should all follow."
Would Grunberg be selling her reworks somewhere down the road? She considers that a possibility. As of right now, she is hoping to give back to the community in Vancouver, the city that raised her, by utilizing her design skills. Keep your eyes peeled for more from the designer.