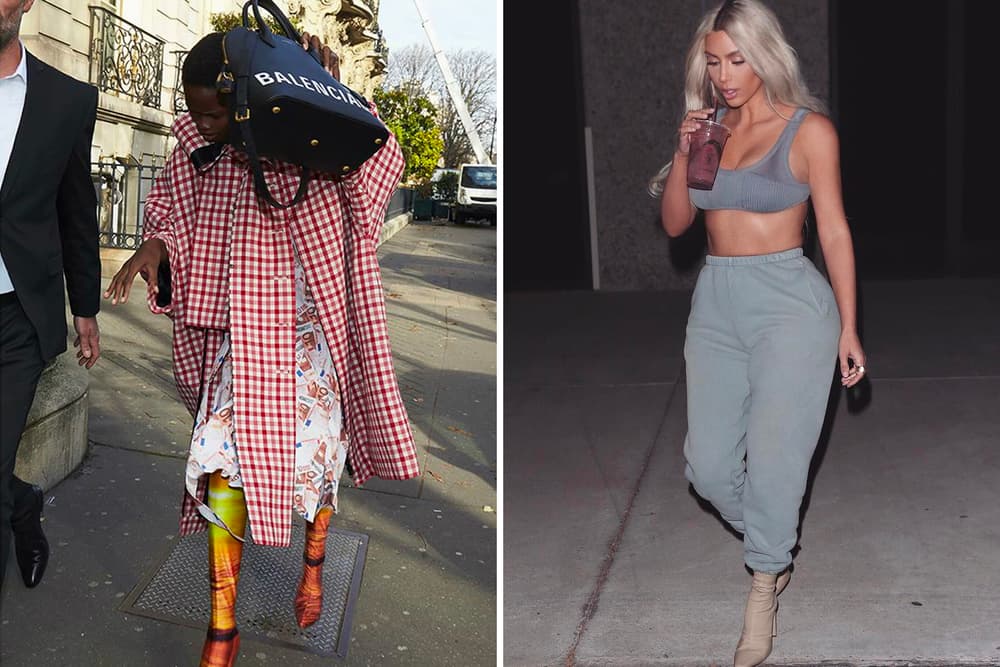 Fashion
Do YEEZY & Balenciaga's Paparazzi Campaigns Hint at the Future of Fashion?
Social media buzz aside, here's what brands can learn from Kanye and Demna.
Do YEEZY & Balenciaga's Paparazzi Campaigns Hint at the Future of Fashion?
Social media buzz aside, here's what brands can learn from Kanye and Demna.
Whether you're personally a fan of Kanye West or not, you must admit that his YEEZY Season 6 campaign is one of the most unique fashion ads from recent years. Tapping his wife and muse Kim Kardashian to front the lookbook, which is entirely made up of faux paparazzi shots, the rapper-slash-designer has presented a whole new approach to promote a ready-to-wear collection.
Hot on the heels of YEEZY's second round of social media takeover (which if you haven't already seen on Instagram, sees Paris Hilton, Jordyn Woods and more dressed up as Kim K clones), Balenciaga has unveiled a Spring/Summer 2018 campaign that's coincidentally shot paparazzi-style. We couldn't help but notice the similarities between these campaigns, and wonder why two of today's most talked-about fashion brands have turned to tabloids for inspiration.
There was a time when celebrities and models showcased their off-duty styles not with the gram, but via paparazzi photos. First emerged in the 1950s, pap shots became a means for fans to look inside the secret lives of those with fame and wealth. Unlike the Hadids and the Jenners, '90s It-girls including Kate Moss, Naomi Campbell and Cindy Crawford didn't have a platform to show off their designer-gifted clothes and shoes. What these supermodels wore day-to-day, however, were documented and forever immortalized by the flashes outside of airports and exclusive parties. These iconic images not only provided major style inspiration for fashion lovers everywhere, but also indirectly served as publicity for brands and designers at the time.
Fashion's fascination with paparazzi photos is not something new. Flip through any magazine (or as what we do in 2018, scroll through the Instagram feed of any style publications) and you'll find endless voyeur-esque images of what fashion's favorite faces are wearing. Throughout the decades, this kind of images has also inspired numerous editorial ideas for photographers and designers alike.
Balenciaga's latest campaign, for example, calls to mind Tim Walker's 1999 "Don't Shoot" story for Vogue Italia, which also sees models blocking their faces with their belongings. Steven Meisel is another photographer who loves playing with paparazzi-style imagery — so much so that he employed the same concept for Dolce & Gabbana's Spring/Summer 1992 campaign and more than 20 years later, Moschino's Spring 2017 print ads starring Gigi and Bella Hadid.
What makes the YEEZY and Balenciaga campaigns so impactful is not just the style of the photography, but whom the brands have hired to create these images. In the most meta way possible, both Kanye and Demna Gvasalia have collaborated with actual entertainment news and photography agencies (Splash News for the former, Agence Bestimage the latter) to produce their promotional materials, poking fun at the public's obsession with consuming celebrity content. This visual commentary is especially relevant today, with social media increasingly becoming an indispensable part of our everyday life — what with live chats, face filters, GIF stickers and so forth.
Kanye's YEEZY Season 6 campaign is particularly clever because it tricked everyone including major publications into believing that the photos are nothing more than just pap shots. Instead of staging a model in a studio, Kanye has turned Kim and his army of Klones into his walking billboards. And by recruiting some of social media's biggest influencers like Sami Miro and Amina Blue to replicate the original photos, the Chicago-raised artist has successfully made us remember those visuals by heart without us even realizing it. Sure, platinum blonde hair, athleisure bralettes and hip-hugging pants aren't anything groundbreaking, but now you simply can't get those TMZ-ish images out of your head. Even Diplo couldn't resist recreating the campaign himself, #YeezySeason6.
Social media buzz aside, the new YEEZY and Balenciaga campaigns have reinforced one thing we've always known — that strong and well-executed photographs can speak volumes about a brand. Albeit returning to the fashion month circuit with his label Vetements just one season after skipping Paris Fashion Week, Demna has previously expressed in a Vogue interview that "fashion shows are not the best tool" and that runways have "become repetitive and exhausting." Likewise, Kanye has decided to do without a catwalk altogether for YEEZY Season 6, yet still manages to make it his most memorable collection to date.
On that note, could fashion be moving towards a future where clothes will not only be presented on the runway, but also communicated and marketed to consumers through innovative, and delightfully genius ways? With the dynamic and rapidly-changing nature of social media and fashion, we believe there are loads of opportunities for brands and designers to tap into, and we're excited to see what's next.
Share this article