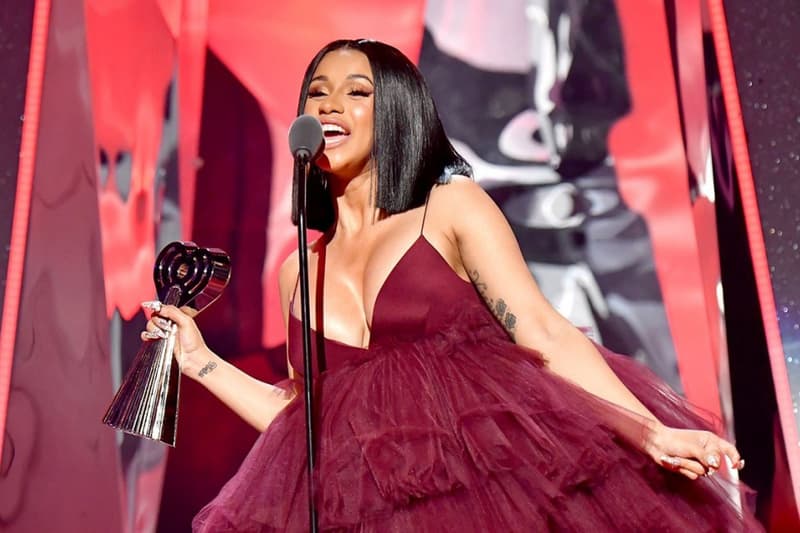 Here's the Full List of Billboard Music Award Nominees
Who do you think is at the top?
The 2018 Billboard Music Awards are right around the corner, and this year the nominees include everyone from history-making Cardi B and Kendrick Lamar, to artists like Drake, Halsey, Migos, Rihanna and Ariana Grande. The nominations are based on "key fan interactions with music, including album and digital song sales, streaming, radio airplay, touring and social engagement," and cover the period of April 8, 2017 through March 31, 2018. Perhaps one of the most exciting categories, the nomination for "Top Artist," only includes one female – Taylor Swift, who is joined by Drake, Kendrick Lamar, Bruno Mars and Ed Sheeran, with the later three coming in at a total of 15 nominations each.
It remains to see who will take home the price, as the 2018 Billboard Music Awards take place on May 20. Make sure to stay tuned for all the latest updates, and peep the full list of nominees below.
Top Artist:
Drake
Kendrick Lamar
Bruno Mars
Ed Sheeran
Taylor Swift

Top New Artist:
21 Savage
Camila Cabello
Cardi B
Khalid
Kodak Black

Billboard Chart Achievement Award:
Camila Cabello
Cardi B
Drake
Sam Hunt
Ed Sheeran

Top Male Artist:
Drake
Kendrick Lamar
Bruno Mars
Post Malone
Ed Sheeran

Top Female Artist:
Camila Cabello
Cardi B
Halsey
Demi Lovato
Taylor Swift

Top Duo/Group:
The Chainsmokers
Coldplay
Imagine Dragons
Migos
U2

Top Billboard 200 Artist:
Drake
Kendrick Lamar
Ed Sheeran
Chris Stapleton
Taylor Swift

Top Hot 100 Artist:
Imagine Dragons
Kendrick Lamar
Bruno Mars
Post Malone
Ed Sheeran

Top Streaming Songs Artist:
Cardi B
Drake
Kendrick Lamar
Post Malone
Ed Sheeran

Top Song Sales Artist:
Imagine Dragons
Kendrick Lamar
Bruno Mars
Post Malone
Ed Sheeran

Top Radio Songs Artist:
Halsey
Imagine Dragons
Bruno Mars
Charlie Puth
Ed Sheeran

Top Social Artist:
Justin Bieber
BTS
Ariana Grande
Demi Lovato
Shawn Mendes

Top Touring Artist:
Coldplay
Guns N' Roses
Bruno Mars
Ed Sheeran
U2

Top R&B Artist:
Chris Brown
Khalid
Bruno Mars
SZA
The Weeknd

Top R&B Male Artist:
Khalid
Bruno Mars
The Weeknd

Top R&B Female Artist:
Beyonce
Rihanna
SZA

Top R&B Tour:
Bruno Mars
Lionel Richie
The Weeknd

Top Rap Artist:
Drake
Kendrick Lamar
Lil Uzi Vert
Migos
Post Malone

Top Rap Male Artist:
Drake
Kendrick Lamar
Post Malone

Top Rap Female Artist:
Bhad Bhabie
Cardi B
Nicki Minaj

Top Rap Tour:
J. Cole
JAY-Z
Kendrick Lamar

Top Country Artist:
Kane Brown
Luke Combs
Sam Hunt
Thomas Rhett
Chris Stapleton

Top Rock Artist:

Imagine Dragons
Linkin Park
Portugal. The Man
Tom Petty & The Heartbreakers
twenty one pilots

Top Rock Tour:
Coldplay
Guns N' Roses
U2

Top Latin Artist:
J Balvin
Daddy Yankee
Luis Fonsi
Ozuna
Romeo Santos

Top Dance/Electronic Artist:
The Chainsmokers
Calvin Harris
Kygo
Marshmello
ODESZA

Top Billboard 200 Album:
Drake, More Life
Kendrick Lamar, DAMN.
Post Malone, Stoney
Ed Sheeran ÷ (Divide)
Taylor Swift, reputation

Top Selling Album:
Kendrick Lamar, DAMN.
P!nk, Beautiful Trauma
Ed Sheeran, ÷ (Divide)
Chris Stapleton, From A Room: Volume 1
Taylor Swift, reputation

Top Soundtrack:
Black Panther
The Fate of the Furious: The Album
The Greatest Showman
Guardians of the Galaxy, Vol. 2: Awesome Mix Vol. 2
Moana

Top R&B Album:
Khalid, American Teen
Bruno Mars, 24K Magic
SZA, CTRL
The Weeknd, Starboy
XXXTentacion, 17

Top Rap Album:
Drake, More Life
Kendrick Lamar, DAMN.
Lil Uzi Vert, Luv Is Rage 2
Migos, Culture
Post Malone, Stoney

Top Country Album:
Kane Brown, Kane Brown
Luke Combs, This One's For You
Thomas Rhett, Life Changes
Chris Stapleton, From A Room: Volume 1
Brett Young, Brett Young

Top Rock Album:
Imagine Dragons, Evolve
Linkin Park, One More Light
Panic! At The Disco, Death of a Bachelor
Portugal. The Man, Woodstock
U2, Songs of Experience

Top Latin Album:
Nicky Jam, Fenix
Christian Nodal, Me Deje Llevar
Ozuna, Odisea
Romeo Santos, Golden
Shakira, El Dorado

Top Dance/Electronic Album:
Avicii, AVĨCI (01)
The Chainsmokers, Memories…Do Not Open
Calvin Harris, Funk Wav Bounces Vol. 1
Kygo, Stargazing
ODESZA, A Moment Apart

Top Hot 100 Song:
Luis Fonsi & Daddy Yankee ft. Justin Bieber, "Despacito"
Kendrick Lamar, "Humble."
Bruno Mars, "That's What I Like"
Post Malone ft. 21 Savage, "Rockstar"
Ed Sheeran, "Shape Of You"

Top Streaming Song (Audio):
Luis Fonsi & Daddy Yankee ft. Justin Bieber, "Despacito"
Kendrick Lamar, "Humble."
Lil Uzi Vert, "XO Tour LLIF3"
Post Malone ft. 21 Savage, "Rockstar"
Post Malone ft. Quavo, "Congratulations"

Top Streaming Song (Video):
Cardi B, "Bodak Yellow (Money Moves)"
Luis Fonsi & Daddy Yankee ft. Justin Bieber, "Despacito"
Lil Pump, "Gucci Gang"
Bruno Mars, "That's What I Like"
Ed Sheeran, "Shape of You"

Top Selling Song:
Luis Fonsi & Daddy Yankee ft. Justin Bieber, "Despacito"
Sam Hunt "Body Like A Back Road"
Imagine Dragons "Believer"
Imagine Dragons "Thunder"
Ed Sheeran "Perfect"

Top Radio Song:
The Chainsmokers & Coldplay, "Something Just Like This"
Imagine Dragons, "Believer"
Bruno Mars, "That's What I Like"
Charlie Puth, "Attention"
Ed Sheeran, "Shape of You"

Top Collaboration:
Camila Cabello ft. Young Thug, "Havana"
The Chainsmokers & Coldplay, "Something Just Like This"
Luis Fonsi & Daddy Yankee ft. Justin Bieber, "Despacito"
French Montana ft. Swae Lee, "Unforgettable"
Post Malone ft. 21 Savage, "Rockstar"

Top R&B Song:
Childish Gambino, "Redbone"
DJ Khaled ft. Rihanna & Bryson Tiller, "Wild Thoughts"
Khalid, "Young Dumb & Broke"
Bruno Mars, "That's What I Like"
Bruno Mars ft. Cardi B, "Finesse"

Top Rap Song:
Cardi B, "Bodak Yellow (Money Moves)"
DJ Khaled ft. Justin Bieber, Quavo, Chance The Rapper & Lil Wayne, "I'm The One
French Montana ft. Swae Lee, "Unforgettable"
Kendrick Lamar, "Humble."
Post Malone ft. 21 Savage, "Rockstar"

Top Rock Song:
Imagine Dragons "Believer"
Imagine Dragons "Thunder"
Linkin Park ft. Kiiara "Heavy"
Portugal. The Man "Feel It Still"
The Revivalists "Wish I Knew You"

Top Latin Song:
J Balvin & Willy William Ft. Beyonce, "Mi Gente"
Becky G ft. Bad Bunny, "Mayores"
Luis Fonsi & Daddy Yankee ft. Justin Bieber, "Despacito"
Maluma, "Felices Los 4"
Wisin ft. Ozuna, "Escapate Conmigo"

Top Dance/Electronic Song:
The Chainsmokers & Coldplay, "Something Just Like This"
Cheat Codes ft. Demi Lovato, "No Promises"
Clean Bandit ft. Sean Paul & Ann-Marie, "Rockabye"
Kygo & Selena Gomez, "It Ain't Me"
Zedd & Alessia Cara, "Stay"