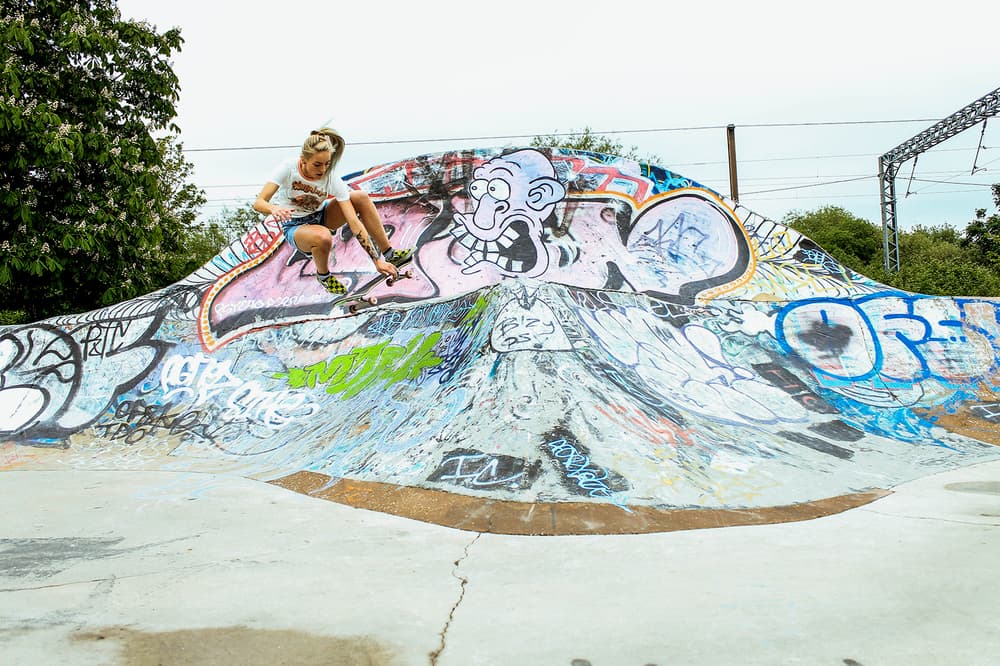 1 of 2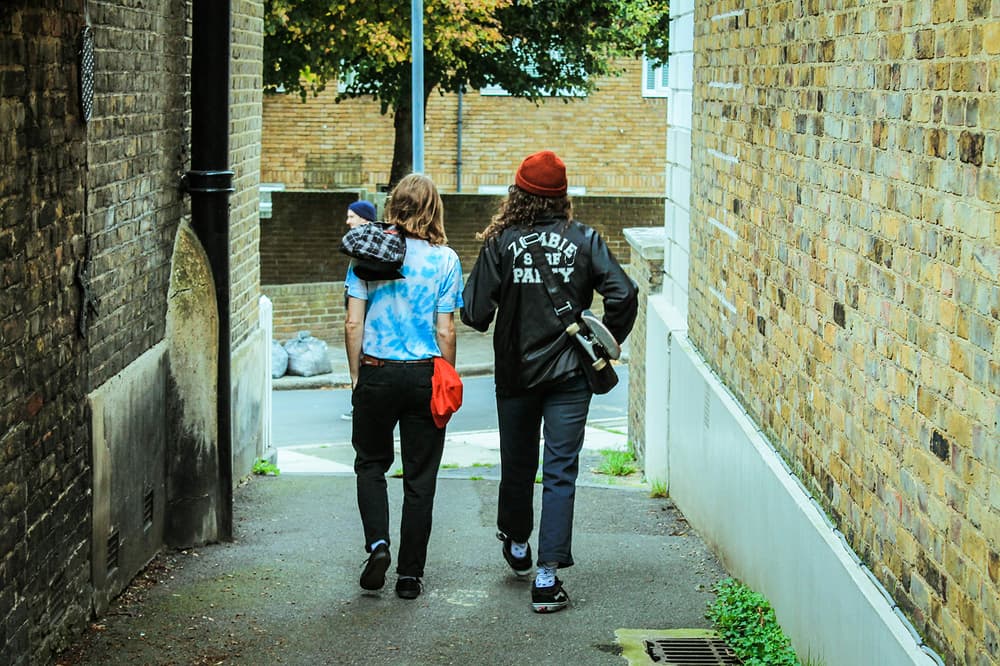 2 of 2
Culture
'Concrete Girls' Is the New Book Spotlighting Female Skateboarders in the UK
We catch up with photographer, Charlotte Thomas.
'Concrete Girls' Is the New Book Spotlighting Female Skateboarders in the UK
We catch up with photographer, Charlotte Thomas.
The number of women in skateboarding is arguably at an all time high, yet at the same time, female skateboarders remain an anomaly. Thanks to collectives like BRUJAS, Skate Kitchen and Girl Skate UK, however, it's getting even easier for girls to find supportive and empowering environments within which to build confidence, friendships and of course, their skating skills.
Charlotte Thomas started skateboarding in her teenage years, before an injury made it increasingly difficult to continue the sport. Hoping to remain part of the community, Thomas turned in her deck for a life behind the lens, travelling throughout the UK to document the usually unseen girls who skate. Her debut book, 'Concrete Girls' is both a testament of Thomas' love of the skateboarding world and the women within it – we caught up with the skater turned photographer to find out more.
1 of 2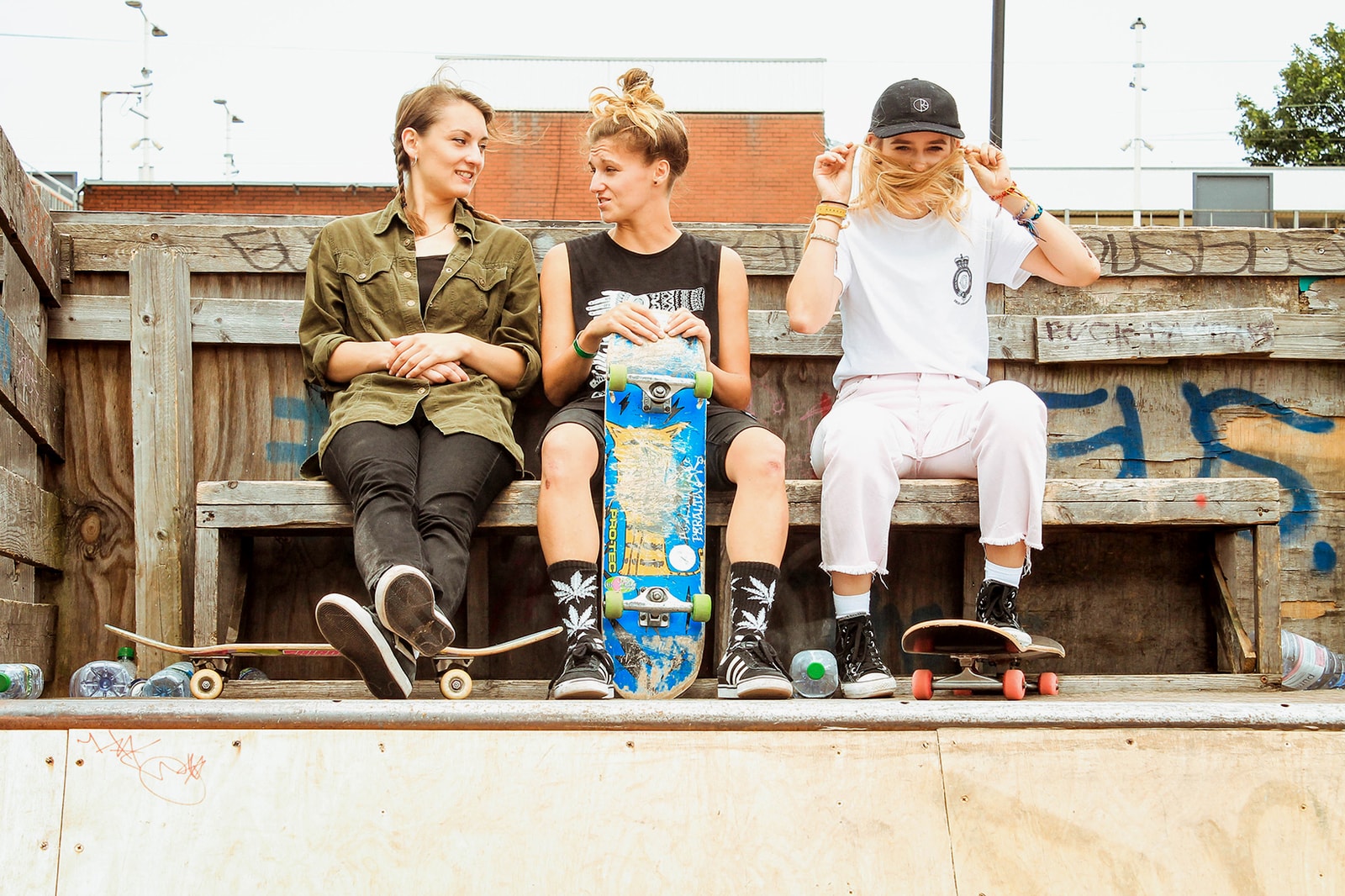 2 of 2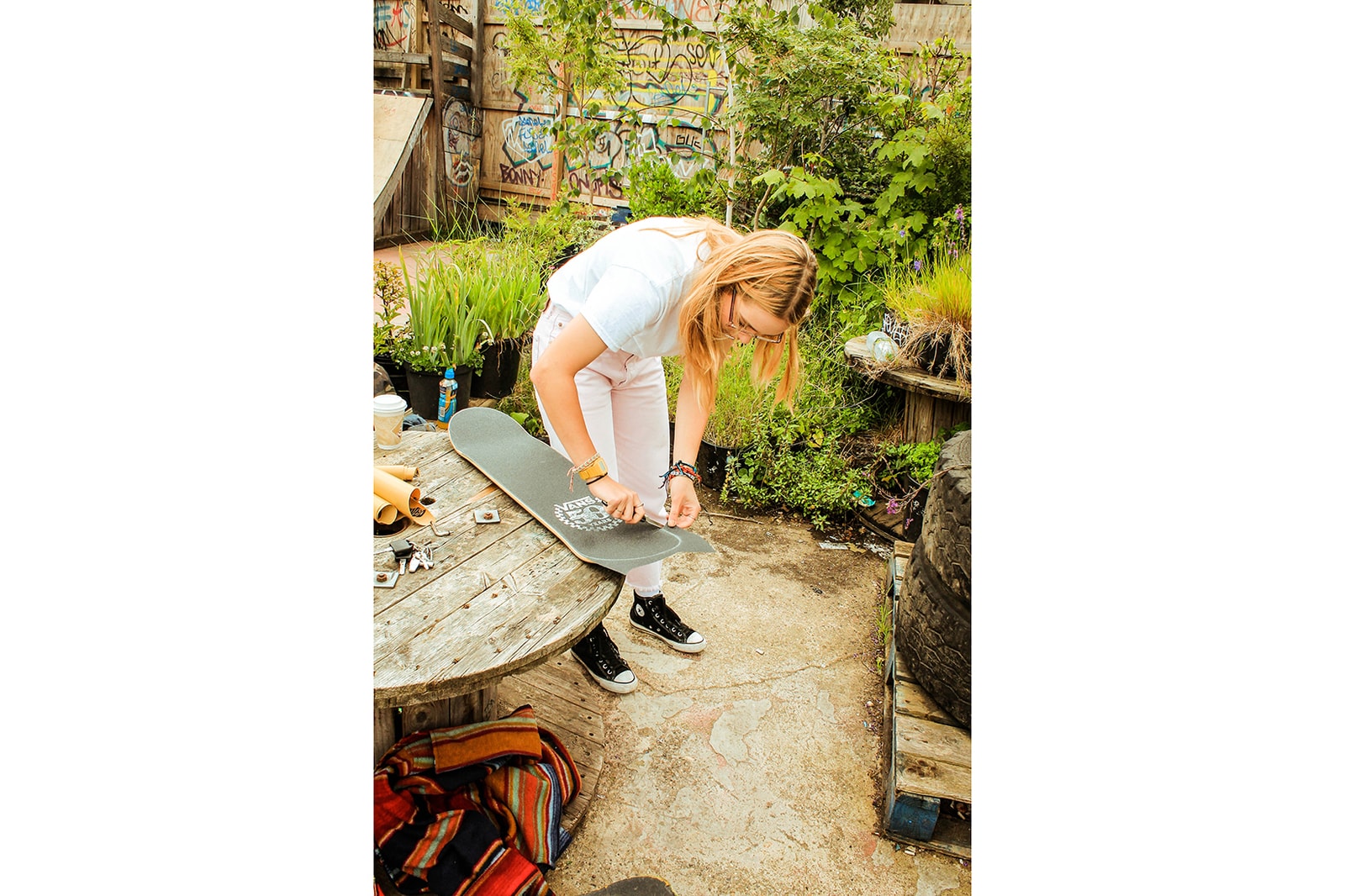 Tell us a little more about your background? How did you get into skating?
I started skating when I was 16 in my hometown of Hereford, just through friends really. However I didn't really come into my own until I was 19 when I started university in Leeds. I spent most of my days at Hyde Park Skatepark and that's where I met some of the greatest dudes in the world. Thomas Harrison, Leon Walton, Manhead, Rory Martinez, Chris Parsons and Jamie Liam Humphrey – these guys made me a skateboarder.
We didn't have the luxury of social media or technologically-advanced mobile phones – we just skated and captured footage on a Sony Handycam CCD Hi8 TRV128. I left Leeds after eight years to spend some time in Barcelona living with fellow skater Maria Falbo of Copson London. We just spent time chilling out and skating, it was heaven for a young skater in her 20s!
And you got into skate photography after you were injured, right?
Yes that's right, I injured myself one summer which left me with a spinal injury so I had to take some time out. I missed the scene so much that I was falling into depression and I felt a loss of identity really, so one day I decided to pick up a camera and start shooting skateboarders instead. I haven't looked back.
"I will always say this: skateboarding isn't cool, it's the people who make it cool."
Why did you decide to release a book for this project?
The idea of the book came from my first photography experience producing some work for Sidewalk. They asked me to photograph and interview pro-skater Stefani Nurding and spending a weekend with her, creating those photos inspired the project.
'Concrete Girls' aims to celebrate a side of the UK scene I felt had been missing from documentation or general discussion. Not enough people at the time were talking about the scene and these women in the book were empowering and inspiring both myself and other girls to get into the sport. I wanted to produce a book of memories for them and the scene itself. I call it my retirement piece and I hope it will inspire a younger generation to start skateboarding. The project was also a chance to make new friends and give something back to the one thing that had given me so much freedom and self confidence throughout my life – skateboarding.
1 of 2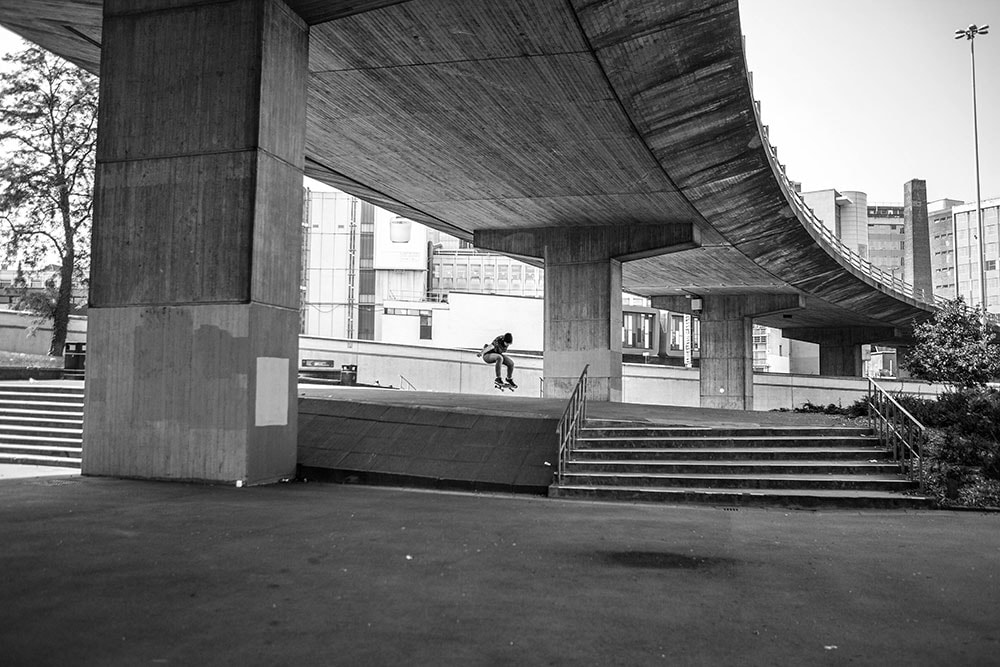 2 of 2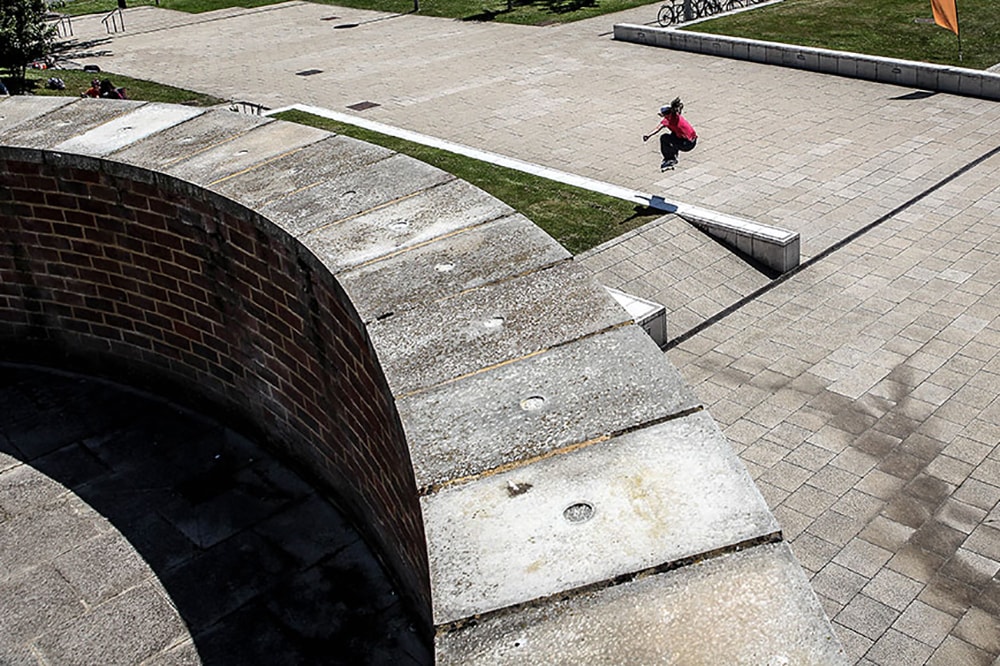 What's the most standout memory you have from something you shot for the book?
I'll never forget going down to Plymouth to meet Stefani Nurding. My mom and stepdad, Roger, who have both been a huge part of this project drove me down. It was a long journey from Hereford so we set off around 5am. When we arrived, we walked into the centre of town and decided to get some lunch and a beer while we waited for Stef. I called her and said "Hi, I'm here, where are you? I'm on Kings Street near Bournemouth beach" and Stef said "I don't live in Bournemouth, I live in Plymouth!"
I started crying as I'm a huge drama queen at the best of times and had to go into the pub and tell my tired chauffeurs "I got the wrong bloody city!"
Why do you think it's only in recent years that female skaters have only started to get more recognition?
Personally I think they always have, but it's only now due to social media that a community has begun to form around it. People can share their talents and learn from each other via these platforms – it's amazing!
"Concrete Girls aims to celebrate a side of the UK scene I felt had been missing from documentation or general discussion."
What are some of the best things about being part of the skateboarding community?
Community, friendship, expression, commitment, talent, creativity, support, love. I will always say this: skateboarding isn't cool, it's the people who make it cool.
What's next for you?
I'll be working on 'Concrete Girls' Volume 2 from September. This book was made over a five year period; I didn't know certain girls or had even heard of them at the time. Some girls didn't want to be part of it the first time around and some had hangovers a lot, so I'm gutted I couldn't include the entire country. However, I'm hoping Volume 1 will excite anyone I missed and inspire them get involved with part 2. Eventually, I'd like to complete three volumes to add to really add to skateboarding history.  
Share this article