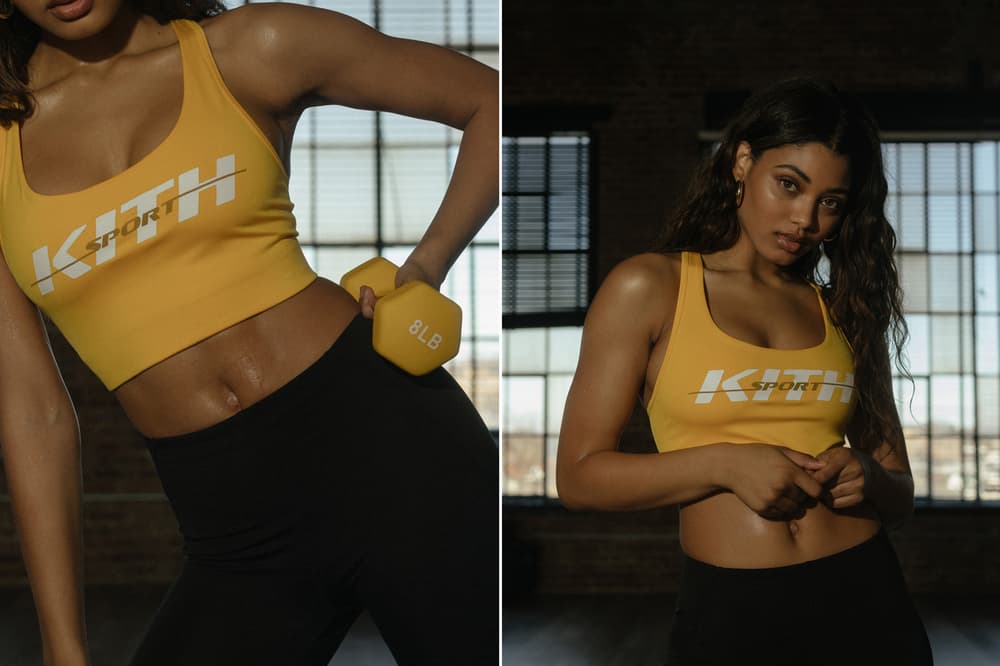 Culture
I Tried out 3 Wildly Popular Workout Fits, Here's What Happened
I went running and even took a spin class in picks from KITH Women and Outdoor Voices.
I Tried out 3 Wildly Popular Workout Fits, Here's What Happened
I went running and even took a spin class in picks from KITH Women and Outdoor Voices.
My new year's resolution was to be more active. When I was in high school and throughout most of my adolescence, I ran track. I was honestly pretty into running and long jumping while I was a teenager. I ran the 4×1 relay, 400-meter dash and also the 200-meter dash. I'll admit that as I've gotten older I left track and working out behind. I haven't had a real workout in quite some time. Fast forward to the end of last year, I finally decided that I'd had enough. To get myself excited about working out I vowed that I'd try out samples of buzzy workout gear to decide if they were worth the hype.
At the top of my head I thought of three brands. The first line that came to mind was KITH Women's activewear collection. Next I thought of Outdoor Voices since I kept seeing ads online and kept finding myself on its site. The last brand I couldn't get out of my mind was Live The Process. Back in my fashion assistant days, one of my past editors' usually pulled basic bras from this brand. I didn't realize until I went into its showroom based in NYC and tried on a few pieces, why it was a go-to for shoots.
Below I've shared my in-depth review of three matching sets from KITH Women, Outdoor Voices and Live The Process. Keep reading for my opinion on if they're worth purchasing.
KITH Women Activewear Collection
ITEMS: KITH Women Brie Sports Bra in "Yellow," Kith Women Cody Cooling Tights in "Black" ($115 USD)
ACTIVITY: Running
REVIEW: Ever since the launch of Kith Women's activewear collection, I've had my eye on the Brie Sports Bra. Though the fit of the extra small sports bra for me was a bit snug as I'm a 34C, I did like how this piece was breathable. I was shocked that I was able to slide into the Cody Cooling Tights, which were also an extra small. The leggings were a bit weird feeling at first. But after I got into my stride, they loosened up a bit and overall provided a great fit for me. For those who are looking to be on trend, I'd say this set is perfect for you. For the bra, I'd aim for true size. Also for the leggings, I'd stick true to size as well, as there isn't much wiggle room due to the material they are cut from.
VERDICT: Cop.
BUY: You can pick up both the Brie Sports Bra in "Yellow" ($70 USD) and the Cody Cooling Tights in "Black" ($115 USD) in-store at KITH storefronts and online at KITH's official web store.
Outdoor Voices
ITEMS: Key Bra in "Storm," Tech Sweat Flex Short in "Storm"
ACTIVITY: Running
REVIEW: This set overall was my favorite. To be quite honest, I was invested when I realized that the Key Bra was titled this because it comes with a miniature slot for your keys. This built-in feature is quite handy, as I'd sometimes carry my house keys when I go on runs in the morning or mid-afternoon. I loved how comfortable the pieces were. The bra and shorts hugged my body (not in a negative way). I admit, I've worn the pieces more than once already since they're ultra cozy and don't ride up at all mid-run.
VERDICT: Cop.
BUY: You can purchase both the Key Bra in "Storm" ($55 USD) and the Tech Sweat Flex Short in "Storm" ($45 USD) over at Outdoor Voices' website.
Live The Process
ITEMS: The Corset Bra in "Black," The Tuxedo Legging in "Black"
ACTIVITY: Spin Class
REVIEW: For my first-ever spin class I decided to try out Live The Process' beloved Tuxedo Legging. When I visited its showroom, the brand's founder Robyn Berkley shared with me that the fit is pretty cozy and that it's her label's most popular legging. When I first tried them on, I wasn't too sure how I'd adapt to a legging with such a high waist and wide waistband. It kind of reminded me of my ballet days (I stopped right before pointe when I was 16.) But for the spin class, the leggings were pretty comfortable. There wasn't a moment when they actually didn't feel right. The Corset Bra provided a bit of support and also didn't really feel as though I was wearing a bra, so that was definitely a win for me.
VERDICT: Cop.
BUY: Head over to Live The Process' web store to purchase The Corset Bra ($58 USD) in "Black" and The Tuxedo Legging ($138 USD) in "Black."
Share this article