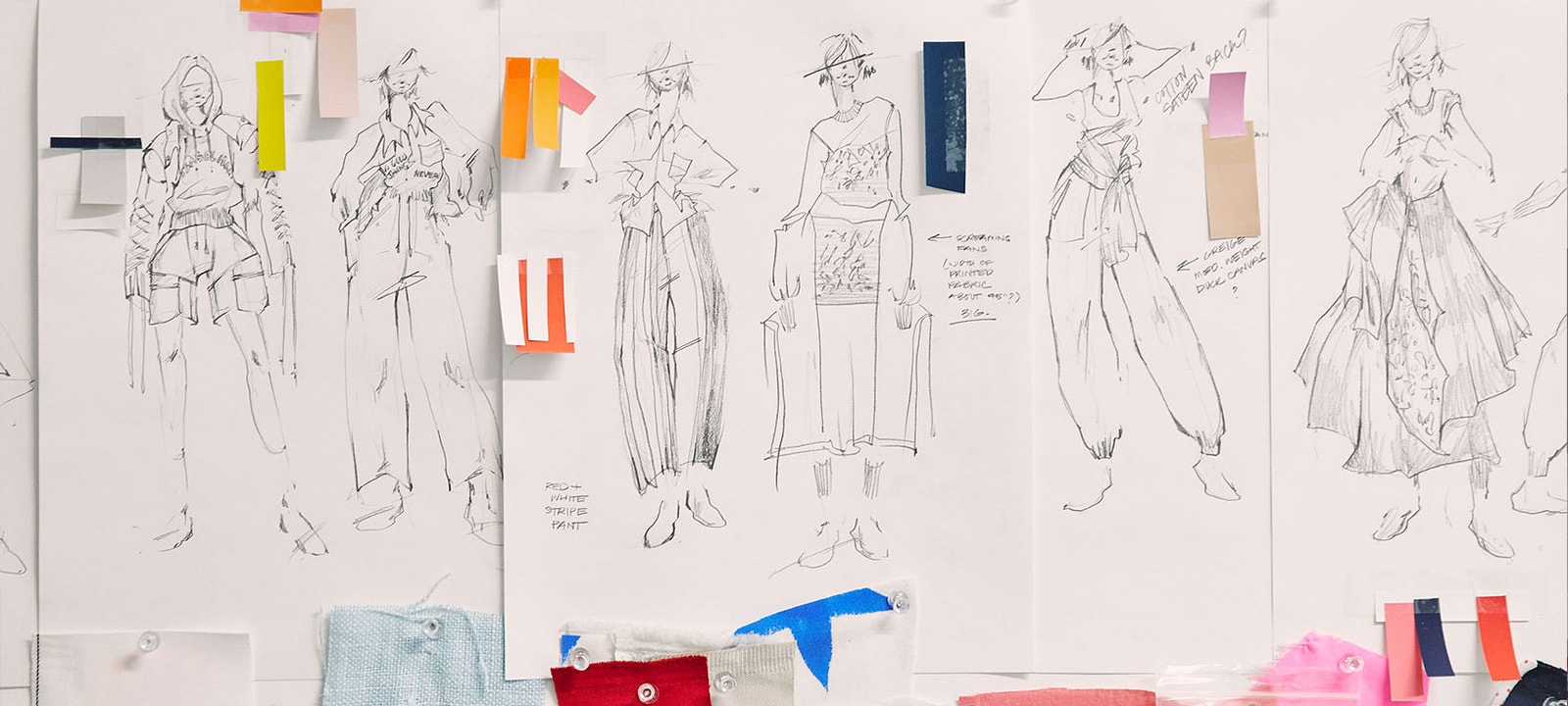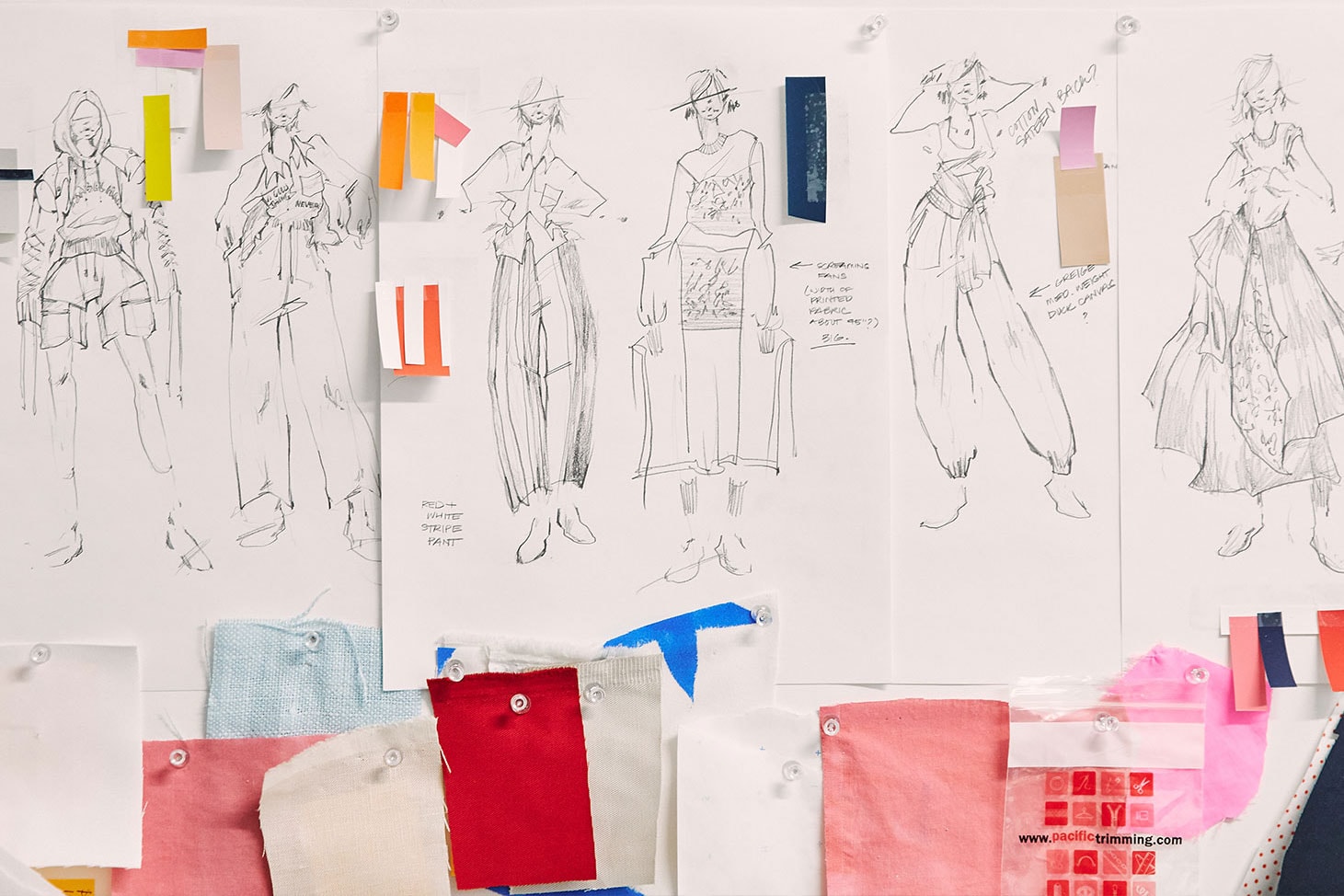 Behind the Atelier: How Emerging Label Isabel Hall Is Designing Streetwear with the Female Form in Mind
The New York-based designer takes us inside her studio to show off her Mick Jagger-inspired SS20 collection.
Behind the Atelier is a fashion-focused series that examines the unique backstories and design processes behind the fashion industry's most captivating talents. Pulling back the curtain on each designer's creative space and practice, Behind the Atelier will highlight and give an inside look into the industry's most exciting names. 
For the first installment of the series, HYPEBAE tapped New York-based designer and technical manager for apparel in the adidas MakerLab, Isabel Hall, to take us behind the scenes of her studio, while sharing how she devised her Spring/Summer 2020 collection inspired by Mick Jagger, her stance on designing streetwear made to fit the female form and how her design aesthetic was inspired by the cult-classic '90s film, Kids.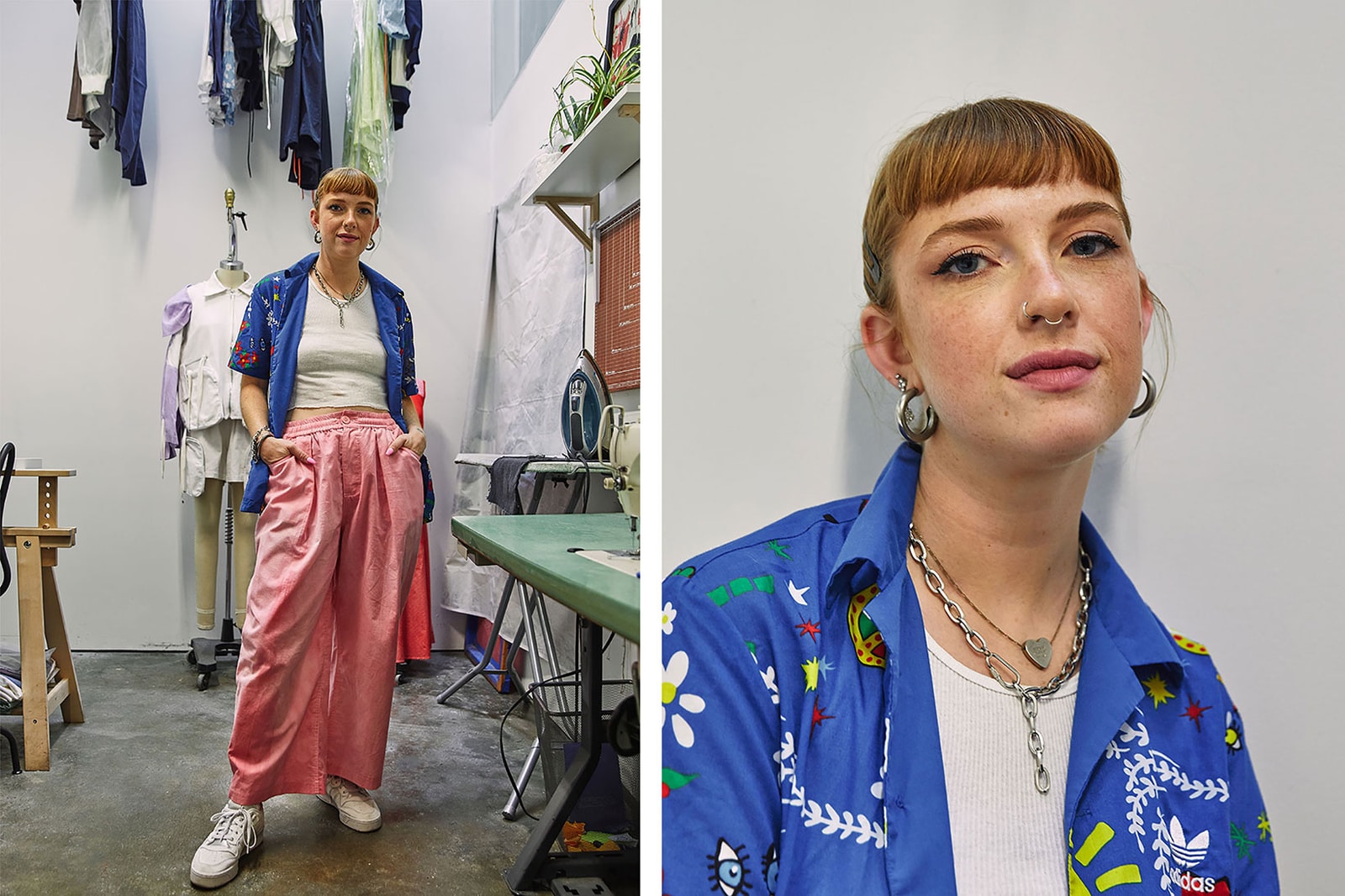 Defined by decadence, luxury labels and over-the-top silhouettes devised in dizzying patterns and loud color schemes, the '80s and its abundance of flamboyant fashions helped spawn a new form of gender-fluid dressing, christened by rock stars of the day like Mick Jagger and Keith Richards. Examining the intersection of '80s fashion and music, streetwear designer Isabel Hall sought to create her own conversation about gender roles in fashion this season by reimagining traditional masculine and feminine tropes for her SS20 collection.
Since launching her eponymous streetwear line in 2017, the New York-based designer and technical manager for apparel in the adidas MakerLab has been exploring and reappropriating menswear silhouettes, designed to fit the female form. Fusing Mick Jagger's outlandish stage costumes with ladylike tailoring, Isabel's latest collection aims to subvert the traditional dress code through the use of masculine-meets-feminine silhouettes and detailing, like an oversized utility jacket enhanced with lavender-hued football padding, lace-up detailing on the arms, functional cargo pockets and a coordinating pair of cargo shorts. A vibrant color palette, as seen on a pair of signature boxy trousers in punchy pink, a fitted top in rich red and a pale pink coaches jacket, adds a layer of dimension to form the backbone of the '80s-inspired collection.
Despite being a relative newcomer onto the scene, Isabel Hall and her eponymous line are representative of a clear shift happening in fashion — one that seeks to empower women through the clothes they choose.
To get to know the designer, HYPEBAE sat down with Isabel Hall to discuss her SS20 collection, her stance on designing streetwear for women and her role working as the technical manager for apparel in the adidas MakerLab.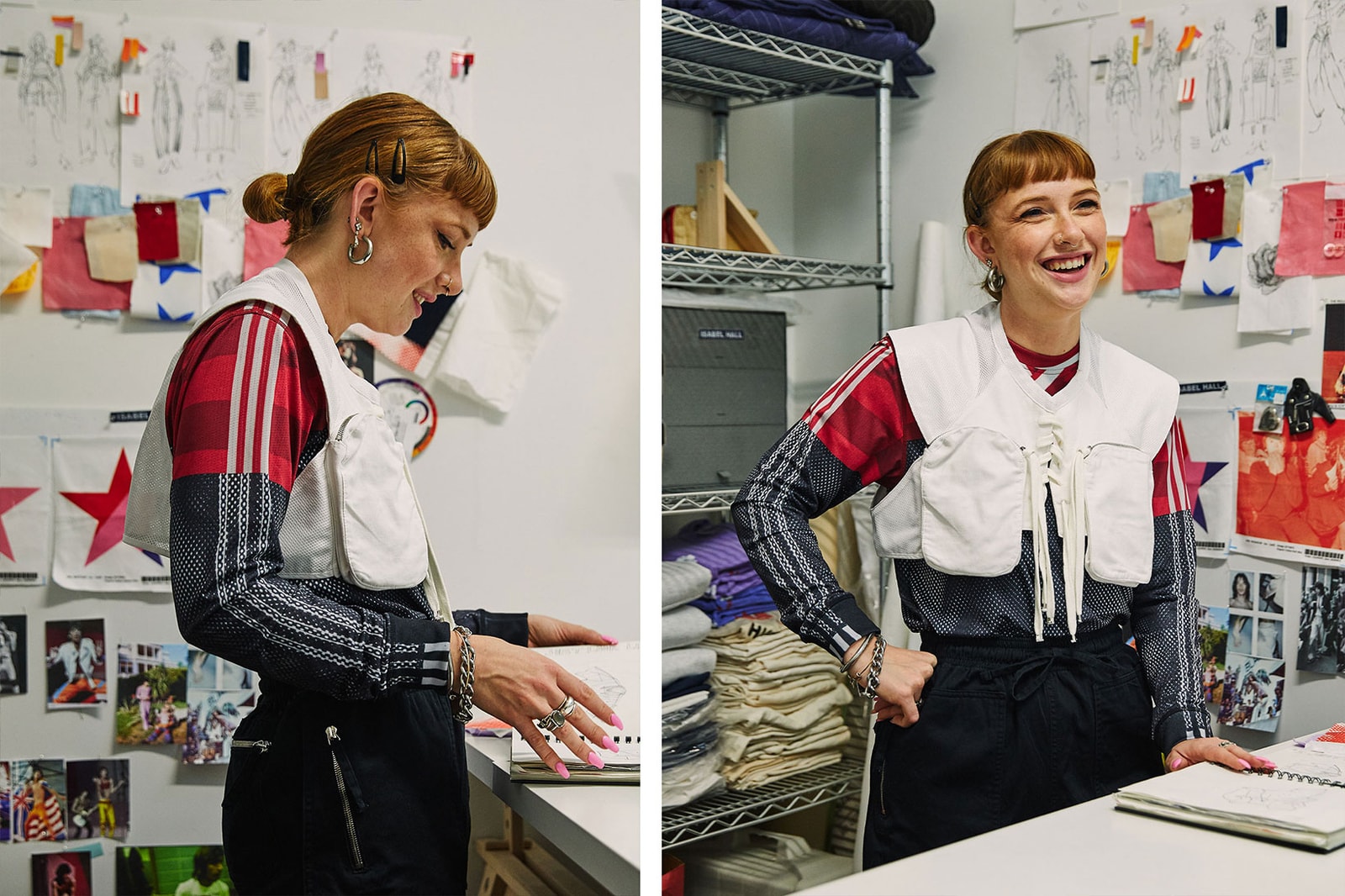 What sparked your interest in fashion design? 
I started getting into fashion when I was in high school and I was really into music and fine arts. My dad is an artist and my mom is a curator, and when I was growing up, I was always [surrounded] by art and history. In high school, I started pursuing photography and I was doing a lot of illustrations, taking college courses with figure drawings on the weekends and I had a friend who was really into fashion and actually got me into it. [With fashion], I was able to combine all of my interests into one.
There was a TV show called, My Life as Liz, and [the character] ends up going to Pratt Institute and my friend suggested that we study at Pratt too. My friend actually moved to Germany, but I ended up deciding that I would go to Pratt, study fashion and if I didn't like it, the joke was my fallback would be fine arts, but I ended up really liking it.
At what point did you decide to start your own line? 
After I graduated [from Pratt], I was applying for design jobs while I was assisting in production for a menswear brand called Knickerbocker. It used to have a factory floor in Bushwick where one of my good friends managed production for them. My friend agreed to teach me how to do everything, that way I could have a full-time design job when I was finished [working there].
From there, the Rihanna video "This Is What You Came For" and the jumpsuit [I made for it] took off and I was able to work with Mel Ottenberg. I began interning for New York-based designer Adam Selman. I started playing around and working on a few things. For me, it was about continuing the design exploration and exploring what felt good to me as a designer and what people would enjoy wearing.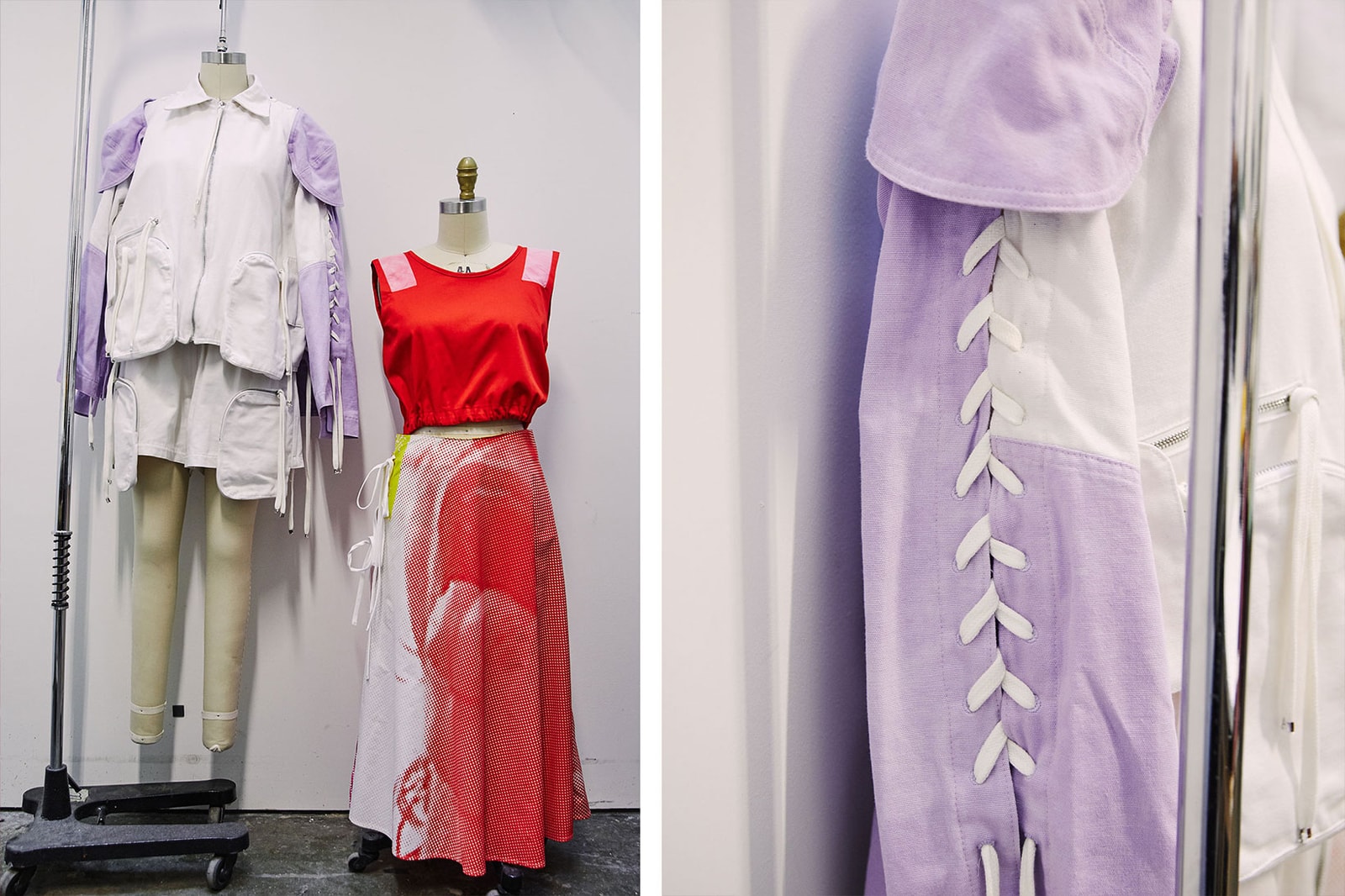 For those who may not know you, how would you describe your approach to design and/or aesthetic? 
My design thesis was heavily inspired by tomboy dressing. It was based around the film, Kids, by Harmony Korine and it was right around the time when skateboarding was becoming really big in fashion. There was a huge discussion about what that meant for skateboarding and what that meant for fashion. Was it cool? Was it lame? In the movie, [I remember] just loving the baggiest silhouettes on all the guys who were '90s skaters and one had a 40-ounce at one point that he tucked into his pants, but you couldn't even tell because the [pants] were so wide. So really, [my approach] is the idea of how much I loved that look and silhouette, wearing really baggy clothing myself and feeling good in that style—even though people will say it's not [meant to be worn] by a woman.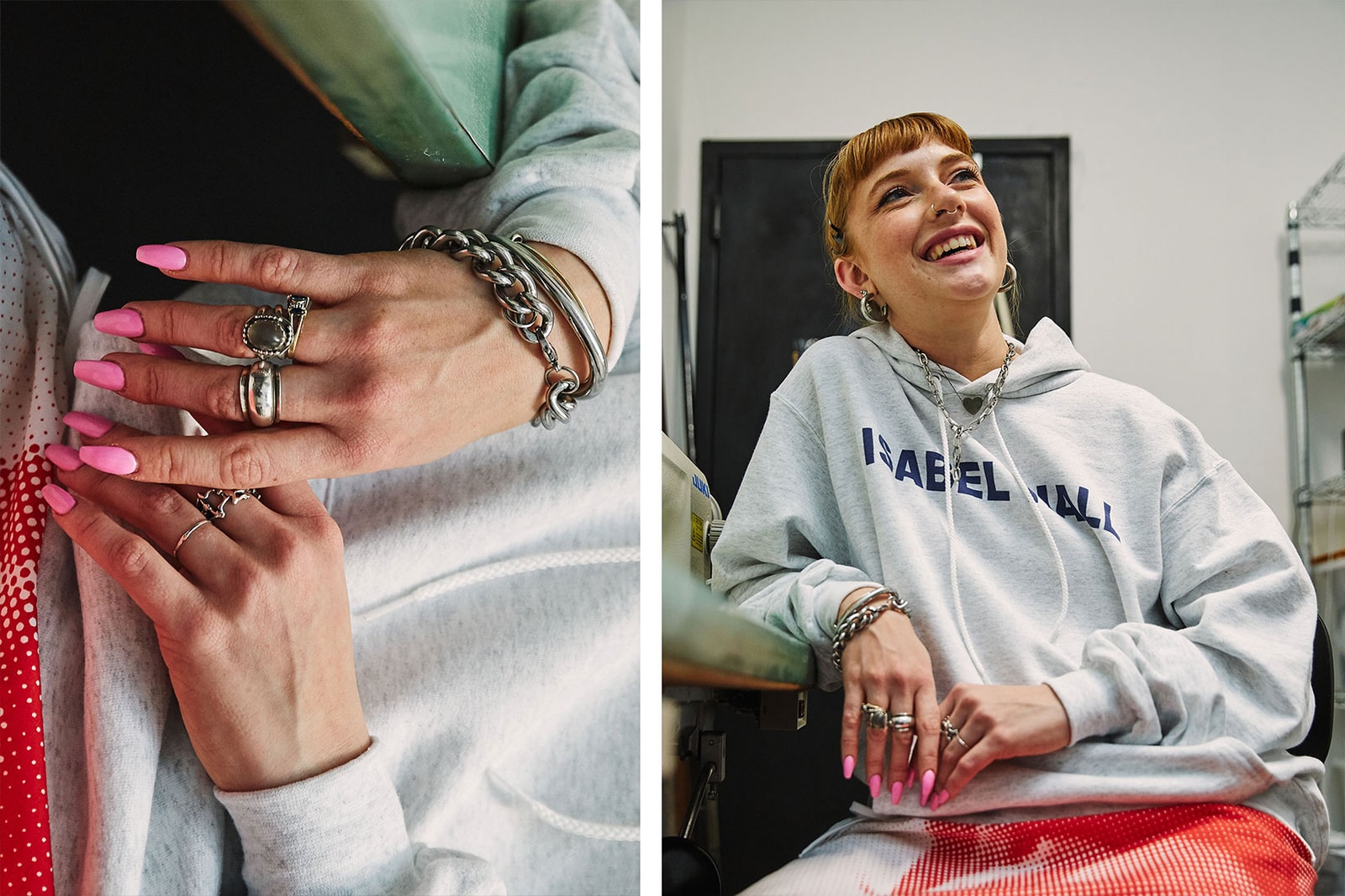 How have your personal style and experiences inspired your design ethos?
I wear a lot of men's clothes and I shop on the menswear side all the time and I think so many women do too. I feel like so often [clothing] is just not made for a woman's body. [The garment] will be so boxy that it's falling off your shoulders, but it fits your waist, and men's trousers never fit properly. So where do you find that happy medium? For me, it was about reappropriating that silhouette for a woman's body without losing any of that attitude, comfort and boxiness.
Then, I started to explore more wearable [designs], meant for the everyday and I moved a lot towards utility fabrics — cotton twills and canvas — that were much more washable and I think much more sustainable, ultimately. It developed as a concept that instead of a woman theoretically walking over to the men's side, you could have this collection where technically a lot of the pieces are unisex, but they are designed with a woman in mind. The [clothes I design] are made to fit a woman's body first and foremost and I make sure to address what I would need to get out of the garment and what other women would need from the garment. But, then also have a man look at the collection and have him want to wear it, too.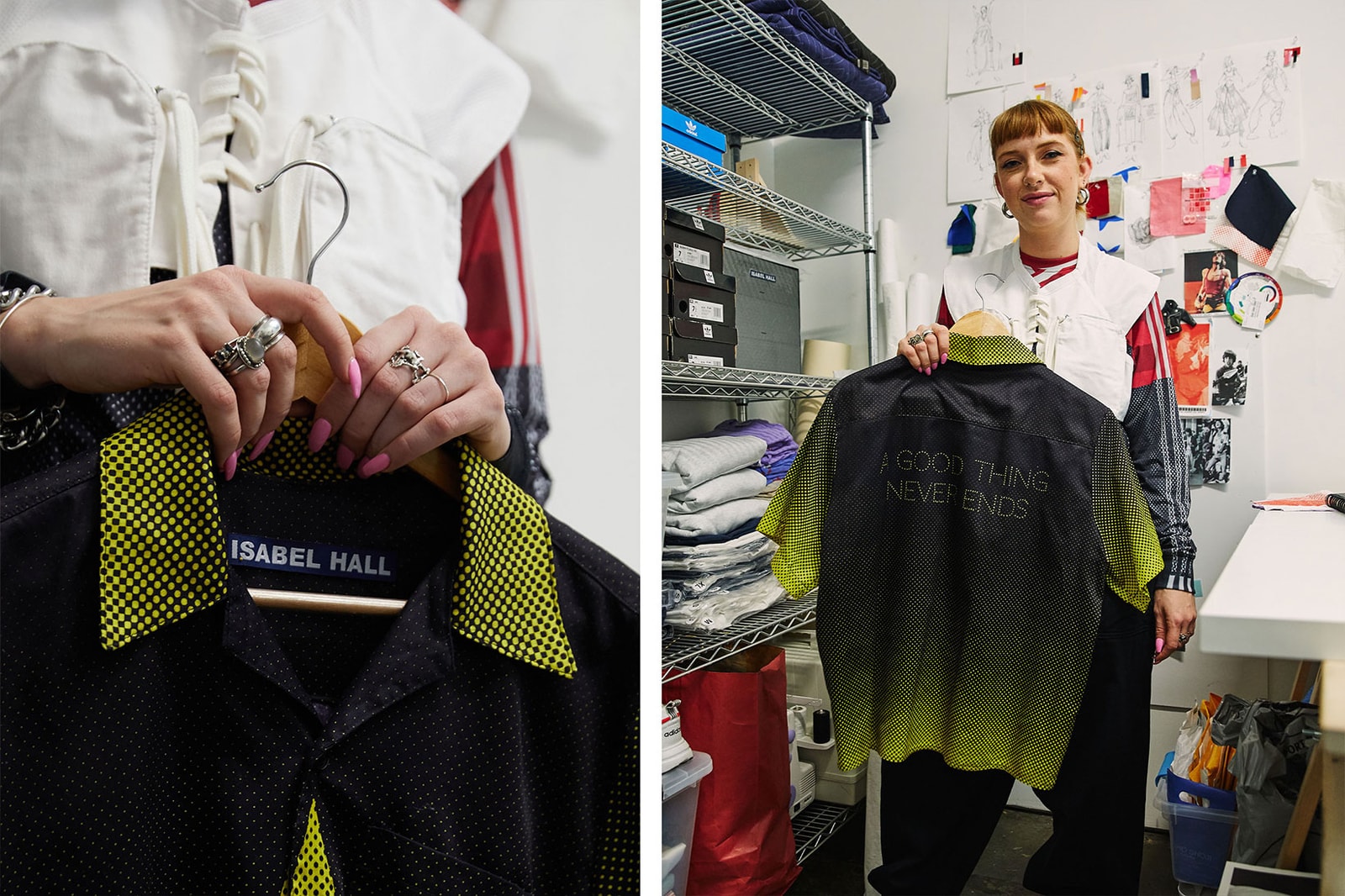 In addition to your own line, walk me through your role as the Technical Manager of  Apparel in the MakerLab at the adidas Brooklyn farm and what you do there. 
The adidas Brooklyn farm is set up with a half traditional space like, computers, moodboards and sketching. Then the other half of the space, is a physical studio. So, the whole point is that we cut out the middleman and are able to do a lot of initial prototyping on site. By the time we take something to a factory to develop it and take it to testing, we've already put in a ton of research and experimentation to get that idea going.
I work in the MakerLab half of the space and I'm the Technical Manager of Apparel. I'll manage the materials, kind of overseeing the machines and then work with our apparel team on developing pieces.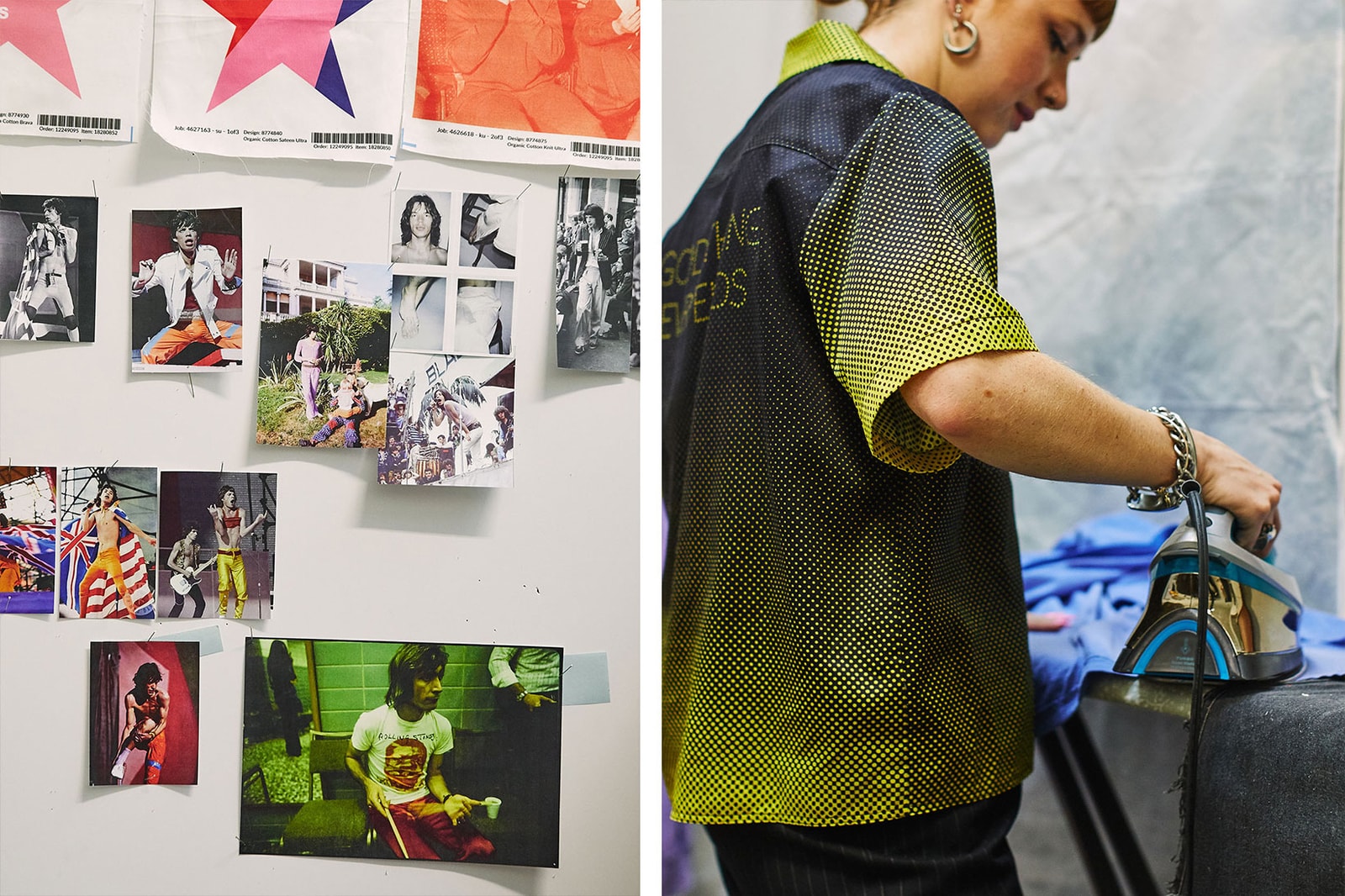 Walk me through the inspiration behind your Spring/Summer 2020 collection and how Mick Jagger played a role in shaping your designs. 
I didn't start getting really deep into music until around middle school or high school and then it just sort of clicked for me. My dad has always been into music, so I grew up listening to Bob Dylan, The Beatles, The Rolling Stones, Patti Smith and Tom Waits. I kind of ignored the influence it had on me until, all of a sudden I was into it and for me, The Rolling Stones were always one of my favorite bands and Mick Jagger and Keith Richards were always so fascinating to me. I read all of the biographies on their different wives, that whole culture and the party scene around that. But the thing I've always loved about Mick is that you look at couples photos of him with Bianca Jagger or Jerry Hall and he's equally well-dressed, equally flamboyant and fits into the whole part of the scene.
It's like [Mick Jagger] and Iggy Pop became such sex symbols and both just completely rejected the idea of what a rock star would typically be wearing and would combine that with whatever they thought was interesting [to wear] at the time. So like, jumpsuits and leather pants —it's not at all like the typical masculine look and] I started thinking a lot about that. I ended up zeroing in on a tour The Rolling Stones went on in 1981 and Mick was wearing a lot of Americana-inspired pieces. [Mick] would wear capes made of different flags, he would wear football padding and these tight pants. I thought it was such an interesting combination, especially in the '80s when you're seeing a lot more color coming through and his style is becoming more flamboyant.
How do you think fashion is catching up with our shifting attitudes toward gender? 
I feel like this has been such a huge conversation the past two years for so many reasons, but especially in fashion. I think it's fascinating because, at first, everyone was all about unisex styles, which was the same boxy shape and the shape didn't matter and gender didn't matter. But now, it's more about recognizing there's so much in between and so much is a part of the full spectrum and how can you address that as part of the conversation. But, there was a quote in an interview with Vivienne Westwood and I remember her saying unisex is so boring and why would you want to dumb down your silhouettes to make it fit for every person? That's not the point of clothing. She was like, it's about expression, it's about bodies and I feel especially through brands, like you see with Eckhaus Latta and all of these new, young American designers, it's not about a man or a woman so much as it is about what feels good on the body as opposed to that gender.
How did you blend traditionally masculine and feminine tropes for a new take on genderless dressing? 
One of the things I explored this season was the idea of football padding. I made a vest, shorts and a jacket that have cargo pockets and that are all inspired by the placement of [football] padding. That utility aspect was tied to this more historical connotation of the bigger shoulders, the bigger chest, where that sort of silhouette does become very unisex. There's a lot of lavender in this collection, a lot of pink, a lot of reds and much more of those brighter colors which can be crossed over either way for [women and men], depending on how you look at the [collection].
Women want to wear clothes with attitude—how does your collection demonstrate this and how did feminine tailoring play a part in your designs? 
I think it's a comfort thing, honestly. It's about being physically comfortable. [Choosing what you want to wear] is such an empowering feeling and I also think that's such a New York feeling because, whatever you're wearing for the day, you're probably going to walk a couple miles in it. I feel like there's so much freedom in finding a personal, unique style and an outfit that can take you through a day like that.