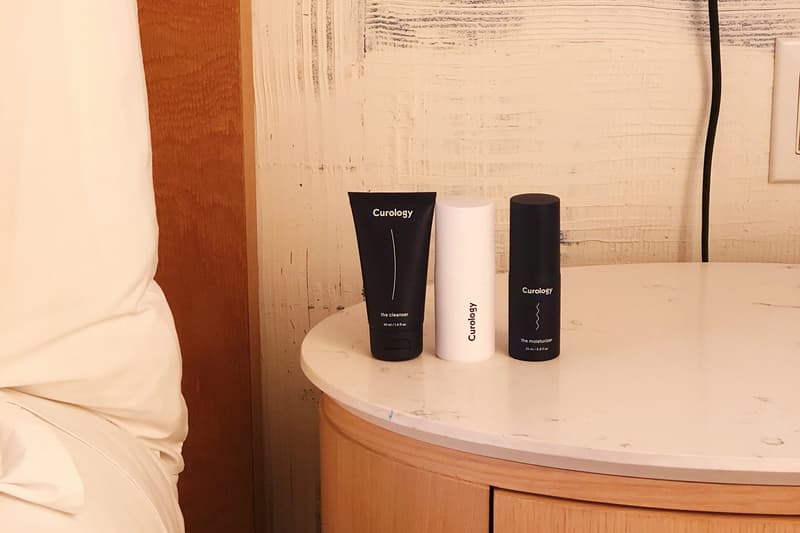 Beauty
Curology's Customized Skincare Line Helped Me with My Trust Issues
Here's what happened to my hormonal acne after 3 months of testing.
Curology's Customized Skincare Line Helped Me with My Trust Issues
Here's what happened to my hormonal acne after 3 months of testing.
Ever since moving to Hong Kong, I've been struggling a lot with my acne. I've never been one to have skin problems, but all of that changed, and there were endless factors that could have contributed to the problem. It could have been anything from my diet to pollution or even the water I was drinking, and it made me realize that my once-resilient skin was actually very sensitive and reflected the stress of my surroundings. In addition to the anxiety and loneliness that come with moving to a new city, I had this new issue that brought down my self-esteem.
I got stuck in a cycle of covering my face up heavily with makeup and it would make my pimples even angrier. I would feel bad for feeling bad since I knew there are people with actual skin illnesses. There are so many worse things that could happen in life, and I felt dumb for worrying about something so seemingly minuscule. I tried so many different skincare products, and everything would work for two to three weeks and then my skin would be back to the way it was. I was discouraged, so when I heard about Curology, it actually gave me some hope.
The concept is simple – you take a skin quiz, upload photos of your face and then a dermatology provider prescribes you a treatment medication based on on your answers. Your first trial bottle is free aside from shipping, and if you like the product, you can sign up for a subscription for either just the treatment bottle or the treatment bottle with a cleanser and moisturizer. I opted for the latter since I wanted to see how everything worked together.
Before getting into my review, I want to clarify that unfortunately, Curology is only available in the United States. The product contains prescribed ingredients, so they aren't currently able to ship anywhere else, but hopefully, that might change one day. Read on to see what I thought of the products after testing for three months.
Curology's site is really easy to use, which made signing up for a customized prescription a breeze. You get your own provider that analyzes your results and breaks down clearly what is in your treatment, what each ingredient is doing and why you may be experiencing skin issues. For me, it really put my mind at ease, because my provider said based on my acne patterns, the most likely cause of my skin problems were hormones. My treatment ingredient list broke down as:
Azelaic Acid (4%): For dark spots and unclogging pores
Clindamycin (1%): For inflammation
Zinc Pyrithione (0.25%): For fighting off acne-causing bacteria and fungus
Since Curology's treatment has a higher potency of ingredients than many over-the-counter products, it's really important to pare down your skincare routine when testing it out. During the first month, I only used the cleanser and moisturizer provided and then slowly introduced other products back into my regime in case my skin reacted badly after starting the treatment. I was told to be especially careful with any physical exfoliators and products with active ingredients like benzoyl peroxide, salicylic acid and AHAs. In my case, I had an exfoliating green tea mask that worked great before, but after using Curology, it made my skin red and itchy, so I had to let go of the product.
In terms of sizing, the brand did a great job. The trial bottle lasted for exactly one month and the bigger bottles last for two months. Overall, the products are really simple and clean. The cleanser and moisturizer are fragrance-free and perfect for minimalists. For the cleanser, I found that it didn't take off all my makeup after washing, so double cleansing was essential. The moisturizer was the perfect texture for a daytime cream, but I found that the treatment dried out my skin a lot, so I needed to eventually switch out to a richer face lotion later on for evening.
As for the treatment medication itself, it was a medium-weight cream that was also fragrance-free. I really liked the packaging since it was a pump bottle that used air pressure instead of a tube, so you're able to get all the product out at the end. I usually wait for a minute or so before applying face cream, just to give the product some time to sink in, and on especially dry days, I'll also add some serum or face oil on top before moisturizing. The great thing about the treatment is that I felt the brand really values feedback. In your first two weeks, you can check in with your provider and send more photos to see if you need to switch things up, and every month moving forward, you can have one consultation. I really like this format so I can tweak the formula if my skin goals change from acne-fighting to something else such as targeting wrinkles.
I've read in a lot of Curology reviews that some people go through a really intense "purging" period where their acne gets really bad before it gets better. In my skin journey, this part of the process was relatively mild. My skin pretty much stayed the same for the entire first month, and I got a few more extra pimples here and there. Usually, at this point, I would have given up and tried something else, but my biggest piece advice coming out of this is to give it time and stick to it.
At around the one month mark is when I started to see results. My acne started becoming less inflamed and if I got new pimples, they were significantly smaller and infrequent. Currently, I still have some acne scarring and dark spots, but for the most part, I have very few active pimples and usually only get them around my period. Scroll the gallery below to see the results of using Curology for three months.
For a two month supply, the treatment is $39.90 USD and for the full set including cleanser and moisturizer, it's $59.90 USD. If you're interested in trying out Curology for yourself, you can sign up online.
Share this article