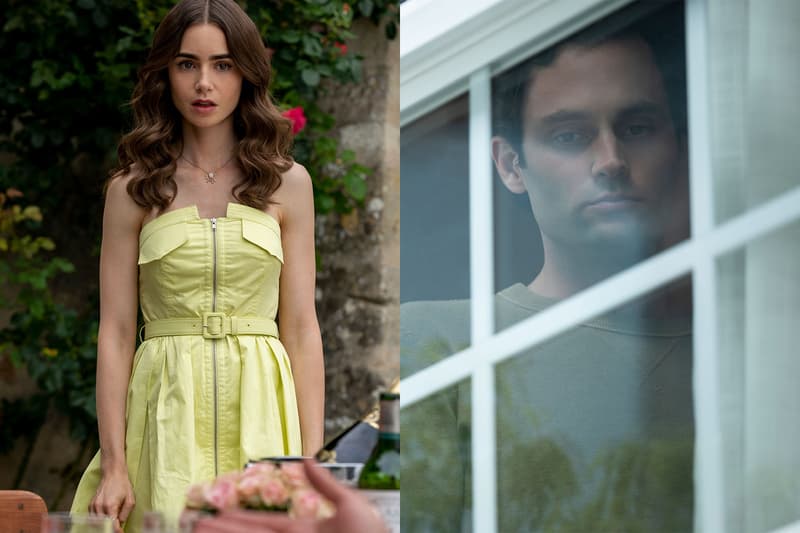 Film & TV
There Might Have Been a 'You' Easter Egg in 'Emily in Paris' Season 2
We're all for a Netflix rom-com-verse.
There Might Have Been a 'You' Easter Egg in 'Emily in Paris' Season 2
We're all for a Netflix rom-com-verse.
The second season of Emily in Paris is finally here, and fans are speculating a possible crossover between the "ringarde" show with Netflix's You.
Warning: This post contains spoilers for the latest seasons of both You and Emily in Paris. 
Those who have seen the latest season of You will remember that Joe Goldberg (played by Penn Badgley) fled to Paris in search of his next "you," Marianne (Tati Gabrielle). As for Emily in Paris, Emily (Lily Collins) is conflicted between her friendship with Camille (Camille Razat) and her romantic relationship with Gabriel (Lucas Bravo).
As E! reports, when Emily consults her colleague Luc (Bruno Gouery), he tells her: "Don't waste time with girls or thinking about Marianne No. 1 or Marianne No. 2. Just never date a woman named Marianne. Never." Although the use of the name Marianne could be a mere coincidence, fans are speculating a potential crossover, as the next season of You will likely be set in Paris.
Let us know if you think a Netflix rom-com-verse should happen below.
Poll
Should a 'You' x 'Emily in Paris' crossover happen?
Share this article