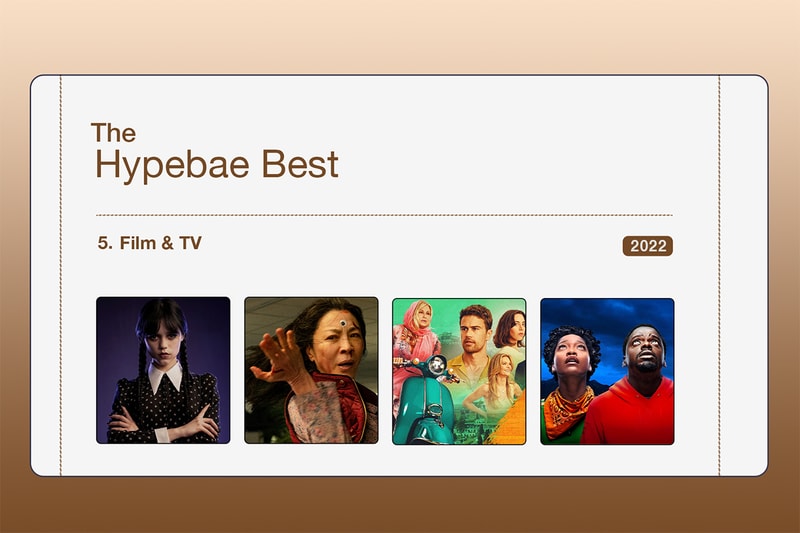 Film & TV
The Hypebae Best: All the Movies and TV Shows We Loved in 2022
From 'Wednesday' to 'Don't Worry Darling,' this year was filled with action and drama.
The Hypebae Best: All the Movies and TV Shows We Loved in 2022
From 'Wednesday' to 'Don't Worry Darling,' this year was filled with action and drama.
2022 was a hard-hitting year for the entertainment industry as films migrated back to movie theaters while maintaining a strong foothold on our favorite streaming platforms. Two years into the pandemic, we've become accustomed to setting up a cinematic experience in our homes, but this past year delivered an abundance of action-packed movies that gave us a reason to go out. Jordan Peele's Nope earns a deserving spot at the top of fans' favorite releases, while Don't Worry Darling is arguably the most talked-about feature this year.
The small screen was not lacking in star power either as House of the Dragon satisfied the medieval appetites of old and new Game of Thrones fans. Euphoria provided iconic meme-able moments, along with Instagram-worthy outfits and Halloween costumes. Everyone's favorite goth girl Wednesday Addams rounded out the year, offering an engaging and visually beautiful murder mystery to spook everyone out.
Continue scrolling below to discover the best tv shows and movies of 2022.
TV SHOWS
Euphoria Season 2
The HBO Max hit series returned with its second installment and the high school drama did not disappoint. Created and written by Sam Levinson, the cast is led by none another than Emmy award-winning actor Zendaya who plays recovering addict Rue and features new faces like Angus Cloud, Dominic Fike and Chloe Cherry. Series regular Sydney Sweeney took center stage as her character Cassie Howard committed the ultimate betrayal against Alexa Demie's Maddy Perez and found herself in the midst of a toxic love triangle with Nate Jacobs, played by Jacob Elordi. The sophomore season of Euphoria was Barbie Ferreira's last as she will not be returning to reprise the role of Kat Hernandez.
House of the Dragon
Ever since the series finale of Game of Thrones premiered in 2019, distraught fans have been searching for something to make up for the less-than-satisfying ending. House of the Dragon flew in, offering a highly anticipated prequel to the fantasy series, diving into the Targaryen family's fiery reign. Starring Emma D'Arcy and Olivia Cooke, the drama takes place 200 years before Jon Snow and Robb Stark's time, portraying the civil war that sparked the centuries-long battle for the Iron Throne. While the series was filled with fire and blood, it ironically gave birth to a viral moment on TikTok that has undoubtedly solidified stunning negronis as the drink of choice for 2022.
Stranger Things Season 4
Venturing into the Upside Down, Stranger Things reunited us with our favorite pre-teen gang as Season 4 premiered this past May. In the latest installment of the sci-fi series, the cast took off on their own adventures as the Hawkins crew, comprised of Dustin, Steve, Nancy, Robin, Lucas and Max worked tirelessly to vanquish Vecna, the supernatural force possessing cheerleaders and jocks in the previously quiet suburb. Meanwhile, Mike, Jonathan, Will and El were attempting to save the world over on the West Coast, whereas Chief Hopper escaped death, only to end up fighting for his life in Russia.
The White Lotus Season 2
Starring Jennifer Coolidge and Aubrey Plaza, the second season of The White Lotus explores the hedonistic impulses of the rich and beautiful on the deceivingly picturesque Italian vacation resort. From incest to murder, the HBO Max comedy-drama certainly offers an all-inclusive experience.
Wednesday
Director Tim Burton modernized Wednesday Addams as Jenna Ortega reinvigorated the classic character in the Netflix series. Starring alongside Gwendoline Christie, Catherine Zeta-Jones and Christina Ricci, Ortega brought Addams into the 21st century as she kicked ass and takes names in order to save Nevermore Academy from a murderous beast in the woods.
MOVIES
Black Panther: Wakanda Forever
Following the tragic and untimely death of Chadwick Boseman, Marvel decided to honor his impact and legacy, continuing the Black Panther series, with Black Panther: Wakanda Forever. The sequel revisits the fictional African country in the wake of T'Challa's passing, starring Letitia Wright as Shuri, his sister, who navigates her new role, protecting Wakanda, alongside Lupita Nyong'o and Danai Gurira who reclaim their respective characters as Nakia and Okoye.
Don't Worry Darling
Directed by and starring Olivia Wilde, the indie film explores gender roles and misogyny in a dystopian 1950's town of Victory, in which women seem to enjoy a picture-perfect life at home, while their husbands work on a confidential project. As Alice, Florence Pugh's character, begins to sense something is going awry in her Stepford Wives-esque home, the carefully knitted thread of her once beautiful life begins to unravel.
Everything Everywhere All at Once
Michelle Yeoh is tasked with saving the world as she plays Evelyn Wang, a Chinese immigrant who starts out in financial distress and later discovers, she possesses the ability to travel between different universes and access alternate versions of herself.
Nope
Jordan Peele continued to reinvent the horror genre as his latest film Nope brought together cowboys and aliens. Daniel Kaluuya and Keke Palmer play the Haywood siblings as they train horses for movies, but begin to find themselves on a hunt for UFOs as they suspect extraterrestrial life forms are to blame for the disappearance of their equine friends.
The Batman
Robert Pattinson and Zoë Kravitz sizzle on screen as the former Twilight actor trades in his fangs for a cape as he plays the notorious billionaire-turned-vigilante, Bruce Wayne, fighting to keep Gotham City safe from a crazed serial killer. Kravitz stars opposite as the sultry Catwoman, Selina Kyle.
Turning Red
Never Have I Ever's Maitreyi Ramakrishnan stars in the adorable animated film, Turning Red. Experiencing the growing pains of adolescence, Priya soon discovers that puberty will not only turn her into a hormonal, rebellious 13-year-old but will transform her into a giant red panda. The film received praise for its groundbreaking and apologetic portrayal of periods and the cringe-worthy, yet, realistic moments that come along with growing up.
---
Share this article