Behind the Atelier: Ashley Ciriaco of CIRIACO on Creating Timeless Streetwear-Esque Handbag Silhouettes
The self-taught handbag designer offers a closer look into her design space and studio.
Behind the Atelier is a fashion-focused series that examines the unique backstories and design processes behind the fashion industry's most captivating talents. Pulling back the curtain on each designer's creative space and practice, Behind the Atelier provides an inside look into the industry's most exciting names.

For the eleventh installment of the series, Hypebae spoke with Dominican-American designer and founder of the New York-based accessories label CIRIACO, Ashley Ciriaco. In a candid conversation with the emerging designer, Ashley divulged the details of her ascending journey from launching her eponymous handbag brand to balancing two retail jobs with a demanding college course load, the ways in which she is ensuring her brand's longevity through intentional, sustainable design choices, how she draws inspiration from her childhood and adolescence to consistently create new statement silhouettes for CIRIACO.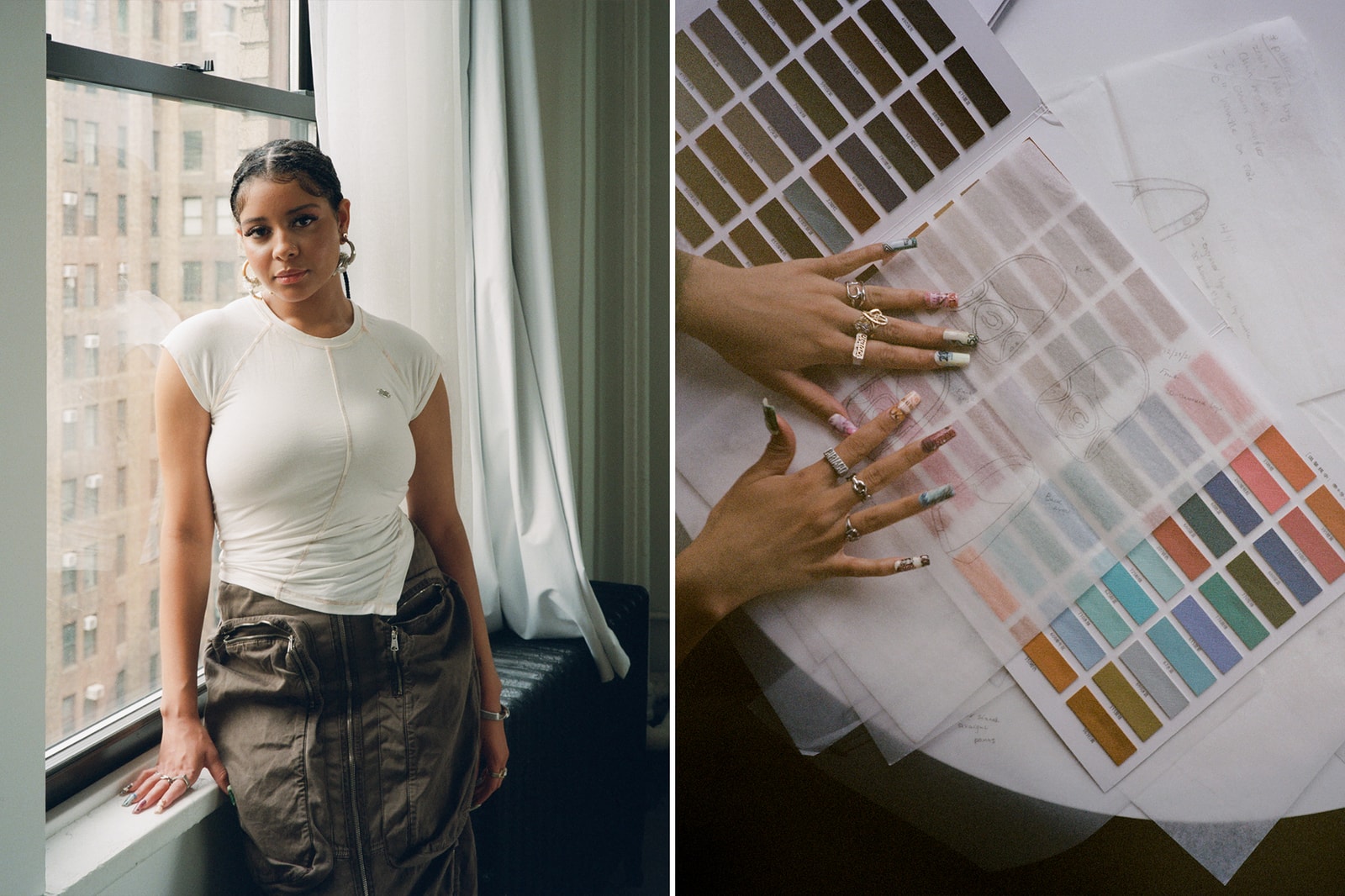 Although Ashley Ciriaco was born and raised in Atlanta, Georgia, the hustle and bustle of New York City was always near and dear to her heart. With familial ties to both the Bronx and Queens, the 23-year-old would periodically visit both boroughs growing up, soaking in the sights and sounds during each visit. Over the years, her weekend trips to the city would eventually transition into a permanent move to the metropolitan area for the rising design talent who had hopes of living in New York City since her days of watching the NYC-based show Sex and the City with her mother.


The classic, early 2000's series not only inspired Ashley's relocation to the fast-paced city but it also helped birth her innate passion for fashion, shaping and shifting her unparalleled approach to it as well as her sense of style in the process. The show's eclectic wardrobe which featured dazzling and dynamic designs would later become a source of inspiration for some of the vibrant shades splashed on the asymmetric silhouettes of CIRIACO handbags. Naturally growing up watching the iconic dramedy series along with other fashion-focused shows such as the CW's Gossip Girl, would motivate the multifaceted artist to become a student of the game in 2017, enrolling as a Fashion Merchandising major at Berkeley College in Midtown Manhattan.


Her time at Berkeley College, although met with highs and lows, allowed the formidable designer to create the blueprint for CIRIACO. In between classes, work shifts and teaching herself the ins-and-outs of design, Ashley would begin to develop the foundation for her brand's asymmetrical silhouettes and dynamic uses of rich textures, prints and bright hues. She cultivated her unique design process during this period, from the decision-making process behind selecting reliable manufacturers to picking durable fabrics that withstand the test of time, which led to the culmination of the release of the first CIRIACO handbag in 2020.


To get to know the designer, Hypebae sat down with Ashley Ciriaco to discuss why her design approach focuses on timeless pieces that don't adhere to trends, the inception of her eponymous line and the reasoning behind her love for designing handbags, ways in which her creative process sets the tone for each new collection and how the signature CIRIACO ethos the designer has developed will play a pivotal role in the brand's expansion beyond accessories.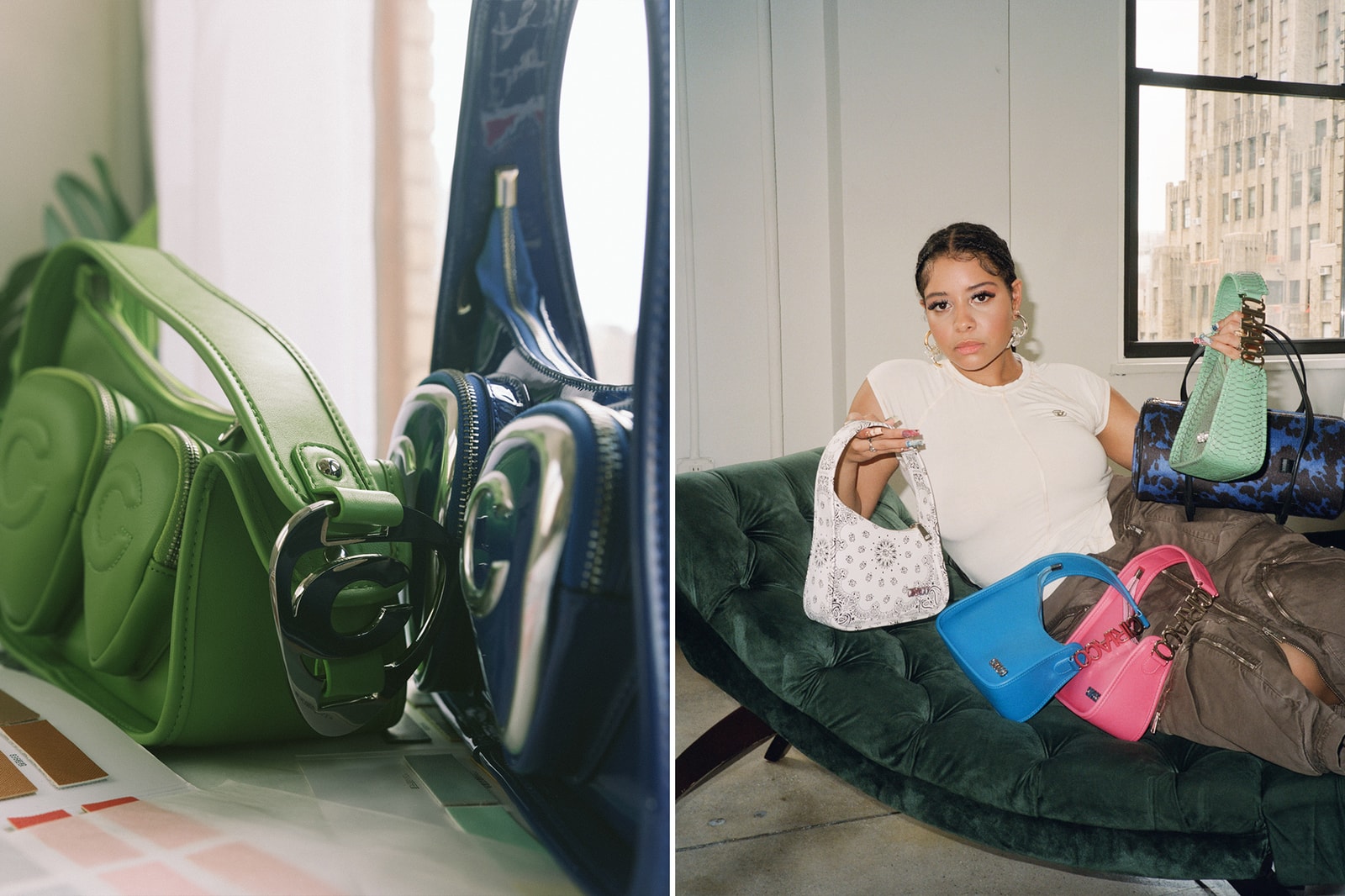 What inspired your love for designing and creating handbags?
I started off sketching Disney princesses as a little kid and then the older I got That's So Raven came out and really inspired me to start designing in the first place along with other shows I shouldn't have been watching like Sex and the City. When I saw that Carrie always had a small baguette I knew I had to make bags.
What have been the most challenging and rewarding aspects of building CIRIACO?
The most challenging part so far was looking for a manufacturer that understood what I was trying to go for. Before I trusted [any manufacturer] to send my only sample to, I wanted to show just my sketches first, but half of them didn't really understand what I wanted. Manufacturers overseas were cheaper, but trying to find one that is sustainable was difficult and in New York just to make three bags would've cost $11,000 USD and I only had $1,200 USD from my school at the time.
Eventually, I was able to find a manufacturer abroad, form a relationship with them and she was able to make me a sample at a reasonable price. That was the first Ashley baguette without the engraving on top, I added the engraving midway because I felt like it needed some add-ons. I didn't want to make it too sporty or too casual because I still wanted it to look luxurious. Probably the most rewarding part, although not the easiest, was when Kith reached out to me about having my bags in-stores. I literally started crying.
How does your eponymous line fully encompass the essence of who you are as a designer and what your brand stands for?
Ciriaco also means king or ruler and is actually a name typically meant for boys. It's kind of funny because I'm literally the only female Ciriaco in my family. So, it's like I'm the king now and that's how I want people to feel when they wear my bags and that's what I've been seeing. I'll see people say they're excited to wear them, that they receive compliments and feel pretty while wearing them, and that's what I want. CIRIACO isn't just my last name, it's also luxurious and I want you to feel like that's what you are too.
What are the core pillars that make up your brand?
Definitely boldness. I don't want people to even see the logo name. I want them to see the silhouette from a distance and just know that it's a CIRIACO. I try to create bold and unique bags where you don't have to be high class to wear them. You can be from where I'm from and still wear high fashion. I don't want anyone to feel like you have to have some sort of status to wear CIRIACO — literally anyone can wear it. CIRIACO is street but high fashion. It's playful. You can dress it up or down. You can take it to the club or it can be a cute everyday bag if you're going to brunch or somewhere quick.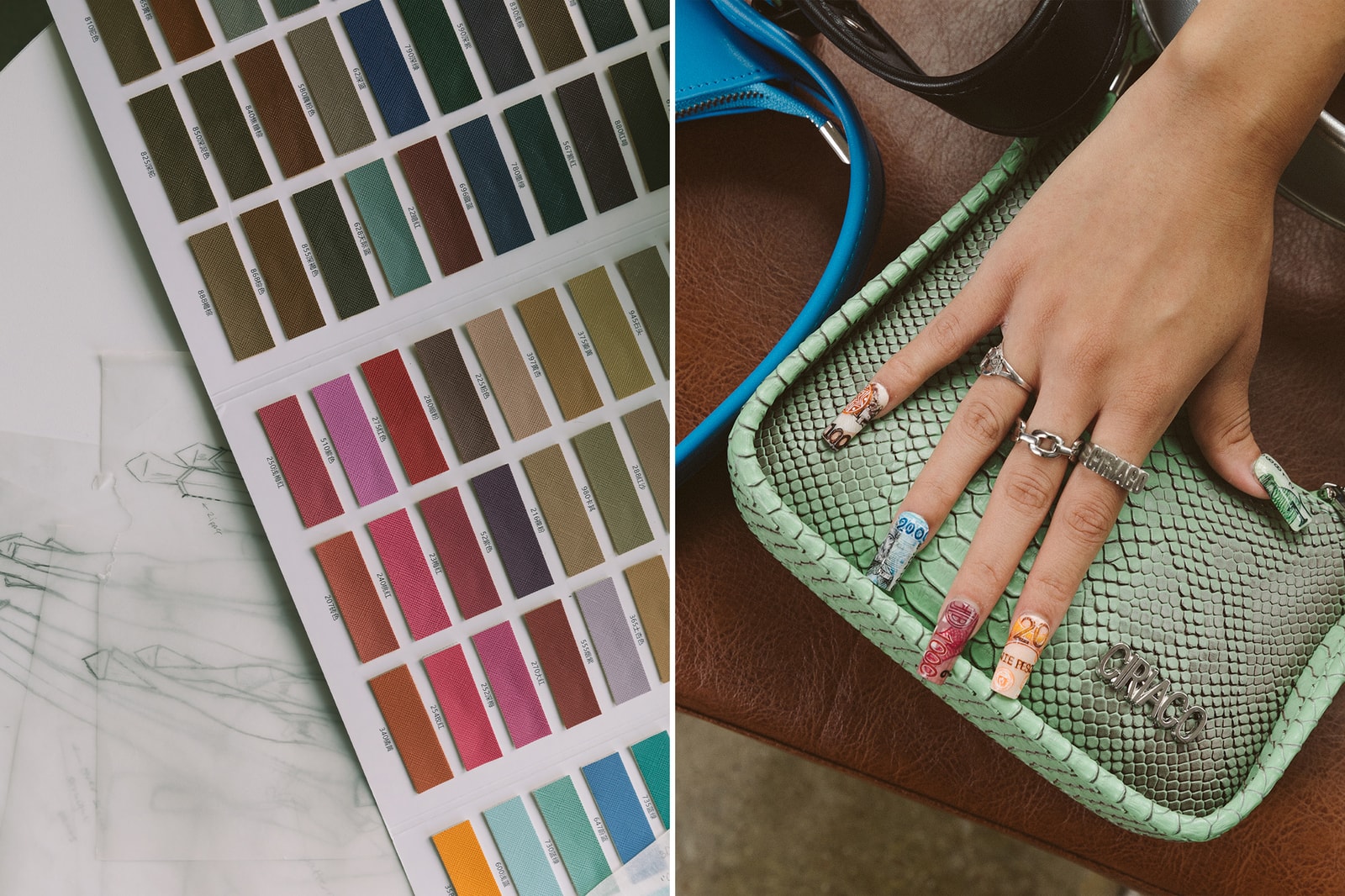 As a designer who places emphasis on creating luxury products that withstand the test of time and are still attainable, how does your affinity for materials, colors and prints enhance how you approach designing?
I start with textures and I take that super seriously since I don't use real leather and I need to be able to feel and touch the materials for myself. When we start off making samples I'll wear it out for two weeks back-to-back and pretty much destroy it to make sure it can handle anything. But since I use genuine fake leather I try to be as sustainable and mindful as I can by only making a certain amount of my bags which is why I restock when I restock. I also don't want workers working their life away to make them, I don't believe in that.
What inspires me for colors are just shades I haven't seen in years. I would watch shows like
Sex and the City
and notice I haven't seen a cute purple bag in so long and realize that could be cute for CIRIACO. I'm also a tomboy and like to wear sneakers so I'll go based off of the sneakers I have and try to create a bag that will look cute with them and still make me girly in a way. Of course my nails inspire me too, especially with the shades of blue and cream I have on right now. My next idea, based on those, is to make different colored pockets and seams using actual leather.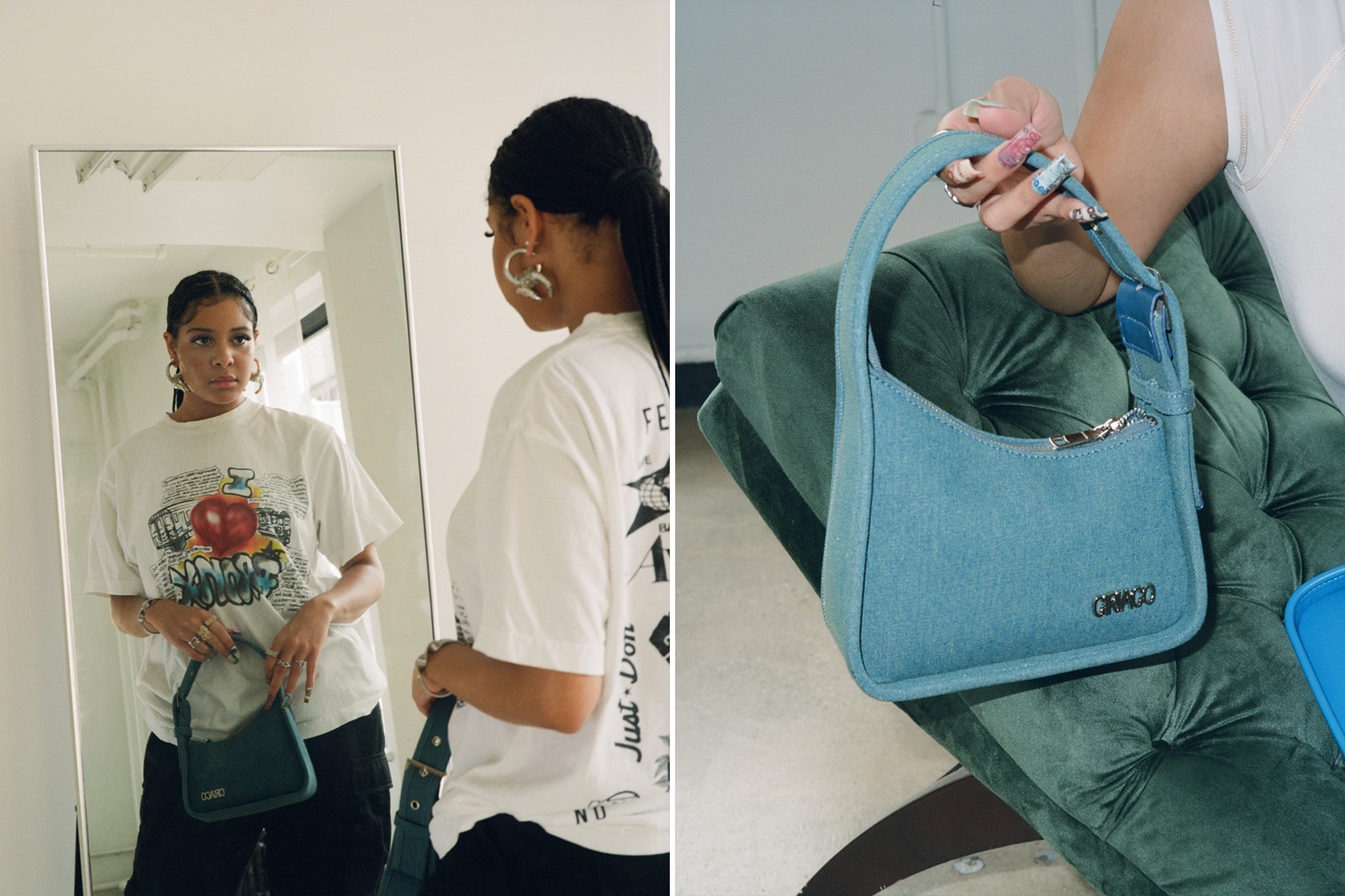 Tell me about anyone in your life who you look to for advice or guidance on CIRIACO.
On the motivational side, I would say it's more so my mom. The fact that she came from a whole other country, had nothing and had to figure it out is what motivated me more. I wanted to have the easy way up but I realized I have to figure things out myself. I always overthink things and see the negative side of things most of the time but I always look to her because she finds the positive side of anything I look negatively at. I also ask my mom for advice on colors and if she would wear this or that because I want people to still wear CIRIACO at the age of 50 or more. Additionally, my mom deserves a life that she's always wanted since she was a kid. That's why I'm always working to give her that so she can retire and chill.
How do you set yourself apart from your peers in the space?
Every designer is unique in their own way and each one has a unique eye. However, I would say longevity is what sets me apart. I think sometimes people make things that are more trendy rather than something that will still be cool to wear in 2050. I don't want to be another fast fashion brand. I want my bags to still be cute and chic one hundred years from now like a limited-edition vintage piece. That's one of the reasons why I like to do limited pieces for certain things like the snake bag.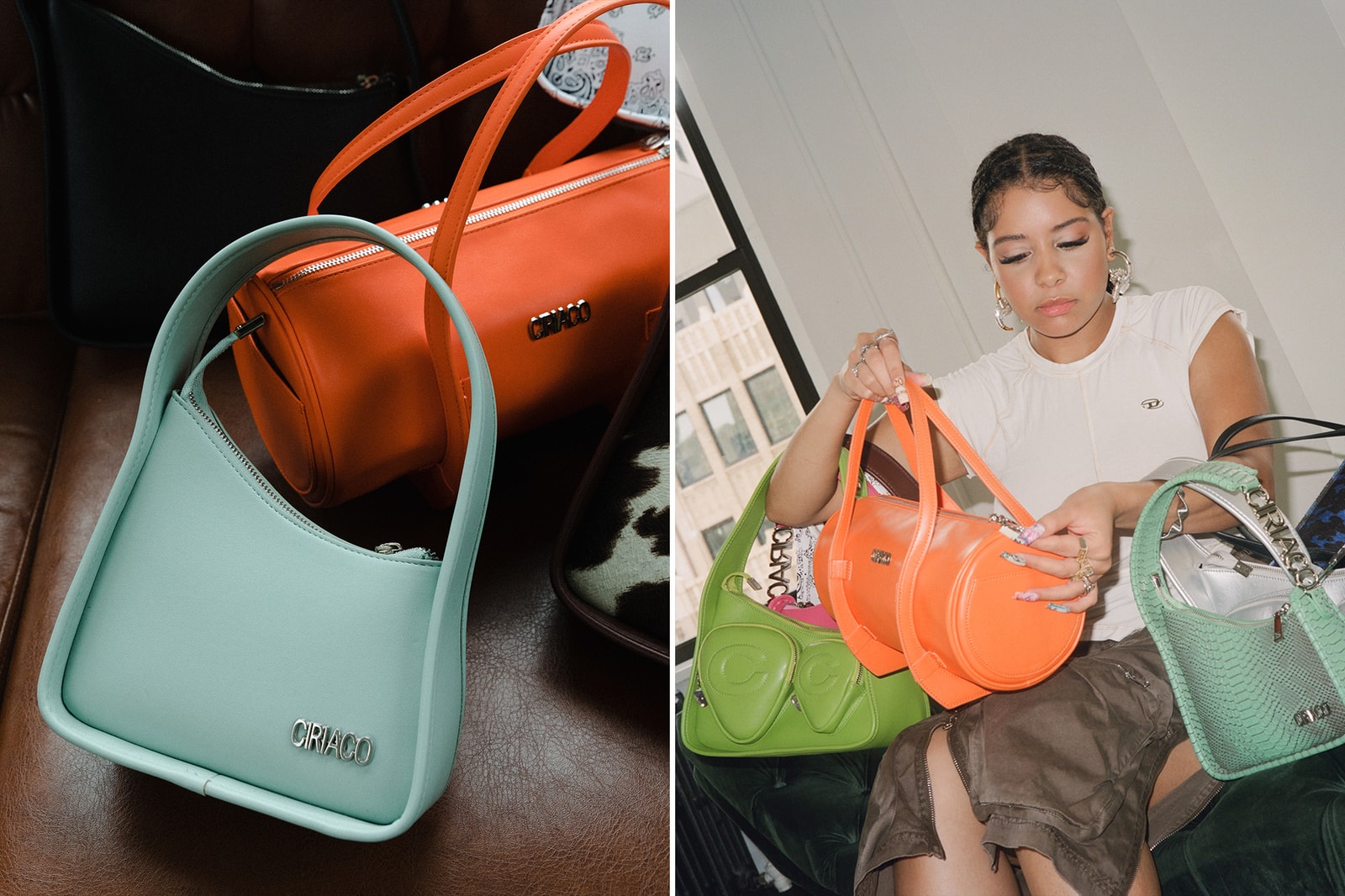 Walk me through your creative process when designing a new bag.
I start off by sketching and instead of always starting from scratch — when it comes to the Ashley bag I now just have one tracing paper of just the Ashley bag. I'll retrace it and then that's when I'll color it in or go to Mood Fabrics or any fabric store in the Bronx, and grab random swatches that stand out, but still offer good quality. I'd rather make 30 bags than 3000 bags and have those bags fall apart by the time you get it. Sometimes I'll try to get fabric that's also very limited so it can stand out more too like the green [Ashley Minimalist Baguette]. That was the most expensive bag I've ever made.
It's more of a process of what I feel and see first and then I go to paper and see what makes more of a logical sense. I love breaking the rules to be honest and I never went by the sheets they'll give you to learn how to sew. I always heard the same thing that was like, "if you can sew on a straight line of paper then you can sew anything." So, that's what I would do. I would sew a squiggly line first and then I would start sewing and feel comfortable enough to risk it when designing a new bag.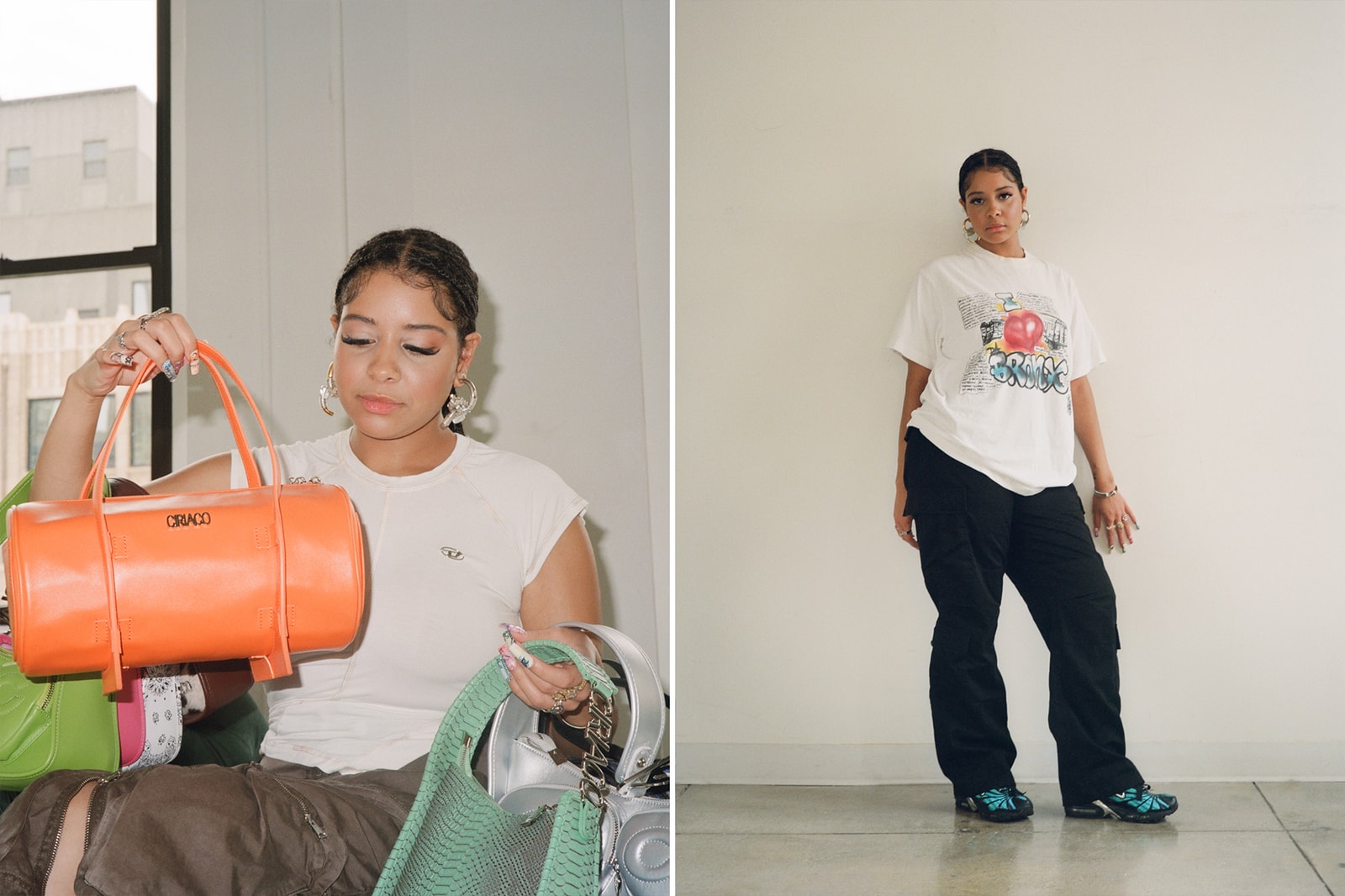 What are the deeper meanings or stories behind each of your silhouettes?
For the first baguette which was the Ashley Minimalist Baguette, I actually didn't name it. My customers did and I just kept it like that. I never changed it but obviously I'll just tweak it by changing the color for example. For the Sports Baguette, I wanted to give it more of a sporty look since some girls were saying that they wanted to buy my bags but it wasn't "tomboy-ish" enough. So, that's when I focused more on creating my secondary logo to see if it gave the bags more of a sportier look as a way to appeal to all types of girls and boys and the different ways they could wear or style that specific bag shape.
For the TPU logo, I basically did a sister version of that one, but it was my first time ever working with that type of leather and I felt like it was the right time to include it and show it off. Plus, it gave more of an expensive feeling to it and in person it looks shinier, smoother and silkier.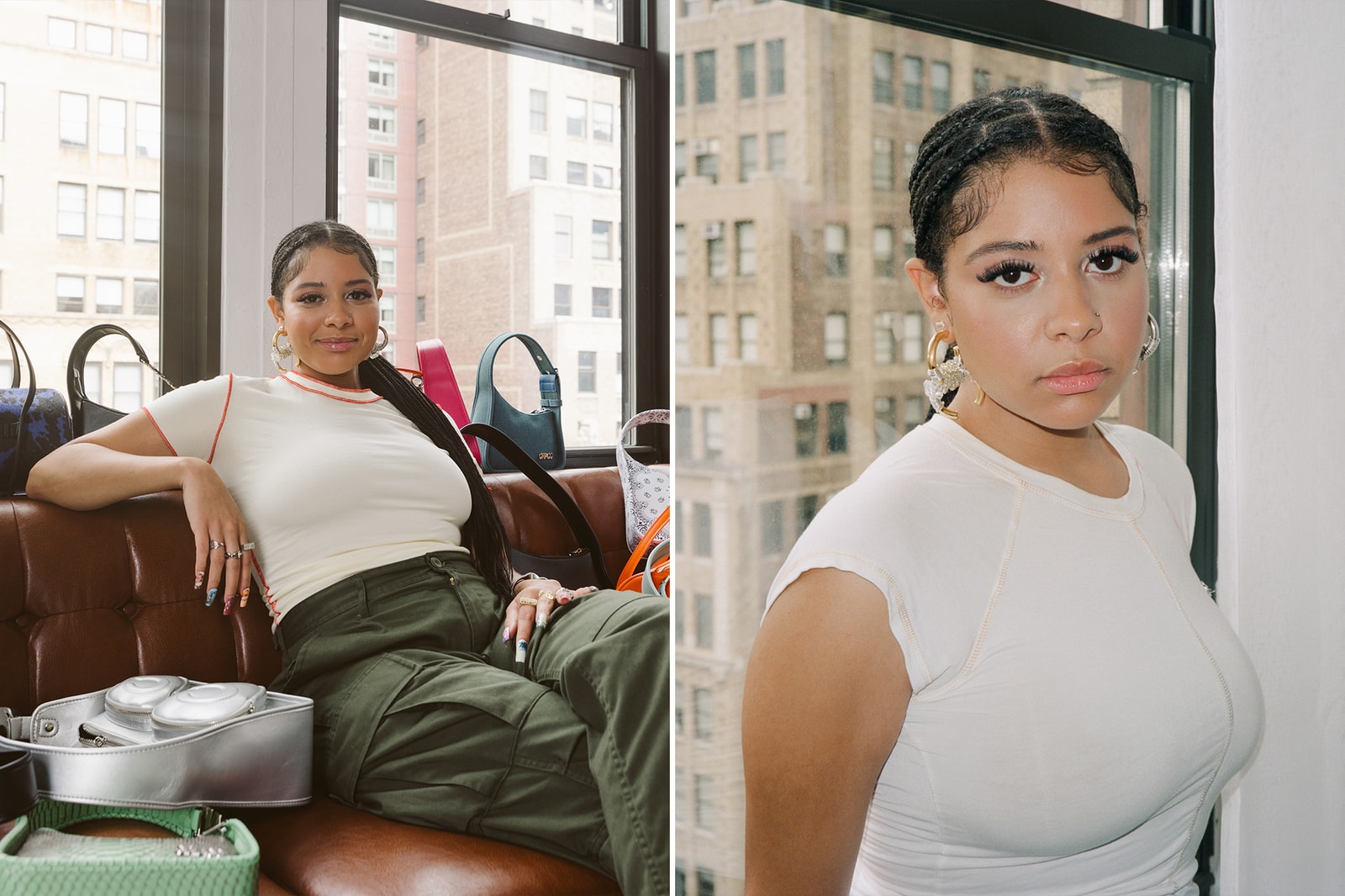 You're now two years into building your brand. Talk to me about how you've exceeded personal expectations with your brand and what the next two years will look like for CIRIACO.
As far as how I've succeeded, I'm glad that I've made different silhouettes that still look like CIRIACO. There's certain brands that you wouldn't know a bag is from the brand because it doesn't fit their name or aesthetic in a way. Like I said, I'm a tomboy and we're more comfortable wearing sneakers than high heels, and I've been able to see people like me wear my bag, a hoodie, sweatpants and sneakers yet still be cute — still feel like a girly girl.
I also don't want to be known as someone who just makes bags. I'm a designer and I don't want to be solely exclusive or confined to creating just bags. I'm kind of getting bored with myself by just making bags, so I'm trying to expand as fast as possible without giving my customers bad quality items. That's the thing with me, I like to take my time with things because I'm a perfectionist. I hate things not coming out how I want them to. I'm currently working on a unisex biker jacket that will be done by the end of this year and ready to sell by January of next year. I like the fact that we're in a space that everything is genderless, and so I try to make things that are more neutral and not focused on one side or the other. So, I'm also trying to create my own aesthetic. CIRIACO is streetwear, but it's still high fashion.