1 of 2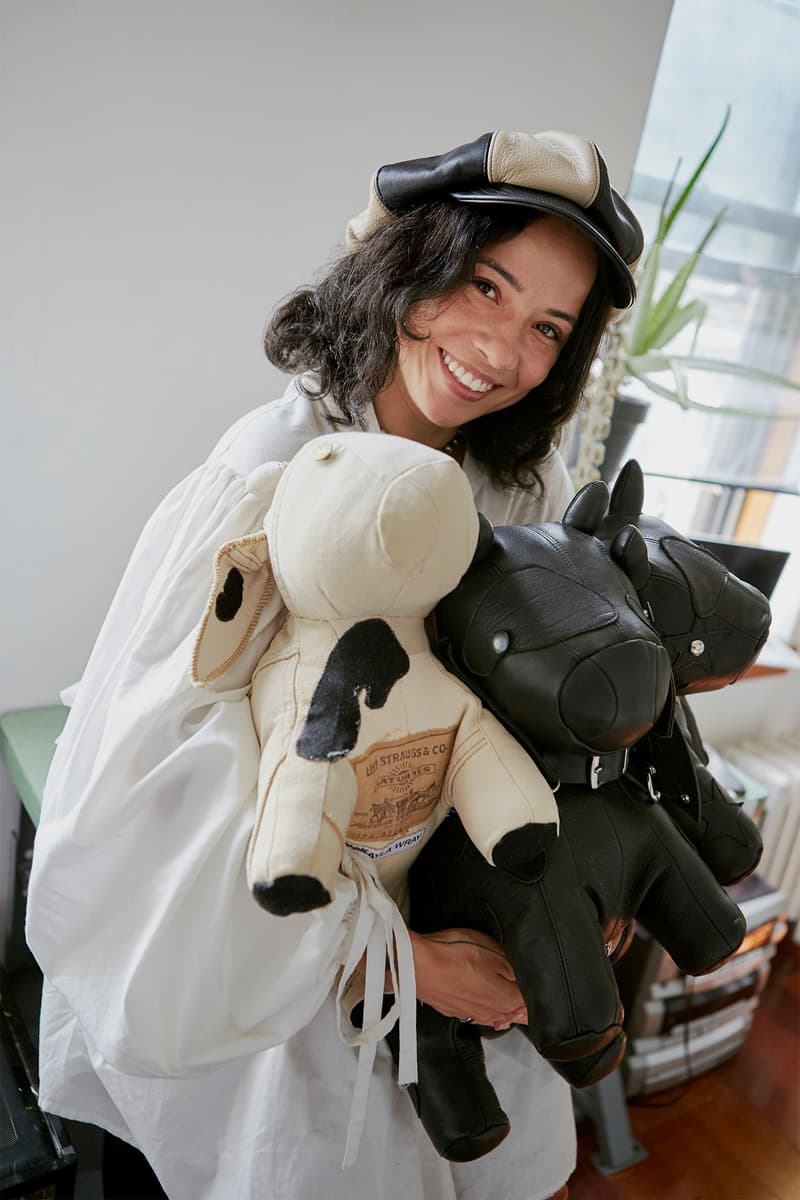 2 of 2
Fashion
Depop Collaborators: Makayla Wray Reimagines New York City Culture in Her Creative Craft
With her inventive artistry, the designer and artist inspires the NYC community to rethink their approach to fashion.
Depop Collaborators: Makayla Wray Reimagines New York City Culture in Her Creative Craft
With her inventive artistry, the designer and artist inspires the NYC community to rethink their approach to fashion.
Fashion designer Makayla Wray grew up in Pittsburgh, feeding her passion for expression through clothing by attending The Art Institute of Pittsburgh. This upbringing began to shape her creative outlook, but it was not until she moved to New York City and began her namesake brand that she truly discovered her inspiration — the everyday sights and sounds as well as the multiple colorful cultures that converge in the city.
Makayla has been expressing her personality and imagination through clothing since she can remember, and coming from a technical background, she has learned the processes of clothing reparation and alteration and would like to share these powerful tools with the wider public. When asked how her journey with sewing and upcycling began, she reflected, "Growing up in the black community you are always put onto what's new and next. If you wanted to stand out, you really had to experiment. That's when I first started to remix my old hand-me-down clothing into original pieces."
This background paired with spending time in a city as diverse and enriching as New York helped Makayla decide that one of the major goals of her craft would be to integrate streetwear into the high-end fashion world, bringing together her practical design skills with the free-spirited style of local city-goers. Exploration of this juxtaposition has led Makayla to explore other dichotomies in her work, such as the interplay between masculine and feminine silhouettes.
Makayla's designs are practical, yet innovative. She employs functional elements such as multiple pockets, chunky hardware and buckles, and durable materials while also incorporating reconstruction into many of her garments, taking a familiar style and turning it into something completely new. "Personal style becomes even more important when you are able to add your own unique touch to make an item truly, individually you as you grow and evolve," Makayla shared, showing that this innovative attitude is the approach she brings to every design project.
Depop has allowed Makayla to share her work as well as valuable education regarding circular fashion, so her Depop Collaborators activation titled, All By Yourself, is second nature. The project will bring her vision of circular fashion to life, calling upon New Yorkers to join in on her mission to reframe how we consume and produce fashion. After employing her crafty skills by converting an old New York City peanut stand into an alteration booth, Depop and Makayla will be inviting the public to alter, repair, and create their own original pieces on the 21st of September in the lower east side. Members of the NYC community can also check out Makayla's launch party on September 20th from 6PM – 9PM. Through her workshop, Makayla is granting individuals the opportunity to try their hand at creating upcycled pieces while also spreading the importance of sewing education.
Makayla's biggest advice to those who may be looking to delve deeper into the fashion industry or start their own brand is: "Actually learn the technical skills. Your creativity will grow, change, and evolve for the rest of your life. Take advantage of learning everything technically, ask questions, and seek more knowledge on the back end of things. It will really help you respond to the demands of the industry," she continues, "I look at teaching as an opportunity to change the options and uses for items that already exist. I want people to ask themselves the hard questions like 'Can this change?,' 'Can this be resolved to fit where I am in life today?'"
Both the launch party, with DJ Christian Tokyo, and upcycling workshop will be held at Sommwhere, 48 Ludlow Street – a portfolio of sustainable spaces in New York City highlighting the most forward-thinking sustainable brands and artists of the future. 
Check out her limited-edition collection, available in her Depop shop, September 21st and to RSVP to Makayla's events, click here. Stay tuned to learn more about each incredibly talented creator and for more information about upcoming pop-up installations.
---
Share this article