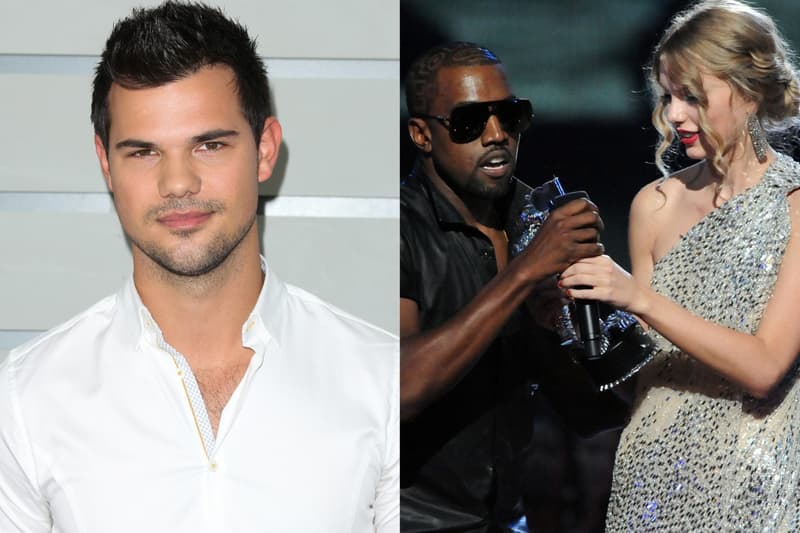 Entertainment
Taylor Lautner Shares His Thoughts on *That* 2009 VMAs Moment Between Taylor Swift and Ye
Which she then referenced in "Back to December."
Taylor Lautner Shares His Thoughts on *That* 2009 VMAs Moment Between Taylor Swift and Ye
Which she then referenced in "Back to December."
The 2009 MTV VMAs may have been nearly 15 years ago, but we still remember it like it was yesterday, especially Taylor Lautner. The Twilight star recently opened up about the memorable awards show, specifically on that infamous Taylor Swift and Ye AKA Kanye West moment. Lautner, who dated Swift that year, shared his thoughts looking back.
It all started when Lautner's wife, Taylor Dome AKA Taylor Lautner, asked him on their podcast, The Squeeze, about a moment in his life he wishes he could go back to. He responded, "Probably the 2009 VMAs. I presented the award to her, so I have the award. I took five steps back and was standing five feet behind her. And in the middle of her giving her thank you speech, Kanye jumps up onto the stage."
He continued, "I can barely hear it. I can't see them. I'm just assuming this whole thing was a practiced and rehearsed skit, because why else would Kanye West be jumping on the stage interrupting Taylor Swift? It just didn't make sense."
The actor admitted to giggling, thinking it was a skit, until he realized it wasn't. Lautner added, "He jumped off. She finished. The second she turned back around and I saw her face for the first time, I was like, 'Oh. No. That wasn't good.'"
As a result, Swift wrote about that moment in "Back to December," which details her romance and fallout with Lautner. She sings: "I miss your tan skin, your sweet smile/So good to me, so right/And how you held me in your arms that September night/The first time you ever saw me cry."
Check out a clip from the podcast below.
Taylor Lautner tells wife Taylor Dome he regrets not stopping Taylor Swift's infamous #VMAs moment with Kanye West:

"I saw her face for the first time, I was like, 'Oh. No, that wasn't good. Probably should've said something,'" pic.twitter.com/uxJ8vdvf6R

— Pop Crave (@PopCrave) February 2, 2023
---
Share this article