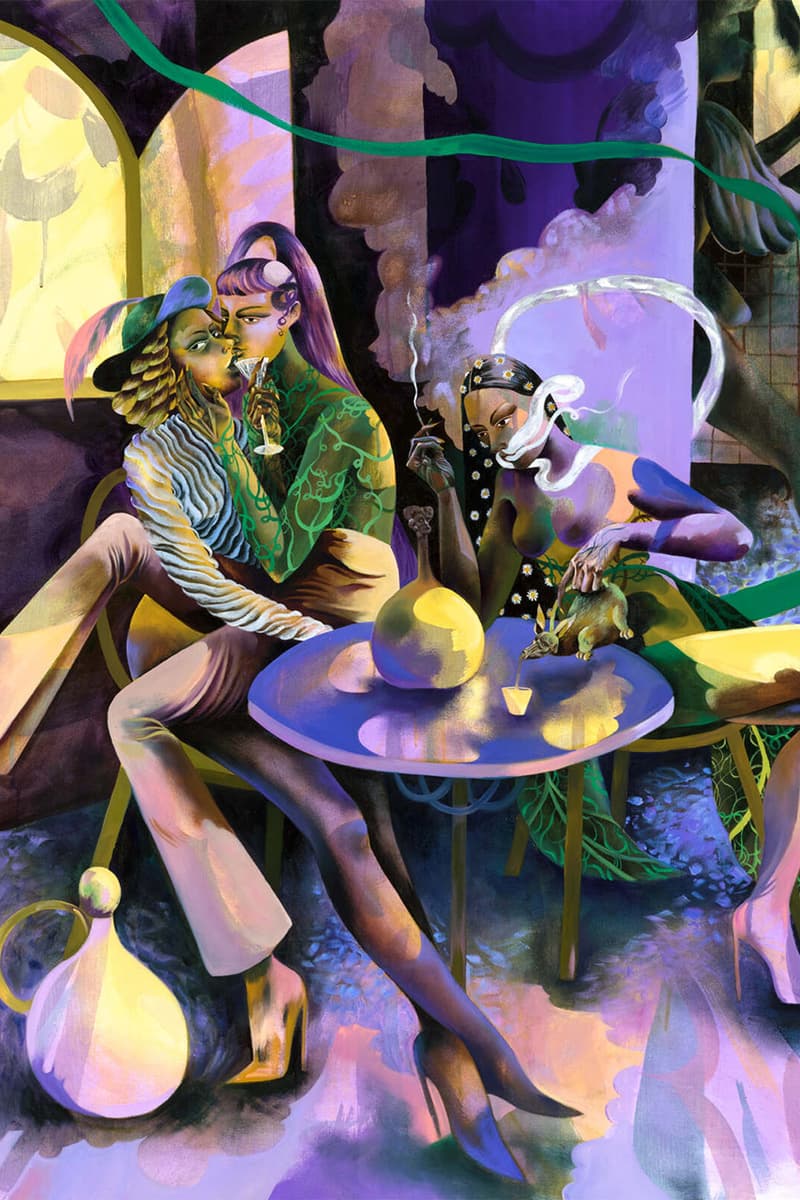 Spotlighting 8 Emerging Artists in Celebration of International Women's Day
From Jessie Makinson's feminist science-fiction erotica to Sola Olulode's Black Queer love scenes — all part of Avant Arte's creative portfolio.
Art & Design
Spotlighting 8 Emerging Artists in Celebration of International Women's Day
From Jessie Makinson's feminist science-fiction erotica to Sola Olulode's Black Queer love scenes — all part of Avant Arte's creative portfolio.
In 1971, American art historian Linda Nochlin notoriously asked, "Why have there been no great women artists?" in her essay examining the institutional obstacles that prevent women from succeeding in the arts. This manifesto is now considered the first attempt at feminist art history, one that recognizes the industry as implicitly biased.
Even though things are gradually changing, there is still a long way toward gender parity. The Burns-Halperin 2022 Report illustrated that between 2008 and 2020, only 11% of U.S. museums' acquisitions were created by female-identifying artists. Moreover, between 2002 and mid-2022, art by women just accounted for 3.3% of global auction sales.
Celebrating women's art should not exclusively be done during International Women's Day, but we are taking this as an opportunity to come together and highlight some of the distinctive voices in the contemporary art world, ultimately bringing attention to rule-breakers and change-makers that are succeeding against the odds.
We've rounded up eight female-identifying emerging artists from Avant Arte's curated portfolio (which comprises 40% of women and non-binary creatives) to celebrate March 8. For those unfamiliar with the platform, Avant Arte is a curated marketplace that makes discovering and owning art more accessible by creating limited-edition works by leading contemporary artists.
Arghavan Khosravi
Arghavan Khosravi is an Iranian-born American visual artist and illustrator that draws from her own life and Persian heritage to depict the fragmentation of diasporic cultural identity. Known for layered canvases, which often incorporate 3D objects like earbuds and chains, Khosravi's work is vastly rich with symbolic motifs (such as red strings and obscured facial features) that reflect some of the restrictions imposed on her while living in Iran. "I'm not interested in perpetuating notions of cultural exoticism and portrayals of Iranian women as victims. Rather, my work is a vehicle for shifting power," shares Khosravi.
Esiri Erheriene-Essi
Esiri Erheriene-Essi is a London-born, Amsterdam-based painter who depicts quiet histories of Black life. "I'm just really interested in a lot of these silent, quiet histories," notes the figurative artist. The motifs concerning figuration, history and society found in her mid-to large-scale paintings come from a collection of photographs (predominantly from the '60s and '70s) sourced online, at flea markets and occasionally from her family archives. Erheriene-Essi conveys these often-forgotten vignettes of daily life through an impressionistic style that emphasizes the essence of collective power and social change.
Gabrielle Garland
Gabrielle Garland is a New York-based artist depicting thoughtful still life. Her work — whimsical and surreal — illustrates abstract interpretations of houses and interiors that leave the viewer pondering who lives there and how they live. On a theoretical level, Garland is most interested in the ways we claim and lose space. In her own words, "I do not want to impose a particular meaning on a space or a painting, but I want to study and document all the ways we can experience space." These notions highlight the paradox of humanity. While we're all endlessly different and complex, many things make us the same; one of them is that all of us need a place to call home.
Jessie Makinson
Jessie Makinson is a London-born and based artist that homages feminist science-fiction, folklore, pop culture and 17th-19th century erotic drawing. Her paintings offer carnivalesque visions of otherworldly decadence — femme human-animal hybrids, sporting leopard spots, fairy wings and impish ears, often appear throughout her canvases. At the core, her characters are complex, dangerous and liberated figures that highlight the power dynamics between feminine dominance and submission. "I am very indecisive. Contradictory and strongly opinionated, and then I'll change my mind. I think my paintings are like that — they're evasive," notes Makinson on her work.
Maiko Kobayashi
Maiko Kobayashi is a Japanese artist offering a window into emotions through distinctive child-like creatures. Her characters markedly show profound emotions, such as sadness, joy, fear and melancholy, contrasting with their soft and cute graphic nature. By playing with this paradox, Kobayashi creates a psychological inner world everyone can easily relate to. "To me, the creatures I invent are essential to realizing what I want to do in the field of expression. They would grow in proportion as I explore my interests," notes Kobayashi. Despite never drawing people, the artist uses her creatures to trigger honest human emotions.
Molly Greene
Molly Greene is a multimedia artist exploring identity and social binaries through a seamless, quasi-surrealist painting style. Organic matter like hair, scientific dissections and plants are spliced and morphed into her signature semi-surrealist objects. From Greene's own viewpoint, "An ornament can be viewed as inherently excessive, inessential or superfluous to the thing that it decorates. Yet I see the way one ornaments oneself, through everything from dress to gesture, as inextricable from the performance of self." Her hybrid airbrushed forms appraise social boundaries and ask what it means to be human in the modern world.
Sola Olulode
Sola Olulode is a British-Nigerian artist creating multilayered, dream-like canvases that provide refuge for Black Queer love. She notes, "I craved the intimacies I had with Black womxn, so I painted many scenes dedicated to those relationships." Olulode's expressionist style distinctively fuses abstraction and figuration — her romantic vignettes focus on subtle, mundane expressions of intimacy and illustrate the fluidities of gender and emotion. Defying time and space, Olulode suspends her figures in tranquility and love, untethered to context and politics.
Tschabalala Self
Tschabalala Self is an American producing paintings, prints, sculptures and animations that reassemble everyday life. Following her philosophy of "not having to use paint to make a painting," Self's creative process is intuitive and hands-on. Despite calling herself a painter, Self mainly works with fabric — a skill her mother and the community of women who brought her up taught her from a young age. She seeks to refute the idea that craft, something women have traditionally done, possesses less respect than art.
---
Share this article