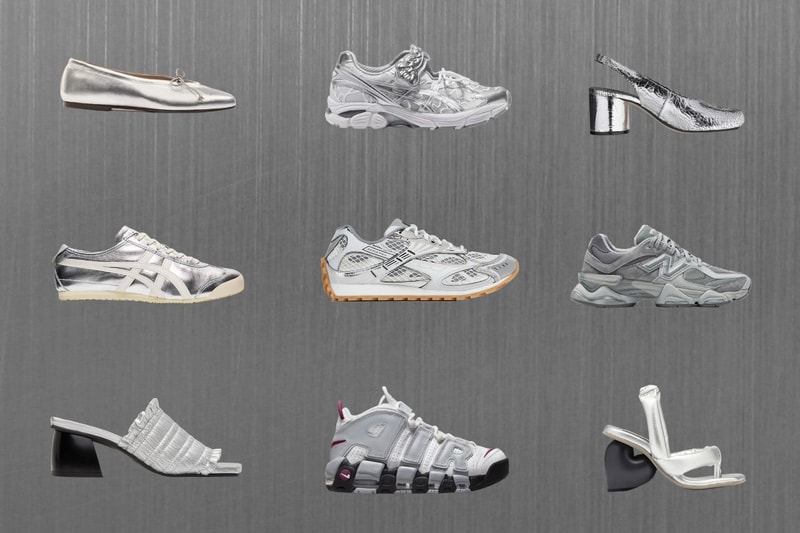 Footwear
Our Favorite Silver Footwear Making Chromatic Dreams Come True
From Asics, Nike, Ganni and more.
Our Favorite Silver Footwear Making Chromatic Dreams Come True
From Asics, Nike, Ganni and more.
We can all agree that between silver and gold—silver— is taking the medal as the superior metallic footwear choice. But why are we so obsessed with silver recently?
Since 2022, silver has claimed its popularity throne. Our favorite brands from Diesel to Stine Goya have embraced the glamor of shine, and most recently, the Ganni Spring/Summer 2024 show offered a glimmering allure of silver shoes and accessories on the runway.
In the midst of regaining normalcy and familiarity with going out again, we've embraced "Dopamine Dressing" – the art of selecting attire to uplift our mood. Be it sparkly mary janes, reflective flats or chrome sneakers, who can deny the hidden excitement sparked by some shimmer? Could the color be experiencing a surge due to the chromatic hues we browse on our screens within the digital space? We've seen the modular kicks movement rise as the metaverse and digital universes become mainstay in youth culture.
Silver is the ultimate color to add to make any outfit shine (literally). So, whether you're drawn to silver for its futuristic vibes or planning the perfect shoes to match your Beyoncé Renaissance World Tour ensemble, we've got you covered.
Scroll down to check out our favorite silver shoes that will make heads turn.
---
Share this article