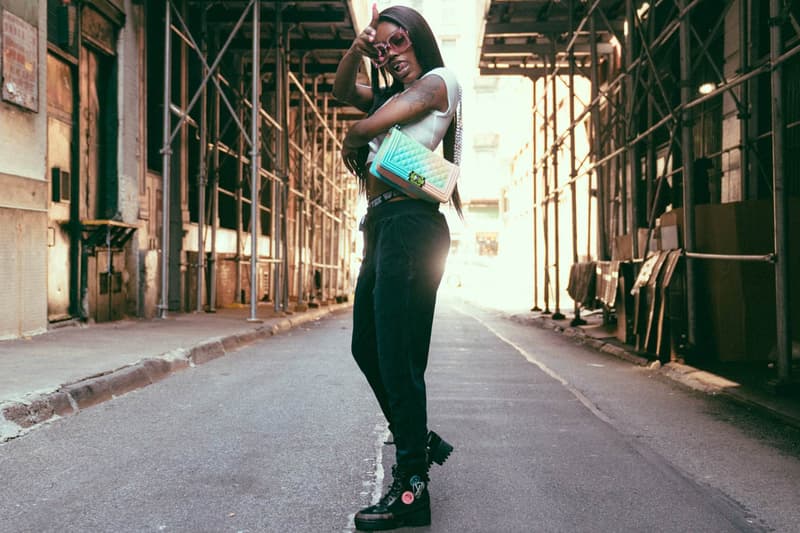 Music
Every Single Song We've Been Listening to in October
Featuring picks from Asian Doll, NAO and more.
Every Single Song We've Been Listening to in October
Featuring picks from Asian Doll, NAO and more.
Women are experiencing an organic, pivotal moment in music right now. All month long, we've kept note of the best tracks and albums that we've found ourselves going back to over and over again. For example, Summer Walker, a talented artist out of Atlanta dropped her debut album Last Days of Summer recently. The EP was filled with elaborate R&B songs which are intimate and painted a picture of how she sees love. We particularly enjoyed "I'm There."
On the other end of the music spectrum, we kept up with artists like Asian Doll and Tommy Genesis. With the release of her project, So Icy Princess, Asian Doll has proven she's a female rapper to watch right now. Yesterday, she dropped a must-watch video for her track "First Off," while Tommy Genesis' latest single "Daddy" reminds us she's not planning on slowing down anytime soon.
Keep reading below to see all the tracks we've had on repeat recently. We also added a few aesthetically-pleasing videos to the mix.
For their latest visual, Yung Miami and JT hit Miami where they deliver their energetic track "Not Ya Main." This track was definitely a standout on their debut album Period. The lyrics are quotable, be sure to save them for your next Instagram caption.
Asian Doll solidifies her spot in the female rapper conversation with this strong track which just received a video. Throughout the visual, she appears with an array of colorful wigs and equally eye-catching looks.
NAO – "If You Ever ft. 6LACK"
NAO's latest album, Saturn is filled with airy tracks like "If You Ever." Her voice is reminiscent of honey on this sensual standout single.
If you're in the mood for a new take on trap music, Abby Jasmine's "Front Door" is the ideal track to add to your latest playlist. The song is an easy listen and is filled with a refreshing sound.
Lauren Jauregui rolls out her highly anticipated solo release with the debut of the single "Expectations." The guitar-heavy song is accompanied by a black-and-white video in which she appears as two versions of herself.
This Summer Walker track would be a great addition to a "cuffing season" playlist. It seems almost like an interlude, but it is filled with an easygoing beat which is quite addicting.
Amber Mark – "Put You On ft. DRAM"
Directed by the ultra-talented videographer and photographer Mahneela, this video is all about the '90s. Amber Mark sings soulfully about someone she wants to end up with. The visual adds an extra glimpse into being lovestruck.
Lila Drew – "faded/2am ft. Goldlink"
In her first official single, Lila Drew introduces herself as a songbird with a refreshing voice. Goldlink offers up his rapping prowess which adds a nice touch to the relaxing track.
"Run Along" is the perfect break up anthem. In this song, Taliwhoah delivers a relatable track filled with lyrics that point to why she's better off without her past partner.
Empress Of – "I Don't Even Smoke Weed"
In this single from her latest album Us, Empress Of presents a track and video both deeply influenced by pop. It is filled with different sounds which fuse well together, making for an enjoyable listen.
"Saint Nobody" is the intro track on Jessie Reyez's latest EP, Being Human In Public. The track's lyrics are filled with thoughts about working hard everyday, battling with depression and overcoming trying times.
With her latest single titled "Daddy," Tommy Genesis showcases what makes her stand out amongst a lineup of artists in the alternative genre. This track is bold and we can see it being added to fall kickback playlists.
ORKID – "No Noh"
ORKID reveals a song perfect for adding to your breakup playlist. The emotional track features a great beat and her vocals perfectly mix with the overall unforgettable feel of this release.
ASTRID S' single "Emotion" unveils a new, pop-filled sound for the artist. With this release, she makes it evident how she racked up 845 million global artist streams to date.
Hunnah – "Think About It"
Neo-soul vibes are all over this track. The accompanying video features the songstress in a look reminiscent of the '70s complete with a flower crown.
Tkay Maidza fills this song with her beautiful voice. She shares a glimpse into what its like experiencing major trials during and after a relationship.
---
Share this article