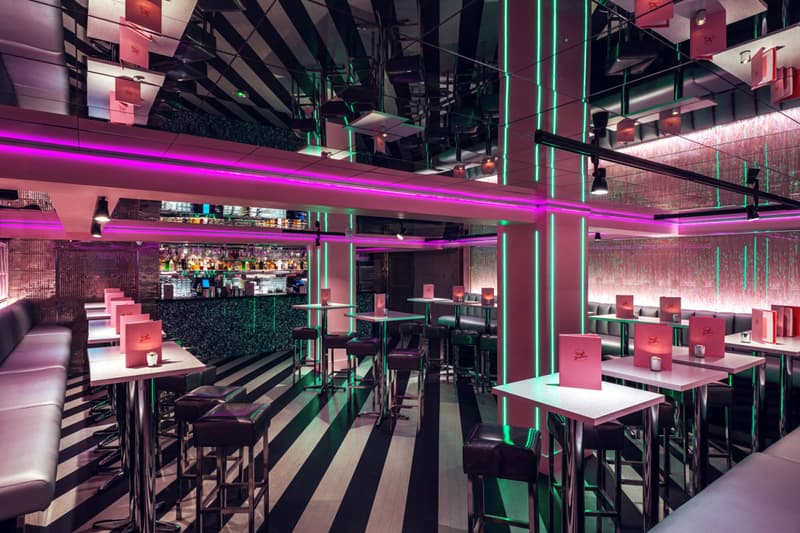 These Are London's Most Instagrammable Cocktail Bars
Sip in style.
The best way to warm your spirit with the Winter days setting in is with a cocktail in hand – preferably one that transports us back to those nostalgic, warm Summer days. Since it's likely you won't be able to sip those refreshing concoctions on the beach, the next best thing is cozying up in a chic bar that's almost as Instagrammable as the sand and sea.
Lucky for Londoners and those planning to visit the city, we've rounded up some of the best and most visually stunning bars in the British capital so you can sip in style. From fancy hotel bars and venues made to be shared on social media to a literal car park rooftop, there's something to suit every style – and beverage of choice. Read on and get ready to bookmark these hotspots for a good night out, every time.
Clerkenwell Grind
WHERE IS IT: 2-4 Old St, London, EC1V 9AA
WHY IT'S WORTH VISITING: This is probably one of the most spacious and most sleek venues in the London-wide Grind chain and it's one of those places you could easily spend the whole day. Combining an espresso and cocktail bar with an all-day restaurant, this versatile space is permanently bustling – which is always s good sign. The Club Bar downstairs is ideal for large groups or hiring out for events and don't forget to try out the signature coffee cocktails, too. Our top pick is "No Woman, No Chai," which consists of the Grind House Blend coffee, Woods Old Navy rum, chai and oat milk, or you could always stick to a regular coffee; theirs is some of the best in the city.
The Coral Room
WHERE IS IT: Bloomsbury Hotel, 16-22 Great Russell Street, WC1B 3NN
WHY IT'S WORTH VISITING: This newly-opened bar and restaurant in what was formerly the lobby of the elegant Bloomsbury Hotel. It gets its name through the coral shade that sweeps across the panelled walls which complement other opulent detailing like the marble countertop, brass hardware and specially-made chandeliers. Since it's one of the fancier options on our list, it's a little pricier and more traditional but it has an impressive wine and cocktail list nonetheless. This is one that's worth dressing up for.
Tonight Josephine
WHERE IS IT: 111 Waterloo Rd, Lambeth, SE1 8UL
WHY IT'S WORTH VISITING: Named after Napoleon's badass first wife, Joséphine de Beauharnais, Tonight Josephine is literally an Instagrammer's dream. Designed by renowned firm Finch Interiors, it's home to everything you need for a photo that's sure to rack up the likes. The mirrored ceiling, chrome interiors, neon lights and plenty of pink make for a futuristic and party-ready atmosphere, and the drinks are just as good. We recommend "Sink the Pink," "Violet Femme" and if you're feeling wild, the "Flaming Zombie" – and don't forget to strike a pose next to the infamous Well Behaved Women Don't Make History neon sign.
Nikki's Bar
WHERE IS IT: 39A Hoxton Square, Shoreditch, N1 6NN
WHY IT'S WORTH VISITING: The raucous, edgier sister to Tonight Josephine, Nikki's Bar is a newly-opened hotspot in East London. Inspired by all the trashy best bits of the '80s era, like Quentin Tarantino and bad TV, it features nostalgic wood-panelled walls, velvet-lined seats, lime green perspex-topped tables and a literal entire bed in the middle, to make you feel really at home. The cocktail list is similar to Tonight Josephine, but why not go all-out and try the skittle-infused vodka shooters and dance the night away away in this totally retro paradise.
Frank's Cafe
WHERE IS IT: Car park rooftop, 95A Rye Ln, Peckham, SE15 4ST
WHY IT'S WORTH VISITING: Okay, so we'll admit Frank's Cafe isn't technically what you would call a "cocktail bar" but we're willing to let that slide since this place is a legendary, South East London institution. A multi-storey car park turned arts venue, it's perhaps best-known for its Pepto-Bismol pink stairwell that has been the backdrop of many a selfie. If you actually make it past the stairs though, what awaits you is a spacious rooftop bar with probably one of the best (or at least my personal favorite) views over the city of London. The space also plays host to ever-changing art installations and event's programming but nothing quite beats watching the sun set over London's skyscrapers with close friends and cold drinks in hand. Although the rooftop is closed through the Winter, you can check out the newly-opened Peckham Levels on the floors below for food, drinks and entertainment.
---
Share this article