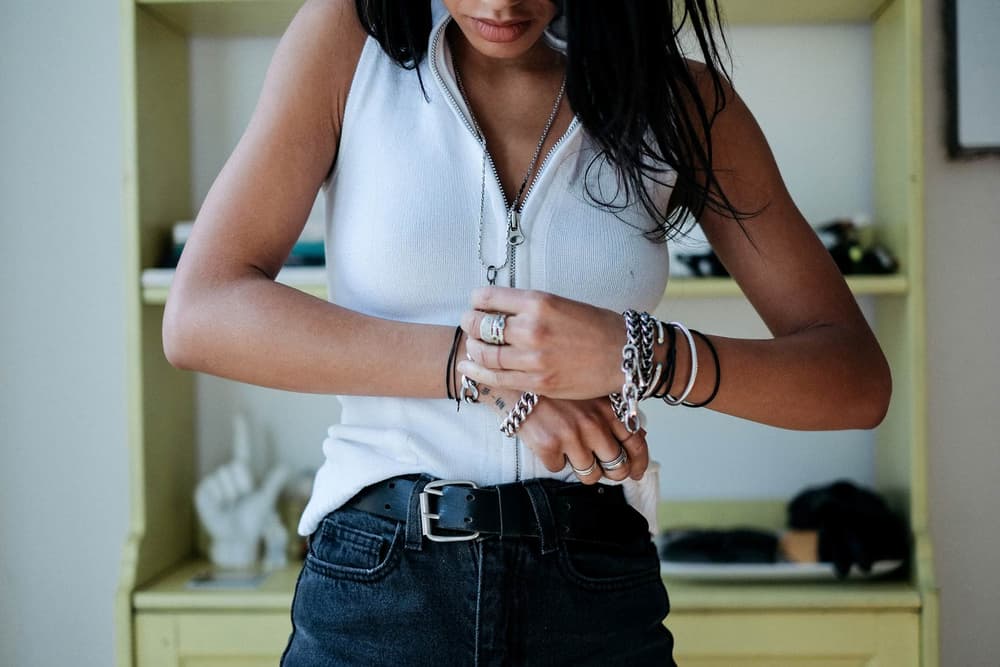 HYPEBAE 101: Five Ways to Style Chains
The '90s goth jewelry has returned.
Chains have become the must-have accessory of 2018. Celebrities and influencers have been spotted in the linked item in a variety of ways. The '90s goth jewelry is now for everyone to enjoy and we've seen some interesting interpretations of the steely piece. Those who are looking to build their jewelry arsenal should definitely consider chains as an option. It can be styled to give off a badass edge, or can expertly complete a grungy look.
Below we've rounded up the five ways you can sport chains this season with some options from Martine Ali and Jil Sander.
Neck
Wearing chains as necklaces are the most popular way. Wearers can experiment with the choker variety or opt for a longer necklace. Whichever you choose, keep your tops minimal to allow the jewelry to stand out. Cozy crewnecks, or better yet, tracksuits can allow everyone to see the heavy metal around your neck.
Earrings
Chain earrings are the ideal beginner's item. Just a few links dangling from an ear can sharpen a plain look. Stainless steel and silver are the best metals to use when going for that nostalgic feel. Options from Martine Ali and Jil Sander add a linear dimension to the face and also give the appearance of a more slender face. Two birds, one stone.
Bracelet
A little bit of metal action on your wrists is the perfect amount of extra. Some styling decisions have to be made with this item. Do you rock an Ali bracelet alone or add additional jewelry for that layered effect? The choice is yours, but be careful when sourcing pieces to complement the metal links. It should be the center of the look and not overshadowed by other slinky or delicate items.
Waist Belt
Leather belts are the thing of the past. Step into the future and try using a chain as a waist-cinching accessory. Admittedly we all have a thing for Off-White™'s industrial belt, but pieces like Miaou's double chain have us reconsidering our previous choices. Add a chain belt over a boxy dress or button-up shirt and see how many compliments you get.
Pant Chain
The pant chain is an under-appreciated wardrobe asset. Clipping one to your front and back belt loops is the traditional way to wear it but feel free to take a few liberties. Your chain can be short and hug the hip or drop to your thigh. Add chunky footwear to the look like the freshly revived Buffalo sneaker or FILA's new Orbit Zeeba.
Share this article