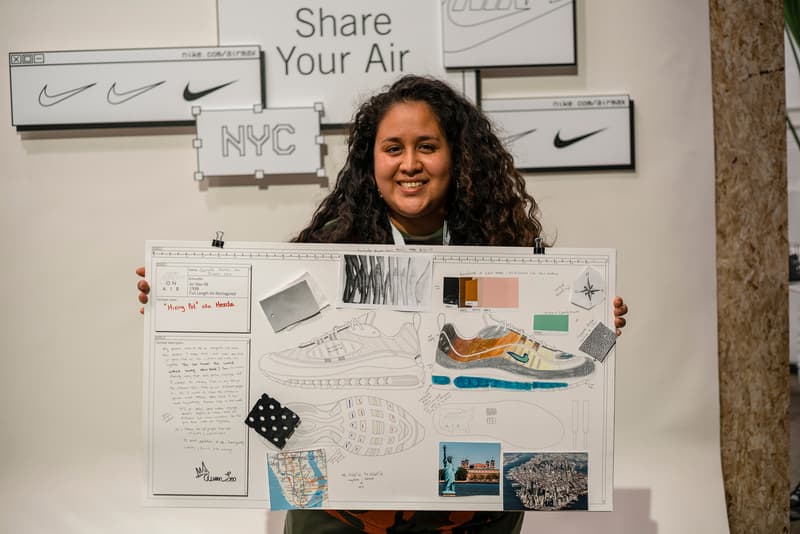 Footwear
Nike: On Air Winner Gaby Seranno Breaks Down The Inspiration Behind Her Design
Inspired by her hometown, New York.
Nike: On Air Winner Gaby Seranno Breaks Down The Inspiration Behind Her Design
Inspired by her hometown, New York.
Earlier this week, the Nike: On Air contest officially announced its six sneaker design winners for international cities including New York. Out of 18 different designs, Gaby Seranno's iteration of the Air Max 98 was voted on by thousands of Nike fans.
Serrano who hails from New York chose to focus her design on the city she calls home. Gaby's winning design of the Air Max 98 features bold white and blue accents. Additionally, the upper appears to include a design which fades from top to bottom. The Nike Swoosh and visible Air Max units arrive in the same blue color which is on the upper. Detailing is rounded out by tonal lacing. In our exclusive interview, she breaks down her inspiration behind her Nike: On Air model.
Keep reading for insight on why Serrano chose the Nike Air Max 98 sneaker, her relationship with New York City and more.
Why the Air Max 98?
Although it is hard for me to pick one favorite Air Max model, I knew I wanted to do something different from last year's model. I chose the Air Max 98 because it is the 20th Anniversary of the model and it fits perfectly with my design concept, having the skin complexions going from left to right so they are all equal.
Was the inspiration behind La Mezcla an obvious one?
At first, the inspiration for the Mezcla was not an obvious one. The sneaker design had to be based on NYC, which as you can imagine there is a lot of possibilities. However, when I really thought about why New York is important to me, the inspiration became obvious.
Can you break down the design?
The upper part of the sneaker will be the gradient of different skin complexions. The Swoosh is a Statue of Liberty color to represent what immigrants first saw when they came to New York, a sign of freedom and safety. There will be two options for laces — a New York blue and a Statue of Liberty color. The laces read: "If you can make it here, you can make it anywhere." The bottom of the sneaker is a textured material to represent the concrete jungle. The bottom of the sneaker will have the subway map on it. I am very big into details so there will be a compass on the tongue tab and longitude and latitude on the inner side of the sneaker.
What was most important to achieve in your design?
The most important part of the design I wanted to achieve was inclusion. I wanted to make sure every skin complexion was represented, from the darkest skin complexion to the lightest.
What there something you struggled to get right?
I don't have a background in sneaker design so something I struggled to get right was picking the material that would be used. I have a large sneaker collection so I used my favorite sneaker's materials as reference.
Is sneaker culture in New York an important one in telling your design story?
Yes, sneaker culture is important in telling my design story because my sneaker is based on the people of New York. As one of the four fashion capitals of the world, the sneaker culture in New York is very important.
What does it mean to be a Nike: On Air Winner?
I still don't think it's hit me that I am a Nike: On Air winner. I feel extremely blessed and cannot wait to continue this journey. As the first female and Latina to win in North America, I feel very excited to have a larger platform to share my story. It was also very unexpected to have received so many messages from people in different countries and in different languages supporting me. I received an overwhelming amount of messages from women and people of color saying I have inspired them to follow their dreams, and for that, I am eternally grateful to Nike for this opportunity of turning my imagination into reality.
Image Credit

Nike
Interviewer

Lily Chen
---
Share this article