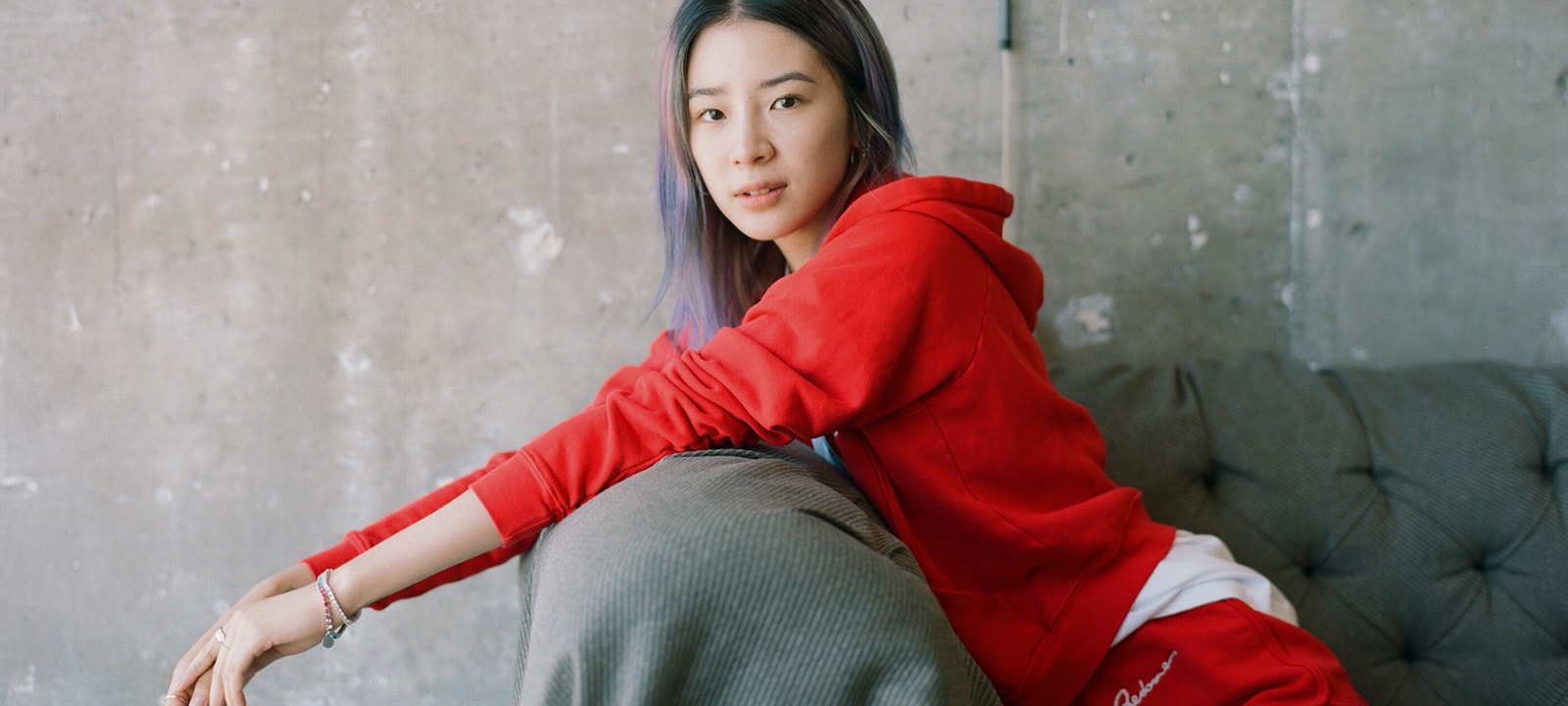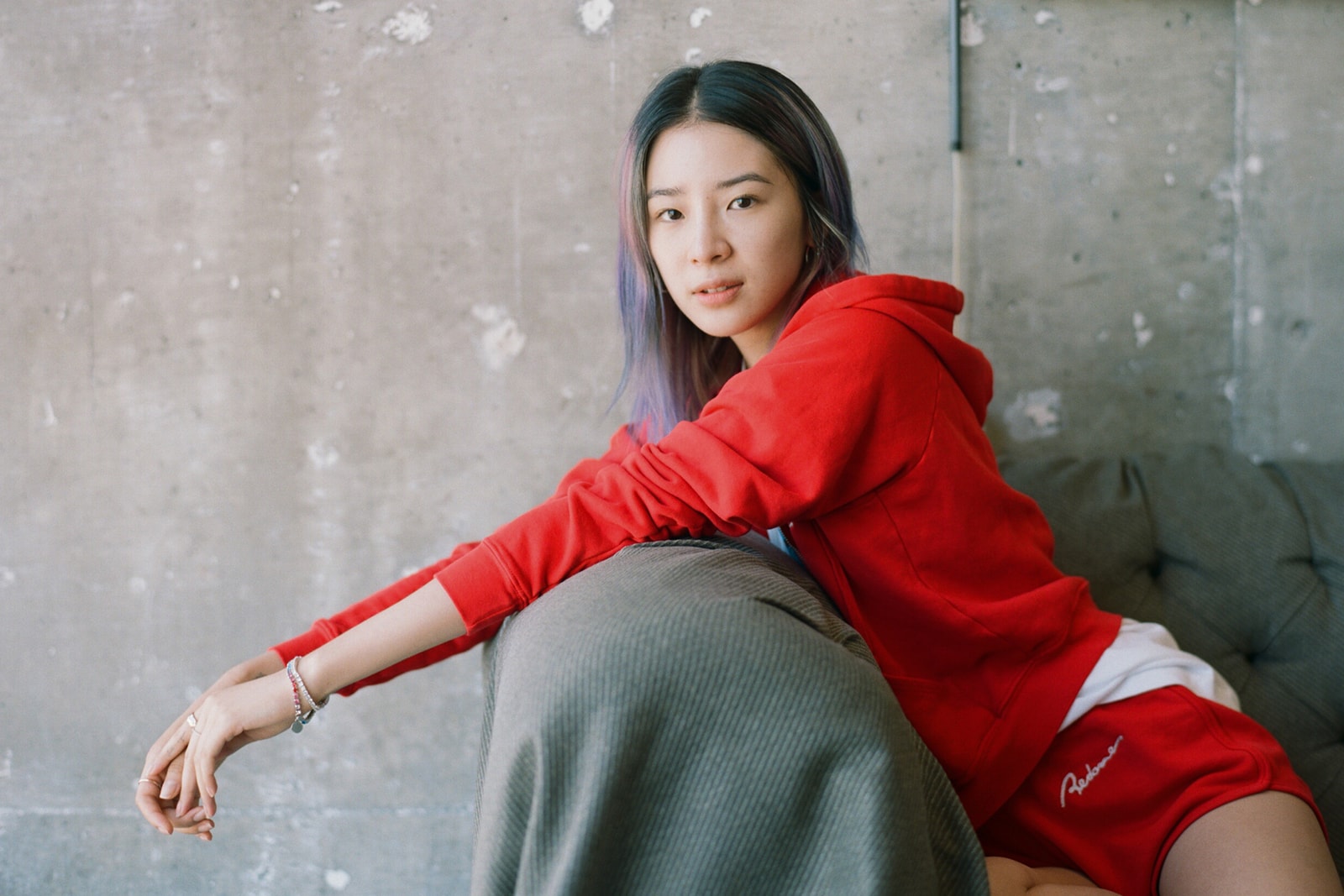 Irene Kim's Secrets to Glowy Skin After a Long-Haul Flight
The Korean It-girl's travel skincare routine involves not just one, but two jade rollers.
"How does your skin manage to look so good after a 12-hour flight?" was the first thing we wanted to ask Irene Kim, the globetrotting street style star who seems to be in a different city every week. Right before she headed off to this year's Beautycon LA, the annual event that gathers beauty lovers and creators from around the world, we spent the morning with your favorite Korean fashion darling to learn exactly how she achieves glowing skin despite having a hectic schedule.
"This is my secret weapon,"said the face of Chanel Beauty as she excitedly showed us her new skincare essential, a duo of jade rollers, one in each of her hands. While being mesmerized by her DIY facial techniques, we can't help but be reminded of how Irene is beautiful inside and out. Never leaving home without wearing her contagious smile, she's launched her namesake lifestyle brand IRENEISGOOD LABEL this summer, spreading all the good feels with a lineup of fashion items and accessories — the dual-tone scrunchie is the model's favorite.
Continue reading to learn more about Irene's latest project and her post-flight skin survival tips.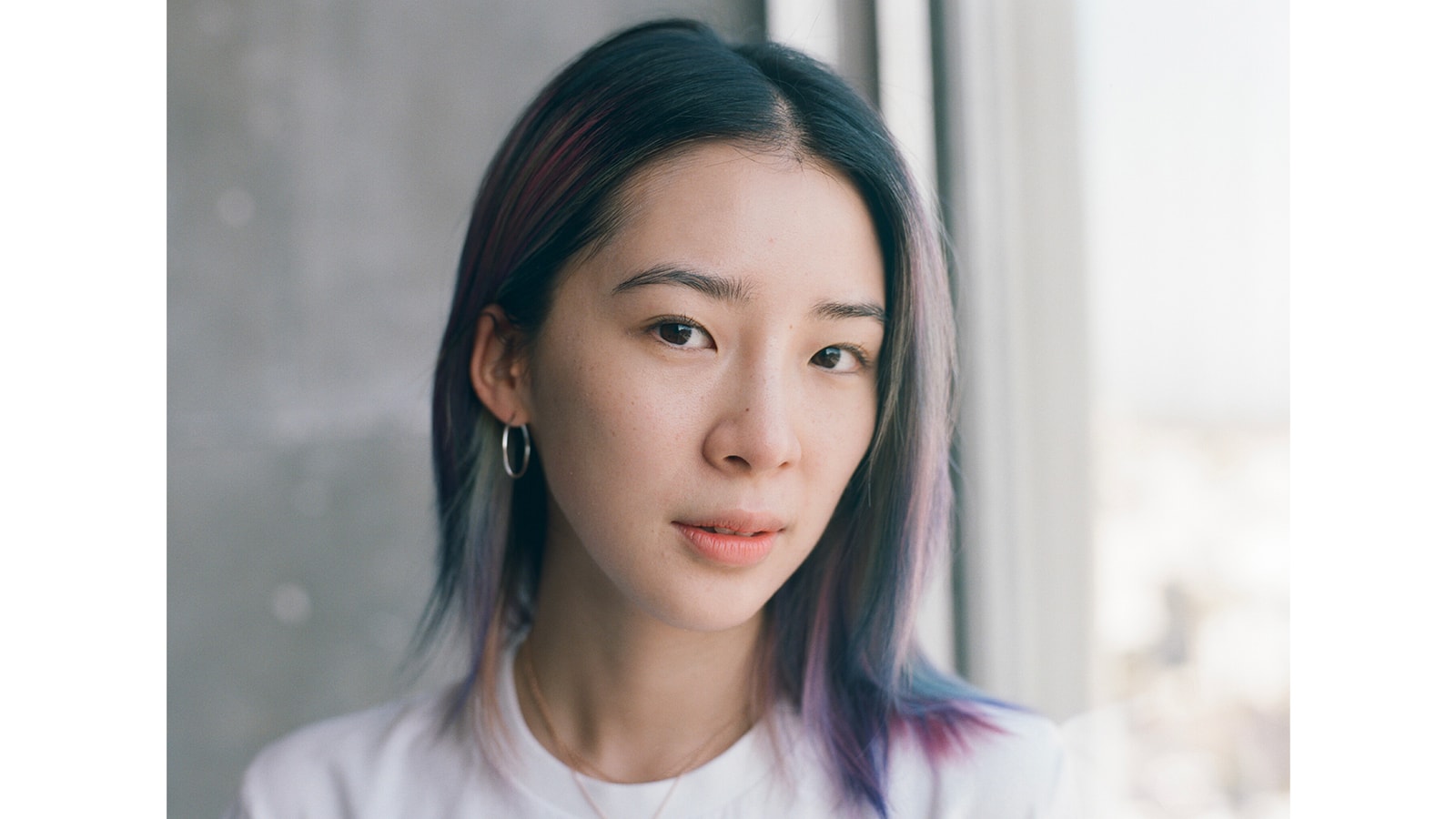 First of all, congratulations on the launch of the IRENEISGOOD LABEL. How did you first come up with the concept of your brand?
Thank you! I'm just so excited that I finally got to launch something of my own. The concept of my brand is "good vibes always" so I wanted to make something playful for my followers and fans to enjoy with a little piece of me that they can have or be inspired by — pieces that I've grown up with or had in my closet growing up, essentials but with a little twist. I have the beauty tote, T-shirts, scrunchies — bringing back the '90s vibes with the scrunchies — just fun things I can mix in with my closet.
What can you tell us about the inaugural release of your label? Do you have a favorite product from the range?
I didn't really expect this launch because I think everything that I've done in my life has come very organically. I just followed my heart and it led me here. I tried not to put too much pressure on myself while preparing for it. When things feel right, you just know and it's instinctual. I'm just really happy with all the feedback I've gotten from my fans and people who bought the merchandise, seeing them enjoy it and posting [photos of] it on social media.
My favorite product is the scrunchie. I was obsessed with scrunchies growing up so I really love those and, of course, the beauty totes. They've become one of the LABEL's bestsellers and the essential must-have. It photographs well, it's cute, and you can put in all your goodies — it's really useful. I travel with it everywhere. I put my beauty products in it. I take it to the pool, the gym — I just throw everything in. It's the perfect tote to have when you're on the go or in a rush.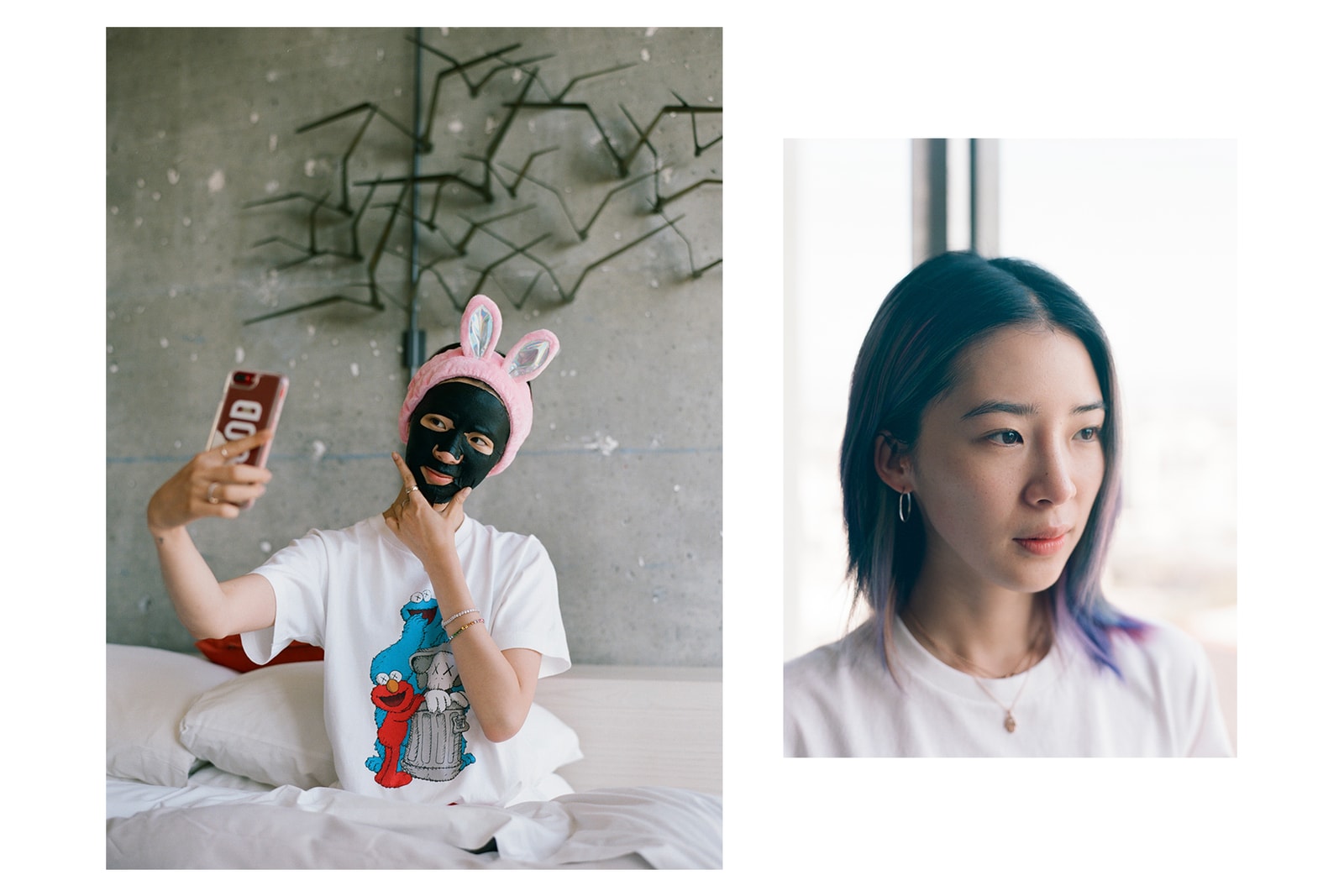 How are you involved in the design process of your products?
I'm involved 110-percent in every aspect of the design process. I'm very hands-on. I'm involved with every detail down to the stitching that's going to go inside the label, even down to the packing and care label that goes inside the T-shirt. I think because this is my first time doing something like this, I want to make sure that everything is a part of me. I also want to be honest with my followers and fans who are going to be using these products, so I want to make sure that I know I'm going to be happy with it 100-percent. I also have a great design team — if I have an idea, they're really good at bringing it to life.
How do you strike a balance between being on-trend and staying true to your personal style?
I think that even if it's a trend or an item, it's how you make it yours. Of course, I follow trends and I try to see what's relevant, what's cool and what's out there, but I also have to make sure that I feel comfortable when I'm wearing or using something. I think the balance is just making sure you're comfortable and that you're owning whatever you're wearing or doing. Just be comfortable with whatever style you're trying to give off.
We know that you're all about good vibes. What are your best tips for staying positive?
My mantra has always been "if you are happy, you're confident; and if you're confident, you're beautiful." And that's something that's stuck with me for… I don't know for how long. I always try to be confident with what I'm doing and I always try to be honest and real.
When you're in the spotlight, things can get to you. But it's been easier for me because I'm in a position where I've been lucky to do what I love. I made the decision to be in the situation that I'm in, so I'm just happy that I'm doing what I love every day. I just managed to figure out how to be the same person in the spotlight or without the spotlight and I think that's the most important part.
You're here in Los Angeles for Beautycon 2018. What were you the most excited about the festival this year?
I was excited about my panel, "Dare to Be," which was amazing because I got to do this panel with a group of kick-ass women who are killing it in their fields like Bozoma, Adwoa and Jackie Aina. They're all just really, really amazing women and we were up there empowering each other, talking about how we got to where we are, how we should be accepting differences, and the importance of coming together as a community by celebrating beauty and diversity. It was really inspiring and I'm so happy I was able to go to both Beautycons.
Moj, the founder of Beautycon, is so special. She's presented this amazing platform to give us a voice and speak about things that are important to us and women. It's just amazing. Of course, I was also excited about the LABEL and its exclusive pop-up at Beautycon.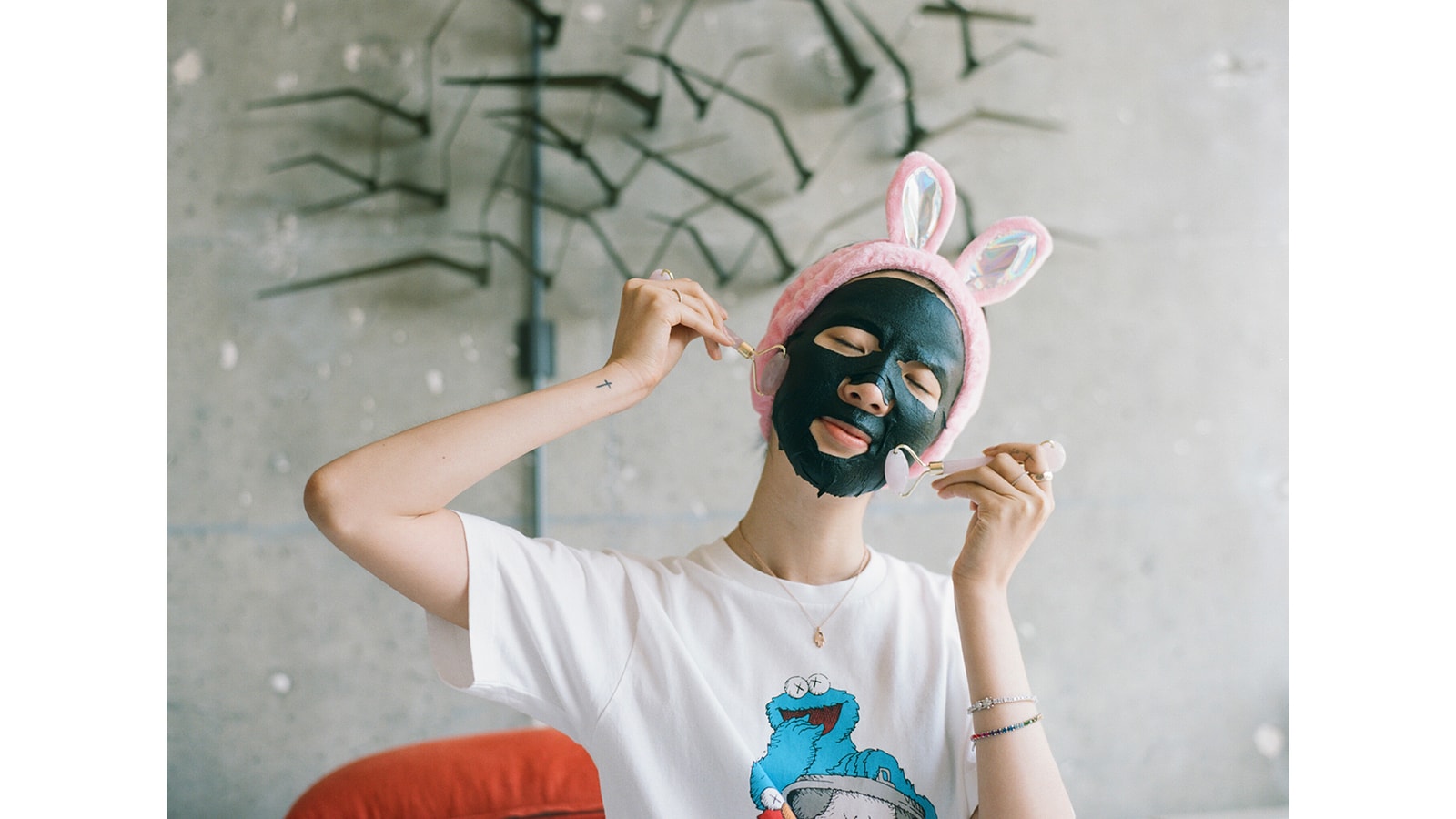 What's the latest K-beauty trend that we should all know about?
I don't know if this is a K-Beauty trend and I don't know if I'm late, but I recently discovered my jade roller that I'm obsessed with. I take it everywhere with me now. I take it with me on my way to a shoot, on the plane, off the plane – especially off the plane — to get rid of puffy eyes and puffy cheeks. I also keep it in the fridge to soothe and calm my skin because I get really puffy when I'm tired, so I use the jade roller to prep my skin.
And what's your favorite fashion item at the moment?
I'm so happy that there's a sneaker trend going on because I can just wear sneakers with everything and people won't think I'm being lazy. I'm a big sneakerhead and I didn't realize that I was, but once I got here in LA and went to Flight Club and all those places — I was freaking out. I just love the sneaker trend. While being here, I already bought about three pairs of sneakers: Air Max, Nike Foamposite, and I really want the Wave Runners. Another favorite fashion item is my beauty tote, haha.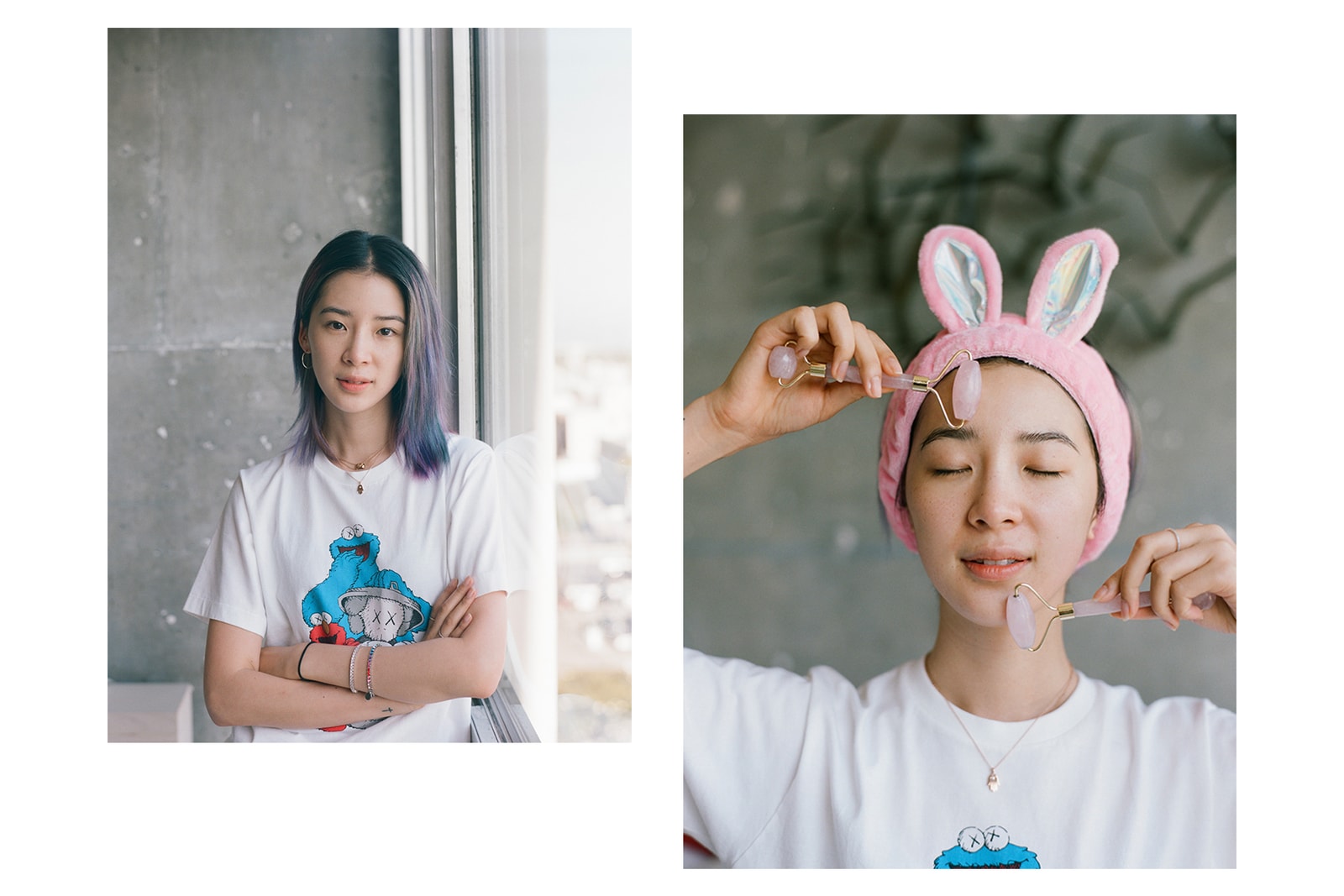 What's next for you and IRENEISGOOD LABEL?
A lot of things. A lot of exciting things are coming up. I'm in the works of some fun collabs and fun new releases. I'm really excited about other goodies that I'm dropping. I can't wait for it to keep growing and release new items. I always get butterflies when I'm making something so I'm super excited about everything.
Are physical pop-up stores in the works, too?
Not at the moment but hopefully something will be coming soon.