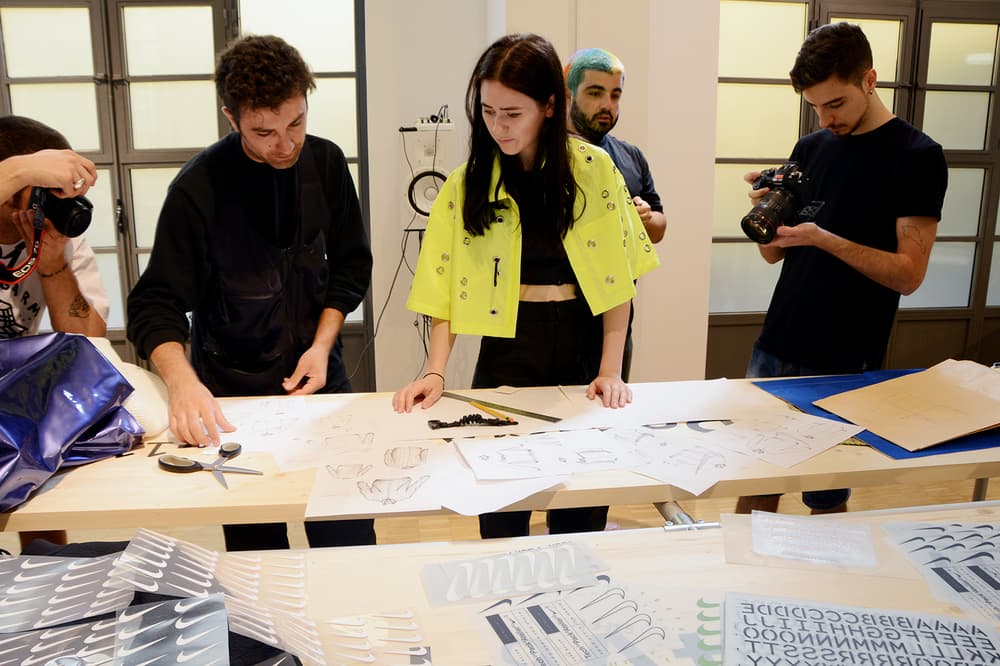 1 of 4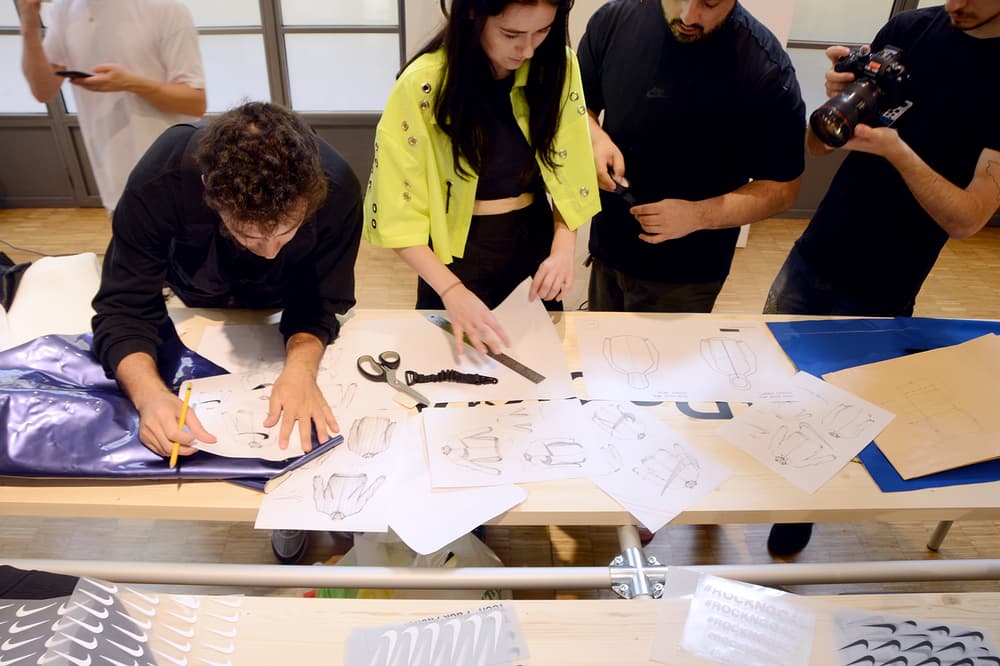 2 of 4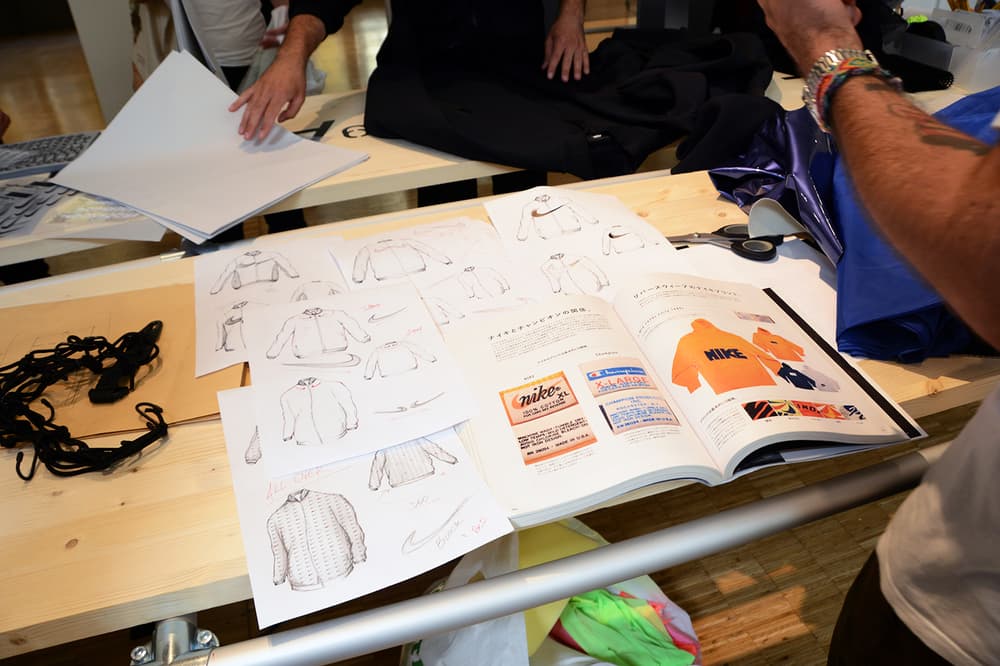 3 of 4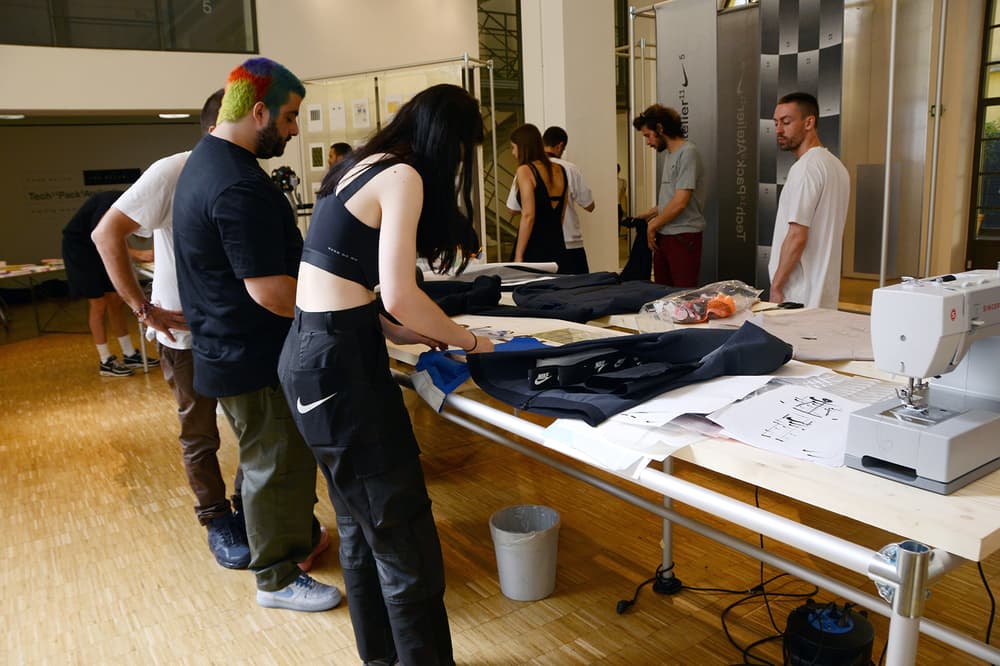 4 of 4
Fashion
See How Mini Swoosh and One Block Down Reinvent the Nike Tech Pack
Get an exclusive BTS look at the workshop in Milan.
See How Mini Swoosh and One Block Down Reinvent the Nike Tech Pack
Get an exclusive BTS look at the workshop in Milan.
Nike's Tech Pack has had a storied history since its conception in 2007, but one thing has remained the same, much like all of Nike's product offering: performance comes first. Although technical fabrics have developed immensely over the past few years, and sportswear has made a glorious return to high fashion, the Tech Pack has and always will focus on merging together the tried and tested elements of the past with a vision for staying way ahead of the future.
Along with unveiling its latest innovations with the Fall 2018 Tech Pack, Nike also set up immersive workshops in its Milan atelier, offering collaborators the opportunity to present their personal takes on the Tech Pack. We caught up with menswear designer Alexandra Hackett (aka Mini Swoosh) and the team from renowned Italian streetwear store, One Block Down, as they joined forces to reinvent the newest Tech Pack pieces with their own unique twist. Read on to hear more about their process and get a behind-the-scenes look at what went down in the workshop.
1 of 4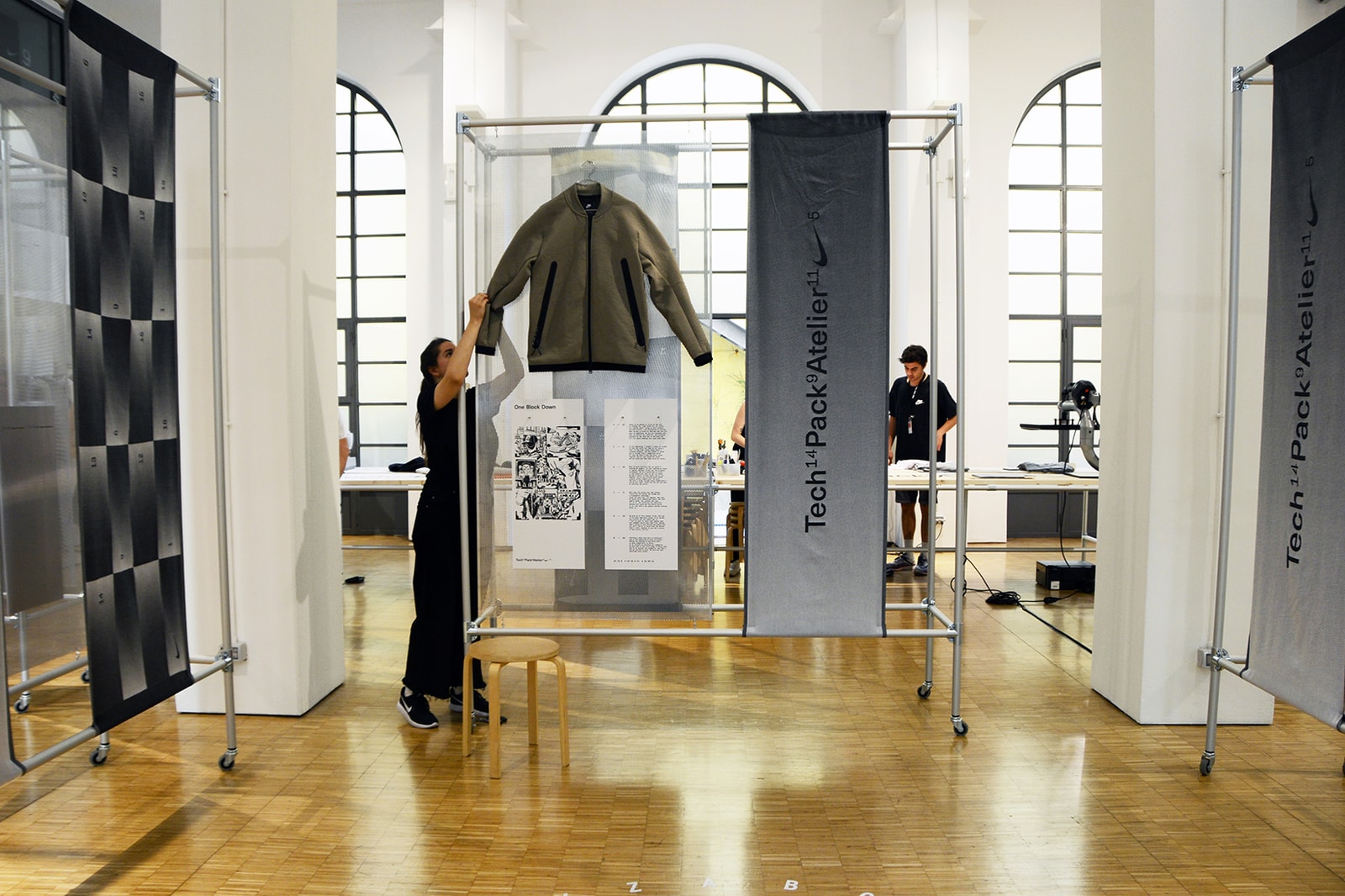 2 of 4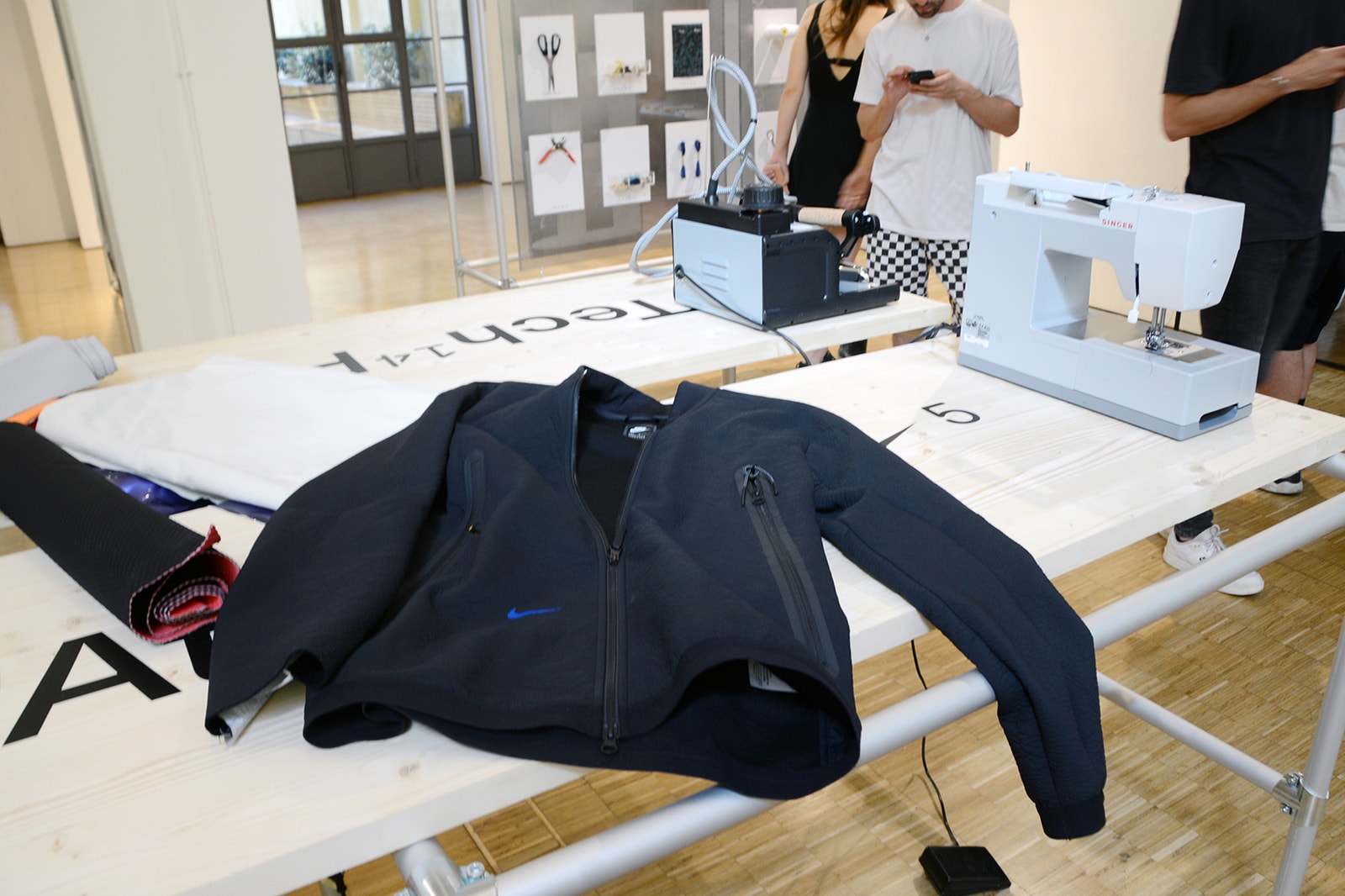 3 of 4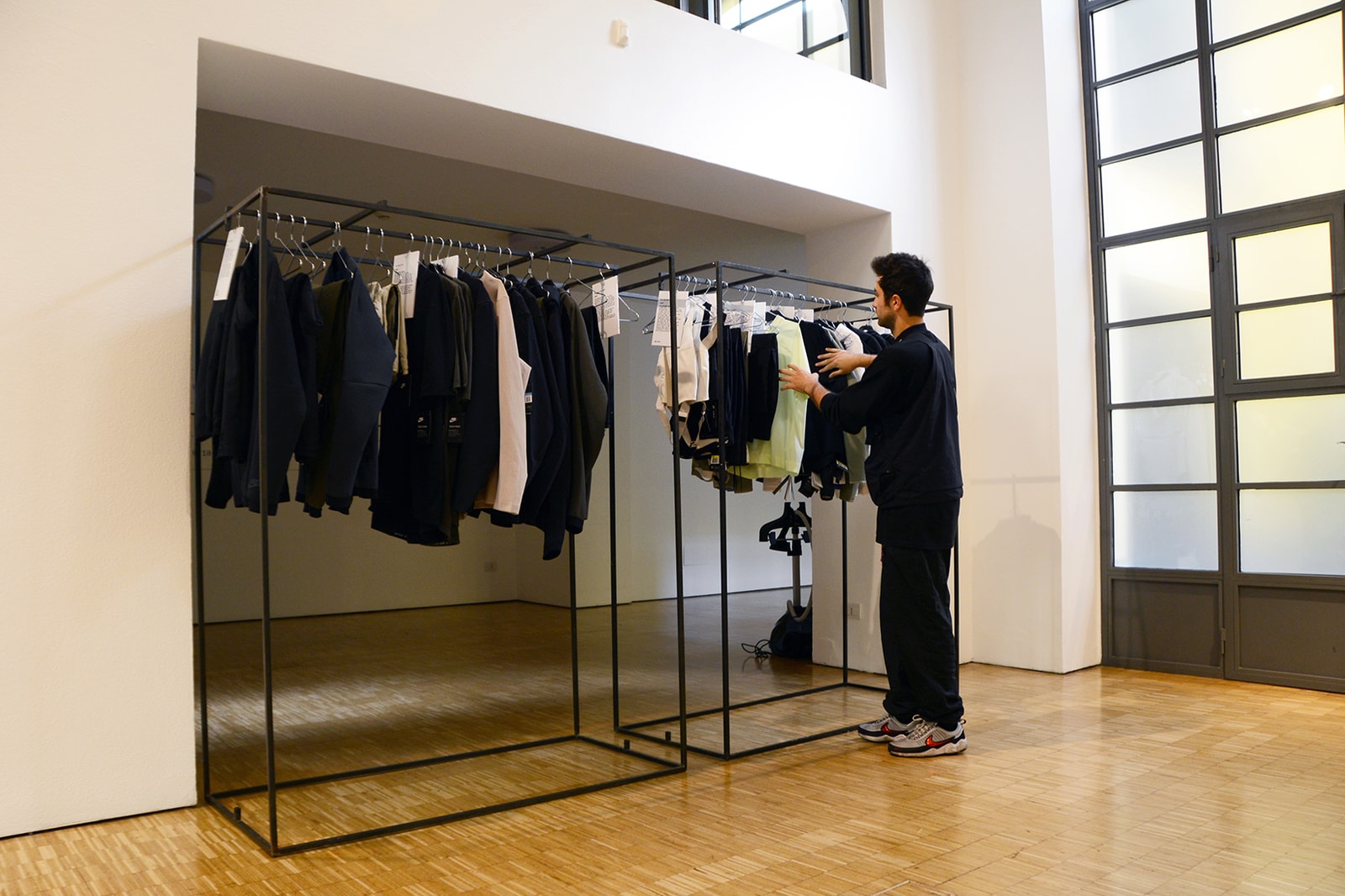 4 of 4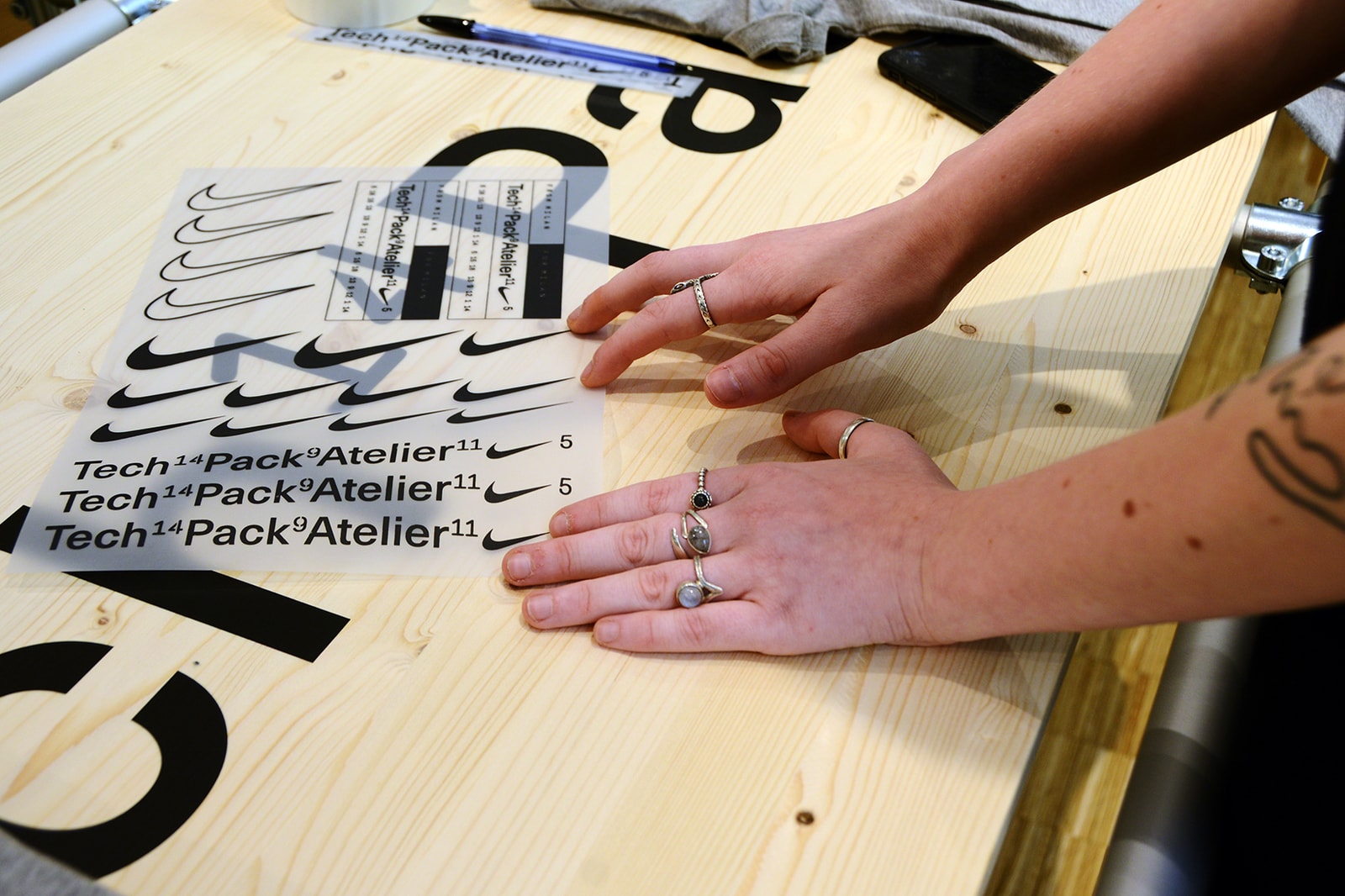 Had you met the guys from the team before, Alex? How did you work on this collaboratively across a literal ocean?

Alexandra: We did Skype meetings just to meet each other and suss the vibe and whatnot. When I arrived [in Milan] we spent the afternoon together; we went around Milan on scooters and then went out for dinner and had drinks at the OBD store. So, I saw the store and studio and kind of understood the vibe. We had a three hour session at the Nike office talking about what we wanted to do – just general direction so we didn't get in and be like "what are we doing?!"
Did you come up with the concepts during the first meeting or is it something you started brainstorming on Skype?

I think we started then [on Skype] as we both had generic vague ideas of what we would be interested in, but we had to come together and make sure we're on the same page. I didn't really worry about that too much though, because I was like "you guys own a sneaker store and a streetwear store and specialise in mens and I do mens fashion so I don't think we're going to be too far off each other" –  I think it's quite a good fit.
1 of 4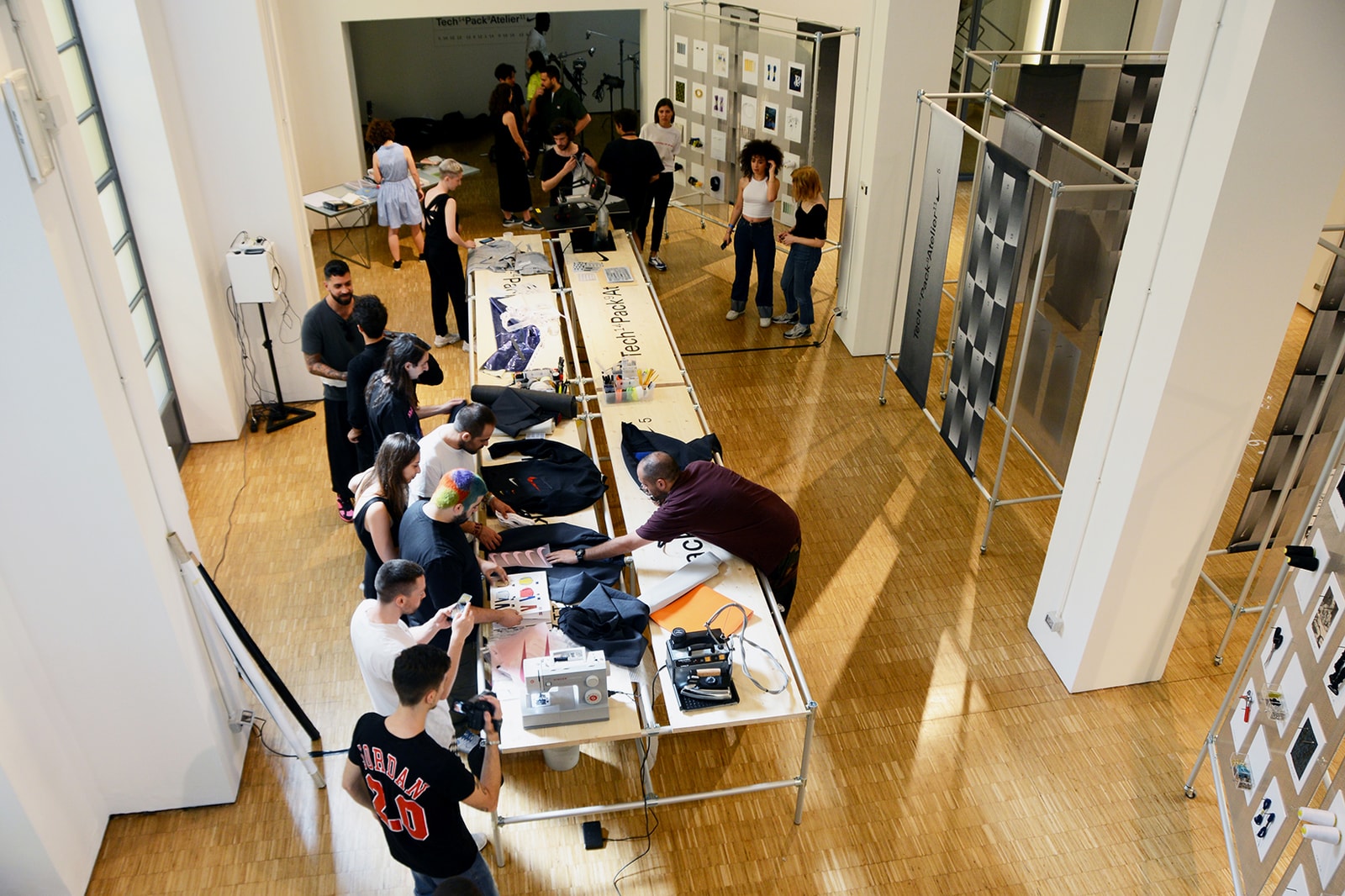 2 of 4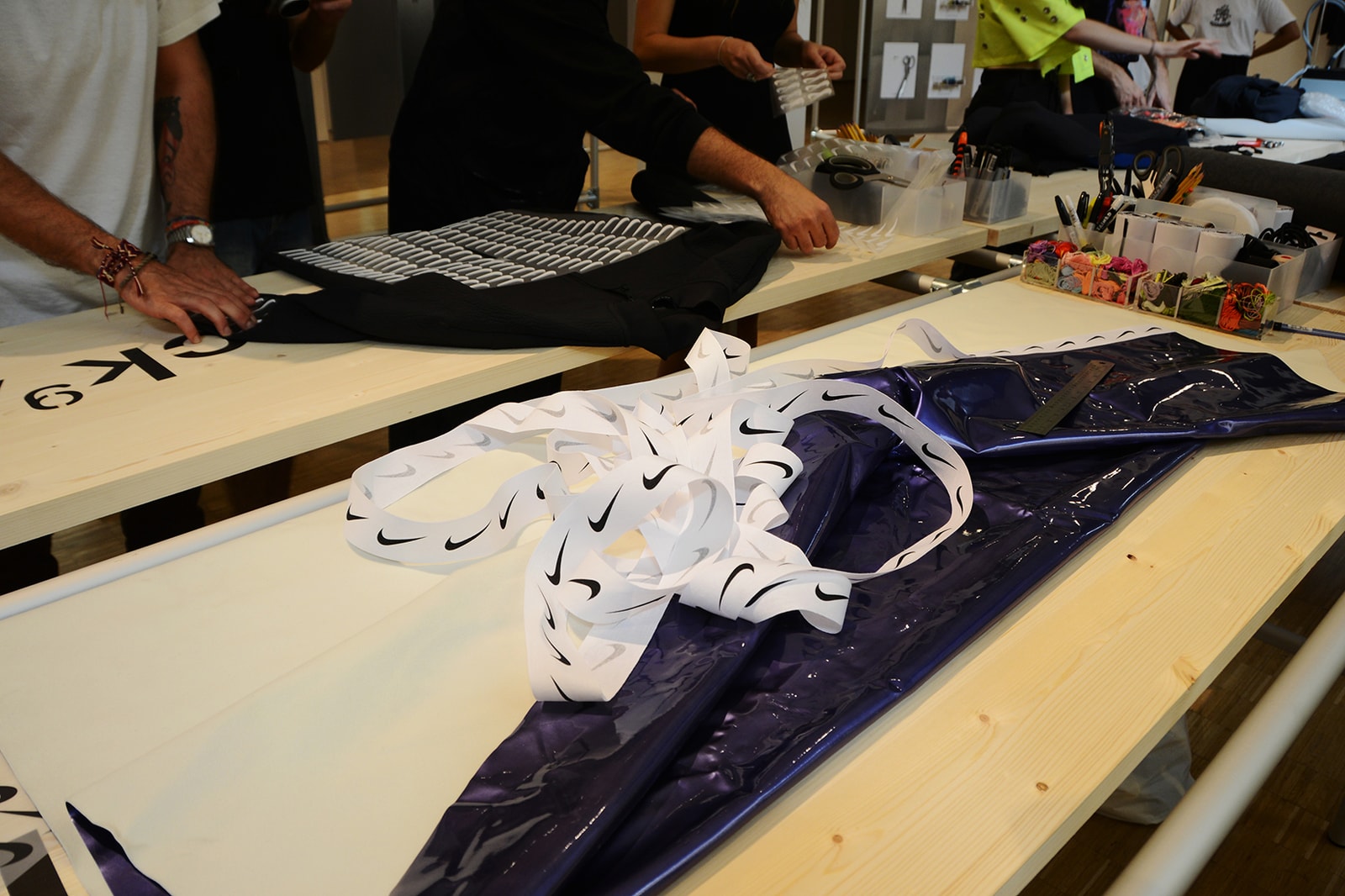 3 of 4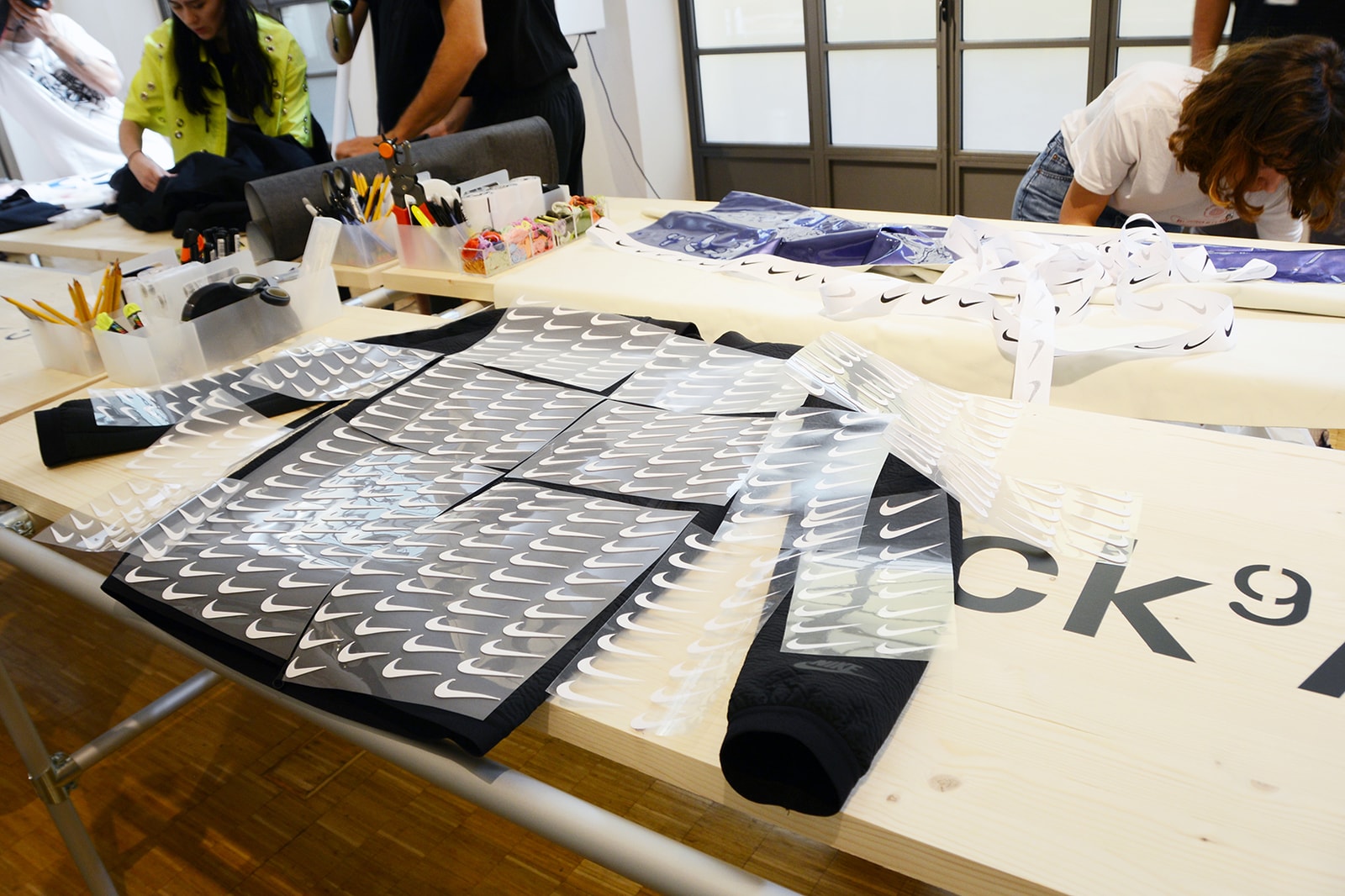 4 of 4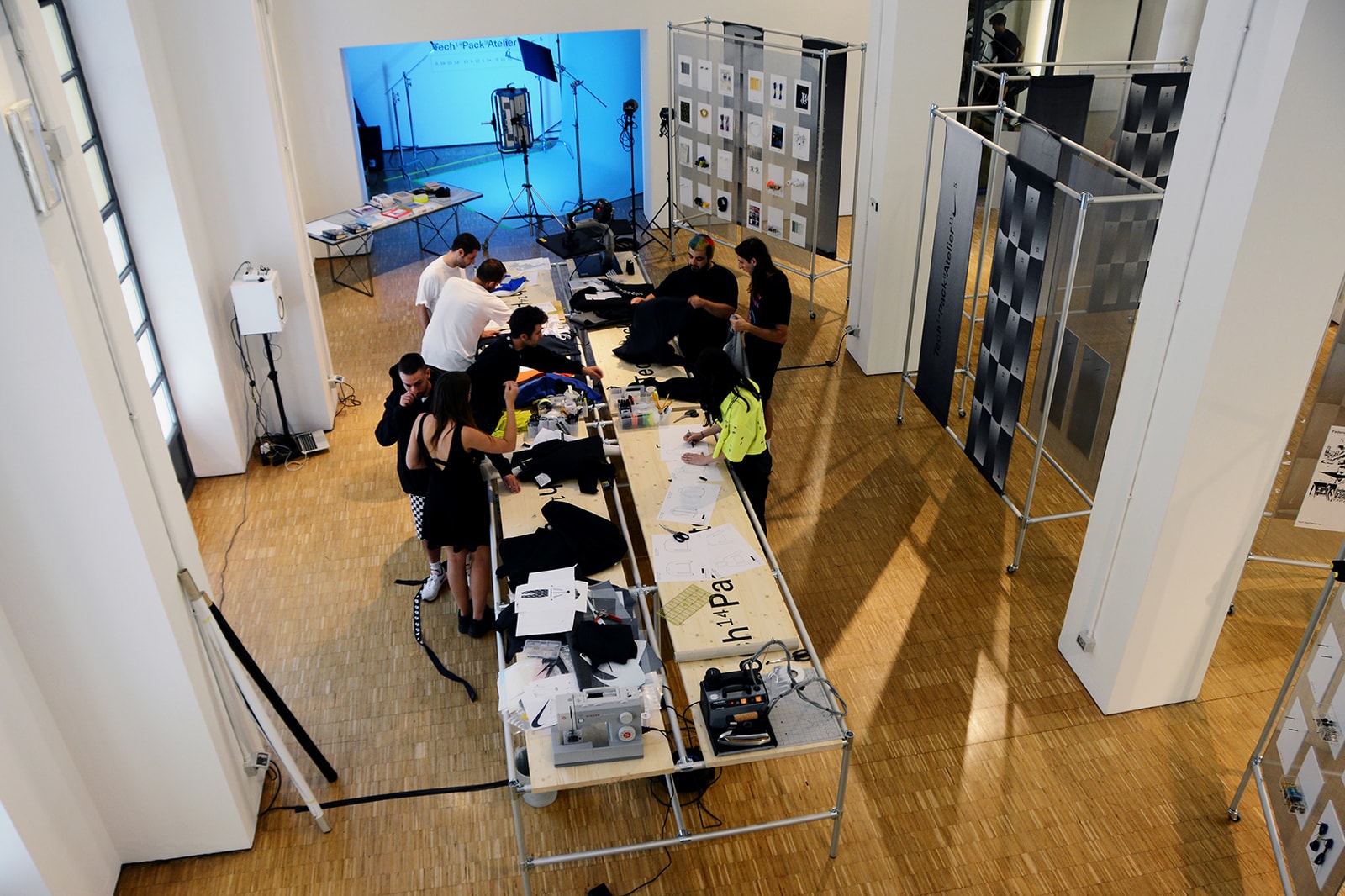 Can you tell us more about the concept itself?

Alexandra: We've kind of been working on a few different concepts at the moment and different directions. We're working on two projects; an embellished piece and a standalone piece of art, so we're looking at ways to tie the two together. For me, I was really interested in referencing the past; the Tech Pack is so futuristic, it's about the future of sportswear so I was really interested in looking at the first Nike tracksuits from the '70s, how they were constructed and what motifs were on them and how they chose that direction, and then merging that with OBD and their aesthetic and what they want to do.
You generally work solo, Alex, and these guys have a huge team – how was it working together?

Alexandra: Oh my god, its such a big team, Its like 20 people. I think because they all work for one company they all kind of have the same aesthetic and direction, so its not so much collaboration with 20 individuals, it's more so with just what their brand represents, which is similar to my brand and what my brand represents. Its kinda of just like combining creative ethos's, but theres a lot of people in the room.
OBD: All of us have the same focus on our roots. Our roots start from sneaker culture so we're focused on that, and we're a team so we work together everyday and every day we think in the same way. These are the important things. Also it's nice to be in a team because it's nice to hear about other different minds and opinions – these are something you can embrace yourself.
1 of 4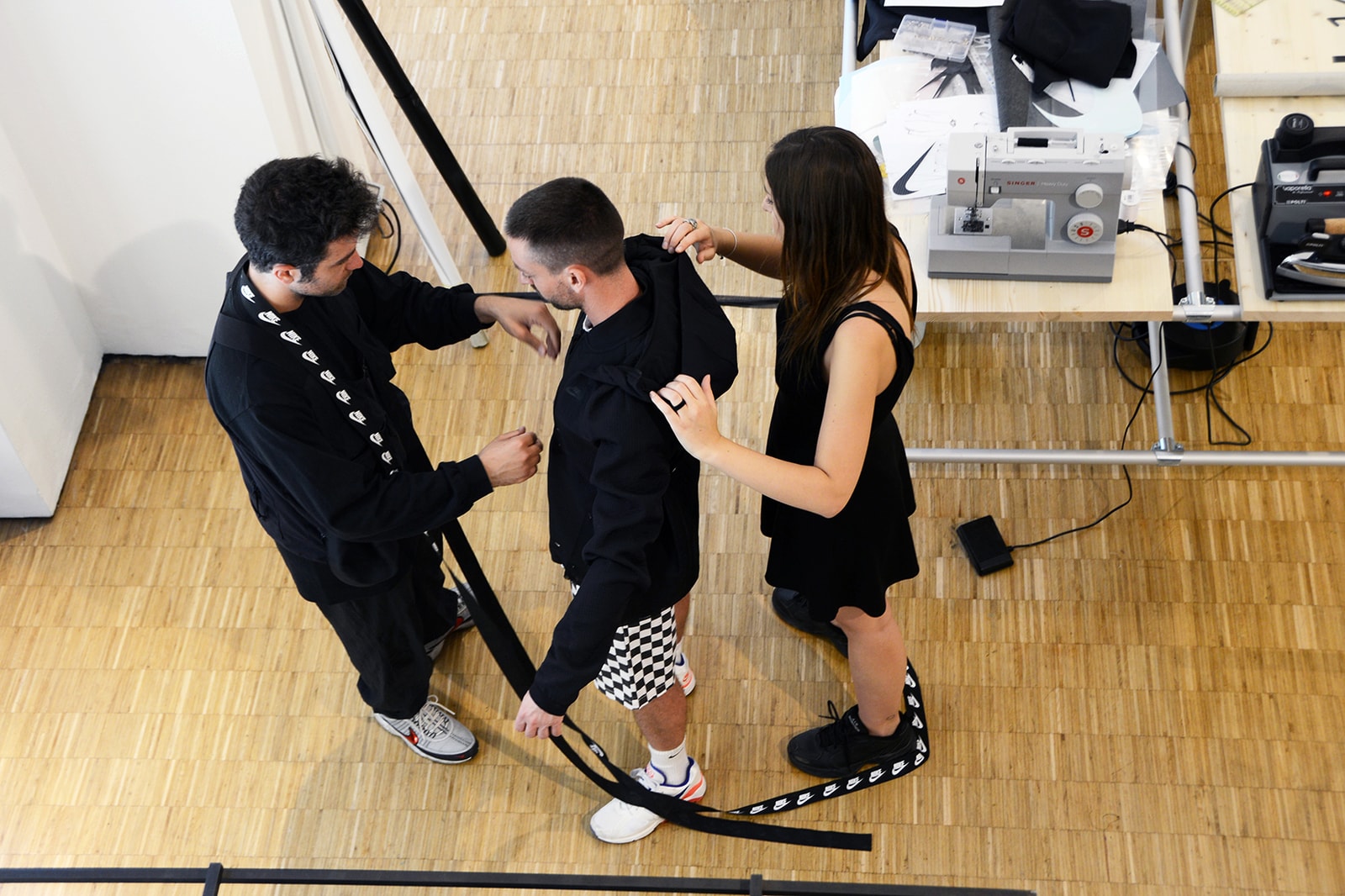 2 of 4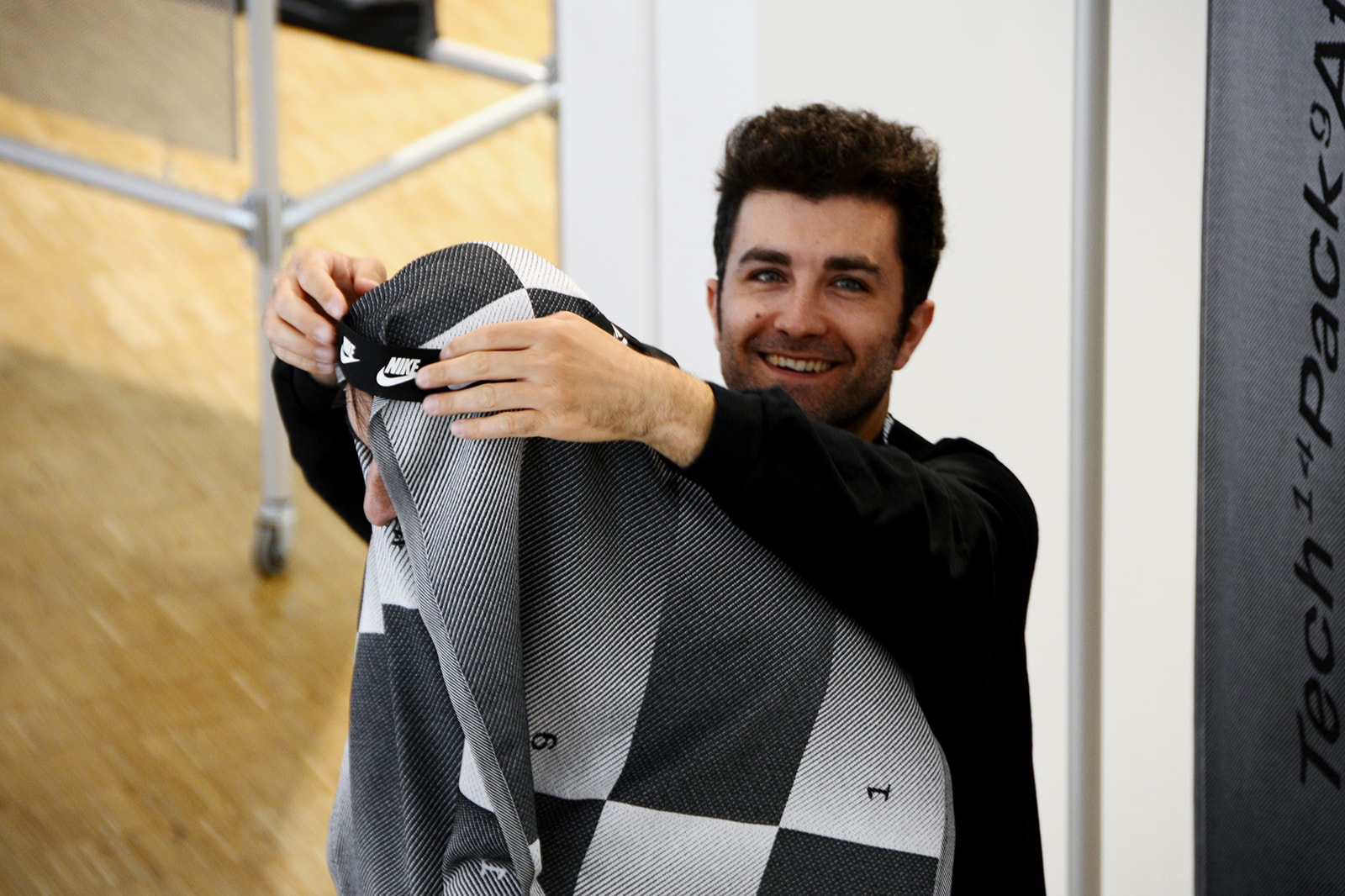 3 of 4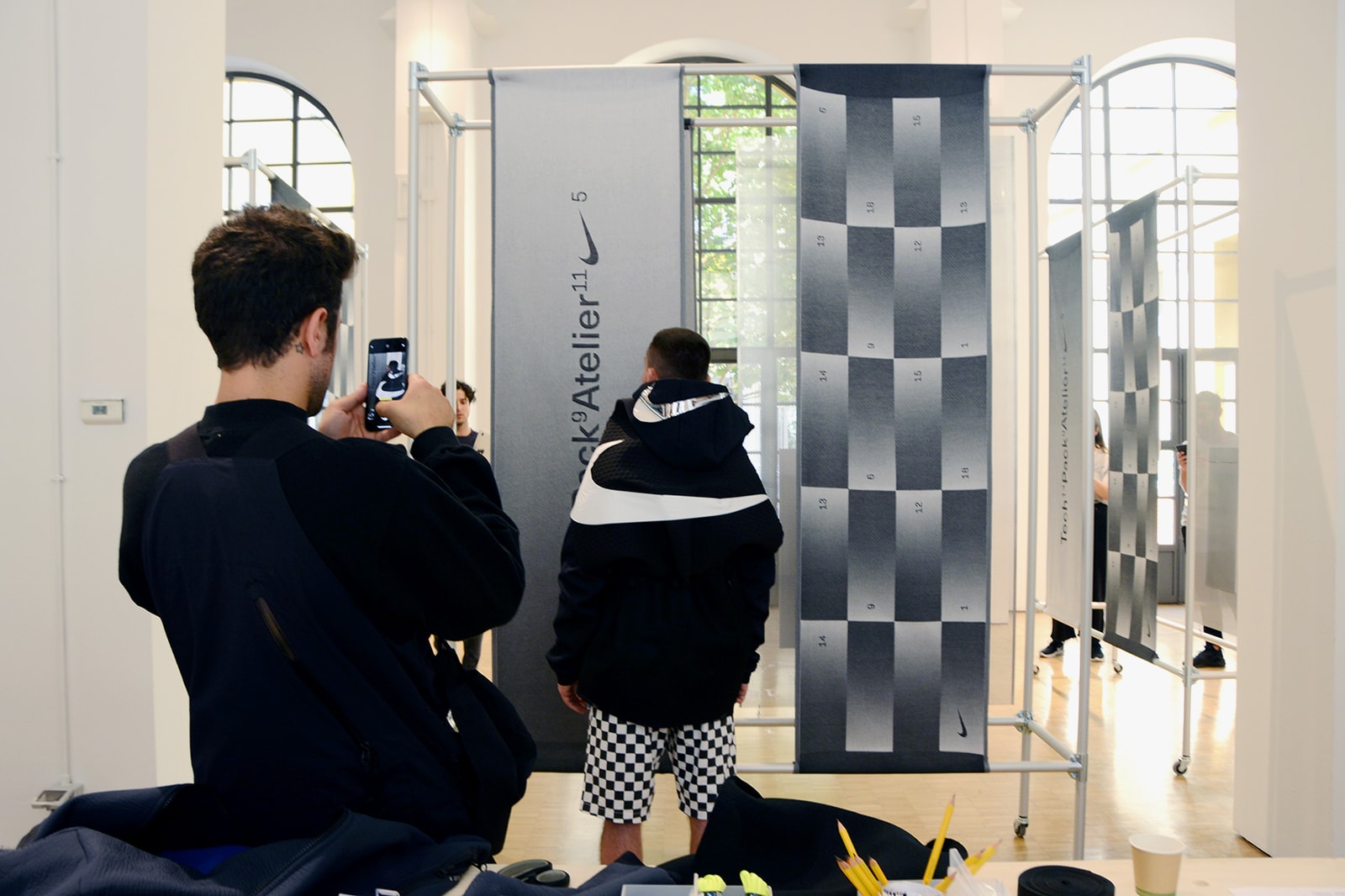 4 of 4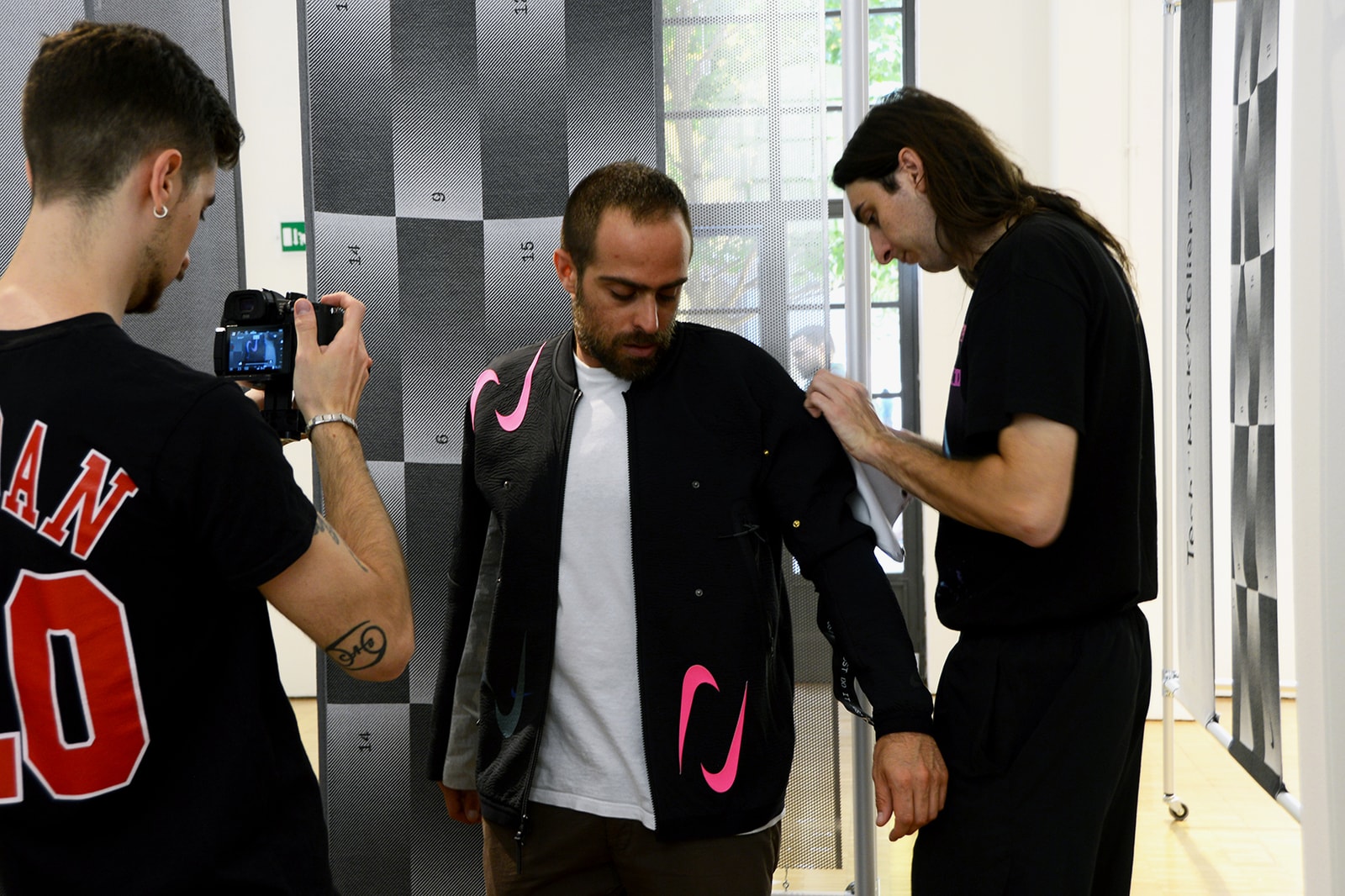 What's your relationship with the Tech Pack -  is it a range that you've always had an interest in?
Alexandra: Tech Pack for me has always been the premium version of a tracksuit. You could go into Sports Direct and get one for £15 GBP; or at least I do anyway, I wear the kids ones. But it always felt like the more luxurious, higher end version of just a tracksuit. I used to work at a Nike factory outlet in Australia and my first experience with the Tech Pack was when they did like a pop-up in Melbourne and we were asked to work it, it was like the highlight of my career then.
OBD: It's a new material [to us], because it's totally different to anything we've worked with. The shape is completely new, it's ergonomic, it's something that we never, ever worked with before, so it's interesting.
The whole project revolves around the idea of a "code" and cracking the code; how did you guys interpret your code word of "vision" in your work?
OBD: Vision is our word, it was the code that Nike gave to us as it worked with our history. We had a vision at that time for what we are now; we had a clear vision for where we wanted to go. But the Tech Pack now is a vision of the future and we [OBD] have a vision of something beyond the future.