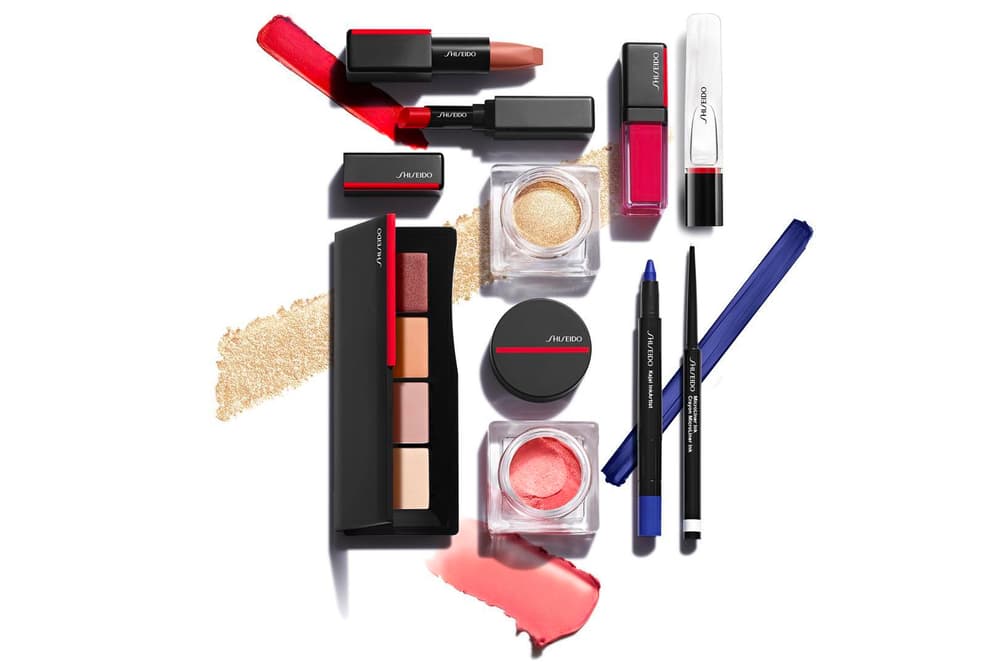 Beauty
Shiseido Has Revamped Its Entire Makeup Collection – Here's the New Look
Playing with different textures.
Shiseido Has Revamped Its Entire Makeup Collection – Here's the New Look
Playing with different textures.
Pioneer Japanese cosmetics brand Shiseido has recently reimagined its makeup line with a range of completely new products. Breathing a new life into its beauty offering, the makeup giant has relaunched its cult-loved collection with 22 products, which are categorized based on their textures: Dews, Gels, Powders and Inks. Each product is beautifully packaged and thoughtfully designed to unite Shiseido's skincare heritage and its innovation in makeup. The result is a collection that feels weightless and invisible, yet provides ultra-high impact.
Found under the Dews category is the illuminating highlighter Aura Dew ($25 USD) which offers a long-lasting glow and can be used not only on the cheeks, but also on the eyelids and lips. Speaking of the pout, Gels see the debut of two new lip products, including the VisionAiry Gel Lipstick ($26 USD) coming in 28 shades, and the hydrating Crystal GelGloss ($22 USD) which offers that dewy, wet look often seen in editorials.
The Powders category features a number of gorgeous products, ranging from the travel-friendly Essentialist Eye Palette ($34 USD) and the velvety ModernMatte Powder Lipstick ($26 USD), to the Minimalist WhippedPowder cream blush ($29 USD) and the airy InnerGlow CheekPowder ($29 USD). All four items are available in a variety of coloration to suit different moods and looks.
For Inks, we see a lineup of eye products in addition to the glossy LacquerInk LipShine ($26 USD). In particular, the multi-use Kajal InkArtist pen ($25 USD) as seen on singer BANKS in Shiseido's latest campaign can be used as a waterproof liner, kajal, eyeshadow and even brow color. The brand has also unveiled five new face and eye brushes that can be used in combination with the newly-released makeup. To shop the collection, head over to Shiseido's web store.
In celebration of the new launch, the brand will be hosting a special pop-up at its Japanese Beauty Gallery in New York. Comprised of four unique rooms inspired by textures featured in the new Shiseido makeup collection, the limited-time experience allows visitors to test out and feel the new products. The space will also see an exhibit by celebrity videographer and photographer Mike Rosenthal, and a Japanese-infused food experience served up by chef and restaurateur Jeremy Fall. You may find the pop-up location and its opening hours below.
Japanese Beauty Gallery Presented by Shiseido Makeup
150 Wooster Street,
New York, NY 10012
Dates: September 6 – September 9, 2018
Hours: 12:00 p.m. – 8:00 p.m. EST daily
Jeremy Fall Tasting Table (By Reservation Only)
Dates: September 6 - September 8, 2018
Hours: 5:00 p.m. – 8:00 p.m. EST daily