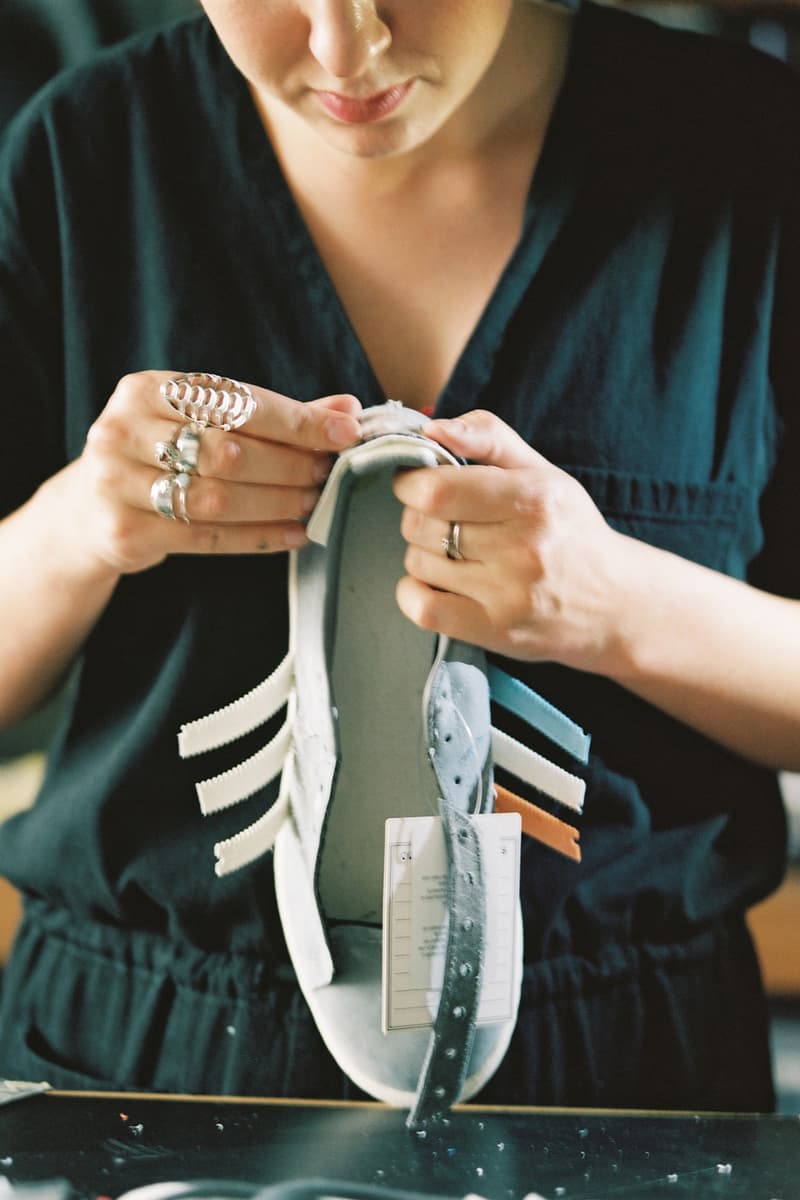 1 of 3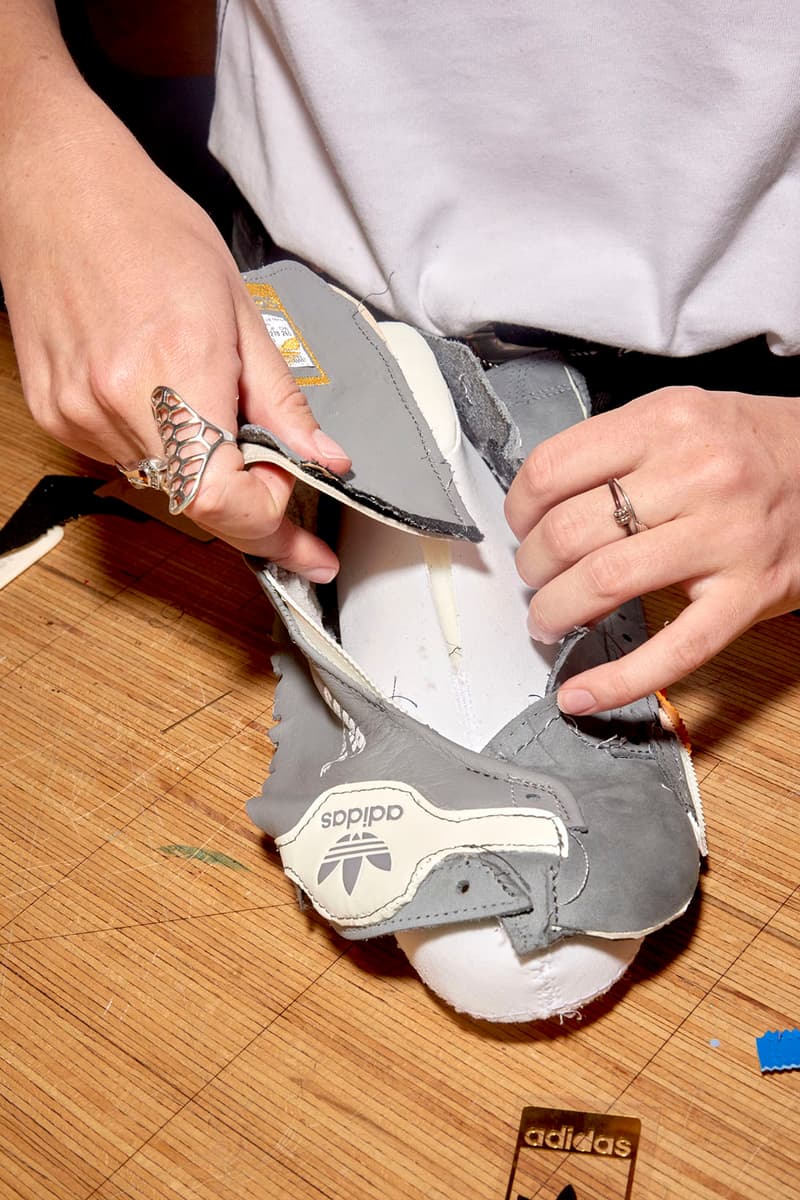 2 of 3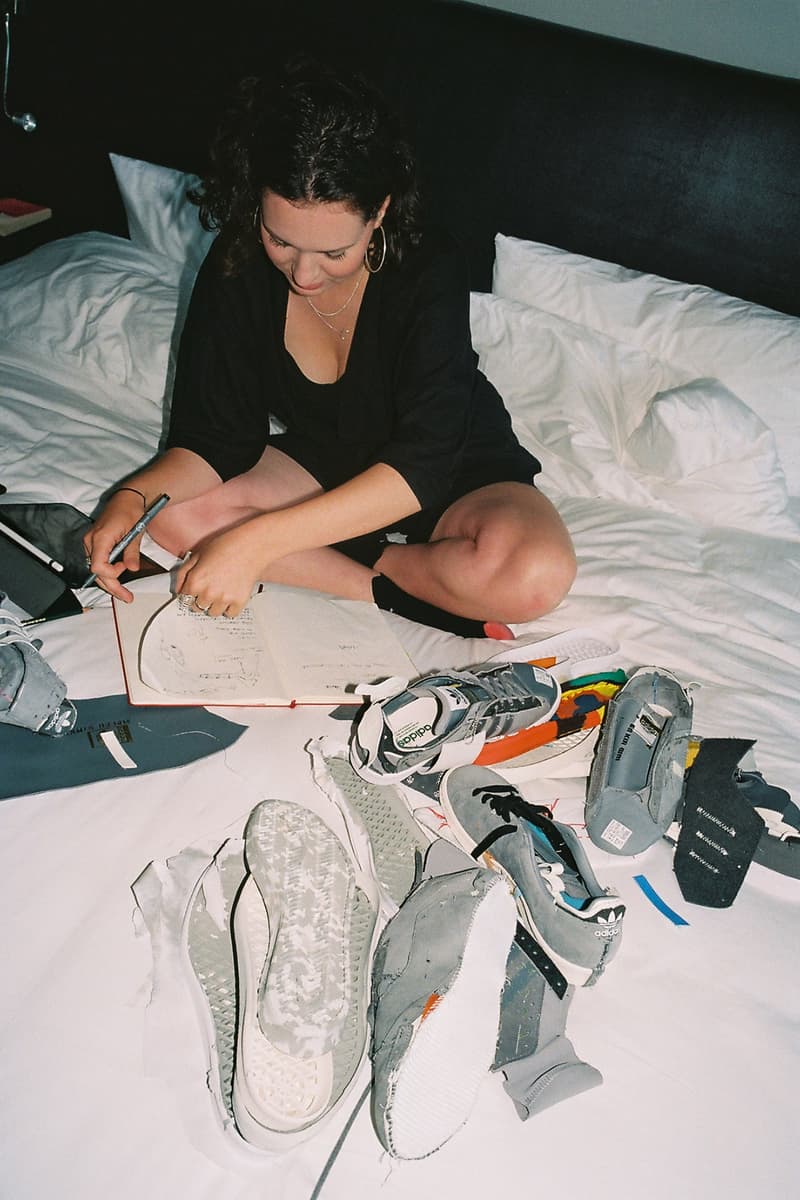 3 of 3
Footwear
Helen Kirkum Shares an Inside Look at Her adidas Originals Campus 80 Collaboration
Learn about how the "sneaker collagist" made the limited-edition kicks.
Helen Kirkum Shares an Inside Look at Her adidas Originals Campus 80 Collaboration
Learn about how the "sneaker collagist" made the limited-edition kicks.
There's no doubt that sneaker culture has continued to grow immensely over the last few years and with it, so has the interest in reconstructing and customizing footwear. One artist, however, whose work stands out from the throngs of custom kicks that are flooding social media feeds is Helen Kirkum. A qualified footwear designer, the self-described "sneaker collagist" focuses her work on deconstructing silhouettes and meticulously piecing them back together in unorthodox ways, resulting in Frankenstein-esque shoes that are essentially wearable works of art.
Recently, the British designer teamed up with adidas' MakerLab project to put her own unique spin on the Campus 80 silhouette, with the sneakers landing directly to market through StockX IPO. This innovative approach sees 333 pairs of the sneakers up for grabs, at a "blind bid" price essentially dictated by how much each buyer is willing to pay for the shoes. After the auction ends on October 18 at 9 p.m. EDT, winners or highest bidders will all be able to cop the shoes at the "clearing price" – the lowest winning bid on the silhouette.
We caught up with Helen to learn more about her approach to sustainable design and the challenges that come with reworking an already iconic silhouette. Read on for more and in related news, why not check out adidas Originals x J KOO's SS20 apparel collaboration?
1 of 2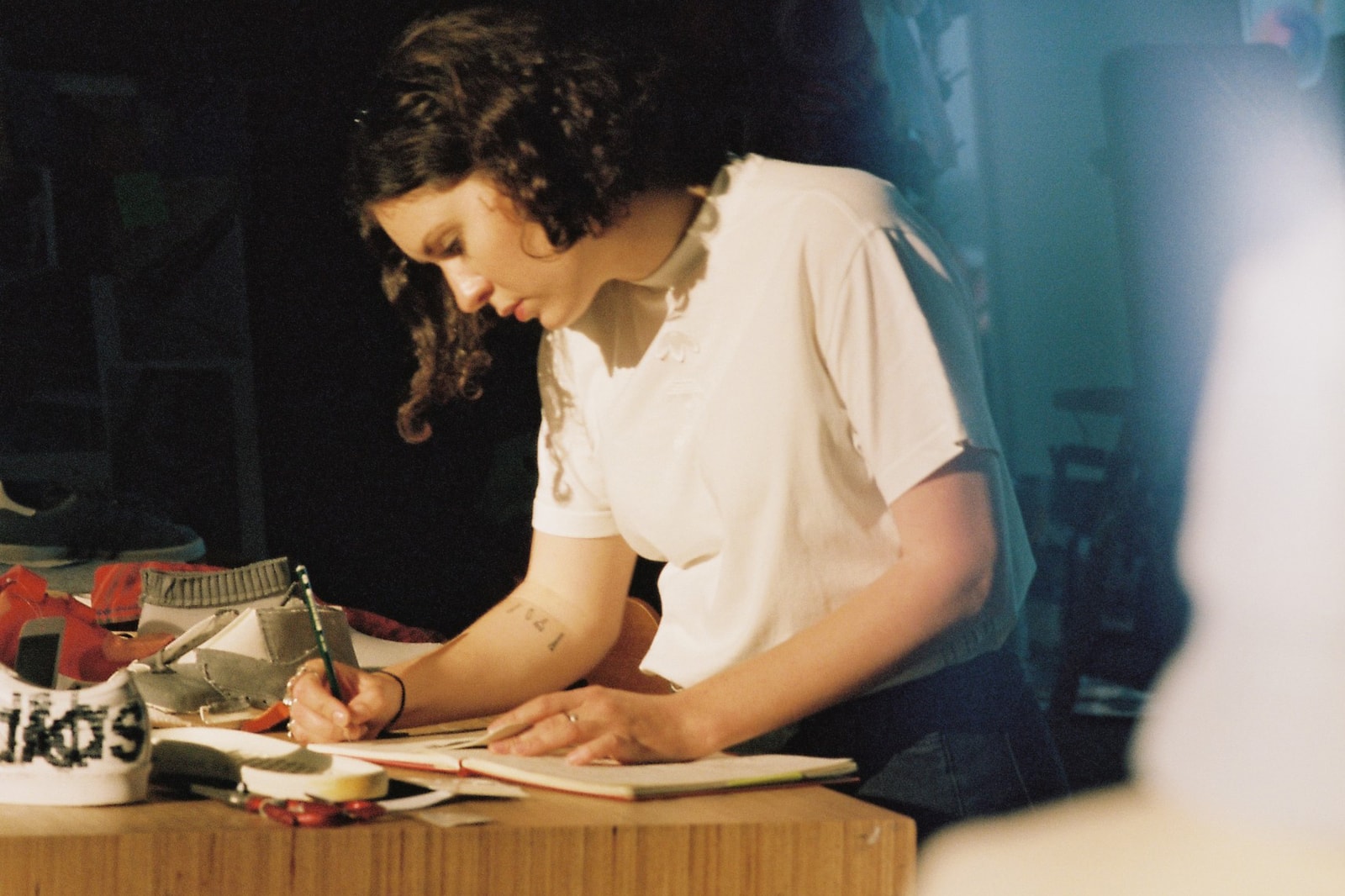 2 of 2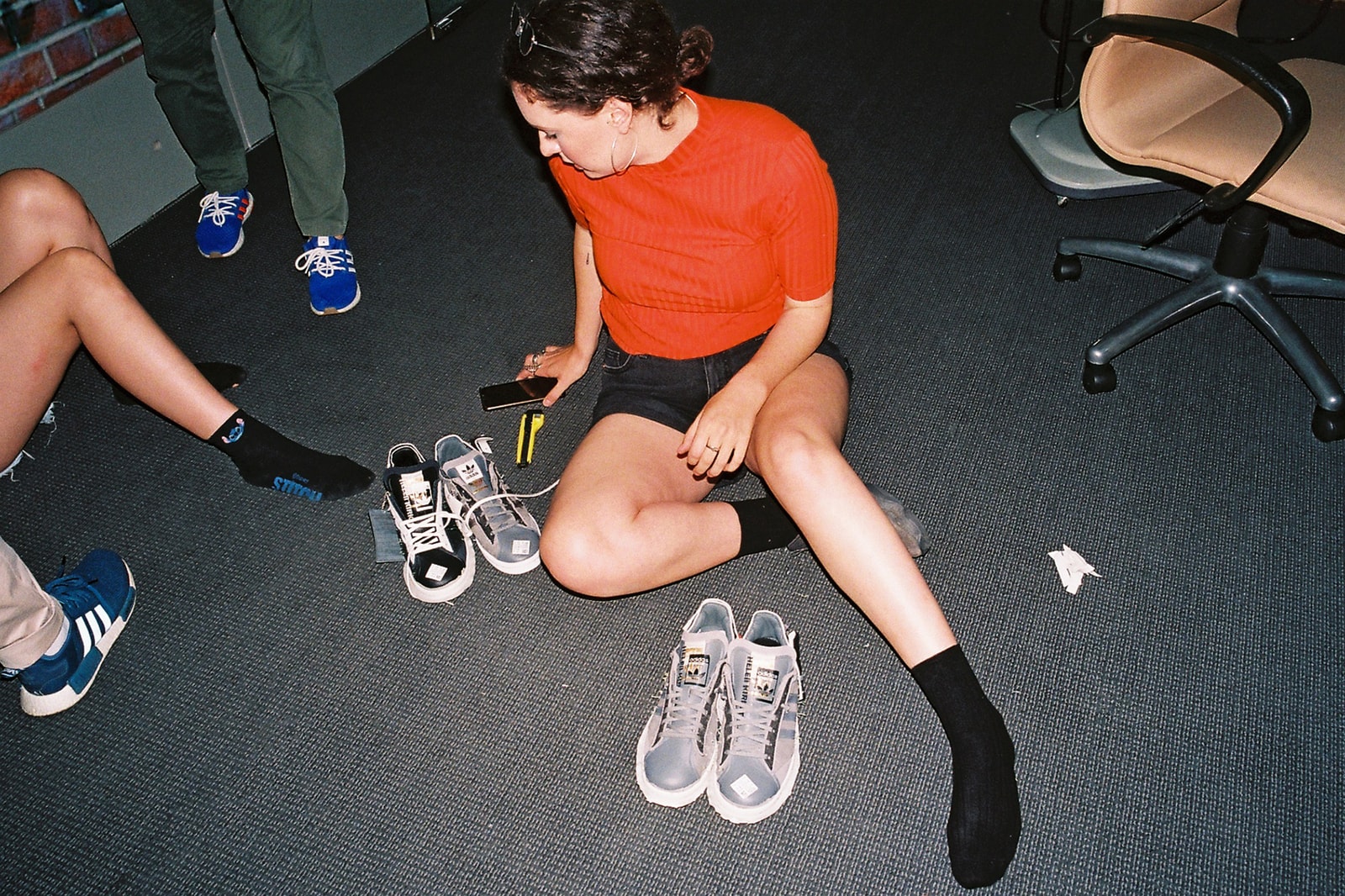 You describe yourself as a "sneaker collagist" – how exactly would you define what that means?

I changed it to that recently because I had different things [previously] like artist and designer and I just found that "sneaker collagist" was quite an interesting way to describe what I do. It kind of gives you the overall picture of what I am trying to achieve into quite precise words. I felt like especially for me, I like to think of my work as something that is very artistic, it is design, it is customizing, it is collage. It's just kind of everything mixed together in one phrase.
How did you first get into the art of reconstructing footwear?
I did my BA degree in Footwear Design at the University of Northampton and then I went on to do a master's degree at the Royal College of Art in London. When I was doing my master's, I wanted to get more into sneakers. The reconstructing part has always been the way I always work: breaking things down, understanding how they're made and that kind of led me on the path to sneakers. I didn't really know how sneakers were made, I did a lot more traditional footwear, so I was interested in finding out how they were made. I started asking my friends if I could take their old sneakers apart and that's what got me hooked.
Especially with sneakers, I found that everything I do is very tactile, and sometimes sneakers become this kind of very "finished" product. I was interested in trying to see if I could create something that had more tactile feeling to it.
So you were drawn to sneakers because it was an area that you felt like at that time you were less familiar with and eager to learn about?

Yeah. I remember when I was at the Royal College of Art, one of my technicians was an amazing bespoke shoemaker and had been doing it for like, 13 years. I told him that I wanted to make a sneaker and he was like "Oh, you don't want to make a sneaker, that's not real shoe." That really inspired me because I was just was interested in the idea of what constitutes a real shoe and how I could develop that idea, so that that kind of got me hooked on sneakers. I feel like whenever someone tells me not to do something, then I try to do it more.
1 of 2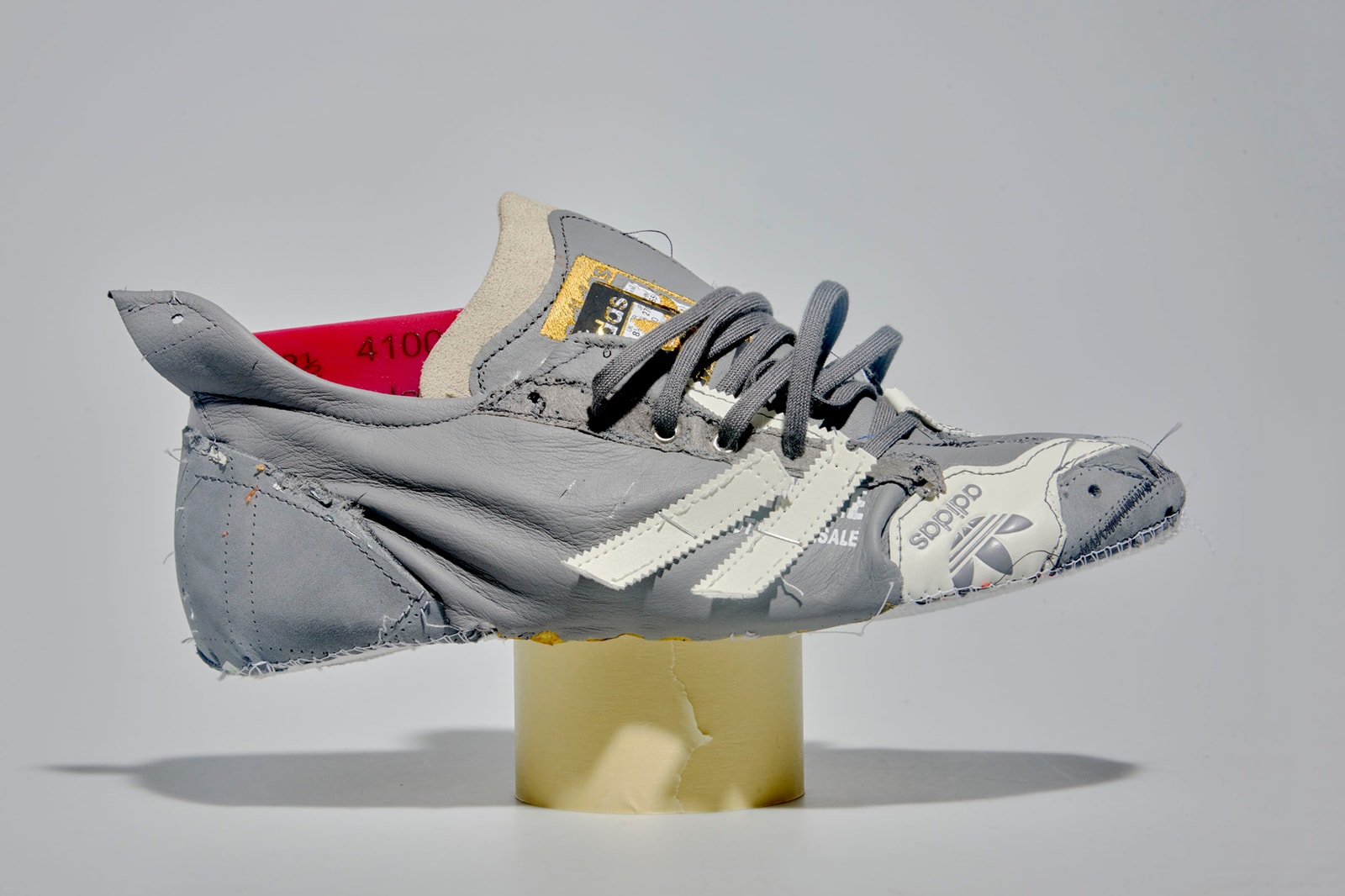 2 of 2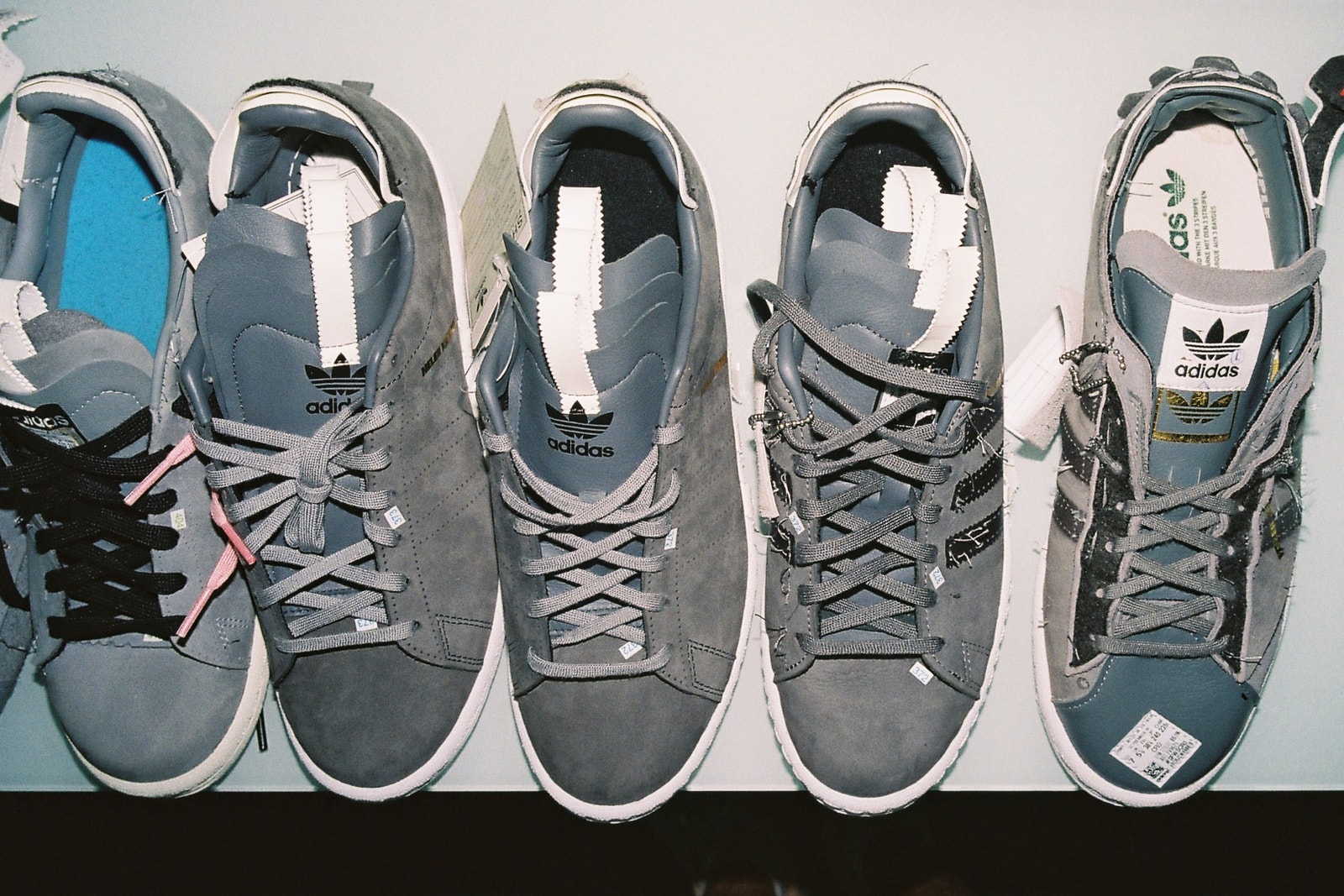 Your work is essentially sustainable at its very core and sustainable design is, of course, an important and buzzy topic right now. Was working in this way a conscious decision you made?
Yeah, being interested in seeing how things were made I actually realised that a lot of my friends and my partner wouldn't give me their old sneakers because they were really connected to them. Even if they were completely battered and falling apart, they wouldn't give me them to cut up. Then I kind of branched out to see what I could get old shoes from, basically, and I started working with this recycling center in London called TRAID. When I went to their warehouse to collect all their old sneakers that they couldn't resell that's when I kind of realised the scale of everything and from then on, I just decided by this is the material.
With TRAID I only work with the odd shoes. When they're in pairs, they can reuse them but when they're recycled, if the process gets muddled up, the shoes can get separated. I take all the old ones that they can't do anything with, I really take the absolute dregs.
Could talk us through sort of the inspiration and the concept behind the design of the adidas Campus 80 trainers you've created?
When I started the project, I didn't necessarily have a plan of what I was going to make. Obviously, I knew it was based around the Campus 80, so I started the way I start everything – by taking everything apart. I deconstructed a couple of Campus 80 silhouettes and started looking at patterns looking at how it was constructed and made. That's where I guess I feel comfortable and that's my background, so that was really the starting point.
I tried to make a shoe that was inspired by itself. So all the processes were inspired by the shape of the patterns or the way that particular things were constructed. It really developed over time. I started learning more things about the shoe, learning more things about the process, and then I just kept adding extra bits into the design. I think for me, it was really important to try and make something that did have that feeling that's very tactile, which was similar to my work and something that feels quite human.
1 of 2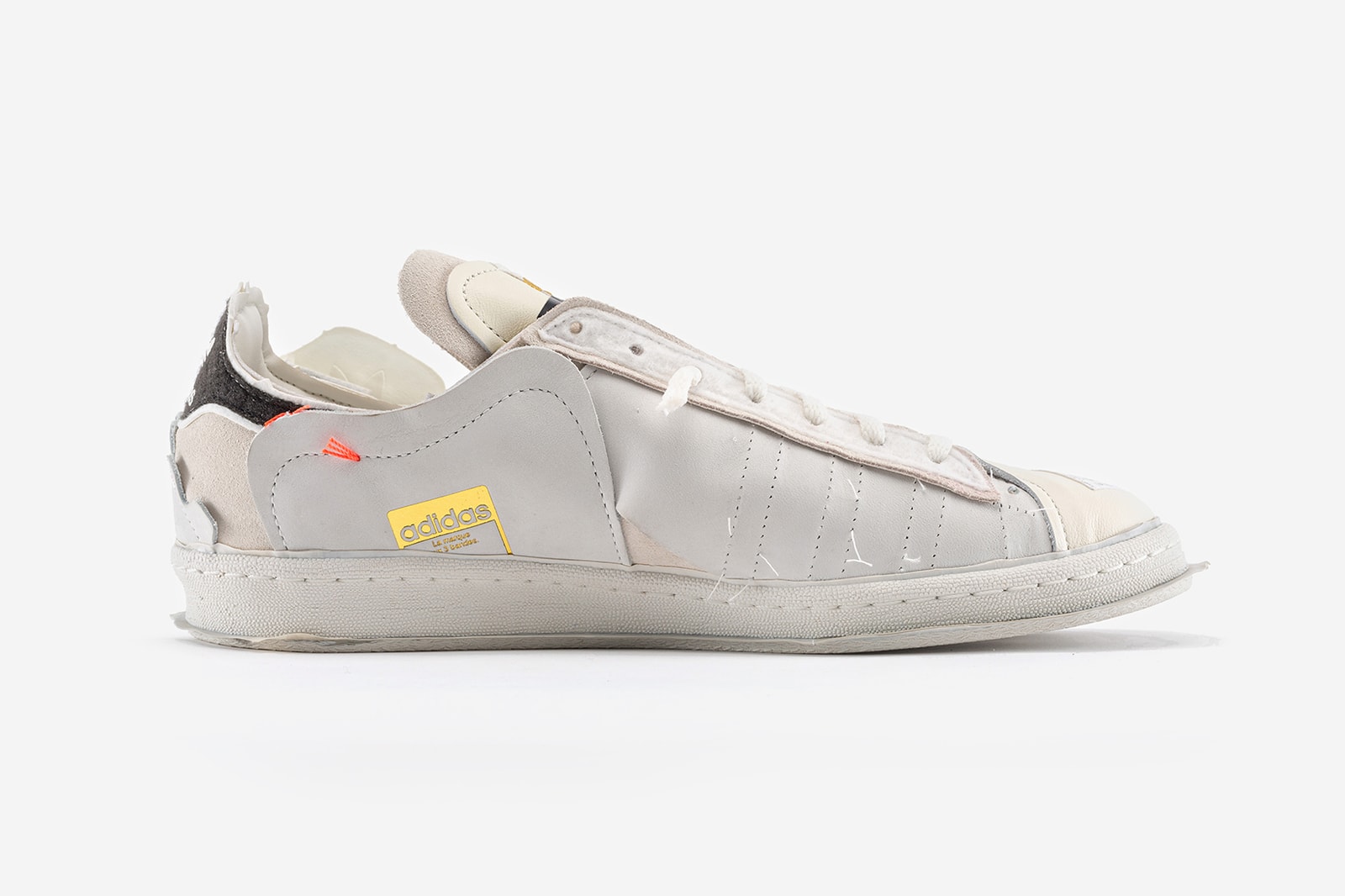 2 of 2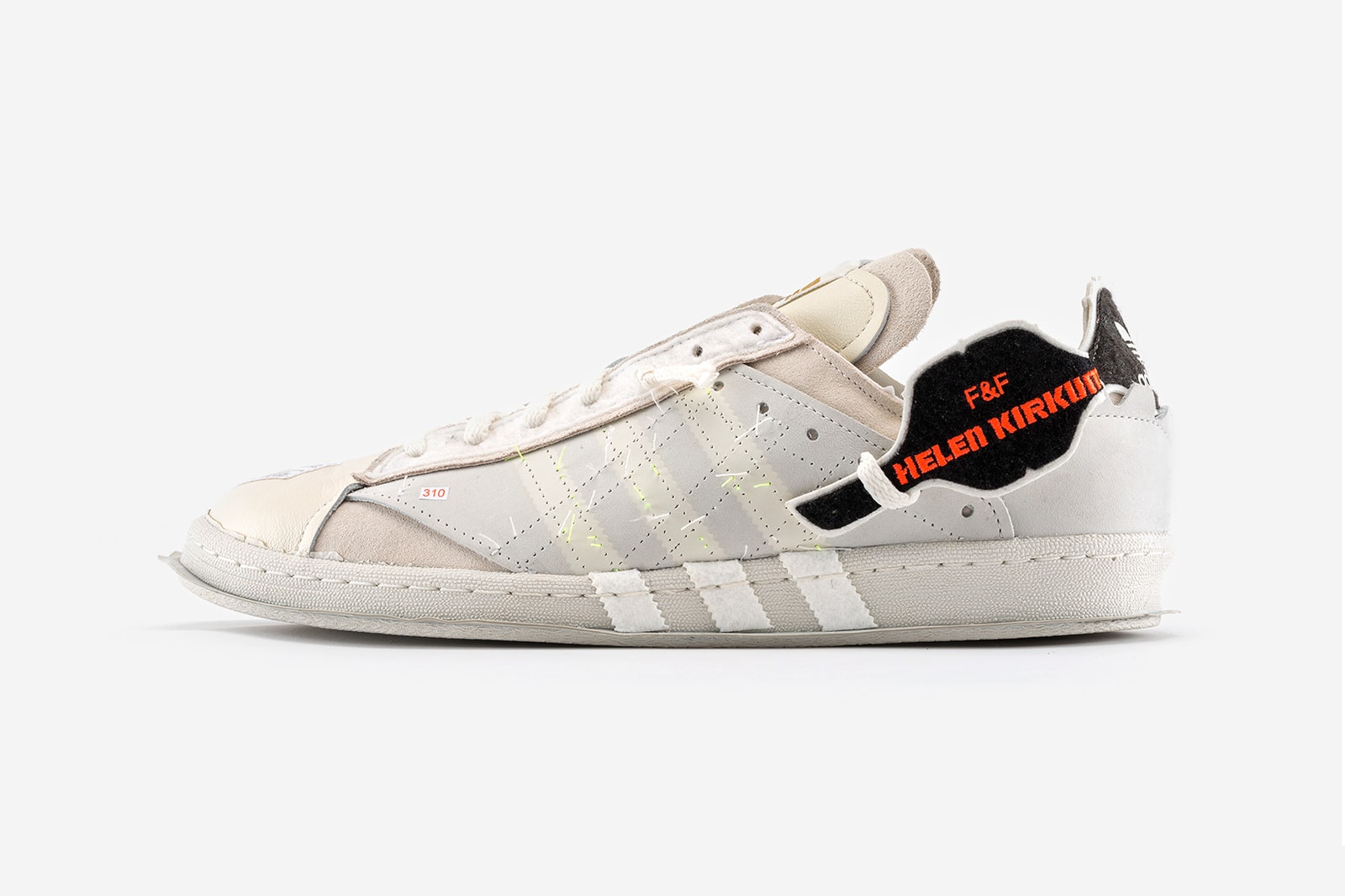 What was the most like, challenging part of that design process? 
There were a few things. To start with I was a little bit nervous, because the Campus 80 is obviously such a classic shoe and it does have quite a pared-down silhouette, so there's not actually that many parts. I was worried there weren't enough parts for me to do things with. That was the first challenge, but then obviously, as soon as I started working with it I realised there were so many interesting pieces. On the back heel, you can see that piece is actually the toe panel piece. The little cutouts that are in the arch that goes around is the real shape that the factory would have in the shoe so that they can last the shoe easier.
It's showing the process that people don't usually see – I tried to expose more of that. Other challenges, I guess were just like within the factory, trying to translate my sample which was very rough and ready into something that was really polished and was really going to be a final product. I think that's what I found hard because I work by myself, so I always have control over everything.
If you could distill the essence of the shoe that you've created into three words, what would they be?
I think playful, because that is the way that I always work. I would say, a shared experience, because I tried to create a product that not only shares all the importance of like everybody in the factory, all the developers, everything that goes into making the shoe, but also to give people that buy the shoes a chance to adapt it and work with it in their own way, so I tried to share the experience of creating a shoe.
Share this article