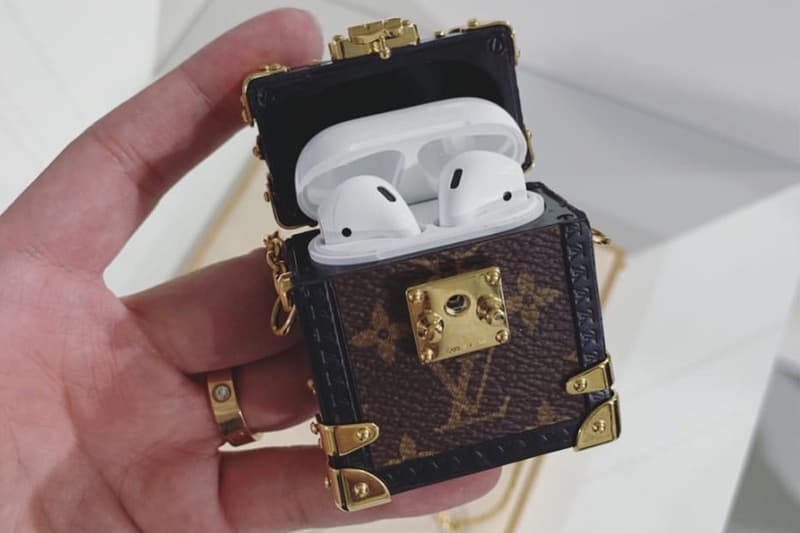 Fashion
5 Designer Apple AirPod Cases to Add to Your Wish List
From the likes of Louis Vuitton, Dior and Bottega Veneta.
5 Designer Apple AirPod Cases to Add to Your Wish List
From the likes of Louis Vuitton, Dior and Bottega Veneta.
Apple's chic AirPods have become almost a statement accessory on their own but of course, with the mini bag trend taking off its was only a matter of time before designers interpreted their own cases for the earphones. While there are plenty of hard-wearing, practical cases out there, some luxury brands have put their own high-end touch on the accessory. Louis Vuitton has transformed it into a teeny-tiny version of its signature trunks whilst Burberry has opted for a grain leather keychain-style pouch.
If you're looking for a luxurious place to house your precious AirPods, we've compiled a roundup of some of the most lavish cases out there right now. Keep scrolling to find out more and in related news, have you seen Fendi's iPhone X Baguette case?
Available in black or grey, this chic option is crafted from smooth lambskin leather and boasts a small, rubber Dior text logo on the strap across the front. There's a silver-toned clasp to allow you to attach the piece to your zipper, keys, bag or anywhere else you choose to keep your beloved AirPods safe.
Where to buy: Available soon at Dior's web store
Price: $350 USD
This black leather case by Daniel Lee's so called "New Bottega" has a woven finish, similar to that of the brand's popular pouch bag. This small case features a snap button closure and detachable lanyard chain so you can minimise the risk of losing your AirPods.
Where to buy: Available at retailers like Browns
Price: $550 USD
Burberry's AirPod offering comes in textured grain leather in tonal color options but our favorite is the iteration that boasts Riccardo Tisci's reimagined logo throughout. It has a fold-over flap closure with a branded snap-button and branded gold-tone chain with clasp allowing you to clip it onto a keychain, zipper or bag.
Where to buy: Available at HBX
Price: $200 USD
This AirPod holder also arrives in full grain leather, this time in a deep blue croc finish. It has a fold-over top, branded leather tab and silver-tone metal keyring and clip, as well as a long leather strap so you can keep your AirPods close.
Where to buy: Available at SSENSE
Price: $125 USD
Louis Vuitton's AirPod case was a viral hit on social media when it was spotted at a press preview earlier this month. Modelled after the luxury brand's signature trunks, it has a box-like casing with Louis Vuitton's monogram print and gold hardware throughout. Additionally, there's a long, gold-tone strap so you can style your case like an ultra-tiny over-the-shoulder bag.
Where to buy: Release information currently available
Price: TBD
---
Share this article