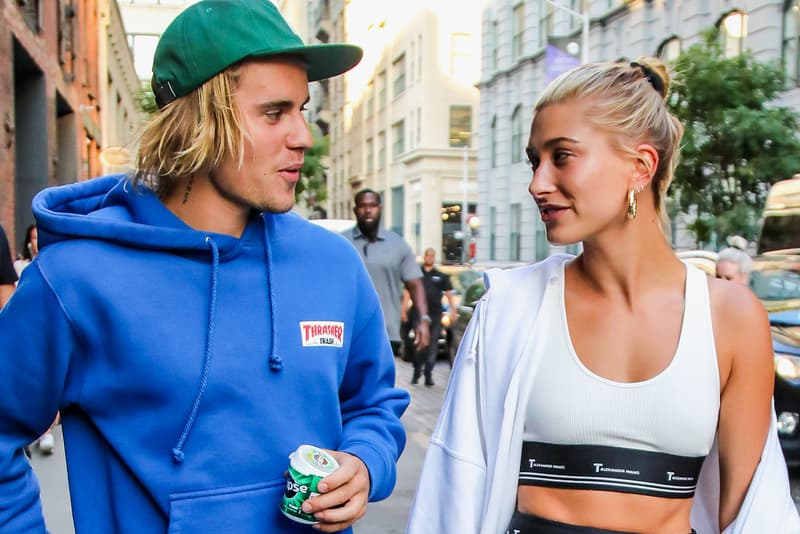 Culture
Hailey and Justin Bieber Share More Photos of Their Wedding Celebration
The bride wears her "dream dress" by Off-White™, designed by Virgil Abloh.
Hailey and Justin Bieber Share More Photos of Their Wedding Celebration
The bride wears her "dream dress" by Off-White™, designed by Virgil Abloh.
UPDATE (October 7, 2019): Hailey Bieber has revealed more photos from her wedding with Justin Bieber. On Instagram, the model throws back to September 30 when her and her beau said "I do" for the second time.
We've previously seen Hedi Slimane's wedding gift for the Biebers, which come in the form of leather jackets with studded embellishments that read "Husband" and "Wife." Now, in the new images, Hailey is seen wearing a wedding dress designed by another of her favorite designers, Virgil Abloh.
"@virgilabloh thank you for making my vision come to life and creating my dream dress. You and your @off____white team are incredible and I'm forever grateful I got to wear your beautiful creation," the bride writes in her caption.
The mermaid-shaped dress by the Off-White™ atelier is made of floral lace adorned with tiny pearls, and features an elegant, off-the-shoulder cut and classy long sleeves. In another photo, Hailey shows off her curves as well as the backless detail of the white gown.
Of course, a wedding dress wouldn't be complete without the veil. And in true Abloh fashion, Hailey's long tulle train is embroidered with the phrase "TILL DEATH DO US PART," completed with the designer's signature quotation marks motif.
The photos also offer a closer look at the couple's Tiffany & Co. wedding bands, as well as Justin's sleek suit by CELINE. Take a look at the portraits below.
---
While they have been fairly hush-hush about their wedding ceremony, lovebirds Hailey and Justin Bieber have just revealed an intimate look inside their celebration by posting the first photos of the night on Instagram.
Hours after they tied the knot for the second time in South Carolina, the bride and groom have taken to social media to share with their fans sweet snaps of themselves. The black and white images see the "Let Me Love You" singer getting all suited up with a bow tie and showing off his diamond grill, while his wife Hailey sports a slightly undone low bun and dons a halter neck, white dress. In the photos, the 22-year-old model is also seen wearing her blindingly shiny engagement ring from Bieber that's rumored to cost $500,000 USD — paired with equally stunning earrings, no less.
"Looking forward to forever with you," Justin writes affectionately in the caption in one of his posts, with Hailey gleefully replies, "forever with my favorite human."
Take a look at the beautiful photos of the newlyweds and read their romantic messages below. Once again, congratulations to the Biebers!
Share this article