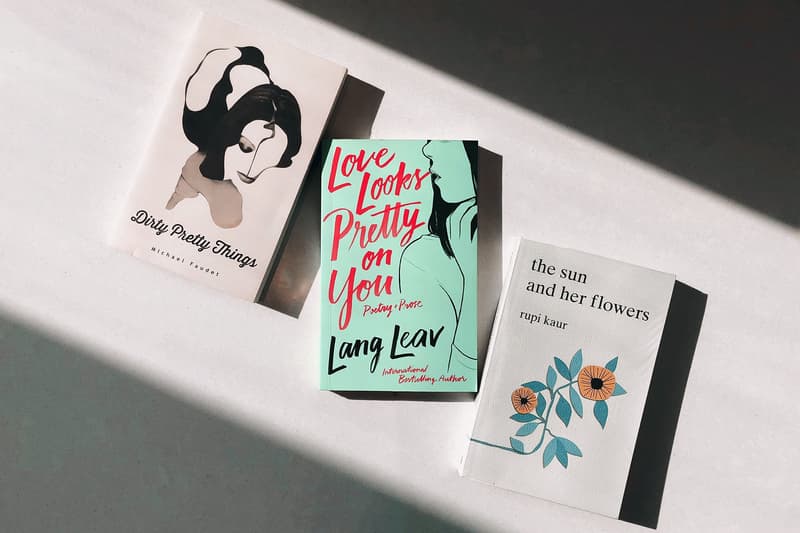 Culture
Here Are the 7 Best Romantic Poetry Books to Add to Your Fall Reading List
Featuring poets like Rupi Kaur and Lang Leav.
Here Are the 7 Best Romantic Poetry Books to Add to Your Fall Reading List
Featuring poets like Rupi Kaur and Lang Leav.
Fall is the perfect season to cozy up by the fireplace and wrapped in your favorite comforter while reading a good book. For all the hopeless romantics and literary fanatics out there, we've gathered some of the best poetry books written by today's contemporary poets whose words may resonate with your past and current experiences with love and relationships.
From international bestselling author Lang Leav's latest Love Looks Pretty on You, to the New York Times paperback fiction bestseller the sun and her flowers by Rupi Kaur, read on to discover the titles you should add to your fall reading list.
If you prefer other genres, here are 10 sci-fi, fiction and art books to read this month.
Lang Leav's sixth book of poetry, Love Looks Pretty on You, is a beautiful collection about love, heartbreak, relationships and self-empowerment. Known for her first book Lullabies that released back in 2014, the novelist and poet has the ability to capture the intricacies of emotions by putting them onto paper, allowing readers to relate to every word she writes.
Michael Faudet's international bestseller Dirty Pretty Things touches upon the compelling themes of love, loss, relationships and sex. Faudet was a finalist in the 2015 Goodreads Readers Choice Awards.
Following up on her New York Times bestseller Milk and Honey, which sold more than 4.5 million copies worldwide, Rupi Kaur's second collection of poetry in The Sun and Her Flowers is a celebration of love in all forms. The book features five different chapters – wilting, falling, rooting, rising and blooming – accompanied by the author's own illustrations.
Organized in three sections, K.Y. Robinson's Submerge explores the topics of trauma, mental illness and loss. Part one of the book touches upon the themes of love, self-discovery and cultural history. Part two, examines mental illness, trauma and loss, while part three talks about self-care and gratitude.
Award-winning author, inspirational speaker, ghostwriter and poet Marala Scott released a collection of poetry and prose earlier this year. With Gratitude is about appreciating love, loss, relationships, and fleeting moments of kindness.
Known for empowering women through his words, r.h. Sin's She Felt Like Feeling Nothing pursues themes of self-discovery and retrospection. Sin aims to create a safe space where women can rest their weary hearts and focus on themselves with his books.
Malawian storyteller Upile Chisala specializes in conveying her narrative of the self, joy, blackness, gender, matters of the heart, spirituality, as well as the experience of diaspora. Her book of poetry and prose, soft magic, is a shared healing journey that consists of five parts.
Share this article