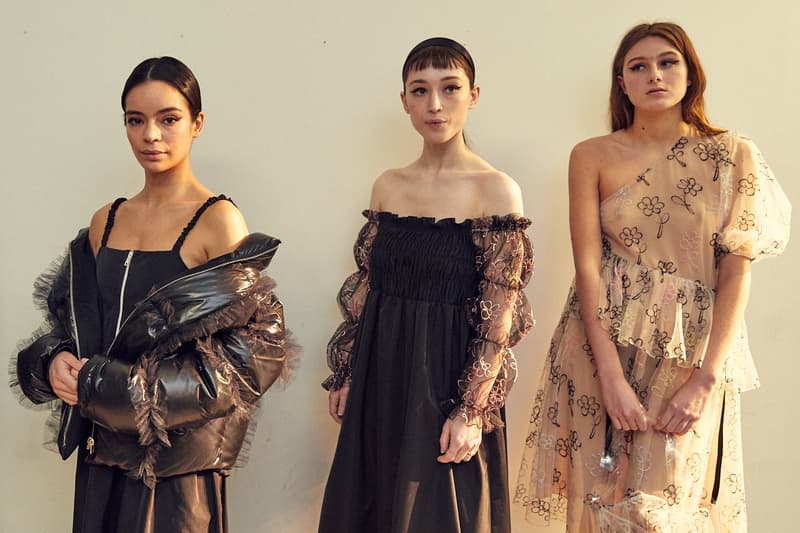 Fashion
6 Emerging Designers From NYFW That We Loved: No Sesso, Sandy Liang & More
We've handpicked the best talents we were excited about this season.
6 Emerging Designers From NYFW That We Loved: No Sesso, Sandy Liang & More
We've handpicked the best talents we were excited about this season.
New York Fashion Week's Fall/Winter 2019 presentations are home to the big names in the global fashion market. But for some design lovers, flashy names don't seem to be as exciting as they were years ago. This is where emerging talents play a new, inventive role. To some, this week's rollout of shows has been a bit quiet from the outside looking in. Yet, talented creators have emerged from worker bee mode to debut their latest collections, which has created quite a buzz on the streets of NYC and on social media.
In our latest roundup, we've tallied up the top emerging designers who presented at NYFW. Included in the seasonal lineup are No Sesso, Kim Shui, Sandy Liang and Nanushka to name a few. Each of these fashion brands has their own background story and is known for specific aesthetics.
Keep reading below to learn more about each of our editor-approved selections.


No Sesso
Originally launched in 2015, No Sesso is helmed by trans designer Pierre Davis. For her first-ever presentation at New York Fashion Week, Pierre pulled out all the stops. You may remember when the Los Angeles-based creator debuted a collaboration with Bephie earlier last year. On the first day of NYFW over at Pier 59 Studios, No Sesso showcased a mixture of imaginative separates. The matchless FW19 range featured everything from a logo velour tracksuit to a form-fitting bustier. The selected models included familiar faces Steve Lacey and Marz Lovejoy.


Kim Shui
Central Saint Martins-trained designer Kim Shui presented her first full collection back in February of last year. Known for her intrinsically sexy silhouettes, for the FW19 presentation, Kim decided to focus on creating daring pieces. The newly designed range was marked by numerous snakeskin prints, tie-dye dresses and colorful logo tights. Utilitarian-inspired separates were also present in the range and arrived in the form of a multi-pocketed vest worn with a similarly designed pair of track pants.


Sandy Liang
Sandy Liang's eponymous brand debuted back in 2014. Since then, her line has slowly but surely risen the ranks within the industry. Liang is known for her colorful outerwear creations, namely a women's fleece which has recently been gaining traction in the menswear market. Within her FW19 range, there are actually cohesive men's pieces. The women's collection features lavish floral embroidered separates in addition to wearable dresses reminiscent of every woman's childhood closet. In total, the creative collection is a bit experimental, but each look works relatively well especially when paired with colorful sneaker silhouettes.


Priscavera
Italian designer Prisca Franchetti first presented a full collection under the design name Priscavera in February of last year during New York Fashion Week. The emerging star is known for serving up a range that's equally slinky and sophisticated. In her FW19 presentation, her usual design cues were explored in-depth which includes club dresses and skirts created with silk in addition to eye-catching tops and sheer must-haves. In total, Franchetti stayed true to herself and didn't wander into unfamiliar territory. Her design detailing ultimately works for her and have in turn built a loyal cult following.


Nanushka
Sandra Sandor first launched Nanushka in her native Hungary, Budapest back in 2005, but it wasn't until the brand was stocked on Net-A-Porter in 2017 did it continue its upward climb in the American fashion market. Hosted in NYC's beloved neighborhood, the Village, the fourth NYFW presentation which Sandor titled "Mystery Child," features a range one could describe as free-flowing. The FW19 collection included beautiful separates not limited to its recurring vegan leather coat, silk separates and stunning accessories. For the first time, Sandor debuts a functional menswear collection which is just as aesthetically pleasing as the women's range.


Collina Strada
Designer Hillary Taymour launched Collina Strada back in 2009. We're well aware that the brand isn't anywhere near emerging — its FW19 collection really resonated with the fashion crowd this season. The colorful line was comprised of inventive outerwear pieces, experimental trousers and free-flowing silk garments. According to Vogue, Taymour's range was created with 75-percent deadstock fabric and featured a collaboration with 4ocean.
---
Share this article