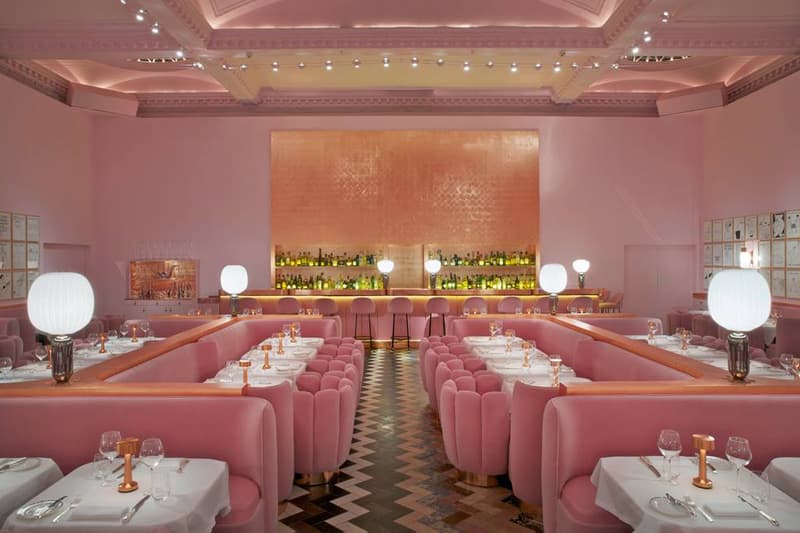 Culture
5 Instagrammable Pink Restaurants in London Perfect for Your Year-Round Valentines
Book a table now.
5 Instagrammable Pink Restaurants in London Perfect for Your Year-Round Valentines
Book a table now.
Valentine's Day is just around the corner and with it comes the pressure of finding the perfect gift to express your undying love, booking an overpriced restaurant and all those other clichés. In honor of February 14, we rounded up some of the most Instagrammable and obviously, pink-themed eateries in London that you can visit all year round.
Our options span from West to East London and everywhere in between, so whether you're looking for somewhere cute to eat with your crush or a place to book for a fancy dinner with all your BFFs, we've got you covered. Take a look at our favorite spots below and let the food (and interior) envy commence.
Where to find it: 97 Curtain Rd, EC2A 3BS
WHY IT'S WORTH VISITING: Hiding in plain sight in bustling Shoreditch, Rascals is the perfect spot for hangouts with larger groups (there's even a private dining room if you need it). Between bottomless brunches, bingo and drag nights, there's always something fun to get involved in. While the menu sometimes changes, the pizza and margaritas are always delightful and trust me, those cheeseburger spring rolls are truly delish. If you want to continue the party, pay a visit to the aptly-named adjoining adult ball pit Ballie Ballerson for more shenanigans.
Where to find it: 19 Percy Street, W1T 1BZ
WHY IT'S WORTH VISITING: This Fitzrovia restaurant is ideal for all you vegans out there; it boasts a nutritious, fully plant-based menu that doesn't skimp out on flavor. The all-day menu has something for everyone, including tasty breakfast treats like the homemade pink croissants. If you're setting your date for later in the day, be sure to try out the jackfruit and guac tacos or Sri Lankan curry and don't forget to pause for a photo at the hot pink spiral staircase.
Where to find it: 9 Conduit St, Mayfair, W1S 2XG
WHY IT'S WORTH VISITING: If you've yet to come across a picture of The Gallery, Sketch's millennial pink Wes Anderson-esque room, your social media game just isn't up to scratch. The now-famous space, with its pink velvet seating, matching walls lined with David Shrigley's artwork and stunning zig-zag mosaic floor is probably one of the most Instgrammed spots in London. While afternoon tea here is a real treat, the dinner menu is equally as good. There are plenty of options for veggies and carnivores alike but make sure you save some room for dessert or at the very least, some of those sweet macaroons.
Where to find it: 19 Bloomberg Arcade, London EC4N 8AR
WHY IT'S WORTH VISITING: Named after the owner's grandmother, this sleek eatery is a must-visit if you're on the search for tasty and expertly crafted Chinese food. It's ideal for those who like to share their food, with items like tiger prawn skewers, wild mushroom steamed buns, Uyghur fries and crispy duck pancakes perfect for splitting between friends. There's a stellar selection of cocktails too, including the signature Kym's Spritz – a refreshing combo of sake, riesling vermouth, lemongrass, prosecco and pomegranate seeds which you can sip at the bar under the stunning cherry blossom tree.
Where to find it: 46 Berkeley Square, Mayfair, W1J 5AT
WHY IT'S WORTH VISITING: Technically, Annabel's is a members' only club so it's not exactly simple to head in for a drink or a bite to eat. If you are a member, or a guest of one however, behind the iconic facade lies a labyrinth of dining – and 'gramming – opportunities. There are endless culinary options, from breakfast pancakes in the beautiful The Rose Room and extravagent dinners in the garden to latin delicacies on The Mexican floor. If you're feeling really baller, a private dining experience in The Flower Room is unmissable and you can end the night dancing in the legendary Nightclub or The Jungle Bar. A top tip: the restrooms are the most Instagram-friendly in the city, rivalled only be Sketch's sci-fi bathroom pods.
---
Share this article