Beauty
Jessica Skye Breaks Down Her Beauty Routine and the Skincare Hacks That Keep Her Glowing
The DJ and yogi talks late nights and early mornings as she invites us into her world.
Jessica Skye Breaks Down Her Beauty Routine and the Skincare Hacks That Keep Her Glowing
The DJ and yogi talks late nights and early mornings as she invites us into her world.
Jessica Skye has managed to build a career out of her passion for good music and dedication to yoga. One of the liveliest, busiest yoga teachers in London, Skye founded Fat Buddha Yoga, a pop-up yoga community where she teaches classes all over London to a highly curated musical playlist. The last three years has shown Skye become one of the most in-demand DJs in the City. When Skye is not busy teaching packed yoga classes to the fashion and music set, you can spot her behind the decks at the coolest boutique hotels and funnest rooftop events in the City.
We caught up with Jessica to figure out how she manages to keep that bright yogi glow all year round. Using My Clarins, a new range of vegan, plant-based products, Jessica is able to look to nourishing ingredients like coconut water and acerola seed extract to boost radiance while on the go.
Read our full conversation below and catch a sneak peek into her daily and nightly My Clarins beauty routine below.
1 of 6
2 of 6
3 of 6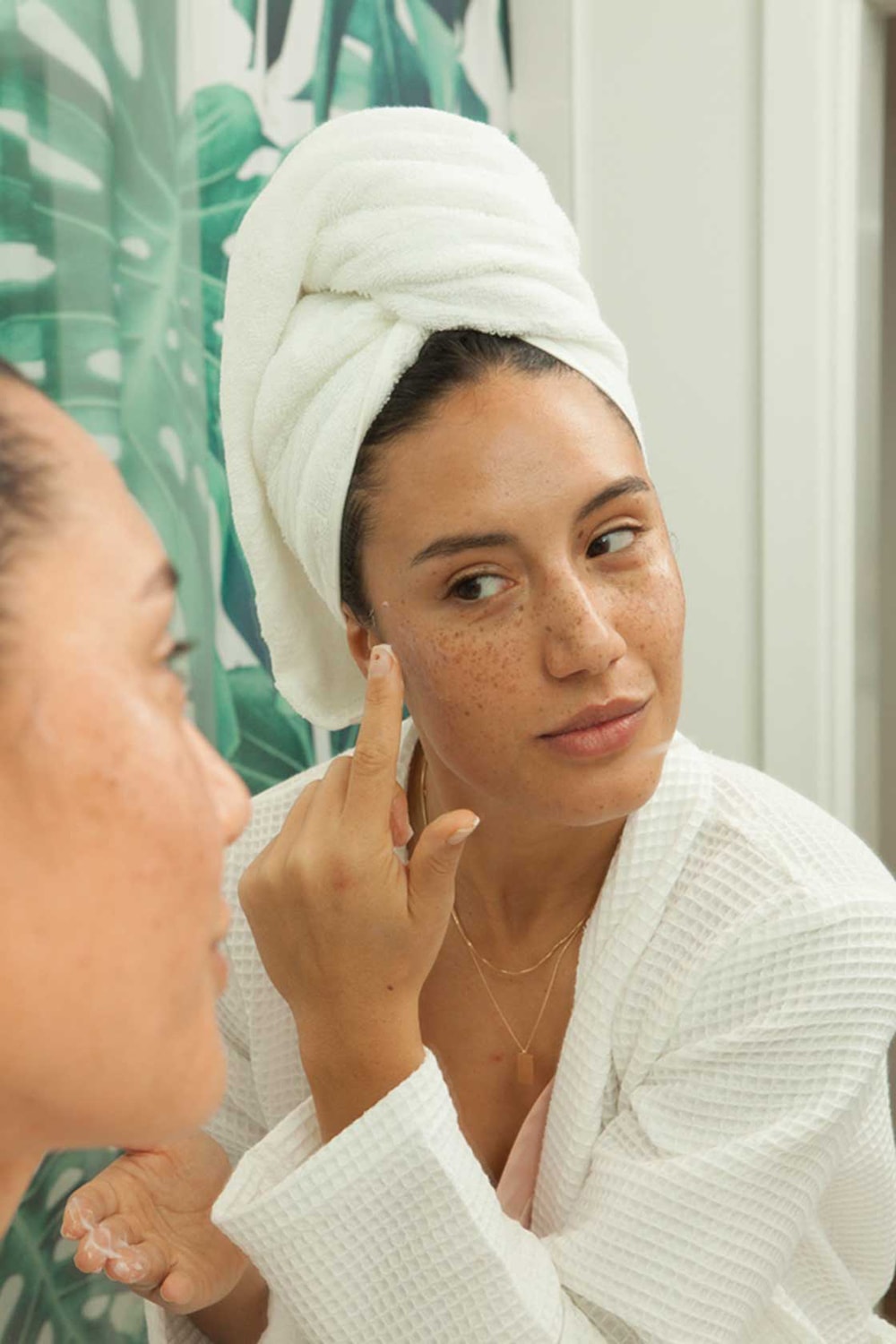 4 of 6
5 of 6
6 of 6
Jessica uses the My Clarins RE-BOOST Refreshing Hydrating Cream. 
How and when did you get into yoga? What came first?
Music came first, but was shortly followed by yoga. I tried yoga for the first time in 2010 during a surf trip to Bali, I'd crashed a moped on day one and couldn't go in the water with an open wound. I then ended up on the Gilli Islands for about 3 weeks. I was going stir crazy as I needed to work out to release energy and I happened to stumble upon a yoga class and thought I'll give it a go. It was over looking the ocean at sunset and one of the hardest things I'd ever done… But I loved it and became obsessed. On my return to London I was on the mat at least three times a week.
I am sure your schedule consists of loads of late nights and early mornings. How do you stay balanced?
This is a tricky balance and one I've been endeavouring to navigate since day one. In truth, balance can slip in the short term. I can overwork and sometimes burn out. The main fault is starting the business as a one-man-show and saying yes to everything. While there can be a lack of balance in the short term, there tends to be equilibrium in the long-term. For example, I'll have intense periods of late nights, early mornings, being out of the house for 18 hours with a mixture of clients, meetings, classes, events, shoots and DJ bookings (some days it consists of all of these). But then I'll have quieter days to myself especially in winter months when the FBY schedule calms down and our corporate clients close shop for Christmas. The real secret is taking the small wins… Like an hour out to do yoga, get a massage, or taking some time to pamper myself using My Clarins Re-Charge Relaxing Sleep Mask for the later nights, or maybe it's ten minutes in a candle-lit bath or maybe just two minutes to sit and focus on your breath (meditation 101).
How has your approach to balance changed over the years?
As the business has grown since 2013 I've learned a lot and I put my sleep and rest ahead of work (always with an exception). I take my energy levels in account when taking jobs on. If I don't put my health and energy first, I'm less likely to perform well elsewhere. Hiring instructors has made the biggest difference. It's allowed FBY to operate numerous classes (at the same time), expand horizontally and allows me to channel more energy into other parts of the business.
1 of 3
2 of 3
3 of 3
Jessica uses the My Clarins PORE-LESS Blur and Matte Stick.
Did you decide to actively pursue both careers or did they happen naturally at once?
A bit of both. Fat Buddha Yoga started as a passion project, it was a side hustle while I was DJing and working on a fitness tech start-up. The start-up wasn't looking to work out, so everything fell on making FBY and music work for me. So by default it became my bread and butter and I put everything I had into making it work.
What kind of schedule do you abide by to ensure you get optimal rest?
I wish I had a profound and helpful answer for this. The truth is my schedule has zero consistency, each day and week is completely different. The one thing I've taken control of is dropping the uber-early classes (except for during summer or when I really have to). 5:30am starts have never agreed with me, so after three years of feeling jet lagged from late nights and early mornings, I finally reduced them.
What kind of beauty routine did you develop to ensure you get your time for self-care or time to unwind and relax?
Candlelit long soaks in a hot bath are much needed, especially after teaching and training. I find these really soothing, calming and meditative. I also love a mask. That's time out for me… I usually do a face and hair mask at the same time, then do a DIY mani-pedi. I'll sit in my office with chilled tunes, a lava lamp and scented candles. It might only be 20-30 mins… But it's like my 'girl' cave. One of the best beauty regimes is hot yoga! It gives your skin a super detox as you purge it from product build up, you also get that mental downtime, and a release of feel-good chemicals… it's a beauty and 'me time' win-win.
What are things that you ensure that you do in order to start your day fresh, alert, and prepared?
Write down my to-do list. Make sure my calendar is up to date. If I can a pack my bag the night before, or at least write a packing list the night before so I can do it in the morning. The next thing is to not let work follow me home when it's chill time… Sometimes I'm really good at this. Other times my husband has to remind me to put my phone down. It's worth reminding yourself that no matter how hard you work, your to-do list will never be truly done. So don't worry when there's still things to do… You're never going to run out of stuff that needs doing.
What beauty regimens do you use to boost yourself up to go out and teach yoga?
Beauty for yoga is simple. Keep your skin fresh and don't load with product. Make sure you cleanse properly after being super sweaty and less is more. Facial mists are amazing for this, as are gentle wipes and cleansers. Also having nice portable perfumes (minis or roll-ons) to keep me feeling (and smelling) fresh. Tinted lip balms are good for a boost too.
What is a sure-fire way you stay balanced and fresh in your beauty routine?
I love beauty, I'm a huge fan of active skin care and always have been. I feel like I collect product. That said, I'm also quite low maintenance and don't mess with my skin too much. Instead I've got a cream and serum for every thing as skin can change day to day depending on where I am and what I'm up to (surfing, on the slopes, sweating in a studio, on a long haul flight or just crammed on the tube etc). This is the best way to be balanced. Remember your skin will naturally balance itself so don't use anything too harsh or mess with the natural equilibrium. Instead learn to read your skin's signals and use good quality products that help to enhance what you have. Products like My Clarins RE-BOOST Moisturizers help keep my skin in check. [I think] giving it little boosts of moisture, plumping or mattifying only to areas that need it and when it really needs it.
1 of 3
2 of 3
3 of 3
Jessica uses the My Clarins RE-MOVE Micellar Cleansing Milk and CLEAR-OUT Targets Imperfections Gel.
What are some things you do to inspire you prep a setlist?
A lot of things can inspire set prep… What's I've been listening to, my mood, knowing what's been working well at previous gigs. Also knowing what kind of party or event I'll be playing at. But the truth is, all your prep can go out the window when you arrive at a gig…You just have to go with what's in front of you.
Do you see any similarities in your yoga playlists and your DJ Set playlists?
Making yoga playlists is one of my favourite things to do. I love chilled house and electronica as well as trip hop. I dig super deep for these tunes and it's just a case of collecting music over the years… Which has always been a hobbie, but love that I get to do it as part of my work. There's always a flux of energy, building it up, taking it down etc. And always gauging the energy in the room, reacting to it, but also steering it. There are a lot of parallels between DJ gigs and yoga classes. When they're good you can literally feel the energy in the room from the people in front of you and [you] can ride the wave together.
Check out the rest of the My Clarins skincare range on their website.
Photographer

Michele Cote
Stylist

Charlotte Moss
Make-Up

Gabby Floyd
Hair Stylist

Sarah Howard
Share this article