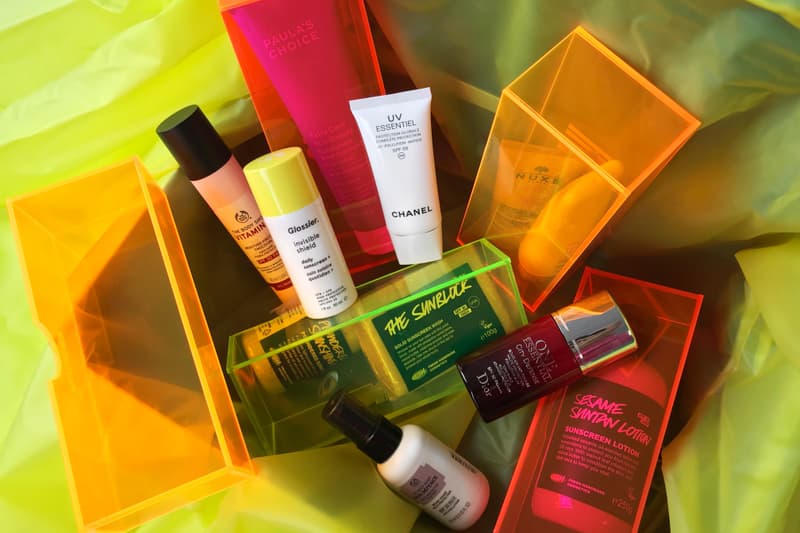 Get Ready for Summer With All the Best Sunscreens
Options from Dior, Chanel, Lush and more.
Sunscreen is the most important step in your skincare routine, believe it or not. Products with SPF+ protects our sensitive skin against the sun's harmful ultaviolet rays, UVA and UVB. Only UVB rays are actually responsible for sunburn, so if you're someone that doesn't burn easy, don't swear off sunscreen just yet. UVA rays are the harmful rays that penetrate deeper into the skin and cause everything from wrinkles to serious issues like skin cancer.
With summer right around the corner, it is more important than ever to be consistent with applying your SPF+. Sunblock acts like a shield to prevent harmful rays from hitting the skin, and today there are hundreds and thousands of options when it comes to choosing the best product for your skin. Whether you're someone who opts for a moisturizer with SPF+ or someone who's looking for a light coverage, we've got you covered.
We took a look at some of the most popular sunscreens for the season, ranging from luxury options from Dior and Chanel, to cult-favorites from Glossier and Lush Cosmetics. Take a look at the products below, and let us know your favorite sunscreen in the comments below.
Lush "The Sunblock" -  This in-shower sunscreen is simple and easy to use. All you need is 1/3 of the product, and it will melt as it comes in contact with the body and provide full coverage SPF 30+ protection without making a mess.
Dior "One Essential City Defence" – With SPF 50+, this cream protects your skin not only against UV rays, but also against pollution with its exclusive "No-Tox technology."
Lush "Powdered Sunshine" – Arriving in a powder form, this SPF 15+ product is great for touch-ups as well as on-the-go. The powder form is quick to apply, and is easy to use day-to-day and is a non-stick formula.
Paula's Choice "Resist Anti-Aging Moisturizer" – Ideal for those struggling with combination and oily skin, this gentle moisturizer will target your skin issues while still giving protection as it is applied every morning.
This Works "In Transit Skin Defence" – In addition to the SPT 30+, this moisturizer also includes anti-ageing Hyaluronic Acid plus calming Vitamin E to revive tired skin, which is ideal for summer when your skin is the most vulnerable.
Chanel "UV Essentiel" – Chanel's SPF 50+ sunscreen is made with Life Plant PFA as well as Desert Yeast Extract, adding a pollution-defence component to the creme which shields against UVA, UVB and indoor lighting.
The Body Shop "Skin Defence Multi-Protection Face Mist" – This brightening and pollution-protecting spray is made with a non-stick formula that is easy to apply on-the-go. Without having to apply it with your hands, you can bring it with you to re-apply at any time.
The Body Shop "Vitamin E Day Lotion" – Not only does this product protect your skin, it also provides a 48-hour hydration which leaves your skin soft and smooth even after being outside. It also is packed with Biofermented Hyaluronic Acid, meaning that it will do wonders for your skin.
Nuxe "Sun Face and Body Delicious Lotion" – This water-resistant formula prevents premature and is packed with nourished ingredients that'll keep your skin dewy and healthy.
Glossier "Invisible Shield" – Cult-favorite Glossier comes with SPF 35+, and also keeps pollution and dirt away from your skin. The product also leaves no oily residue as well as no white streaks, and is the perfect addition to your skincare routine.
Paula's Choice "Extra Care Non-Greasy Sunscreen" – If sunscreen scares you and you've got oily skin, this is the perfect light-weight option that won't leave your skin feeling sticky and weighed down.
Share this article