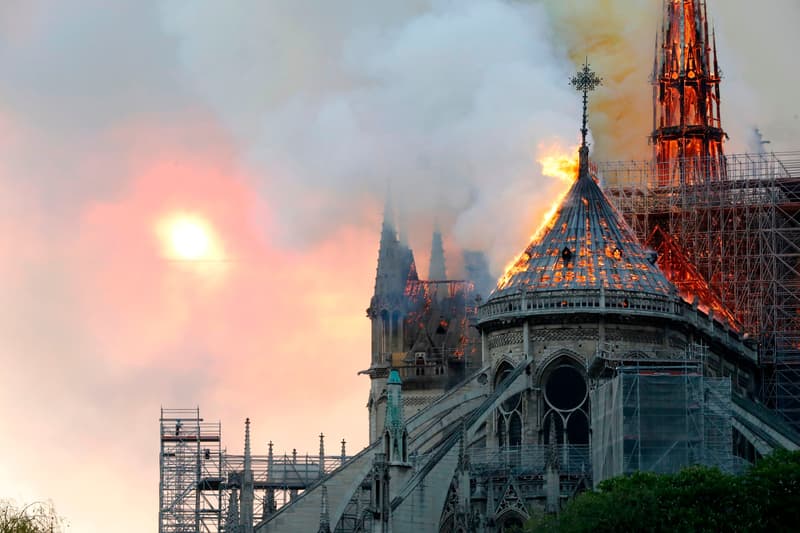 Fashion
The Fashion Industry Reacts to the Devastating Fire at Notre-Dame Cathedral in Paris
Kering, LVMH and L'Oréal are pledging millions of dollars to rebuild the French landmark.
The Fashion Industry Reacts to the Devastating Fire at Notre-Dame Cathedral in Paris
Kering, LVMH and L'Oréal are pledging millions of dollars to rebuild the French landmark.
UPDATE (April 16, 2019): In response to the terrible fire that has caused colossal damages to Paris' Notre-Dame cathedral, three of France's wealthiest families, including the tycoons behind Kering, LVMH and L'Oréal, have pledged a combined €500 million EUR (approximately $565 million USD) to rebuild the iconic monument.
The Pinault family of Kering, which owns luxury brands including Gucci, Balenciaga and Saint Laurent, is contributing €100 million EUR ($113 million USD) to relief efforts, according to The Business of Fashion.
On Instagram, LVMH CEO Bernard Arnault promises that his family and the Group will donate a total of €200 million EUR ($226 million USD) for the reconstruction of the cathedral.
Cosmetics conglomerate L'Oréal Group followed suit, announcing that it will donate €100 million EUR ($113 million USD) together with its longtime backers, the Bettencourt Meyers family.
---
On Monday evening, an extensive fire broke out at the Notre-Dame cathedral in Paris, causing the spire of the symbolic monument to collapse. As The New York Times reports, while the cause of the fire remains unclear, the flames seemed to first appear in the wooden interior at the cathedral's roof. With about 500 firefighters battling to save the historic French Gothic towers, the structure was said to have been "saved and preserved as a whole" five hours after the fire had started, according to the fire chief, Jean-Claude Gallet.
Standing near the destroyed landmark, French President Emmanuel Macron announced the launch of a fundraising campaign and promised that Notre-Dame will be rebuilt. He was quoted by Reuters:
"Notre-Dame is burning, and I know the sadness, and this tremor felt by so many fellow French people. But tonight, I'd like to speak of hope too… Let's be proud, because we built this cathedral more than 800 years ago, we've built it and, throughout the centuries, let it grow and improved it. So I solemnly say tonight: we will rebuild it together."
The terrible tragedy not only shook France, but also the rest of the world. With a strong and long-standing connection with Paris, the fashion industry has taken to social media to pay tribute to Notre-Dame. Read some of the messages below.