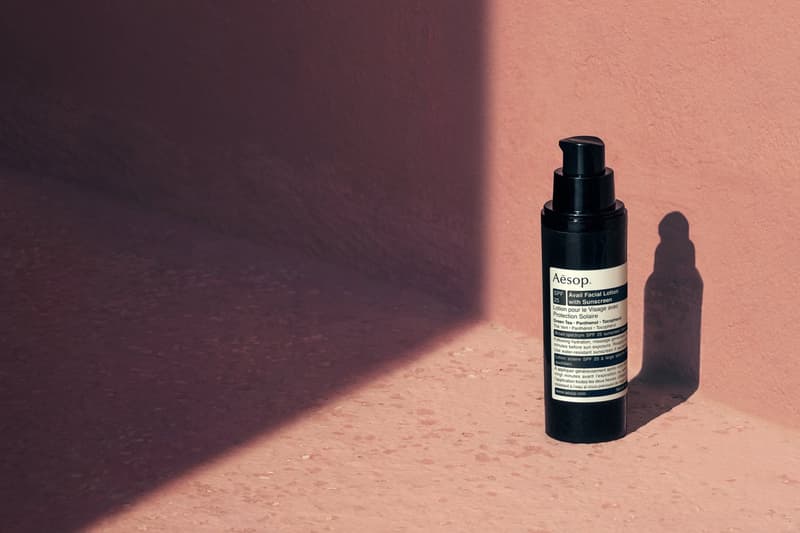 Beauty
Aesop's New Facial Sunscreen Is a Lightweight, Summer Skincare Must-Have
The non-greasy SPF is packed with antioxidants, too.
Aesop's New Facial Sunscreen Is a Lightweight, Summer Skincare Must-Have
The non-greasy SPF is packed with antioxidants, too.
With summer fast-approaching, Aesop has introduced a new facial sunscreen to its sophisticated skincare line.
Offering broad-spectrum SPF 25 protection against UVA and UVB rays, the Avail Facial Lotion with Sunscreen not only promises to shield your skin from the harmful effects of sun exposure, but it also doubles as a hydrating moisturizer thanks to nourishing ingredients such as Coco-Caprylate and Squalane. Formulated with Green Tea and Vitamin E, the new product is also said to come with antioxidant benefits.
Packaged in a 1.7 fl oz pump bottle, the sunscreen is now available for purchase online and in-store at Aesop locations for $60 USD.
We've talked to Aesop's head scientist Dr. Kate Forbes to learn more about the formula of the product. Continue reading for more details about the SPF and while you are here, check out a few other editor-approved sunscreen options here.
What exactly are antioxidants and how do they benefit the skin?
The skin can become stressed by a number of environmental aggressors, including UVA and UVB rays, resulting in the proliferation of free radicals. When free radicals occur in greater numbers, oxidative stress results which can impact our skin. Topical application of antioxidants alongside UV filters in sunscreen is therefore a crucial factor in helping to protect the skin.
Antioxidants can be effectively incorporated into skincare products to quench and scavenge free radicals. They work by impeding further damage and supporting skin in maintaining its normal, healthy state.
Avail Facial Lotion with Sunscreen contains skin fortifying antioxidants such as Green Tea, alongside UV protective ingredients to reduce the impacts of free radicals on the skin, helping the skin function optimally in any environment.
Is this sunscreen water-resistant?
It does not have water-resistant properties and should be reapplied after swimming or towel drying.
Sunscreens are conventionally associated with greasy, heavy textures but the Avail Facial Lotion is described as a lightweight formula. Is that an intentional decision?
Creating sunscreen products is a notoriously challenging process — our Sage & Zinc Facial Hydrating Cream SPF 15 was 10 years in the making — to maintain a careful balance between efficacy, stability and product experience. Avail Facial Lotion with Sunscreen SPF 25 is 3 years in the making, with various distinct iterations of the formula along the way.
From the outset we had a clear idea of the sensory criteria and level of UV protection and hydrating efficacy we needed to meet. We sought to formulate a lotion that was lightweight, breathable in texture, and without the greasy skin feel usually associated with sun care products.
What is Aesop's approach when it comes to developing sun protection products?
Our approach to sun care is simple, to counter skin and sun damage we opt for dual approach of protection and prevention.
We protect the skin from the harmful rays of the sun with various sun protection filters and additionally fortify the skin from the daily onslaught of free radicals and other environmental aggressors through topical application of antioxidants.
---
Share this article