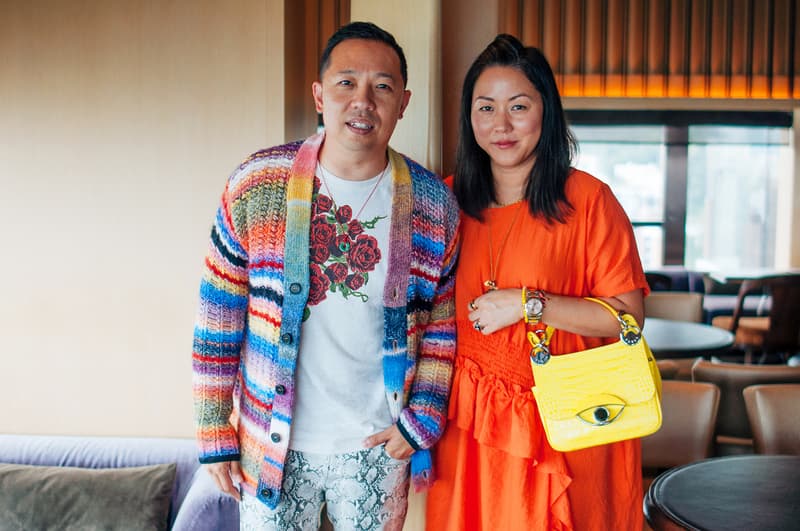 Fashion
Carol Lim & Humberto Leon on the KENZO Tali Bag and Fusing Cultures Through Fashion
We sat down with the dynamic duo during their Hong Kong stopover.
Carol Lim & Humberto Leon on the KENZO Tali Bag and Fusing Cultures Through Fashion
We sat down with the dynamic duo during their Hong Kong stopover.
As a French luxury house founded by a Japanese designer, KENZO is no stranger to mixing culture and fashion together. The brand's latest bag silhouette, the Tali, isn't just a range of vibrant statement pieces but a representation of the mystique around spirituality and fortune. Deriving from the word "talisman," the bag prominently features the eye motif as a symbol of power and protection. Each carefully selected colorway reflects characteristics from love and admiration to peace and uniqueness. We sat down with KENZO's co-creative directors, Carol Lim and Humberto Leon, during their Hong Kong launch to talk about where they came up with the Tali bag concept.
How did you guys come up with the concept of the Tali bag? What was the creation process like?
HL: The eye symbol is really a symbol that Carol and I both hold dear to our own personal story. We decided to give that to KENZO in 2013 as a symbol to reflect this trip that we took to India. The eye is something that is outwardly reflective. It's not only looking at you, but you also look at other people. It's the sign of protection and spirituality so it holds a lot of meaning that globally resonates.
CL: It's a classic symbol that also feels super modern, so it's not like, in two or three years, we're not going to be proud of this icon. Working on this piece was really fun – making sure that it was perfected and that it reflected the right shape and the functionality, and all the hardware that's on here.
The Tali isn't just a bag – it's an experience. Can you describe the experience and why it's important to you?
HL: I'm from Peru, so we decided to tell the story of Peru. We worked with this famous shaman to develop what the color palette and everything would be. Color was really symbolic. We decided to partner with this famous astrologer named Susan Miller. She gave characteristics to the colors of each and every bag individually. The idea was almost like: do you as a person choose the bag or maybe the bag chooses you? It's giving this whole story behind how objects or things come to people – whether you go to it or it comes to you.
You have been working together for many years. What's the best part about growing and sharing your experiences with each other as designers?
CL: The best part is we don't have to separate work and play. We're constantly traveling for work and in-between all of it, we have as much fun as possible. That's the beauty of why we're able to work on so many different projects. Even if we have 15 free minutes, we're like, let's go check out this store and pop in. We just have that similar mentality on how we approach life, so I think that's the best part of working together.
HL: I think that it helps that we're both Asian, and we're both Asian-Americans. It's exciting that we're a part of a brand founded by an Asian founder, and we're two of the first Asians at the helm of a French maison. In a way, it's very symbolic of the way we tell the KENZO story. I think that the brand deserves to have this essence, whether it's unspoken or spoken.
When you do have some downtime, how do you spend it?
HL: Our downtime is shopping. We love shopping.
CL: And eating.
H: But not shopping and eating the way probably most designers and creative directors are interested. We want the down and dirty shopping. We want the down and dirty eating. We want to go to places where people don't want to take us. And we want to go shopping places that are probably not interesting for most people to go shopping. We're super curious people. We like culture. We're not interested in going to things that you can find everywhere else.
CL: When we flew in, we went straight to the New Territories. We had this amazing steamed peanut noodles and congee, and it was off the side of the street. Those are the things that we enjoy finding. It's authentic.
What has been your biggest learning experience since joining KENZO?
HL: Not to take no for an answer and to really push. Even when we first joined, everyone at the KENZO company would say, "That's not the way we do things," or "A logo sweatshirt is a promotional item and not something that you put on the runway," or "When you do these shows and they're so experiential, can people see the clothing?" When we were doing these things, they were all new at the time, so everyone was kind of challenging us to do things the normal way. We are only about not going about things the normal way, which we think is interesting for us. I think it's proven that new things are the way to go.
How do you stay up-to-date and innovative while still keeping KENZO's signature DNA? Where do you find inspiration?
CL: We find it by going out and discovering it in culture – not necessarily through fashion itself. It's all the other things we experience in life. It can be through music, through film, art or even now, our worlds have opened up to children. We're constantly out and experiencing different things and it definitely informs how we want to approach the brand.
If you could give advice to young creatives who are looking to follow a similar path, what would you say to them?
HL: Don't listen to institutions. Do things your own way. Don't feel like you have to follow any rules. Use your gut instinct. Be open to trying new things.
CL: Be humble and be curious.
Share this article