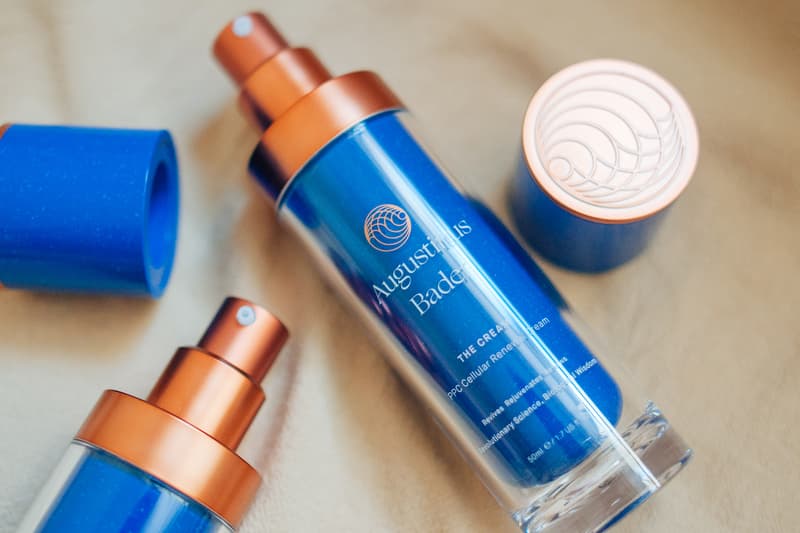 Beauty
Augustinus Bader on How His $265 USD Face Cream Combines Science and Skincare
From stem cell research professor to miracle face cream creator.
Augustinus Bader on How His $265 USD Face Cream Combines Science and Skincare
From stem cell research professor to miracle face cream creator.
When we think about skincare, stem cell research isn't usually the first thing that comes to mind, but Augustinus Bader has changed the standard of beauty products by fusing together medical technology and face cream. Coming from a biomedical background, Dr. Augustinus Bader developed a wound gel to help burn victims in 2008. By applying some of the same research, Bader created The Cream, an anti-aging, regenerative product that's loved by celebrities such as Victoria Beckham, Diane Kruger and more.
As a commitment to creating the best of the best, the skincare line only has two products: The Cream and The Rich Cream. At the heart of the brand is a true, deep love for medical science, so 90% of the company's dividends go back into clinical trials. With such a unique story, we sat down with Dr. Augustinus Bader himself, as well as the brand's co-founder, Charles Rosier to talk about their views on science and beauty. Read on to see how The Cream works, and if you want to try it out for yourself, you can buy a bottle online at retailers such as NET-A-PORTER for $265 USD.
Coming from a stem cell research background, how did you come to develop a skincare brand?
CR: I met Augustinus six years ago. I saw pictures of a child that was three years old when she got severely burned and she was scheduled to have a skin graft. The university hospital in Munich used the wound gel he created and was able to cure that burn with no skin graft and no scars. Preventing skin graft and scarring is actually huge, not just from the suffering and healing point of view, but the psychological. When you know this exists, you have the same reaction that I have: how do we find a way to make it widely available?
I thought that we should help complete clinical trials so that wound gel would be available for Doctors Without Borders, Red Cross and war zones, and even a mother going on holiday. But the problem is, those clinical trials cost tens of millions. He was not really getting easy access to funding, and so I thought, "Okay, someone who can cure burned skin and turn it into perfect skin can probably cure wrinkles." And so, I asked Augustinus if he could create an anti-wrinkle cream that works.
It took me two years to convince him to take that idea seriously and to proceed with the creation of the skincare brand, and then it took him a year and a half to translate his wound gel into a cosmetic-approved product. It's kind of by accident that he came into skincare, but it's with a purpose. The purpose is to fund science research.
AB: There's a famous philosopher called Aristotle. He said, "We cannot change the wind, but we can set the sails differently," so it means that you have the means to change the direction of something that is set. The genes in your skin are set. You were born with it, and it is a given, but you can influence it. You can set the sails, and this is in the creams. It's something that empowers your body and empowers your skin to be more healthy.
This skincare product is not a filler and not makeup; it's something that contributes in a rational, scientific way. You can imagine your stem cells being Michelin star cooks, but all the knowledge and genetic disposition would be nothing if they don't have access to the world's best ingredients. We know what your stem cells need to fix the micro-environment around it. This is the benefit of all the medical work over the years.
Your face cream has been praised as a miracle product – how does it work?
AB: We call it the ABC principal. When you go into the sun, it activates your stem cells. The cream works by giving you the components your skin needs after the stem cells are activated – vitamins, peptides, nutrients, amino acids and lipids – in a way that transport the molecules into the environment of the stem cells. I call it a boosted concept. Imagine a big burn that cannot heal properly. It's from the deficiency of specific molecules not being there that changes the behavior of your stem cells. The cream works by providing these micronutrients so your own cells can make decisions. Stems cells are very social beings, so we need a third group of signals, which is the commitment signals. Skin cells will emit this on their own, so it's like putting pieces of puzzles together. By putting it all together at the right point in time, it allows it to help.
CR: The discovery of Augustinus is that we never have a shortage of stem cells. There is no problem of our stem cells aging, but it's more a question of triggering our own dormant stem cells. The science of Augustinus is a communication science, and your skin stem cells are programmed to do perfect skin, but as we age or in certain instances of inflammation, etc., they don't get the full information. The purpose of the cream is to nourish the environment of the skin stem cells so that your own skin stem cells make the right decision. The cream helps empower your cells to do that perfect regeneration that it is capable of doing.
What kind of skin types should use the rich or regular cream?
CR: The technology of nourishing your skin stem cell environment is the same in both, so it's not a question of which cream will be more efficient than the other. The texture is more for personal preferences and maybe climate. Let's say in humid climates where there's a lot of moisture, maybe The Rich Cream can appear too rich, and in dry climates, people would like The Rich Cream. In general, men prefer The Cream, because they look for a more neutral texture.
The other thing that could be done is to using The Cream during the day and The Rich Cream at night or as an aftersun product. I actually mix both on my own face. I would use The Cream for the T-zone and then The Rich Cream for the rest of the face. For people that travel, The Rich Cream is great for planes, because the plane dries your skin.
Maximalist skincare routines like the 10-step Korean skincare routine are really trending these days. Do you recommend such vigorous routines or just keeping it simple?
CR: We think that the cream is best used just after cleansing your skin. It needs to arrive to the right area, and if you put too many layers of fillers before, it might obstruct it. If you put the cream on after, for example, serums, there is a risk that the cream cannot go where it needs to go. We are not judging the ceremony of layering product.
We are not saying what is right and what is wrong. For some people, it might be a relaxing routine. Obviously, if you accumulate too many products, there is the risk that you could create an allergy or an issue, so I think people need to be careful of not overcharging their skin with products because it can also create the adverse effect.
What we've seen as well is that some makeup can contain some toxic products so having the cream as a first layer is also protective before putting makeup or SPF, because SPF also has some toxic elements in them. We want our cream to promote healthier, better skin, contrary to other products that have silicones or fillers. Their approach is about filling your skin and then it will reflect the light in a different way, but the fundamental structure and health of your skin will not be improved. We are looking more at fundamentally how to help your skin be at its best, and not just having something if you wash it off, your skin has made no progress.
What are key ingredients we should look for in our beauty products to maximize our skincare?
CR: It depends on what you want to achieve. For example, with an eye cream, people would like to diminish dark circles, puffiness and lines, so Vitamin K will combat these things. On our side, we have what we call our "active factor" – the TFCH. She's our secret source. It represents less than 1% of the cream but that's what makes the difference compared to other products. And then the 99%, we can play with it to try to be synergetic with the active ingredient. Our approach is to find as many synergetic ingredients as possible that are clean and non-toxic for the skin and are helping the skin. We have no parabens, no SLS, no mineral oils, no fillers, no silicones, but it's a permanent research project. There are always new discoveries and you can always improve.