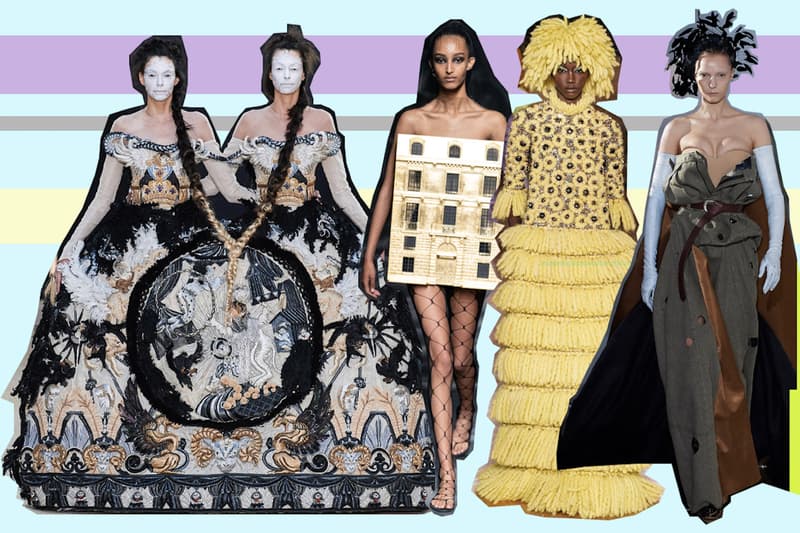 Fashion
Here Are the Best Shows From Paris Fall 2019 Couture Week
Dior, Chanel, Maison Margiela, Iris Van Herpen and more.
Here Are the Best Shows From Paris Fall 2019 Couture Week
Dior, Chanel, Maison Margiela, Iris Van Herpen and more.
Paris Fall 2019 Couture Week has just come to an end, with shows from huge luxury fashion houses like Chanel, Christian Dior and Maison Margiela. We saw designers like John Galliano, Maria Grazia Chiuri and Guo Pei brought eye-catching artworks and intricate designs to the runway, making this season's couture week one of the most talked about yet.
Take a look at some of the best shows below, and don't miss all the best street style from the week in our exclusive streetsnaps here.
Inspired by an "alternative universe," Guo Pei showcased a collection largely taking inspiration from Elizabethan elements and Renaissance silhouettes. "When I was a child, I often though about death," the designer told Vogue, alluding to his collection that saw models wearing ghostly makeup and colorless creations. Gowns and eye-catching dresses in tulle and luxury fabrics dominated the runway, defining the couturier's eclectic vision. The craftsmanship behind the range is also mind-blowing, as the designer revealed that the show's final look has taken her more than seven years to complete.
When it comes to Pierpaolo Piccoli, we always expect the most from his couture collections. Fall 2019 was no exception, as the designer debuted a series of breathtaking dresses in eclectic colors, sporting embroidery and details like no other. "I love this idea of all people: a combination of identities. It's not place-specific. It's not about ethnic. It's about roots and identities, but I love the embrace of different cultures together. It's about humans. It's not about where you come from. It's about you and your diversity: your expression," said the designer about the collection, which drew inspiration from countries all over the world. Featuring bold headpieces with pompoms that were reminiscent of the Scandinavian Sámi people, as well as intricate gear drawing inspiration from Chinese heritage, the collection was a melting pot of cultural references.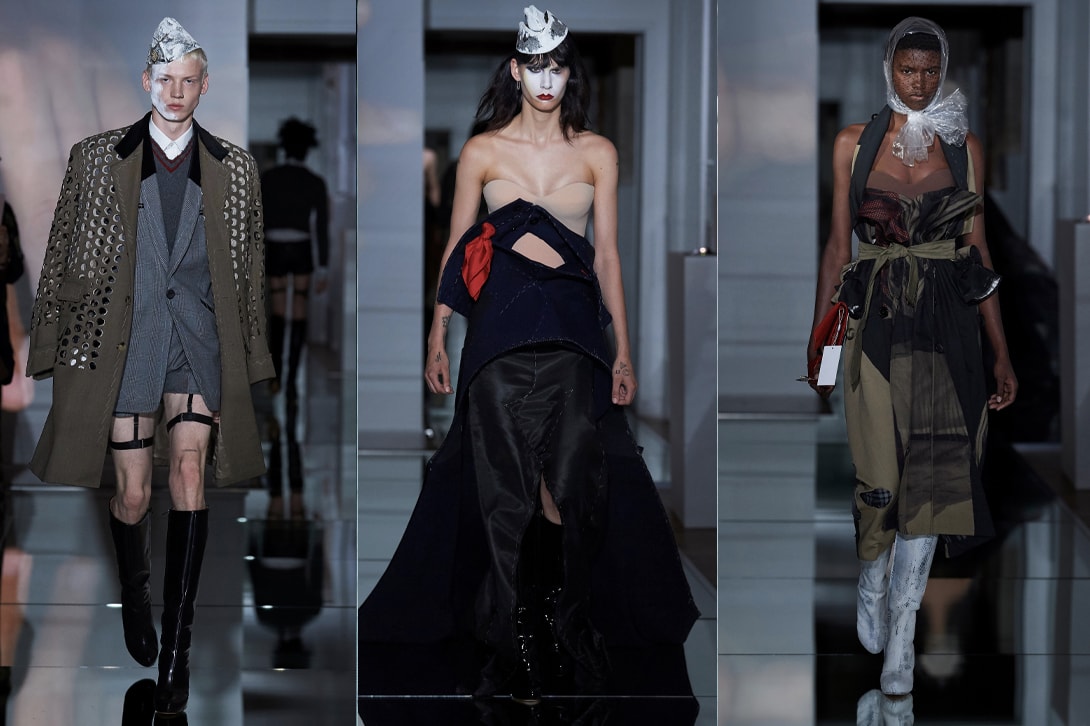 John Galliano told Vogue that inspiration for his collection came through the idea of that we are "eternally walking through a projection," referring to the ever-growing use of social media and technology. The collection saw a familiar sense of layering that we've seen at Maison Margiela in the past, this time largely deconstructed and focused on materials, color and contrast. As Galliano himself put it, the collection is all "nomadic cutting," taking familiar silhouettes and tweaking them in ways that change the design and aesthetic to something more unconventional.
Galliano also worked with traditional couture silhouettes like gowns, corsets and more, giving them an elevated and updated look, as well as gave them his signature androgynous twist.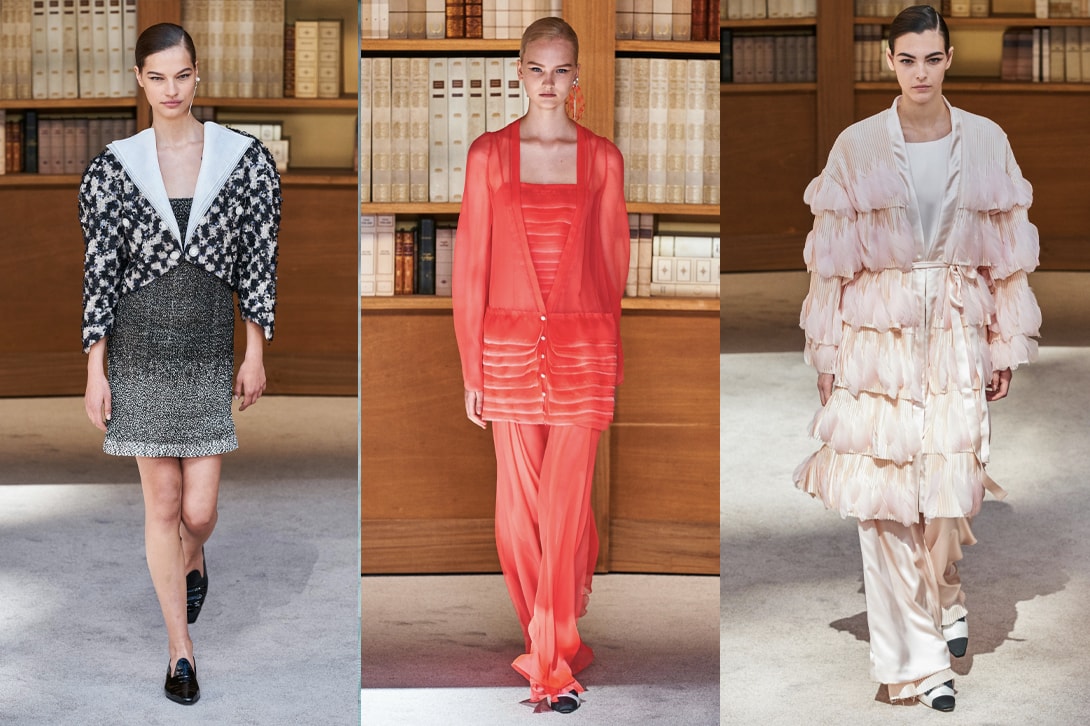 The Fall 2019 Couture collection marked Virginie Viard's first range designed without the late Karl Lagerfeld. The show took place in a library inspired by Gabrielle Chanel's daytime apartment, and the collection showcased a mature take on the labels luxury aesthetic.
Featuring both power suits and edgy two-piece sets, the range saw a balance between feminine and masculine. The focus was put on the tailoring, and captured Viard's talent for silhouette and detail without failure.
Maria Grazia Chiuri has always questioned fashion through her designs, and this season the designer did so by emblazoning a T-shirt with the question, "Are clothes modern?" Which took inspiration from Bernard Rudofsky's 1947 essay with the same name.
In the essay architecture is largely emphasised, which is a concept Chiuri adapted for her creations. The collection was almost exclusively black, which put the focus on the construction and silhouette of the garments and stripping it down. The show ended with a structured doll-house like box worn by one of the models, making it Chiuri's best collection to date.
This season Iris Van Herpen was largely inspired by kinetic energy and movement, tapping sculptor Anthony Howe who crafts pieces that are powered by the wind. The pieces weren't just clothes, they were individual artworks that featured lines, colors and patterns, creating optical illusions and symmetry beyond our dimension. The final piece was crafted from stainless steel, aluminium and feathers, proving Van Herpen's unmatched technicality and experimental aesthetic.
Share this article