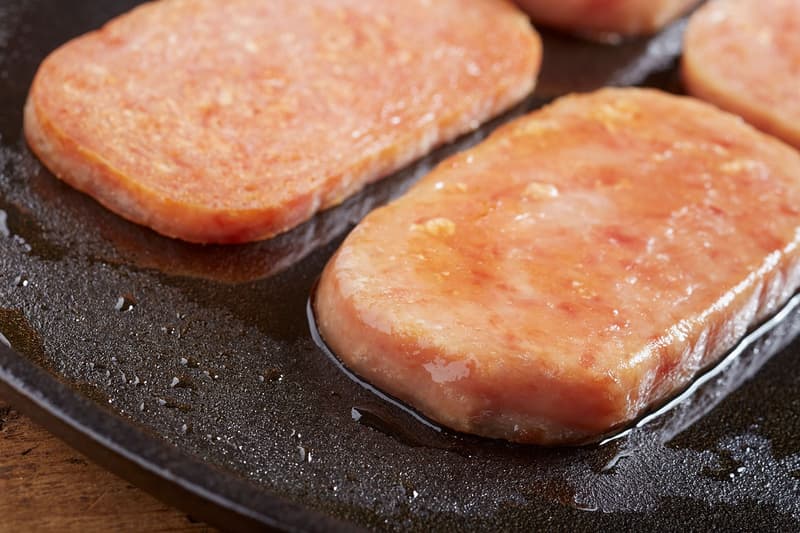 You Can Now Try Spam Ice Cream Sundaes, Corn Dogs and Cocktails
Wait, what?
Just when we thought Pumpkin Spice Spam was wild enough, the meat brand is now going even further with a MUSUBI MADNESS pop-up. Launching in partnership with food blog Foodbeast, the restaurant experience is arriving in Los Angeles, California for a limited time.
A custom Spam menu created by Hollywood restaurant Lono's Executive Chef, David Lespron, is going to be served. This includes a corn dog created with a blend of shrimp and Spam Classic encased in a togarashi-infused batter and topped with banana ketchup. To wash down your corn dog, the menu features a Spam-themed tiki cocktail with rum, pineapple, Cara Cara Orange and coconut cream served over crushed ice in Spam's recognizable rectangular cans. For dessert, there will be a Spam Soft Serve Sundae made with Spam-infused ice cream. You can choose your own toppings, including furikake, teriyaki caramel, rum caramel, vanilla-braised pineapples and candied nuts.
Along with the custom menu, there will be a build-your-own musubi bar featuring a range of food from different cultures. Five dishes will be featured including a Vietnamese Spring Roll Musubi with cucumber, pickled carrots, egg roll crisps and a sweet and vinegary nuoc cham dipping sauce, Korean Fried Rice Musubi with gochujang, kimchi and green onion and Filipino Lumpia Musubi with egg rolls, garlic rice, Spam Tocino and sweet chili sauce. If you're looking for something with more of a kick, the menu features a Mexican Chile Verde Musubi with Spanish rice topped with fried Spam Classic in salsa verde and queso fresco. For a classic twist, an American Burger Musubi will be served with Spam Classic instead of a beef patty, "secret sauce," grilled onions and cheese.
The MUSUBI MADNESS pop-up restaurant will be open in LA's Hollywood district on September 7, 14 and 21. The event is free, but because seating will be limited, you will need to get a ticket in advance on Foodbeast's website. If you're still curious about weird food trends, take a look at 9 bizarre bubble tea-inspired foods to try.
LONO Hollywood
6611 Hollywood Blvd
Los Angeles, CA
90048
We discourage irresponsible and/or underage drinking. Drink responsibly and legally.
Share this article