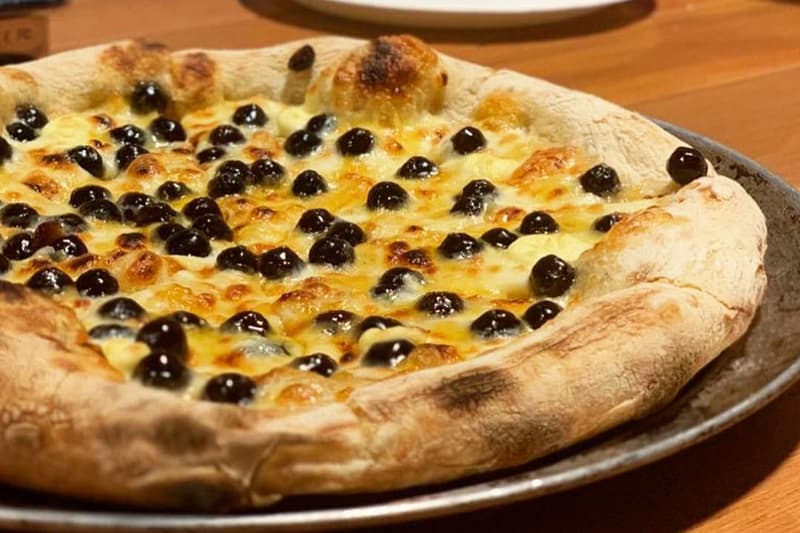 Culture
Here Are 9 Bizarre Bubble Tea-Inspired Foods to Try
Tapioca pearl pizza, sushi, crab and more.
Here Are 9 Bizarre Bubble Tea-Inspired Foods to Try
Tapioca pearl pizza, sushi, crab and more.
The bubble tea craze has been going on for a long time, evidently with a bubble tea amusement park that opened this month and bubble tea-inspired merch appearing everywhere. The frenzy has spilled into other types of food around the world, and while tapioca pearls are mouth-watering in drink form, the jury is still out on whether it's delicious or disgusting in other types of food.
From desserts such as ice cream and baked tarts to stranger dishes such as pizza and sushi, South China Morning Post has helped us round up nine restaurants and cafés serving innovative boba-inspired foods to try. Scroll down below to see the outrageous food pairings. While you're here, take a look at our favorite bubble tea shops around the world.
Bubble Tea Ice Cream
It's been confirmed that sweet milk and pearls go well together, so the next obvious evolution would be ice cream. New York bubble tea shop Bar Pa Tea has reimagined the popular drink into a soft-serve ice cream dessert. Choose from ice cream flavors such as oolong, black tea or a swirl with both, and add mini stroopwafels, honey wheat braided twists and Oreo crumb toppings along with bubbles.
Address: 85 Kenmare Street, New York, NY
Bubble Tea Tarts
Singapore-based cake shop Edith Patisserie is more than just your average bakery. Available in milk tea or matcha green tea flavors, the shop makes tea-infused ganache tarts topped with tapioca pearls encased in an almond shell. If you're looking to share the sweet treats, they come in bite-sized mini versions as well.
Address: 772 North Bridge Road, Singapore
Bubble Tea Toast
Sweet toast is a staple in Asian cuisine, so it makes sense that bubble tea would make its way into the classic dessert. Singapore café Benjamin Browns is known for its Instagrammable "overflowing" drinks, marble pancakes, milkshakes stacked high with sweet toppings and now, bubble tea toast. Coming in flavors such as "Ovaltine," "Crunchie" and "Caramel Lotus," the dish is made from two slices of crispy toast with bubble tea pearls in the middle drizzled with sweet sauces.
Address: #01-20/21 Forum Shopping Centre, 583 Orchard Road, Singapore
Bubble Tea Ramen
Taiwan is where bubble tea originated from, so it's no surprise to see boba pearl-related trends emerge from there. Gokudou Ramen in Kaohsiung, Taiwan features unique takes on ramen noodles, including a "Mermaid" ramen made with clear blue broth and a "Pearl Milk Tea" ramen. The bubble tea ramen includes all the fixings of a regular ramen dish, such as ramen noodles, Japanese soft boiled eggs, cha siu pork, bamboo shoots and seaweed — all topped with a generous scoop of pearls.
Address: No. 41-1, Shengli Road, Zuoying District, Kaohsiung City, Taiwan
Bubble Tea Pizza
You read that right. Malaysia-based pizzeria My Pizza Lab has not only one but two boba flavored pizzas. The original "Milk Boba" pizza features a mozzarella and cream cheese pizza base topped with condensed milk and tapioca pearls. The restaurant also offers a seasonal "Cempedak Boba" pizza made from mozzarella cheese, boba pearls and cempedak purée, which is a Southeast Asian fruit similar to jackfruit.
Address: 12, Jalan 21/22, Sea Park, 46300 Petaling Jaya, Selangor, Malaysia
Bubble Tea Crab
Just when savory food couldn't get any crazier, bubble tea crab is now a thing. Crab Generation Restaurant in Kuala Lumpur serves crab with black sugar pearls in a creamy, buttery sauce. If that isn't adventurous enough for you, the 20-flavor crab menu features "Milky Salty Egg," "Seaweed Butter," "Oreo Cheese, "Tiramisu," "Curry and Pandan Bread" and "Marmite."
Address: 60, Jalan 1, Taman Len Seng, 56000 Kuala Lumpur, Wilayah Persekutuan Kuala Lumpur, Malaysia
Bubble Tea Sushi
Located in Jakarta, Indonesia, Baiza Sushi claims that it is the first boba sushi restaurant in the world. Selections include the "Roasted Salmon Roll with Boba" and "Salmon Salad Boba." For dessert, there is a "Mango Sticky Sushi with Boba."
Address: Jl. Kemang Utara No.29, RT.3/RW.4, Bangka, Kec. Mampang Prpt., Kota Jakarta Selatan, Aceh 12730, Indonesia
Bubble Tea Hot Pot
Already Instagram-famous for its teddy bear mala hotpot and Barbie doll meat dress platter, Spice World Hotpot Restaurant in Singapore just added the "Ying Yang Mala x Bubble Tea Hot Pot" set to its menu. The two-flavor split pot is served with savory, spicy soup on one side and a sweet dessert soup on the other. The bubble tea pot features a thick layer of milk foam, cocoa and coffee powder, Oreos, mango popping pearls and more dessert toppings on the side. Diners can choose between Assam tea or matcha milk tea broth.
Address: 3B River Valley Rd, #01-06 to 07 Block B, Singapore
If you're looking for a bubble tea hot pot option that isn't served with a side of spicy soup, Avery Cakes & Tea House in Vancouver, Canada features a solely sweet bubble tea hot pot. The afternoon tea café serves a heated steamboat pot full of tapioca pearls, taro balls, jelly and fruit that gets drenched in a teapot full of milk tea.
Address: 112-4751 Garden City Rd, Richmond, BC
---
Share this article