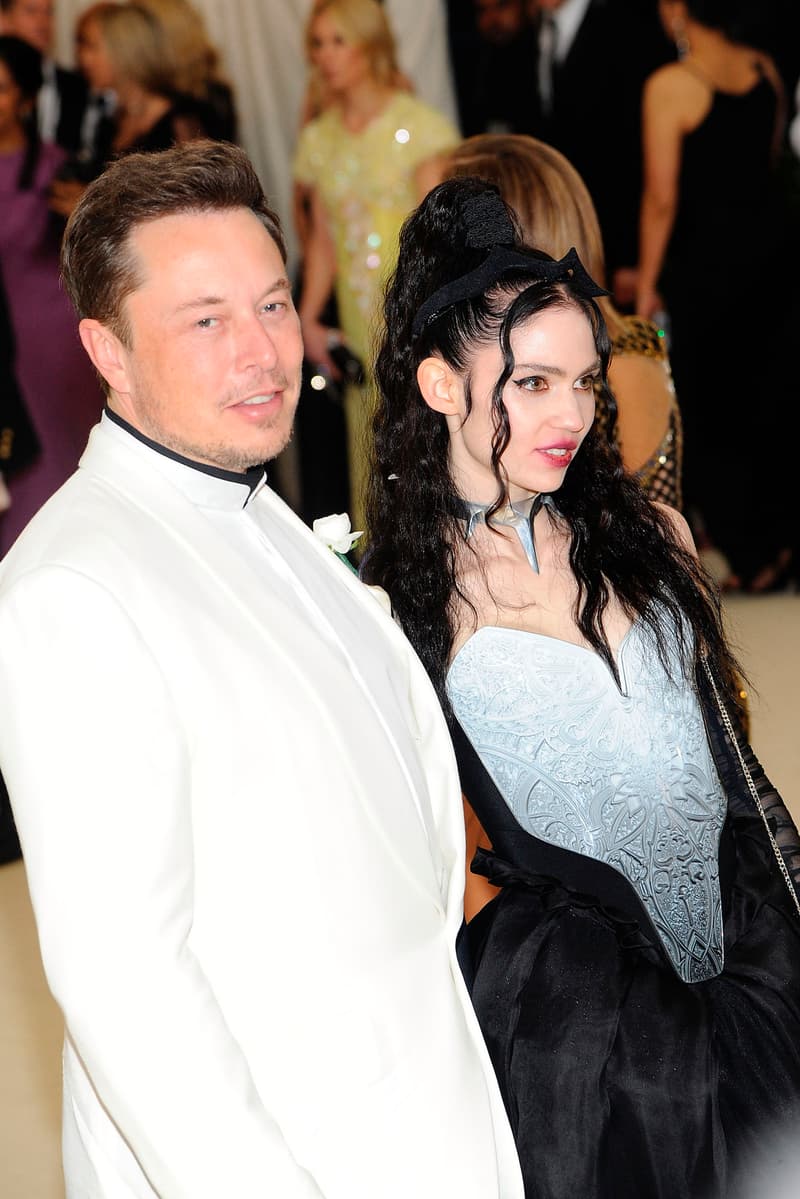 UPDATE: Grimes and Elon Musk Change Their Baby's Name
Slightly altering its unorthodox spelling.
Culture
UPDATE: Grimes and Elon Musk Change Their Baby's Name
Slightly altering its unorthodox spelling.
UPDATE (May 26, 2020): Earlier this month, Grimes and Elon Musk made headlines after revealing the unusual name of their baby boy: X Æ A-12. Shortly after the couple's announcement, it turned out that California law could not officially accept the name due to its use of characters outside of the English alphabet.
In response to the technicality, Grimes and Musk have decided to slightly alter their child's name, replacing the "12" with Roman numerals. The final name? X Æ A-Xii, pronounced "X Ash A-12," Musk revealed on the podcast Joe Rogan Experience.
Grimes announced her son's new name in the comments section of her Instagram post below.
---
UPDATE (May 7, 2020): Following Grimes and Elon Musk's reveal of their baby son's name, it turns out that, legally, "X Æ A-12" cannot be accepted by the state of California. Grimes gave birth to a baby boy earlier this week, and Musk was quick to tweet out the child's name, X Æ A-12, which quickly began trending on social media due to its unusual makeup. Grimes later tweeted its meaning, explaining the purpose of each character. Now, according to People, it seems as if the unorthodox name is not technically legal.
A family law attorney explained that California only allows for the 26 characters of the English alphabet to be used, meaning that any special characters or symbols will be rejected. If Grimes and Musk did indeed fill out their baby's birth certificate at the hospital with X Æ A-12, "they have an opportunity to appeal the rejection of the birth certificate application but it's unlikely that it will be granted because, again, California…has been struggling with using symbols," the lawyer added.
It remains to be seen whether the parents will still proceed with the name. In the meantime, peep Grimes' explanation of the name below.
•X, the unknown variable ⚔️
•Æ, my elven spelling of Ai (love &/or Artificial intelligence)
•A-12 = precursor to SR-17 (our favorite aircraft). No weapons, no defenses, just speed. Great in battle, but non-violent ?
+
(A=Archangel, my favorite song)
(⚔️? metal rat)

— ꧁ ༒ Gℜiꪔ⃕es ༒꧂ ??? 小仙女 (@Grimezsz) May 6, 2020
---
ORIGINAL STORY (May 5, 2020): Grimes and Elon Musk have just welcomed their first child together, and Musk has shared the first picture of the baby on his Twitter. Following a two-year-long relationship, Grimes revealed the pregnancy with a cryptic post in January with a baby photoshopped into her stomach, as well as a private Instagram account with the username "WarNymph," which is now public and filled with images of a fantasy-like creature.
After Elon Musk revealed the baby had been born, the Tesla CEO also shared an image of himself with the baby. "Mom & baby all good" Musk tweeted, followed by questions surrounding the name and gender of the child from fans, to which he responded " "X Æ A-12 Musk."
Peep the tweets below, and congratulations to Grimes and Elon Musk!
Mom & baby all good

— Elon Musk (@elonmusk) May 5, 2020
— Elon Musk (@elonmusk) May 5, 2020
X Æ A-12 Musk

— Elon Musk (@elonmusk) May 5, 2020
Share this article