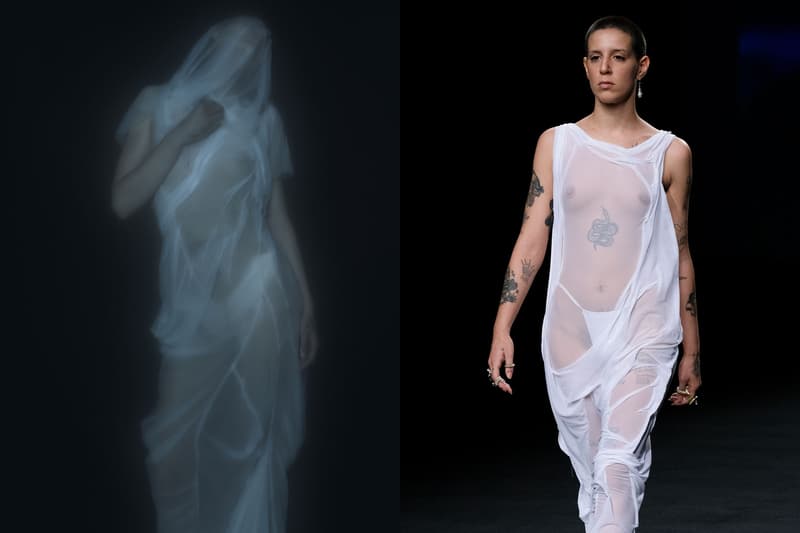 Fashion
1 Granary Calls Out Similarities Between Margiela Design and Work of Emerging Designer Di Petsa
Standing in solidarity with young creatives.
1 Granary Calls Out Similarities Between Margiela Design and Work of Emerging Designer Di Petsa
Standing in solidarity with young creatives.
1 Granary, an editorial platform dedicated to highlighting emerging talent in fashion and art, took to Instagram with a lengthy post suggesting that Maison Margiela Creative Director John Galliano plagiarized a design from recent Central Saint Martins graduate Dimitra Petsa, founder of buzzy new label Di Petsa.
The post raises striking similarities between a dress featured in Margiela's Fall/Winter 2020 Couture collection and Petsa's 2018 graduate collection. Since debuting the collection, Petsa has become known for her "wet look" dresses that are tailored to cling to the body as if they've been drenched in water. Celebrities including Kylie Jenner and FKA Twigs have commissioned custom dresses from the brand, launching the "wet look" into wider public recognition.
A video detailing the making of Margiela's FW20 Couture collection describes one particular dress as a "wet look." Side-by-side photos of Petsa's previous work and Galliano's new design reveal similar silhouettes and sewing techniques. "If the use of the same technique and name are a crazy coincidence, how is it possible that no young designer in the team saw the common points, in a niche part of the industry where Petsa's work has been circulating under the name Wet Look on big platforms since 2018, and did not say something about it?" 1 Granary writes, referencing a 2018 Dazed Digital profile on Petsa that seems to have coined the term "wet look" in reference to her work.
"In a world where emerging talent is used and tossed away for profit, young creatives should be extra sensitive when big houses fall in the same design narratives with a small, starting brand…For a big house this is just a design, but for a small brand this same design is years of work, money and hope," 1 Granary concludes.
Head to 1 Granary's Instagram to read the full post.