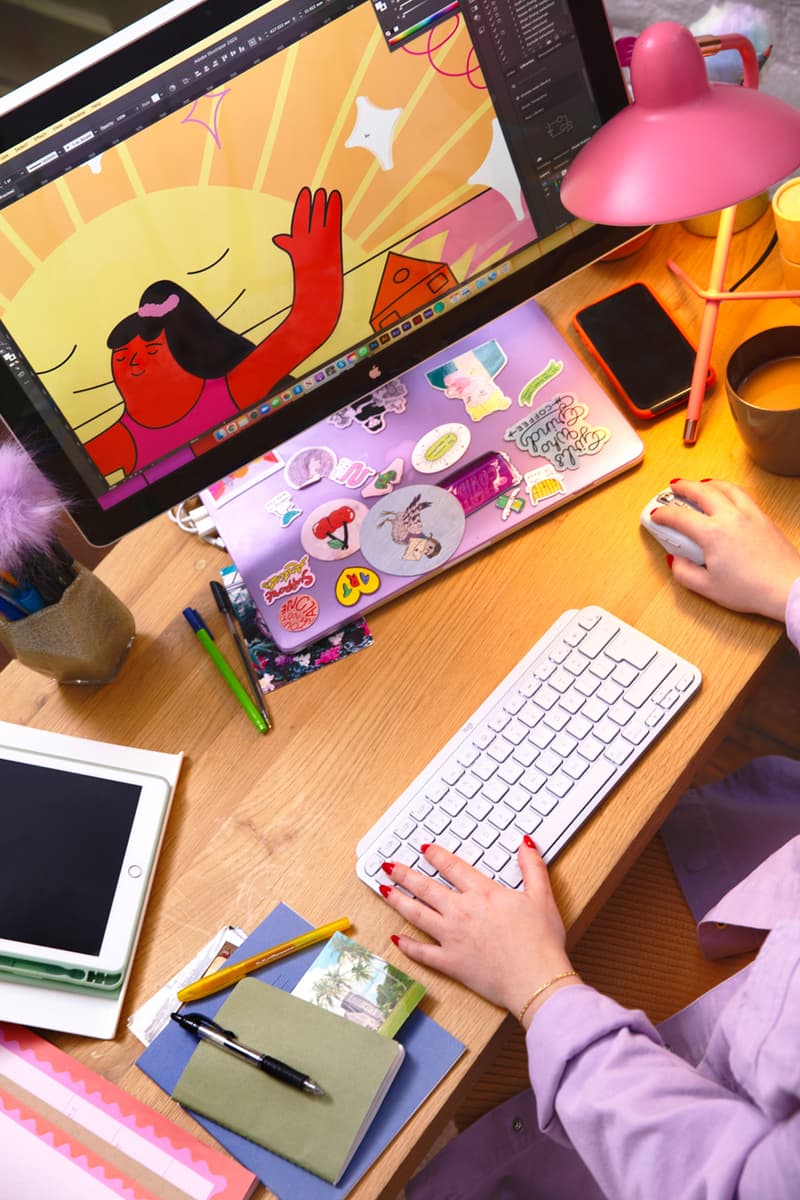 1 of 5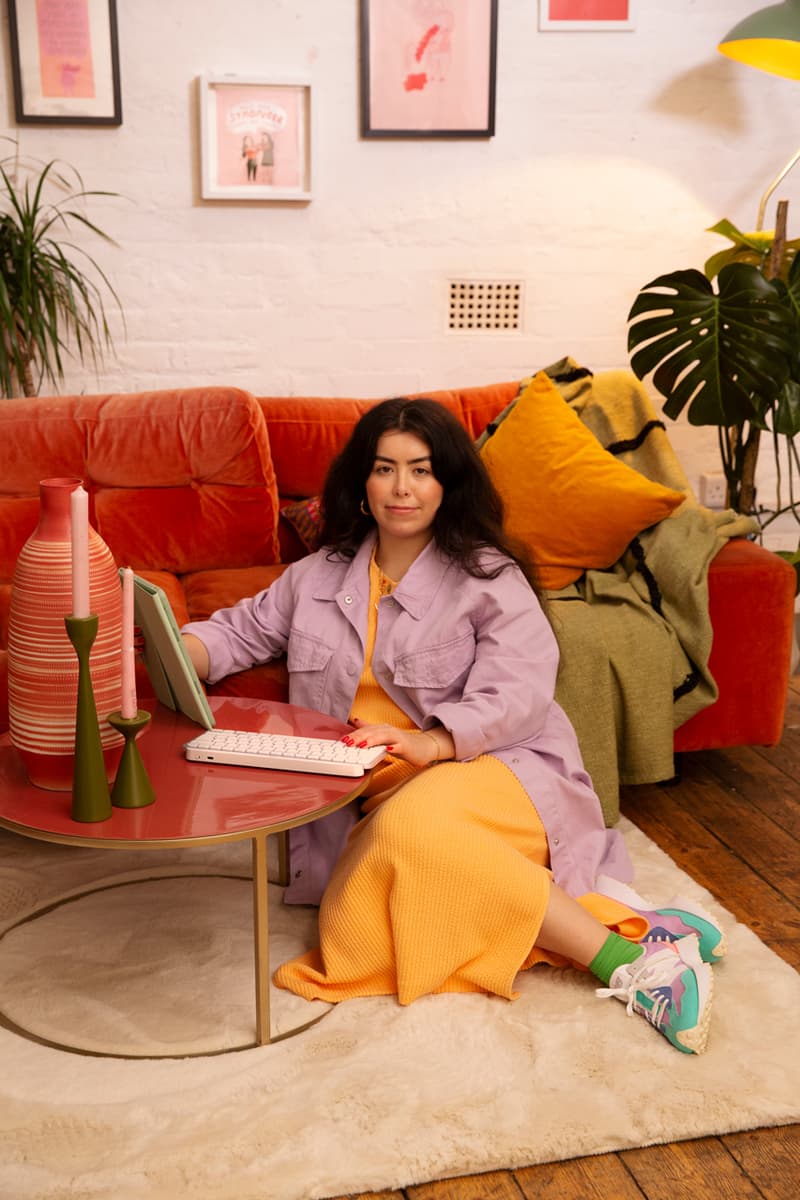 2 of 5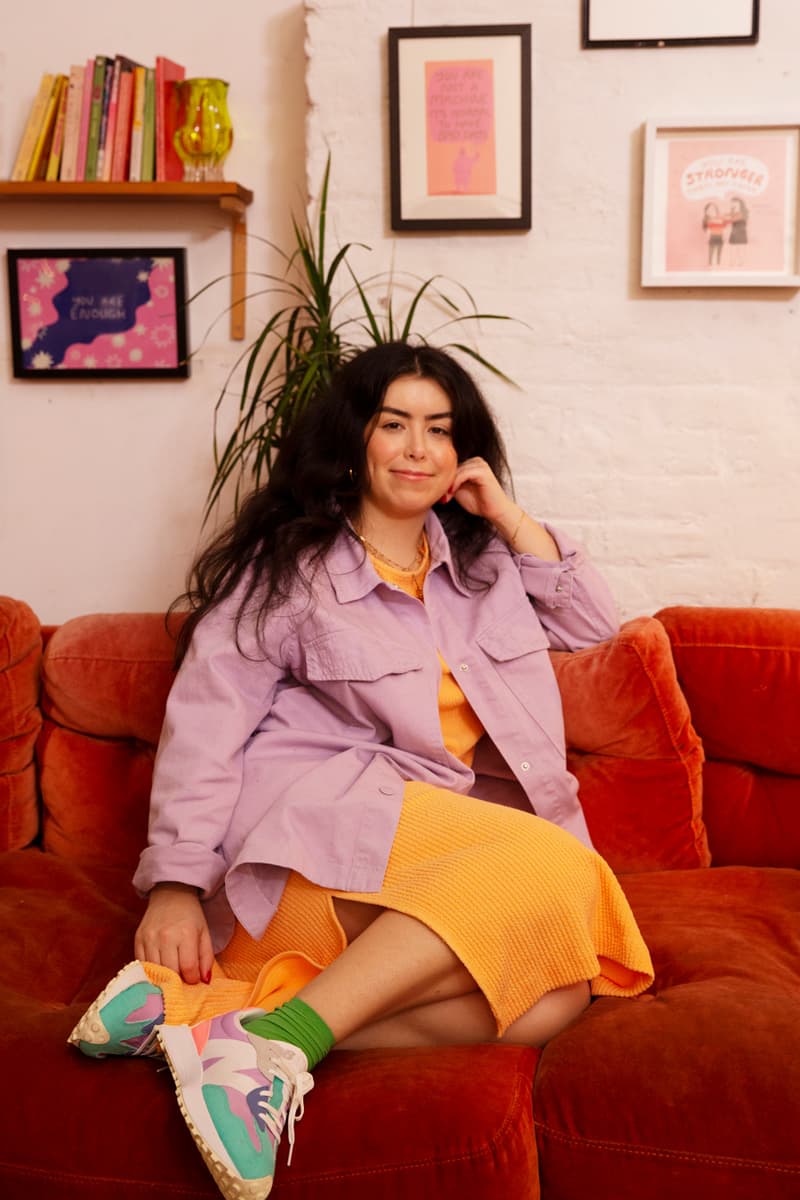 3 of 5
4 of 5
5 of 5
Tech
Illustrator Natalie Byrne Expands Artistic Capabilities With Logitech's MX Keys Mini
We chat with the award-winning artist on new year's resolutions, digital art and workshop goals.
Illustrator Natalie Byrne Expands Artistic Capabilities With Logitech's MX Keys Mini
We chat with the award-winning artist on new year's resolutions, digital art and workshop goals.
Like the illustrations in your favorite book or the treasured poster that lies above your bed, Natalie Byrne's artwork is distinctive and instantly lovable. The digital illustrator is known for creating pieces filled with jovial faces and bursting colors that usually portray topics on social issues, sex and mental health.
While Natalie's art can be found across window displays and graphic T-shirts, her journey as an artist has been bolstered by online platforms. She has truly embraced the digital art-scape, regularly posting her positive affirmations and squiggly lines on Instagram — through which she has racked up a wealth of art-obsessed followers.
Always looking to amplify her digital masterpieces, Natalie is constantly scoping out the best gadgets for her art-making process. So, for the launch of Logitech's new MX Keys Mini, HYPEBAE asked the illustrator to put the wireless keyboard to the test by creating a piece of original art.
In light of the new year, and for Natalie, the imminent milestone of turning 30, she takes the opportunity to illustrate an all-encompassing resolutions piece. The final artwork subscribes to the artist's usual style; colorful, fun and glimmering with hope, just like Natalie's warm personality. We caught up with her to chat more about her resolutions art piece, the digital art world and why she has to have the Logitech MX Keys Mini.
Hey Natalie, tell us a bit about your new year's resolution and how your art encapsulates your goal?
In previous years I've set way too many goals which I end up completely forgetting about, so I'm keeping it simple this year and forced myself to just choose three. Three goals I'm super pumped about, and I know if I aim for them, they will have huge impacts in my mental health and happiness. My new year's resolutions for 2022 are to wake up early, save money for my future dream home and really enjoy turning 30 and not freak out about it. When thinking about turning them into a piece of art, I knew I wanted to make something bursting with excitement and hope.
Talk us through the different elements of your piece and what they symbolize.
Each character represents a different goal. The one with the 30 glasses represents me turning 30. The one holding the house is representing me saving money for my dream home and waking up early goal is represented with the character holding the alarm clock. They all have their eyes closed with a smile because that's how I know achieving these goals will make me feel calm, peaceful and proud of myself. The background has a big rising sun, which signifies a new beginning, a new start and a new chapter.
Which specific MX Tools were instrumental in producing your piece?
Switching between my iPad and my Mac made my process much smoother, and the customization keys were really handy too.
Which MX Tools will you be incorporating into your daily creative life?
I love switching between my devices with one keyboard, it's brilliant. Also, the emoji and mic mute and unmute button has already become so useful to me. I really do love this keyboard, I've mentioned before that space is really important to me and I have a small tiny desk. Not only does it feel really like a beautiful quality, but I can comfortably fit it on my desk with my iPad out and my tablet out. Not to mention I'm also really proud to own a piece of tech that was made from recycled materials.
As an artist, how does the digital medium give you the freedom to express yourself?
It's endless. Digital mediums compared to traditional things like painting, have a much lower cost to get started, and I always make my best work when the stakes are low, it allows me the freedom to create without pressure. And have space to make mistakes and play. I also love digital mediums because in an instant, my art can cross-culture and language barriers. Seeing people all over the world enjoy my art and connect with it, brings me so much joy.
Why are the themes that you typically address within your art important to you?
I love making work around social issues, education and honesty, these themes are important to me as I love sharing valuable artwork on issues that would have helped me when I was younger. I really feel like my purpose on this world was to make people feel less alone.
Talk us through your workspace. Which items are essential in sparking inspiration or motivating you every day?
Things that motivate me in my space are hanging artwork that inspires me from my artist friends, and artists I look up to. I also love writing down quotes that inspire me and sticking them on my wall, as well as goals.
If I'm feeling creatively blocked, I look through various creative books I have. At the moment, I'm always going back to Hand Job, a catalog of hand lettering by Michael Perry, the graphic novel called Persepolis by Marjane Satrapi and Don't Get a Job…Make a Job by Gem Barton. I also have my screensaver as a vision board I've made.
What would your ideal space look like?
I can't wait to have my own office space because at the moment I work in my bedroom (hence the saving up for my dream home). My ideal space will be filled with natural light, and feel ultra-cozy and warm. I use a lot of pink, yellow and orange tones in my work, which are colors that I also get furniture in. I can't wait to get a brightly colored armchair to read in, and paint the walls fun colors. And have all my books on bookshelves as I've had to put them under my bed for now, to save on space.
Shop Logitech's MX Keys Mini on the brand's web store and its global retailers for approximately $99 USD. Be sure to use the unique discount code HYPELOGI10 at the online checkout for 10% off your first purchase of the Logitech MX Keys Mini, valid until January 31.
---
Share this article