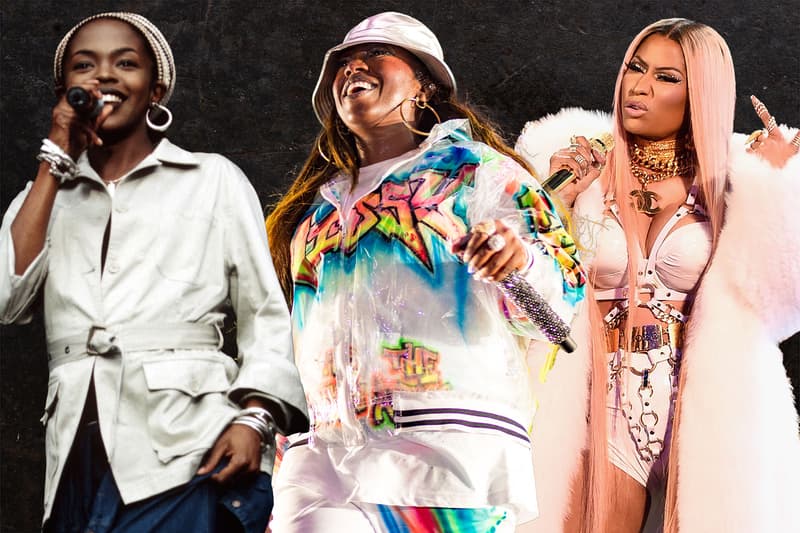 Music
The 10 Most Influential Hip-Hop Albums by Women Over the Years
Highlighting records from Lauryn Hill, Missy Elliott, Nicki Minaj and more.
The 10 Most Influential Hip-Hop Albums by Women Over the Years
Highlighting records from Lauryn Hill, Missy Elliott, Nicki Minaj and more.
The origins of hip-hop go all the way back to the '70s in the Bronx, New York. Since the Harlem Renaissance, the cultural movement has allowed artists — especially in the Black community — to express their untold stories and creativity through rap.
From the late '80s and early '90s, also referred to as the golden era of hip-hop, the influential genre thrived and saw the success of many female rappers breaking barriers in the industry. Icons like MC Lyte, Lauryn Hill and Salt 'N' Pepa paved the way for today's talents like Nicki Minaj and Cardi B. Meanwhile, albums such as Queen Latifah's Black Reign and Salt 'N' Pepa's Very Necessary addressed the misogynistic environment of the hip-hop community and empowered fellow female creatives to hone their art.
In honor of the names who have made a difference in hip-hop, we're spotlighting the 10 best records of all time by female rappers below. While you're at it, here are the most iconic hip-hop style moments throughout the decades.
MC Lyte – Lyte As a Rock (1988)
MC Lyte's debut studio album, Lyte as a Rock, released the year after her first single, "I Cram to Understand U (Sam)." Starting her career as a teenager, the artist's inaugural record became the first full-length project of a solo female rapper. The album features MC Lyte's groundbreaking single, "Lyte As a Rock," which serves as a call-out to the male-dominated rap scene.
Listen: Spotify | Apple Music
Queen Latifah – Black Reign (1993)
Black Reign, Queen Latifah's third studio album, peaked at No. 15 on the Top R&B/Hip-Hop Albums list and No. 60 on the Billboard 200 chart in 1993. Featuring powerful tracks like "Just Another Day" and "U.N.I.T.Y.," which includes the famous lyric, "Who you calling a bitch?," Latifah created the ultimate feminist record and helped pave the way for future female rappers in hip-hop. Black Reign earned the artist a Grammy Award for Best Rap Solo Performance for "U.N.I.T.Y." in 1995.
Listen: Apple Music
Salt 'N' Pepa – Very Necessary (1993)
Salt 'N' Peppa achieved Gold and Platinum statuses thanks to their debut album Hot, Cool & Vicious. However, let's not forget their fourth record, Very Necessary, which sold over seven million copies worldwide and became the highest-selling album by a female rap act. Packed with empowering anthems, Very Necessary tackles the misogyny women face on a daily basis. Hits like "Shoop," "Whatta Man" and "None of Your Business" brought the album to No. 4 on the Billboard 200 chart. The trio won a Grammy for Best Rap Performance for the latter single.
Listen: Spotify | Apple Music
Da Brat – Funkdafied (1994)
"When I did Funkdafied with JD [Jermaine Dupri], he was like, 'Okay, look Brat. I'ma tell you now — female rappers pretty much only go Gold. So if it doesn't do whatever, don't be disappointed,'" she said at BET's Monique Show in 2011. "And I was like, 'Okay… I just want to do music.'" Proving her mentor Dupri wrong, Da Brat made history by becoming the first solo female rapper to go Platinum thanks to her debut album Funkdafied and single of the same name. The record peaked at No. 1 on the Rap Charts and Top R&B/Hip-Hop Albums chart and No. 11 on the Billboard 200.
Listen: Spotify | Apple Music
Lil' Kim – Hard Core (1996)
Lil' Kim worked on her solo career after achieving success with Junior M.A.F.I.A. and their 1995 album Conspiracy. The artist linked up with The Notorious B.I.G. to put together her debut record, Hard Core. Also in collaboration with Sean "Puff Daddy" Combs, Stevie J., David "Ski" Willis, Jermaine Dupri and other producers, Lil' Kim delivered 15 tracks featuring appearances from Jay-Z, Lil' Cease and Puff Daddy.
Listen: Spotify | Apple Music
Lauryn Hill – The Miseducation of Lauryn Hill (1998)
A timeless classic, The Miseducation of Lauryn Hill centers on the themes of love and God, as well as highlights Hill's pregnancy and the tumultuous relationship between her and her former group, the Fugees. The record effortlessly blends reggae, R&B and rap, as well as demonstrates the depth of Hill's artistic range. At the 41st Grammy Awards, The Miseducation of Lauryn Hill received 10 nominations and won five awards.
Listen: Spotify | Apple Music
Missy Elliott – The Cookbook (2005)
The Cookbook marked Missy Elliott's first album to not be fully produced by longtime collaborator Timbaland. "I wanted people to see I was taking music back to the roots — not just hip-hop, but our ancestors. Whether they was on railroad tracks or cooking in somebody's kitchen, they was always singing," Elliott spoke on the record's cover art. Having claimed this as one of her best albums she's worked on, the artist was nominated for Best Rap Album at the 2006 Grammys, but lost to Kanye West's Late Registration.
Listen: Spotify | Apple Music
M.I.A. – Kala (2007)
British artist M.I.A. debuted her second album, Kala, back in 2007 via XL Recordings. Named after her mother, the record explores the struggles Kala had to overcome throughout her life. The project is heavily influenced by dance music and South Asian sounds, and incorporates samples of Bollywood and Tamil cinema vocals. "Paper Planes," the 11th song in the album, unexpectedly became a chart-topping hit. The track jokes about M.I.A.'s visa issues and brings up the perception of immigrants.
Listen: Spotify | Apple Music
Nicki Minaj – Pink Friday (2010)
Nicki Minaj's debut album features the likes of pioneers like Eminem, Rihanna, Drake, Kanye West and will.i.am. Promoted through eight singles, including the viral "Super Bass," Pink Friday placed at the top spot on the Billboard 200. The record also sold 375,000 copies in its first week, almost beating Hill who sold 422,000 units for The Miseducation of Lauryn Hill. 10 years ago, Minaj's eccentric style merged with her rapping seemed unconventional at the time. However, this opened doors for other talents to explore their creativity and sound.
Listen: Spotify | Apple Music
Cardi B – Invasion of Privacy (2018)
Cardi B's Invasion of Privacy broke a number of records since its release. The project became the first album from a female rapper to spend 175 weeks on the Billboard 200, and even earned the artist two No. 1 singles, which is a first for a female rapper. The album features appearances from Kehlani on "Ring," Migos on "Drip," SZA on "I Do," Chance The Rapper on "Best Life" and more.
Listen: Spotify | Apple Music
Composite Imagery

Pauline De Leon/Hypebae
Share this article