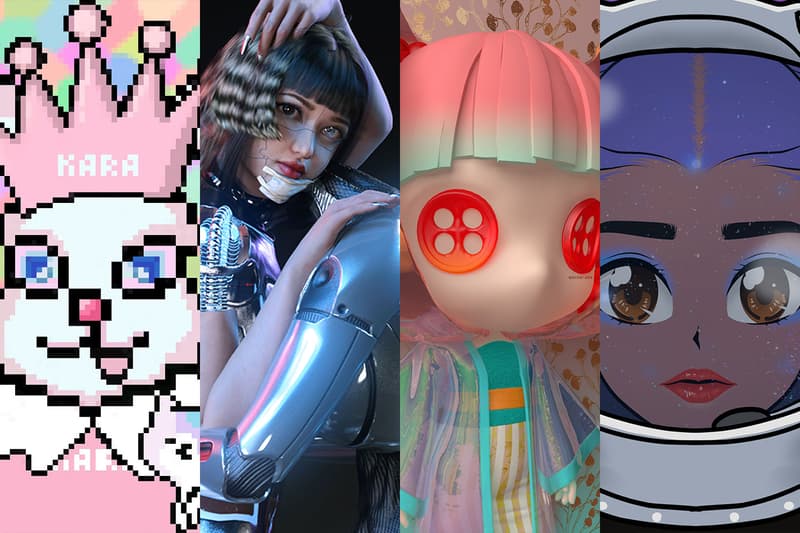 Art
4 Female Digital Artists on the Future of NFTs and the Metaverse
KARA RABBIT, Ruby Gloom, Hsunic-Ann and Helen, The Creator discuss the role of female artists in the evergrowing digital space.
4 Female Digital Artists on the Future of NFTs and the Metaverse
KARA RABBIT, Ruby Gloom, Hsunic-Ann and Helen, The Creator discuss the role of female artists in the evergrowing digital space.
NFTs are one of the most talked-about topics today when it comes to art, fashion and so much more. With industry leaders like Meta pushing for the metaverse and major brands releasing digital collections, the virtual space has become a huge platform for new and rising artists to showcase their work.
Hypebae China caught up with four female digital artists — KARA RABBIT, Ruby Gloom, Hsunic-Ann and Helen, The Creator — to chat about the future of all things web3. KARA RABBIT is an independent designer who creates pixelated rabbits for her NFT collection, while Ruby Gloom is the artist behind RUBY 9100M, a digital trans-human being that wears all sorts of hyperrealistic outfits. Hsunic-Ann is a Chinese illustrator creating the three-dimensional series "Miss Button," and Helen, The Creator is the founder of Asian Girlz NFT.
Continue scrolling to read our conversation with KARA RABBIT, Ruby Gloom, Hsunic-Ann and Helen, The Creator on the future of NFTs, the metaverse and more.
How would you describe your artistic style?
KARA RABBIT My style focuses on 8-bit graphics, as well as a flat, two-dimensional look and pop art aesthetic. The entire KARA RABBIT collection is pixelated, which allows the creation of complex images from the simplest elements, thus sparking imagination.
"Pixel Rabbit" was my first NFT collection, and the original goal was to create a rabbit that was "super elemental," similar to the Elementalist Lux Skin on Riot Games' League of Legends. I wanted my rabbit to be both cute and fun. The artwork itself gives a relaxing, calm feel, and I also hope that my rabbits can bring a sense of healing to people.
Helen, The Creator My NFT work combines the use of art with storytelling and utility. The Asian Girlz NFT characters are inspired by my love for '80s arcade and Nintendo video games. Each NFT character inspires viewers and buyers to imagine the interesting backstories and lives of our characters giving way to our storytelling platform.
Ruby Gloom Ruby 9100M is a character that could be seen as an extension of my identity, but also a door that separates the real world from the virtual space. When I first created her, I just wanted to create an identity that would live on social media. Having spent a lot of time on the internet, I felt like I was losing my sense of self. I decided to learn 3D art and found it was a great way for me to connect with myself, so I created Ruby 9100M to express my emotions.
Hsunic-Ann I like to combine all of my favorite figures and models to create my NFT work. I believe that there are so many more possibilities to explore in the NFT space, which is now so prominent in China. For example, many platforms are tapping into the metaverse.
View this post on Instagram
What are your views on NFTs and digital work from an artist's perspective?
KARA RABBIT Before I tapped into NFTs, my perception of digital art was more of CGI and illustration design in games.
Helen, The Creator Most of my artistic creations in the past were more traditional, such as physical paintings and sculptures. When I got into NFTs, I started experimenting more with digital tools and applications, such as computer-generated graphics, animation and 3D.
Ruby Gloom NFT is one of the things that builds value for digital art. In my opinion, most NFTs with high artistic value is created by a team or created with the participation of well-known artists. NFTs can also help spotlight the works of artists that are not as well-known.
Hsunic-Ann I agree with Ruby that NFT is bringing a new atmosphere to the digital art scene. Digital art is at the core of commercial art at the moment. Since we are in an age that is heavily driven by technology, there are so many artworks that are based on computers and electronic products. I am an animation major myself, and now animations are produced on computers rather than traditional paper and brushes.
Speaking of the wider impact of digital art, Helen, how did you first come up with the idea of presenting Asian women from different backgrounds in the form of NFTs?
Helen, The Creator I started Asian Girlz as an NFT project to bring together the power of blockchain technology and a community of supporters. We gave them the opportunity to help fund a project that empowers Asian women and to take part in building a culturally significant and powerful entertainment company. Each of our Asian Girlz NFT characters has different names, jobs, locations and backstories. Our Asian Girlz characters ask the viewer or buyer of the NFT to imagine them as real human beings with diverse and complex stories.
Throughout the pandemic, anti-Asian hate crimes and assaults against Asian women have been on the rise at alarming rates. This NFT project comes at a very important time where art, technology and storytelling can help bridge what divides us and hopefully help the fight against racism.
Our NFT holders have voted and Asian Girlz #102 story has been funded! Sam is a VR Gamer from Seattle who was in a car accident at the age of 10 that left her a paraplegic and in wheelchair for life. A Twitch streamer & VR game developer. We can't wait for this story to unfold ? pic.twitter.com/4JLVxy2OUD

— Asian Girlz (@asiangirlznft) March 23, 2022
How do you think being a female creator makes your work different? And how does it generate different social influences?
KARA RABBIT I believe the art that we create is not in the material world, but rather in the spiritual world. I hope my work has the power to cure. We are not just creating NFTs but spreading positive energy through them. We hope to continue to build a strong community in the metaverse where more people can participate and connect.
Helen, The Creator Thanks to web3, more women are starting to get involved in the male-dominated world of technology. It's really exciting to see more female-led NFT projects. I hope these initiatives will help girls gain the confidence to try new things in this space.
Ruby Gloom This space is mostly dominated by male creators and buyers. As a female artist, I believe in pushing for more projects with female-focused themes to encourage more participation from women all around the world.
Hsunic-Ann "Miss Button," the IP that I'm currently publishing on NFT platforms is more "feminine" in terms of creative elements and style compared to others that I've created in the past. I didn't particularly create these visuals for female collectors, but I would be happy if it could attract more women to the world of NFTs.
The current digital space serves as a platform for women who are considered less "mainstream" in the field, allowing them to offer different and unique perspectives to the community. How do you see the future of female artists in NFT creation and digital art?
KARA RABBIT NFTs are an extension of the metaverse, which is in its early stages at the moment. We should be focusing not only on digital art but also on the development of technologies spanning VR, artificial intelligence, 5G and more. I'd love to see more artists and tech experts get involved with building the future of the metaverse.
As a female artist, I hope that we can not only promote art in the virtual world but also raise awareness of social issues. We can use the digital space to help support those in need.
Helen, The Creator The NFT industry is really just starting to take off and is changing rapidly every day. We are starting to see so many different types of projects and I think this is exciting because female artists have an amazing opportunity to really be creative in this space and make a big impact and even start leading in this space.
Share this article