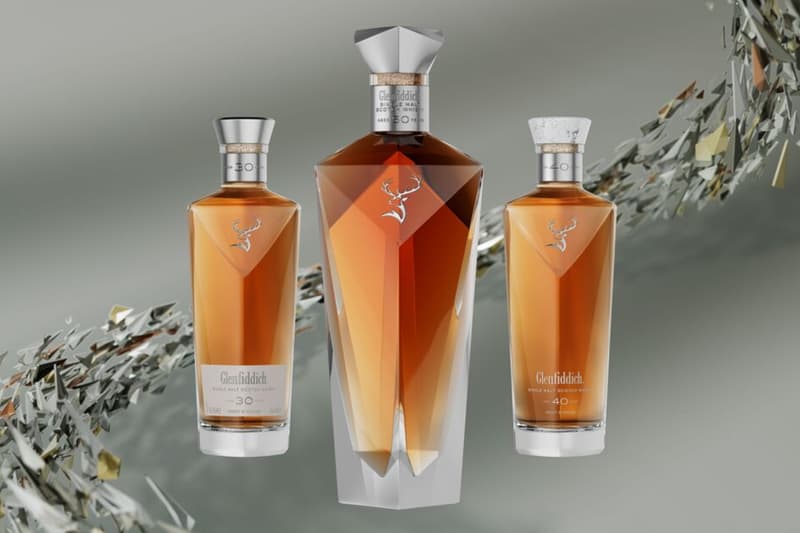 Glenfiddich Unveils a Rare $50,000 USD Bottle of Scotch Whisky
Aged for over five decades.
Glenfiddich expands its remarkable range of malt with the launch of its first-ever, ultra-premium line of Scotch whiskies. The "Time Re: Imagined" collection features three rare aged expressions including a 30-, 40- and 50-year-old bottle release.
"In whisky production, we often talk about the role of Malt Masters, and it is our responsibility to find the delicate balance between the taste of the whisky and the intensity of the oak cask," Malt Master, Brian Kinsman shared. "Both nature and time play huge roles in making whisky taste like it does, and Glenfiddich's 'Time Re: Imagined' pays homage to this process and the exquisite liquid both time helps to create."
Each expression represents the pinnacle of the label's signature distillery style. A standout within the capsule is the 50-year-old bottle that portrays Simultaneous Time and explores the parallel and complex conditions that have influenced the liquid. Crafted to perfection, the Malt Master combines whiskies from three different American Oak refill casks and matures it in the same warehouse. It's also finished in an American Oak refill cask for two years. There are only 220 decanters available, making it a sought-after collectors' item.
Alongside is the 40-year-old scotch that represents Cumulative Time, drawing attention to the layers of accumulated flavor and is made possible with a remnant vatting process that is also first pioneered by the brand. Lastly, the 30-year-old bottle embodies the Suspended Time, representing the moment when the Malt Master suspends the development of the whisky.
The collection is available in limited quantities at select retail stores and at Glenfiddich.
DISCLAIMER: We discourage irresponsible and/or underage drinking. Drink responsibly and legally.
---
Share this article