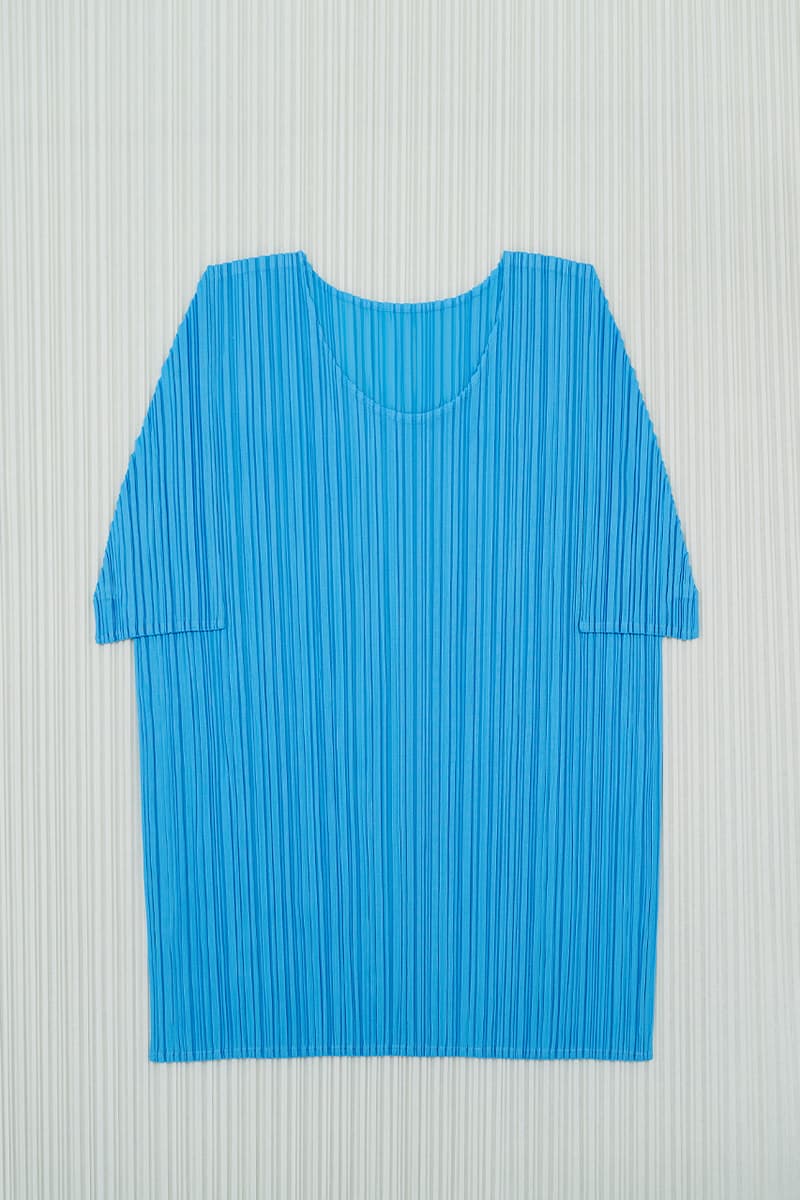 Celebrating the Past, Present and Future of PLEATS PLEASE ISSEY MIYAKE
On the year of its 30th anniversary, we unpack how the Japanese designer's pleating technique captured the world's imagination.
Fashion
Celebrating the Past, Present and Future of PLEATS PLEASE ISSEY MIYAKE
On the year of its 30th anniversary, we unpack how the Japanese designer's pleating technique captured the world's imagination.
Issey Miyake's journey began amidst destruction, yet he emerged as a creator of extraordinary beauty and purpose. Growing up in a city ravaged by the devastating impact of a nuclear bomb, he intimately experienced the immediate aftermath and grappled with the uncertainty of reality. However, it was the construction of the Hiroshima Peace Bridge, a symbol of resilience after the war, designed by Isamu Noguchi, that ignited a profound optimism within the Japanese designer and fueled his boundless creativity.
In an industry characterized by fast-paced trends and excessive consumerism, Miyake stood apart, imparting invaluable lessons about stillness and intention. His artistic vision encompassed a harmonious interplay of texture, shape, fabric, proportions and technology, constantly pushing boundaries and redefining the realm of fashion. During his studies at the renowned École de la Chambre Syndicale de la Couture Parisienne, which happened around the same time Kenzo Takada broke into the Parisian fashion scene (being the first Japanese brand to do so), Miyake refined his skills while working with esteemed designers such as Guy Laroche and Hubert de Givenchy as an assistant. The May 68 protests in France propelled Miyake into uncharted territory again, leading him to New York to collaborate with Geoffrey Beene before returning to his hometown of Tokyo.
Despite his exposure to diverse cultures, Miyake's unwavering fascination with simplicity, stillness and innovation remained at the core of his creative endeavors. From the beginning, the Japanese designer embraced the essence of minimalism, imparting a profound appreciation for craftsmanship and construction. Rejecting the superficial pursuit of novelty, Miyake championed a conscious approach to design. The world continues to celebrate his enduring impact and unwavering commitment to elevating the fashion industry and challenging creative conventions.
This month marks the 30th anniversary of the launch of PLEATS PLEASE ISSEY MIYAKE, a range that continues to inspire us all. Miyake's pursuit of "Monozukuri," the art of making things, thrives through ongoing research and experimentation, seeking new innovations that transcend existing conventions. PLEATS PLEASE ISSEY MIYAKE keeps this quest alive, remaining a testament to his enduring legacy, which will forever inspire generations to come.
The Legacy and Vision of PLEATS PLEASE ISSEY MIYAKE
Issey Miyake's fascination with the movement and fluidity of clothing, inspired by dance, found its ultimate expression in his most successful endeavor, "PLEATS, PLEASE." His involvement in costume design, particularly with William Forsythe's Frankfurt Ballet, played a pivotal role in propelling the development of this line, which launched in 1993 and swiftly became a distinctive hallmark of Miyake's brand.
The designer's transformative creativity enabled him to transform flat fabrics into mesmerizing 3D sculptures that beautifully enhanced the wearer's figure. His quest to achieve this effect began in the 1980s, as he delved into experimenting with heat treatment and meticulously refining the technique for optimal precision. Introducing a novel type of polyester fabric that could be pleated uniformly brought practicality and accessibility to the forefront.
The birth of PLEATS PLEASE ISSEY MIYAKE heralded the dawn of an entirely new category of clothing, catapulting Miyake into the echelons of household-name status within the fashion industry. Its daring and imaginative designs effortlessly transcended conventional boundaries, captivating fashion enthusiasts, artists and designers alike. Not only did the label steadfastly embody freedom and joy, but it also offered an unparalleled ability to flatter every body type.
PLEATS PLEASE ISSEY MIYAKE remains as pioneering as ever, showcasing permanent pleats that cascade with graceful ease, resulting in an exquisite drape that accentuates every silhouette. The garments possess a versatile nature that allows for effortless styling, whether it's tube dresses, cardigans, skirts, shirts or elastic-waisted pants. PLEATS PLEASE ISSEY MIYAKE aspires to be the reliable companion that accompanies you joyfully through life's journeys.
The profound impact of the designer and label on fashion design reverberates to this day, with its minimalist and sculptural aesthetic becoming synonymous with contemporary Japanese design. The brand's legacy extends beyond the realm of fashion, embracing a resolute message of sustainability and longevity. By challenging the fast-paced, throwaway nature of the industry, PLEATS PLEASE ISSEY MIYAKE presents a refreshing alternative. As Miyake once stated, "Design is not for philosophy, it's for life." This sentiment encapsulates the essence of the infamous renowned and ensures its enduring relevance and influence.
Three Decades of Sartorial Innovation: PLEATS PLEASE ISSEY MIYAKE's Anniversary
To mark its 30th anniversary, the brand upholds its spirited ethos with the unveiling of two commemorative collections: "PATH" and "MONTHLY COLORS: MAY." Embodying a sense of freedom, the "PATH" collection embraces a vibrant color palette, featuring abstract prints inspired by the phrase "PLEATS PLEASE." These prints come alive on the garments, creating dynamic shapes that seem to move across the fabric. In contrast, "MONTHLY COLORS: MAY" celebrates the core colors of the month, infusing PLEATS PLEASE ISSEY MIYAKE essentials such as pleated tops, trousers and sculptural ensembles with both bold and vibrant hues.
Despite the passage of three decades, the pleating process used to craft these collections remains unchanged. The garments undergo a meticulous creation process, starting with precise cutting and sewing of fabric that is significantly larger than the final product. The next step involves delicately layering the garments between sheets of paper before manually feeding them into a pleating machine. This intricate technique enhances the shape, drapery and texture of the clothing, embodying Issey Miyake's distinctive sense of movement and fluidity. Both collections are now available to purchase online and undoubtably epitomize the brand's unwavering commitment to artistic expression and captivate with their distinctive charm and allure.
---
Share this article