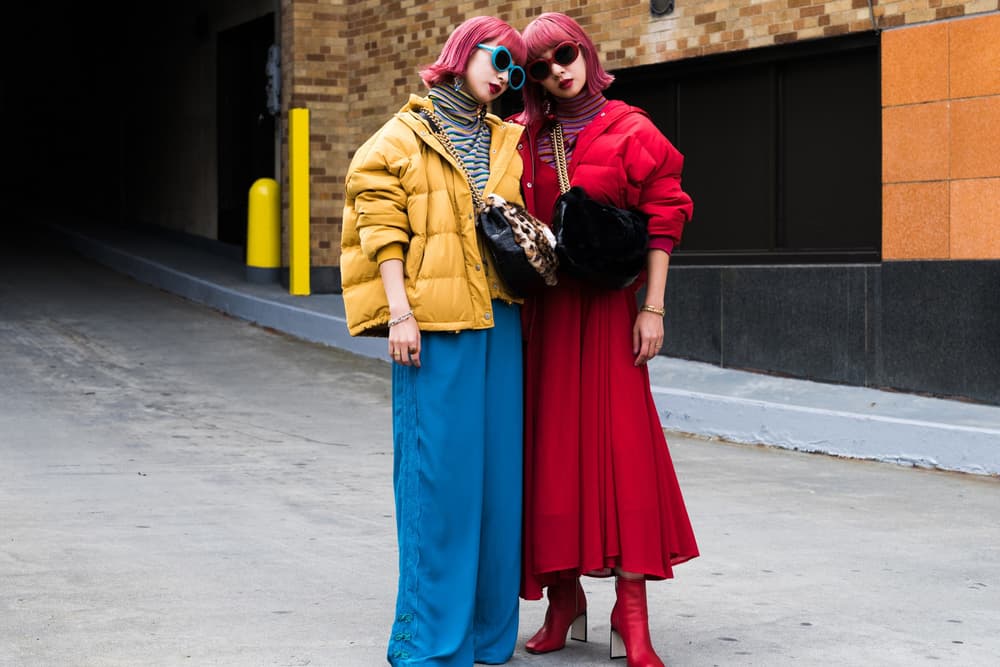 Fashion
Our Five Favorite Instagram Accounts This Week: Fashion Twins
Because two is better than one.
Our Five Favorite Instagram Accounts This Week: Fashion Twins
Because two is better than one.
Okay, we lied. This week's Instagram roundup includes not five, but more or less 10 accounts as we're featuring some of our favorite twins on the social media platform. It's nice enough to see someone's cool pictures on your feed, but doubling up the amount of style inspo you get is even better.
From DJs and models, to stylists and writers, these ladies are kicking ass both on their own and as a duo. Read on to learn more about five pairs of well-dressed twins you should be following on Instagram.
While you're at it, check out our exclusive feature on Instagram's most streetwear-savvy pet, Zappa the Cat.
Bio: "WURLDWIDE"
Favorite Caption: "Expanding the twindom."
HYPEBAE Pick: Simi and Haze Khadra are the identical twins that are never not slaying together. From DJing at Coachella to attending shows at Paris Fashion Week, the pair always induce style envy with their effortlessly cool bob hairstyle and outfits that complement each other's looks. As friends with Bella Hadid, Kylie Jenner and Charli XCX, the sisters often take to their joint account to share fun moments from their downtime, including ski trips, birthday celebrations and more.
Bio: "Identical twins (AMIAYA) jouetie"
HYPEBAE Pick: Hailing from Tokyo, models and DJs Ami and Aya have previously walked for Dolce & Gabbana and most recently, appeared in a Valentino campaign. Together, the Japanese sisters serve as the creative directors behind their apparel line, jouetie. Fully embracing #twinning styles, the duo make great subjects of streetsnaps during the fashion week circuit. Also, who'd have known that yukatas look so good when paired with platform boots?
Bio: "Boston. style + creative consultants"
Favorite Caption: "Double it."
HYPEBAE Pick: Ashley and Kat Hess' account is a must-follow for girls who love streetwear. The platinum blonde-haired twins share similar tastes in fashion, and are often seen rocking brands such as Supreme, Heron Preston, Fear of God and Off-White™ together. Their sneaker collection of limited-edition Nikes and Converses are to die for as well. One thing's for sure — scrolling through their feed would make you wish you had an identical twin to coordinate your outfits with.
Bio: "Music Artist/ Rapper. TED Talks X Speaker. Writer"/"TED X Talks Speaker. Writer"
Favorite Caption: "No one or nothing can break this bond."
HYPEBAE Pick: We mean it when we say that TK Wonder and Cipriana Quann are literally #HairGoals. When it comes to fashion and style, the multi-talented sisters are definitely not afraid to make a statement. From head-turning patterns to unexpected silhouettes, these ladies make it seem as easy as pie to pull them off, all the while maintaining their own personality. Make sure you hit that "follow" button to see how they do it.
Bio: "Queen is the name. Paris"/"Tudo bem Paname"
HYPEBAE Pick: Algerian sisters Sarah and Sabrina are another pair of twins that stood out in our streetsnaps series. Currently based in Paris, the models and students are all about experimenting with playful styles. Whether it's plaid-on-plaid or colorful camo prints, these two always manage to make a bold look their own.
Share this article