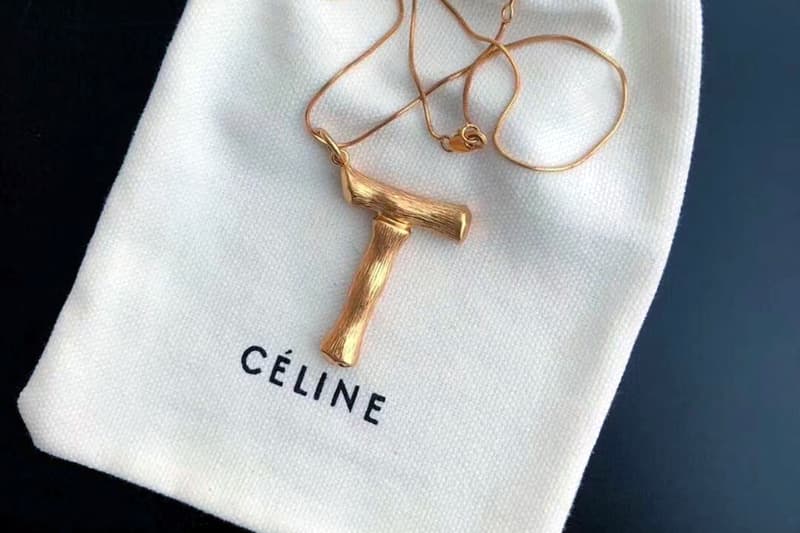 Fashion
Céline's Letter Pendant Necklace Is My Memory in a Post-Philo World
This week's Editor's Pick is all about remembering a piece of fashion history.
Céline's Letter Pendant Necklace Is My Memory in a Post-Philo World
This week's Editor's Pick is all about remembering a piece of fashion history.
I've always been what I would call a fashion enthusiast. For as long as I can remember, I've been setting alarms on my phone to wake up to catch all my favorite shows during fashion week, saving all my money to splurge on a designer piece, and staying up to date with all the latest news. If you want to, you could say I live, breathe and sleep fashion, because it wouldn't be an exaggeration.
Like many, I was in shock when I found out that Phoebe Philo would be exiting Celine after 10 years at the label, and even more surprised when the news broke that Hedi Slimane would replace her. Having been a fan of Celine under Philo's reign, and a fan of Slimane's work at Saint Laurent, I was torn. to me, Celine had always been the brand I strived towards. The brand for the elegant power woman, who didn't dress for a man, but for herself, and I knew all that would change once the shift took place. This is why I ventured out to my closest Celine store, wallet high in hand to buy myself what I would call, "A piece of history."
WHAT IS IT: Celine Letter Pendant Necklace in brass
WHY IT'S WORTH THE HYPE: After finding out that Celine pieces have seen an increase of 30-percent in resale prices since Slimane's show at Paris Fashion Week, I guess it shows that Philo-era Celine is sought after and considered collector's pieces from now on. Not only is the necklace a piece for me to remember Philo's time at the fashion house, to me it is also worth its price because of its luxury feel and how wearing it makes you feel. Powerful and proud is what I would describe the feeling of wearing this necklace as, and I wouldn't change it for a thing. Since my name is Tora, I obviously went for the "T" pendant, but when looking through all the letters I wish I could own the entire alphabet.
WHERE YOU CAN FIND IT: If you're looking to get your hands on the pendant, it comes in two sizes. I went with the large size, because the bigger, the better. Unfortunately, the pieces seem to be sold out nearly everywhere, but try your luck in-store or scout sites like eBay and Vestiaire as the pendants seem to pop up every now and then.
Share this article