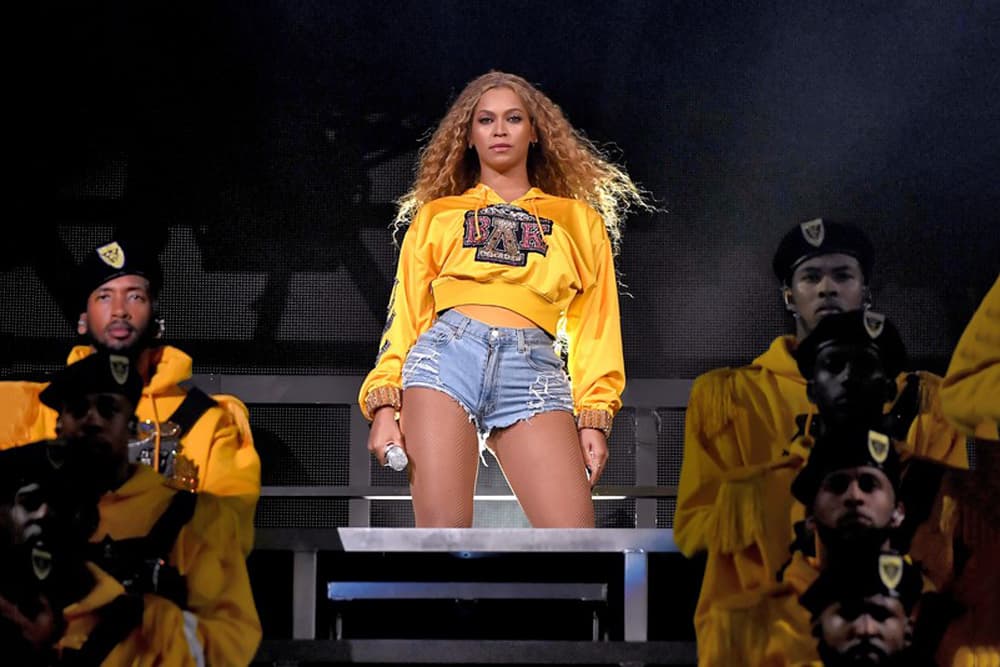 Beauty Breakdown: How to Recreate Beyoncé's Coachella 2018 Look
For those who can't get over #Beychella.
Beyoncé's monumental Coachella performance on Saturday night marked the first time a black woman performed as a headliner at the music festival. She did not disappoint in any way shape or form, pulling out all the stops by paying homage to Historically Black Colleges and Universities with a band featuring over 100 members. Not to mention she wore custom Balmain, brought Destiny's Child back for an on-stage reunion and even danced alongside her sister Solange. What many fans rejoiced over, however, was how the pop star's immaculate beauty look stayed intact throughout her performance.
Bey appeared on stage with a dewy look paired with a glittery eyeshadow and perfectly matching cheeks. Her longtime makeup artist Sir John exclusively shared which products he used and his inspirations. Read on for full details on the iconic beauty look.
His main inspiration:
"Beyoncé's Coachella beauty look can be described as 'the coolest girl on campus at college meets Greek goddess.' I was so inspired by the choreography and the styling at the dress rehearsals, of the band and college life, so I started a Pinterest board that was inspired by cool college girls and went from there. I was thinking about the coolest girl on campus, who is she and what does she look like? That's how we came up with the glittery eye."
On how he achieved the glistening body look:
"My new favorite product is ALLEVEN London Color Shield. It is a super lightweight aerosol airbrush body concealer. It literally looks like your skin is HD, airbrushed without it being too obvious. I sprayed shade Amber all over her body 30 minutes before she got dressed, with a focus on legs and cleavage. I also gave her face a light spray as it really evens out the complexion."
How he perfectly executed her glitter-heavy eye look:
"For the eye I used a light powder layer to prime the eye, the layered Lemonhead Houdini Highlite Spacepaste all over the eye, with a pop of Dirty Penny Spacepaste in the middle, to add extra dimension. I then created a feline flick on the lid using MAC Fluidline Gel Eye Liner in Blacktrack. On the bottom I used a brown kohl rather than black. It softens the eye a bit and adds a contoured effect to the eye – that way it's not too harsh. I finished with L'Oréal Lash Paradise Mascara."
Which lip color and foundation King Bey rocked:
"For the lip we did a pinky brown using L'Oréal Infallible Color Stay. Complexion we wanted her skin to be bronzed and super glowy from head to toe. We kept her face really matte in the t-zone – when she is photographed, in videos and on stage I am always super strategic with light and shade. So I focus on matte t-zone and dewy everywhere else. I used Tom Ford bronzer on the t-zone to mattify."
Share this article