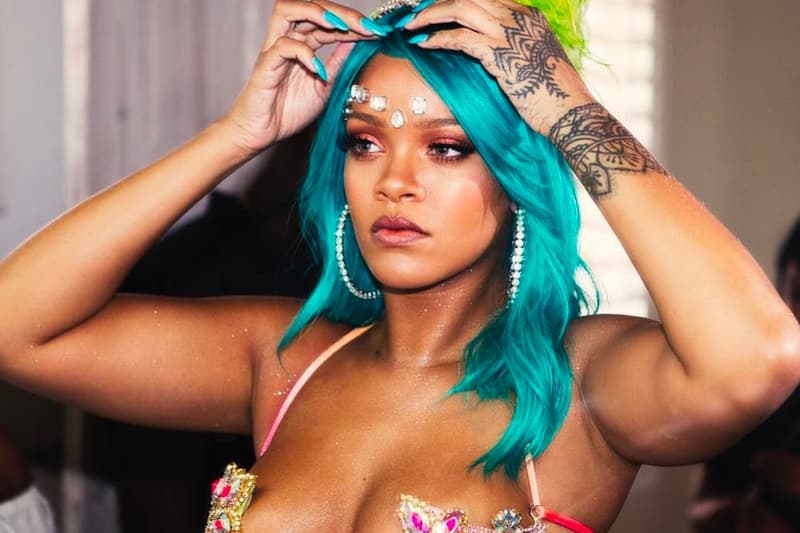 Beauty
Rihanna Is Wearing Her Next Fenty Beauty Product in This Photo, and We Can't Figure out What It Is
Fans are guessing it might be false eyelashes.
Rihanna Is Wearing Her Next Fenty Beauty Product in This Photo, and We Can't Figure out What It Is
Fans are guessing it might be false eyelashes.
Rihanna is back at it. On Thursday (August 30), the singer-slash-entrepreneur dropped hints about her next Fenty Beauty release in a new Instagram post, which sees a throwback image of her getting ready at last year's Crop Over festival in Barbados. Leaving room for suspense, the brand prompts fans to guess what the upcoming launch could possibly be. "Do you see what we see? Coming soon… @badgalriri," reads the caption.
The Navy has flocked to the comments section of the post, sharing what they hope the new Fenty Beauty product will be. "Lashes, mascara or brows?" a fan wrote, while another suspects that it might be a lip liner or a nail polish. Some even have wild thoughts about Rihanna launching carnival-esque wigs and jewels for both the face and the body.
What are some of your guesses? Leave them in the comments below to let us know.
In other news, the brand has recently tweeted that it has approached EXO member Kai for a possible collaboration. This happened after fans of the K-pop star have taken to Twitter with the hashtag #FENTYxKAI explaining why he'll be a great model for Rihanna's cosmetics line.