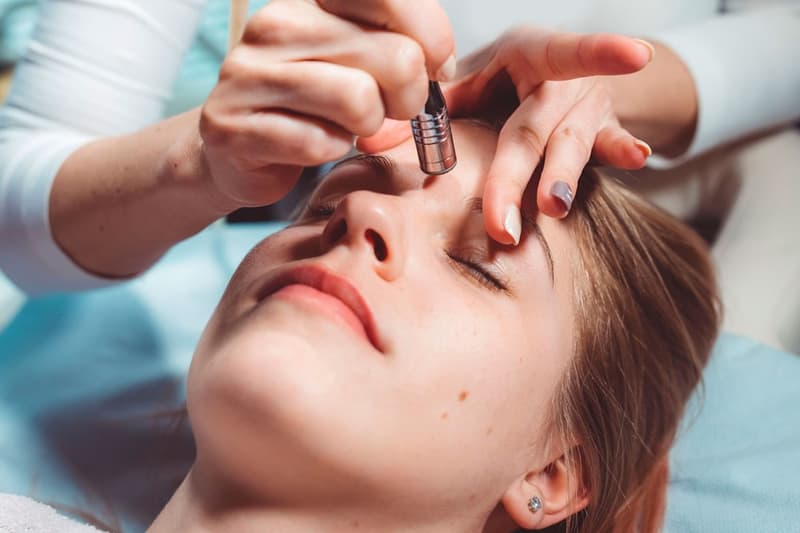 Beauty
Sephora's New In-Store Facial Literally Vacuums Gunk out of Your Pores
Read our thoughts on the new treatment.
Sephora's New In-Store Facial Literally Vacuums Gunk out of Your Pores
Read our thoughts on the new treatment.
Ask any makeup junkie, and they'll tell you that Sephora is a haven, a paradise, a sanctuary of all things beauty. Most women have come to rely on Sephora for every makeup and skincare trend known to female kind. If you want, they have it. The only thing missing from the beauty empire was the ability to get premium in-store services beyond makeup application – that is, until now. The beauty giant has just introduced the PERK Hydrating Facial, a new spa-grade facial available at over 100 Sephora locations across the U.S. With any $75 USD purchase at available stores, you can get a complimentary 30-minute PERK facial with one of Sephora's specially trained consultants. I tried it out, and I can promise you that you're going to love the results.
Going in, I was expecting what you get with most "flash" facials that are done outside of a spa setting. I was anticipating some sort of purifying mask that was available for purchase in store – pretty much a fancier application of an at-home treatment mixed with some serious project pushing. But my expectations were far from the wonderful reality I experienced when I arrived for my appointment.
Here's how it works: First, the skincare consultant will take a moment to discuss your skin concerns. Using a Moisture Meter, they'll check the moisture levels on a few different parts of your face to determine your skin type. Then, he or she will use a gentle cleanser to remove any makeup you're wearing, creating a clean canvas to work with before the session starts. Now comes the fun part: using a two-step process, the consultant will use a patented pen device that applies a nourishing exfoliating solution to your skin while also sucking out impurities in a vacuum-like fashion. This first serum consists of lactic acid, which is one of the best ingredients for exfoliating dead skin cells to reveal a smoother complexion.
Then comes the second serum, which focuses on brightening and hydration. Using the same device, they'll apply a moisturizing antioxidant serum containing hyaluronic acid and a myriad of other skin-saving ingredients, which will hydrate your skin from the inside out while flushing it with nutrients. Get ready, because it's almost time for the best part. Once the application of the second serum is complete, the facial portion of the session is over. And because pimple popper videos are all the rage, you'll have the gross satisfaction of being presented with a jar of all the oil, dirt, and general gunk that was vacuumed out of your pores. Yup – you get to see it all, and that's when I realized that the PERK facial was the real deal. It may be quick and lacking the serenity of a spa setting, but this is a results-driven treatment; the perfect regular facial for the woman on-the-go. While the facial shouldn't be done more than once a month, I can already see this being the perfect monthly or bi-monthly treatment to keep your pores squeaky clean. And let me tell you – there's something so gratifying about seeing that icky jar, knowing you just did your skin a world of good for the price of (almost) nothing. And the instant post-facial glow and baby soft skin doesn't hurt, either.
The session wraps with your consultant applying some skincare necessities that are available for purchase at Sephora. I got to try the La Mer The Treatment Lotion, which glided on like a dream, and Drunk Elephant C-Tango Multivitamin Eye Cream, which consists of clean ingredients to brighten and firm the skin around the eye area. Because my skin was a little red from all the previous suction action (totally normal), she ended with IT Cosmetics' award-winning CC cream and NARS concealer, so I walked out of Sephora with skin that looked as good as it felt. All in all, it is safe to say that you should try out the facial next time you pay a visit to your local Sephora.
Editor

Tora Northman/Hypebae
---
Share this article